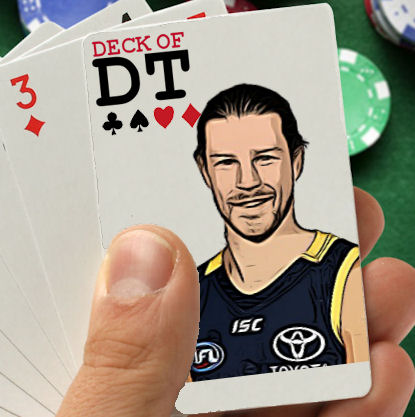 Name: Bryce Gibbs
Team: Adelaide Crows
Position: MID
AFL Fantasy: $790,000
Bye Round: 14
2017 Average: 112.14
2017 Games Played: 22
Predicted Average: 121.7
Draft Range: Top 10
Click here for DT Live profile.
Why should I pick him?
The Top-Knotted Beast has fled Roy's Blues to be closer to family and, after many trade requests, has finally gotten himself to the Crows. This is wonderful news for us Fantasy Coaches as it should mean Gibbs avoids being tagged this season! It was common knowledge last year that, if you wanted to stop Adelaide, you had to stop Rory Sloane. Sloane was unable to handle a tag all last season; therefore, it doesn't make sense for teams to give up a sure-fire way of stopping what is arguably the top team in the comp. Even at Carlton, Gibbs regularly avoided the tag with teams opting to tag Murphy and Cripps instead. Seeing as Adelaide already have an extremely vulnerable tagging target, I don't see any way for a team to tag Gibbs over Sloane and that is all the better for us!
Another reason to pick Gibbs is his unreal scoring potential. You may have noticed I've predicted him to average over 120 for next season and you may have subsequently stopped reading this article as you believe I've lost my marbles. However, I personally believe that Gibbs will break out even more this year. To begin with, his scoring last year was way more phenomenal than I ever realised. Out of 22 games played, he had 16 100+ scores and 21 90+ scores. The only time he ever went lower than 90 was in Round 18 in a loss against the Lions where he was tagged heavily by the King Pig himself and kept to just 37. Adding to this, Gibbs had eight 110+ scores, six 120+ scores, five 130+ scores and two 150+ scores including a whopping ceiling of 194 in Round 13. These numbers and consistency scream captaincy as much as almost anybody else in the competition.
There are many other reasons to pick Gibbs too: he's now playing at a club he will be happy at, he's as consistent a scorer as ever I've seen, he's priced reasonably as a second Midfielder to start your season with after Titch, he almost never misses a game, the list can go on!
Why shouldn't I pick him?
He wears a man-bun.
But seriously, there are probably only two legitimate reasons to leave Gibbs out of your team. Either you disagree with me on the tagging and think he will get attention every week, or you're worried about the new club.
Despite showing that he can be tagged out of a game by Rocky for a 37, stats show this was an exceptional circumstance. Obviously that wasn't the only week that Gibbs was tagged last season and, as mentioned, he didn't go below 90 in any other week. Going by that data, even if Gibbs does cop attention it isn't going to be enough to stop him scoring unless the King of Fantasy scoring puts the brakes on him. The good far outweighs the bad in my opinion.
As far as the new team factor goes, I believe this is always a genuine concern. There are so many things that could go wrong for a player in a team switch; he might not enjoy his new team, might not fit in, could easily fall out of favour with coaches and/or management, may have role changes. There are several key factors in this particular trade however that make me less worried about this factor. Firstly, Gibbs has been licking his lips at a trade to the Crows for at least two seasons, and Adelaide have arguably been licking their lips just as much. Also, Adelaide are quite a straight-forward club: Midfielders play in the middle, Forwards up forward, Defenders down back and Paul Seedsman in the two's, etc. Unlike a player going to Hawthorn/Geelong/Sydney or other teams that demand role changes from their players, we can fairly safely assume that Gibbs won't be playing in positions he doesn't like. The only thing I'm not sure about is whether he will fit in at the club as I don't know Bryce Gibbs or the Adelaide team personally. But, with his dad being a Glenelg phenom and Adelaide being the city Bryce wants his kids growing up in, I think it would take quite the toxic environment for Gibbs to not feel 'at home' with his new club.
Deck of DT Rating.
ACE – I tossed up about giving Gibbs a King rating, purely because there is an unknown or two leading up to this new season. But, I personally believe Bryce will be the third best averaging midfielder of the 2018 season, after Titch and Danger.
If Gibbs drops lower than 5th in your draft I think that will be steal of the season for whoever ends up with him, and I think a lot of people will sleep on him in Classic like I did last season, opting to go the double with the two, big-gun Mids and avoiding Gibbs' price which could lead to him being a PoD early in the season too.
I can't pass up on him this year and I'd strongly suggest that you don't either.
Loading ...
FOLLOW ME ON TWITTER: @SparksyDT for all thing AFL Fantasy (and more). Got something to say about the deck? Use the hashtag… #DeckofDT.