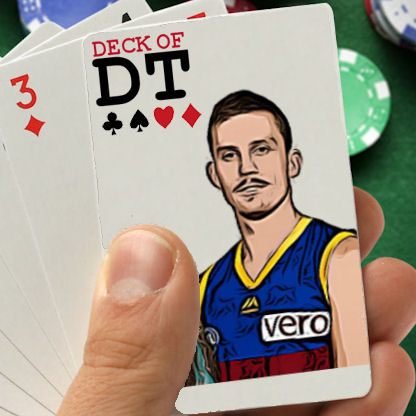 Name: Dayne Beams
Team: Brisbane Lions
Position: MID
AFL Fantasy: $736,000
Bye Round: 13
2017 Average: 104.58
2017 Games Played: 19
Predicted Average: 110
Draft Range: 15-30
Click here for DT Live profile.
Why should I pick him?
There are many reasons to pick Beamer, the biggest being the fact he is a good as anyone in the competition providing his body is 80% or better.
His triple figure average was nothing new last season, in fact it was the fifth time in his nine year career he has reached the milestone with his best being an uber premium 116 in 2012.
He started last season in fine form with seven hundreds in his first nine games which shows what a gun he is, especially considering four of those were over 120 and two were over 140. Unfortunately, injury derailed a piggish season while on just 5 in round 14.
He returned swiftly, albeit sore in round 16 but it was round 18 when we once again saw the goal kicking midfielder at his best when he went on a tear of beast scores including 138, 142, 143 and 144 over the next five weeks while kicking two bags of three and four goal haul in that time.
That my friends is why he always deserves consideration… He is one of the best players in the competition.
Why shouldn't I pick him?
I love Beamer, so it's hard to write anything in this section but there is an elephant in the room that needs to be addressed.
In Beams illustrious career he has never played 22 games with 21 being the highest in which he has achieved twice and on two occasions he hasn't recorded double figures.
He is still young at 28, but if you look purely at the history and numbers, 28 is higher than he was the previous nine years so the likelihood of his first 22 game season has to be considered unlikely.
Deck of DT Rating.
KING – A beast is a beast and the fact we have two trades per week gives up some wriggle room to take a risk. I was talking to Beamer following one of his pre Christmas workouts and his body was feeling great and he looked very good on the park. He is a genuine superstar who has the ability to reach a ridiculously high ceiling on a weekly basis.
With the Pig, Rocky gone there is even more responsibility on Beamers shoulders (hopefully his good shoulder) which could see a slight increase in usage through the midfield.
Yes I understand the risk of injury is there and that is the only reason everybody in the competition won't be starting with him. He will be unique and could get you off to an absolute flyer.
Loading ...
FOLLOW ME ON TWITTER: @RoyDT for all thing AFL Fantasy (and more). Got something to say about the deck? Use the hashtag… #DeckofDT.