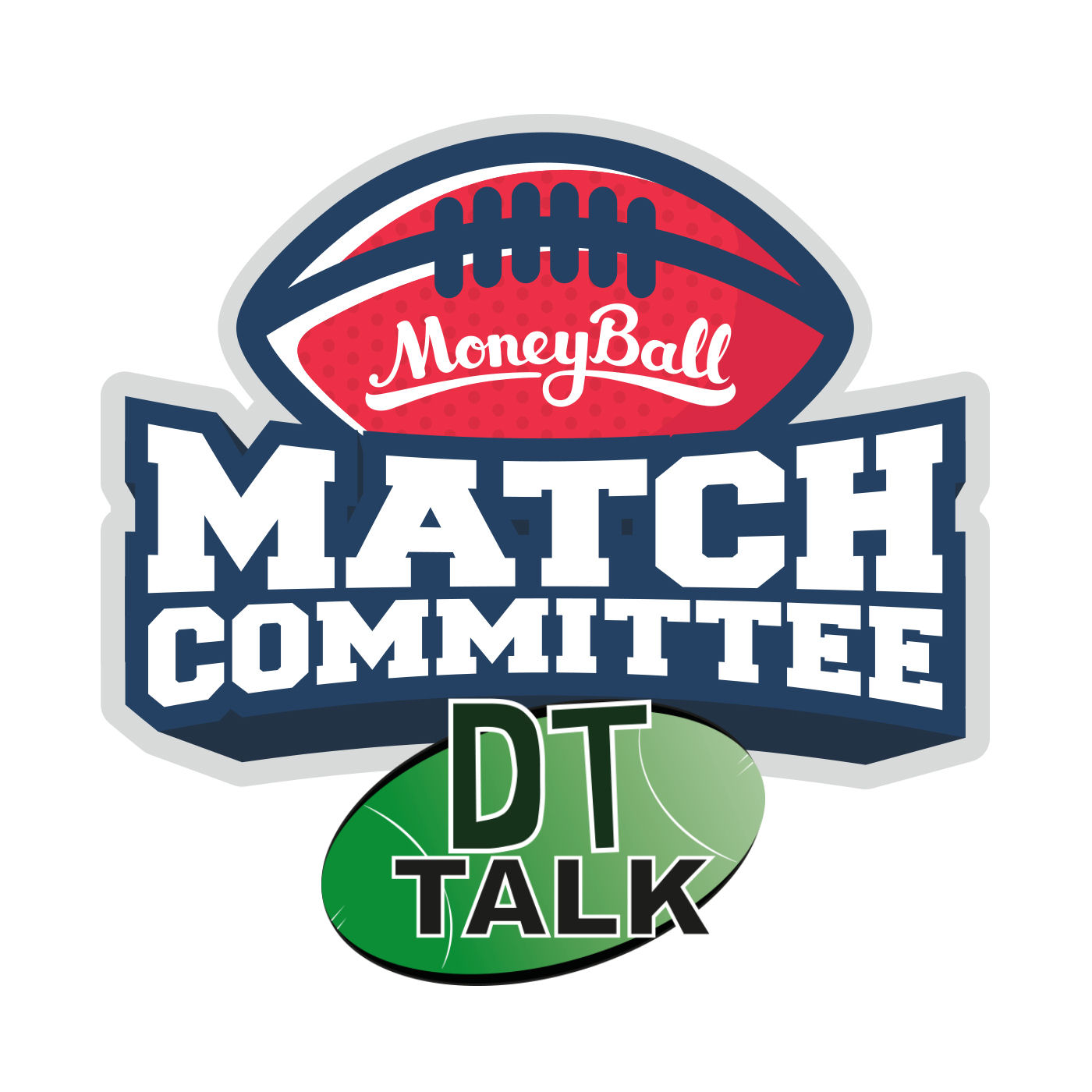 Tbetta here, and welcome to the self-proclaimed top resource for keen Aussie rules Moneyball punters! DFS (Daily Fantasy Sports) is taking off around the world and Moneyball have the perfect platform for you to turn your AFL Fantasy prowess into cold hard cash. Signing up is easy – head to moneyball.com.au and you could be ballin' within minutes.
If you're unsure how DFS works, be sure to head to the 'Help' section for all the info you need to start cashing in on your AFL Fantasy knowledge.
Click here to subscribe on iTunes.
Western Bulldogs vs GWS
BEST PICK: Rory Lobb ($5,900 RU)
GWS have made a huge call here by leaving out the obvious pick in Dawson Simpson (who had 44 hitouts and 98 Moneyball points a fortnight ago) and instead have chosen to see what Lobb is made of in the fire of sole ruck duties. The small data set we have is pleasing, given that Lobb managed to squeeze out 97 points when Mumford was missing last time – a season-high. Rory has a career-high of 17 hitouts in a match, and given that that's guaranteed to be obliterated on Friday night, we could even see a Lobb hit triple figures for the 3rd time in his short career. Lock it in, Eddy.
BEST STAT: Lachie Hunter ($8,800 MID)
Given that Hunter is just one of just two midfielders ranking in the Top 20 for marks over the past 3 weeks (totals of 10, 9 and 7), I think it's safe to say that he's got his outside game back up and "running". It's no surprise that he likes it quick and easy and he'll have it on his terms under the Etihad roof on Friday – where he's fleshed out 3 tons on the trot. Add that to a trio of scores of 115, 106 and 110 leading into this match, and there's not many other KPI's to tick off.
VALUE PICK: Tom Scully ($7,700 MID)
Amazingly, the former #1 pick has not scored a single ton at home (Spotless Stadium) over the last 2 seasons, despite strong All-Australian consideration and forming part of a raging GWS side, etc. In fact, he averages just 78 from 15 games there, which goes to show how critical the open field is to guys who play an endurance game like Scully and the aforementioned Hunter. And that's precisely why I like him this week, because he averages a healthy 103 at Etihad over the past two seasons.
Sydney vs Fremantle
BEST PICK: Luke Ryan ($6,200 DEF)
There isn't much more to say here than what we said last week – if he's the guy in the Freo team filling the "switch" role, you gotta have him. Given that he earned a Rising Star nomination last year and is coming off 138 and 126, I think it's safe to say that he'll be wheeling and dealing off halfback again this week.
BEST STAT: Callum Sinclair ($7,000 RU)
Like most ruck situations, the former Eagle fares much better solo than being anchored by another ruckman, averaging 87 over his last 4 games without Naismith in the side. Sean Darcy ($5,600 RU) is the obvious pick and you should 100% be starting with him pre-selected, but I like slotting Sinclair at the FLEX to maximise both the value and uniqueness in your squad.
VALUE PICKS: Lachie Neale ($9,800 MID) & Nat Fyfe ($9,100 MID)
These two prime movers are putting up 5-figure salary kind of numbers but still find themselves in the $9,000's after mid-year patches of mediocrity. Understandable, that's eroded a lot of confidence we've had in these guys but a brief glance at their numbers proves it to be outdated – both players have raised the bat four times in their last 5 innings, averaging 113 in that time. Bargains.
Geelong vs Richmond
BEST PICK: Scott Selwood ($7,500 MID)
Did you know that Scooter averaged the most tackles for a season back in 2011? Yep, 8.1 tackles per game, that's pretty impressive right? Well, guess what…  HE'S AVERAGING 11.4 PER GAME THIS SEASON and his lowest in a single game has been 7. Holy mother of man-hugs that's good.
I love Scoots as a DFS pick this week simply for the reason that he only needs to add a modest possession tally to those cuddles to hit triple digits. In fact, in the three games where he's reached 20+ disposals this year, he's pumped out 125, 106 and 131. Surely, with Duncan and brother out of the side, Scooter needs to be hunting the pill this week?
BEST STAT: Zac Smith ($7,100 RU)
Zmith is yet another example of a ruckman who needs to play solo to succeed, and the team selection has not tipped in his favour. In his last 5 games without Stanley in the side, he averages 104 with a lowest of 80… However, that dips dramatically under the watchful eye of his back-up, down to a lowly 69 (without anything over 90, either). I'm giving all ruckmen from this game a wide berth in the Saturday Slam and you should too.
VALUE PICK: Dion Prestia ($7,200 MID)
Here's your classic boom or bust pick, perfect for the 975 Target or Saturday Slam contests because of his epic ceiling. Despite having a poor season overall, Prestia's actually produced scores of 137 and 125 (last week) against the current and he has an excellent chance to do that again this week against an undermanned Geelong midfield. I'm cautiously optimistic with this pick because the last 5 times where Prestia's reached 28 disposals, he's flipped scores of 149, 120, 103, 137 and 125.
Brisbane vs Gold Coast
BEST PICK: Sam Mayes ($7,700 DEF)
With wunderkind Witherden out injured, Mayes comes in as a like-for-like replacement in the Brisbane backline and I'd be pretty optimistic he'll he lapping up those leftover fantasy points he's leaving behind, too. Before getting injured, Withers was cranking out 94 points a game, whereas Mayes, in his last 5 games as a defender for Brisbane, was ticking along at a brisk 97 himself.
BEST STAT: Peter Wright ($6,200 RU)
Brisbane Backline Rule alert! Drop everything and slot Two Metre Peter into those Saturday Slam contests fellas and fellettes. No Tom Lynch leaves Wright as the focal point and we all know how astronomically poor the Lions are at restraining key forwards over a long period of time. He's even got history in the QClash, dominating last year by kicking a hefty 5.1 for his 131 points.
VALUE PICK: David Swallow ($8,000 MID)
Before being winged against the Tigers, Swallow had stepped up his game and produced a pocket-lining 104.5 points a game over the previous month. With Ablett and Barlow still out and Lyons (ankle) and Hall (hamstring) under injury clouds, Swallow will see plenty of midfield minutes after being rested last weekend.
Essendon vs Adelaide
BEST PICK: Brad Crouch ($9,600 MID)
It's easy to talk up Brad when you have the statistical justification of him being the only player to score triple digits in every game since Round 14 (minimum 3 games). That's right, in classic Crouch fashion he's remained under the radar while flexing his fantasy muscles with 116, 131, 111, 108, 107 and 129 leading into the Essendon clash. A big foundation for his scoring is his tackling fervour, averaging the 2nd-most tackles in that time span with 8.1 per game.
BEST STAT: Sam Jacobs ($9,000 RU)
Before we get into too much chatter, let's examine how rucks fare against Essendon:
R18 – Daw (97)
R19 – Roughead (104)
R20 – Kreuzer (124)
As you can see, the Bombers are giving up big scores to spuds, before a Rolls Royce like Kreuzer capitalised last week. Jacobs should do likewise, having produced 97, 101, 99 and 125 over the past month, with most of those being against actual competition.
VALUE PICK: Darcy Parish ($7,200 MID)
With a packed midfield, Parish often gets stuck up forward and his scores suffer… But without mainstay Merrett this week, there's a huge slice of midfield minutes up for grabs – with scores of 96 and 86 in the last fortnight, surely Parish is at the top of the list?
West Coast vs Carlton
BEST PICK: Matthew Kreuzer ($9,300 RU)
I'm just going to leave this here. Rucks vs Eagles:
R18 – Grundy (127)
R19 – Stefan (113)
R20 – Longer (112)
Mic drop.
BEST STAT: Bryce Gibbs ($10,000 MID)
The Hutchings tag is a massive worry, and the only reason we recommended Gibbs last week (he finished with a team-high 125) was because Essendon don't tag well. Obviously, before that Gibbsy was hampered greatly with the negative attention and I'd be worried I'm throwing away $15 by punting on him not being shadowed this Saturday night. Hutchings' recent victims make for painful reading, with Selwood (48), Johannisen (51), Walters (70), Sidebottom (71) and Jack Steven (90) all on his rap sheet.
VALUE PICK: Shannon Hurn ($7,200 DEF)
Picking Hurn is always a risk because a forward tag ALWAYS brings him down, but can you afford to completely ignore his scores of 137, 117, 47 and 100 over his last month of action? Unsurprisingly, these scores match up very closely to his mark totals of 14, 10, 2, 8 – basically, if the match-ups work out for Hurn, he's the golden goose in the backline.
Coming Soon.
Always remember to gamble responsibly. If you're having problems with your betting, you can get help at Lifeline or talk to someone at Gambling Help Online.