It's finals time – Rd 19 Fantasy Review
The last round of roster matches for Fantasy coaches was a challenging one.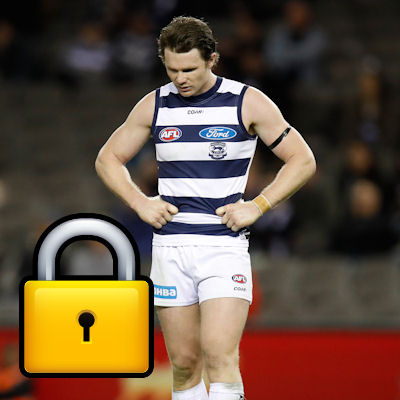 Copy and paste the following in the comments and fill it in. Post your AFL Fantasy results.
Team Name:
Round 19 Scores:
League Results:
Finals positions:
Studs:
Duds:
On the Chopping Block:
Vent/Brag/Whatever:
Stay tuned to DT TALK this week for all fantasy advice you could ever need!
2017 averages – Fantasy points for and against (season)
| CLUB | PTS FOR | >100 FOR | >120 FOR | PTS AG | >100 AG | >120 AG |
| --- | --- | --- | --- | --- | --- | --- |
| ADE | 1668.3 | 4.4 | 1.2 | 1593.5 | 3.6 | 1.2 |
| BL | 1546.6 | 3.6 | 1.5 | 1620.4 | 3.6 | 1.1 |
| CAR | 1610.9 | 4.5 | 1.8 | 1613.5 | 3.8 | 1.2 |
| COLL | 1722 | 5 | 1.8 | 1620.3 | 3.3 | 0.8 |
| ESS | 1680.7 | 4.3 | 1.6 | 1592.3 | 3.3 | 1.1 |
| FRE | 1551.7 | 2.8 | 0.7 | 1692.8 | 3.9 | 1.3 |
| GC | 1631.2 | 4 | 1.1 | 1635.9 | 3.7 | 0.8 |
| GEE | 1617.4 | 4.1 | 1.4 | 1581.9 | 3.9 | 1.1 |
| GWS | 1621.2 | 3.3 | 0.8 | 1542.8 | 2.7 | 0.6 |
| HAW | 1675.1 | 3.6 | 1.4 | 1689.8 | 4.3 | 1.6 |
| MELB | 1651.5 | 3.7 | 0.9 | 1602.8 | 3.7 | 1.1 |
| NM | 1544.7 | 2.3 | 0.3 | 1627.8 | 4.3 | 1.4 |
| PA | 1632 | 3.4 | 1.2 | 1597.5 | 3.6 | 0.9 |
| RICH | 1527.9 | 2.6 | 0.9 | 1614.4 | 3.1 | 1.3 |
| STK | 1644.8 | 4.2 | 0.9 | 1659.3 | 4.1 | 1.2 |
| SYD | 1590.9 | 3.8 | 0.7 | 1633 | 3.7 | 0.8 |
| WB | 1633.6 | 3.1 | 0.4 | 1651.3 | 4 | 1.2 |
| WC | 1628.8 | 3.6 | 0.9 | 1621 | 3.9 | 1.1 |
2017 averages – Fantasy points for and against (last 3 weeks)
| CLUB | PTS FOR | >100 FOR | >120 FOR | PTS AG | >100 AG | >120 AG |
| --- | --- | --- | --- | --- | --- | --- |
| ADE | 1597 | 3.7 | 1 | 1576 | 4.3 | 0.7 |
| BL | 1647 | 3.3 | 1 | 1520 | 2.3 | 0.3 |
| CAR | 1408 | 2 | 0 | 1733.3 | 5.3 | 1.3 |
| COLL | 1692 | 5 | 1.3 | 1541.3 | 2.7 | 0.7 |
| ESS | 1699.7 | 5 | 1.7 | 1563.7 | 3.3 | 0.3 |
| FRE | 1550 | 3 | 1 | 1738.7 | 3.3 | 1.3 |
| GC | 1457 | 2 | 0.7 | 1670 | 3 | 0 |
| GEE | 1584 | 4.3 | 1 | 1483.7 | 3 | 1 |
| GWS | 1564.3 | 2 | 0 | 1512.7 | 3 | 0.7 |
| HAW | 1714.3 | 4.3 | 1.3 | 1491.3 | 2 | 0.3 |
| MELB | 1601.7 | 3.7 | 0.7 | 1558 | 4.3 | 0.7 |
| NM | 1534 | 3.3 | 0.7 | 1593.3 | 4.3 | 1.3 |
| PA | 1577 | 4 | 1.3 | 1564.3 | 3 | 0.7 |
| RICH | 1509 | 1.7 | 0.3 | 1577 | 1 | 0.3 |
| STK | 1506.7 | 3 | 0 | 1641.7 | 3 | 1 |
| SYD | 1498.7 | 2.3 | 0 | 1620 | 3.7 | 0 |
| WB | 1663.3 | 3.7 | 0.3 | 1550 | 3.7 | 0.7 |
| WC | 1680.3 | 4 | 0.7 | 1615.7 | 5 | 1.7 |