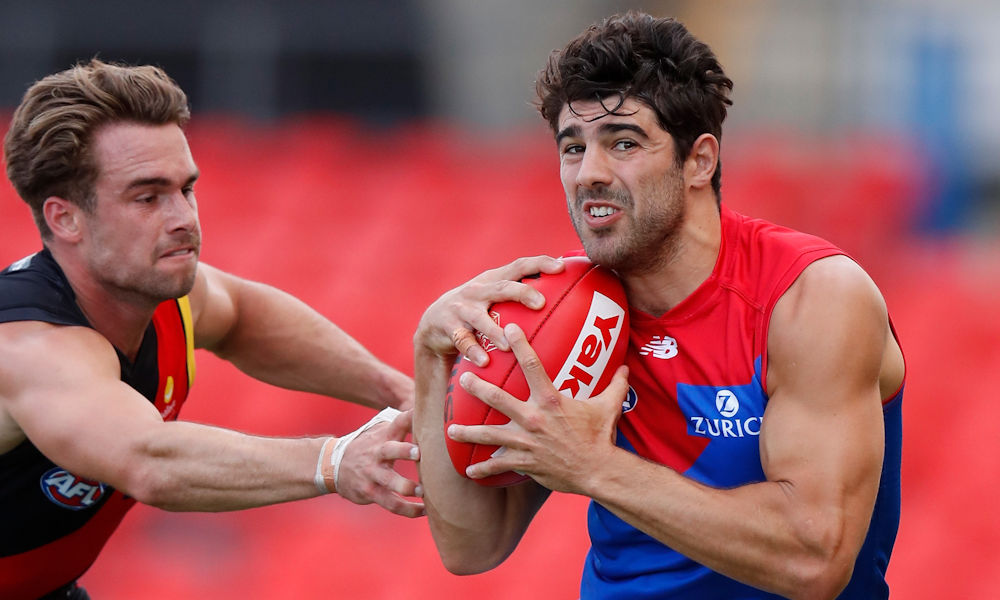 Well, we made it. After a crazy 2020 Fantasy season, it has finally come to an end. After all of the hurdles us coaches have had to jump through, it is honestly a relief that we can now sit back, relax and watch Finals Footy. There will be many coaches out there being able to hold their League Premiership, but there were many left with nothing. There were many players this week that stepped up for coaches, but there were also a few that really killed some coaches hopes of winning a Fantasy Premiership. For the final time in 2020, lets get into the weekend recap:
North Melbourne vs West Coast
+3 Candidates
Jy Simpkin (100) – Finished off with a bang, and the first ton to start off fantasy grand final weekend. Has been a very weird year for Jy. He did make a big step from last season, but also had too many scores under 60. I honestly believe that Ben Cunnington being out had a lot to do with that. I think he takes another step up next year with Cunnington being fit and helping him along with Anderson in the midfield.
Jed Anderson (96) – One of the surprise packets of the year. I certainly didn't expect Jed to average over 80 this season, especially with a bad 5 game patch to start the season. Since returning from injury in round 8, he averaged 90.3. I think with Cunnington back next season, his scoring will take a slight hit compared to Simpkin.
Jackson Nelson (92) – Great game but I think that this was more to do with the opposition. Has been really inconsistent all year, but has shown flashes.
Shannon Hurn (90) – Premium defender Shannon Hurn presented himself again, and has had a decent 3 game stretch to finish the season. 98, 64 and 90. He could be next years Jeremy Howe so keep an eye on him during finals to see how he scores.
-3 Candidates
Jack Zieball (52) – Hasn't quite been the year Jack would have hoped for. Can you believe he only averaged 37.6 for the year?! Will be extremely cheap next year so an early preseason 2021 watch list candidate.
Aaron Hall (49) – Another player that really underperformed this year. I was really looking at him at the start of the year but thankfully I didn't pull the trigger.
St Kilda vs GWS
+3 Candidates
Lachie Whitfield (113) – Big game for Whitfield to finish off a great year for him. He still averaged 85.7 after being KO'ed on 10 and back to back 60's to start the year. 100% I will be starting with Whitfield as one of my premium defenders next season as he will most likely be a defender in 2021.
Harry Perryman (90) – Had a solid enough year, and funny enough led the Coleman medal to start the year. Had some big games, but also had too many 50's and 60's in their to be a consistent option. Good result if you ended up drafting him.
Jack Steele (89) – Has to be the POD of the year! He averaged 91.1 for the year, only 1 score under 70, but was still only owned by 8.1% of the competition! I would have loved to have been able to bring him into my own team, but along with many people, too many injuries changed that.
-3 Candidates
Josh Kelly (60) – This was why I bring him in this round. Really considered him, but having close attention all night really affected his scoring. After a down year by his standards, still averaged 84.9. Underpriced for 2021.
Jack Billings (53) – Another player that has been very up and down. After being a very consistent forward for us last year (or the year before, I can't remember this year has seemed like a decade ahaha), he really struggled to find his consistency. Would get a ton, but would follow up with a 50 or 60. Not what we are looking for from our premium players.
Zac Williams (51) – In most likely his final game for the Giants, he didn't come through for Fantasy managers. St Kilda just don't allow many players score well all year.
Toby Greene (47) – Really needs that midfield time to be a consistent scorer. Still one of the best forwards in the comp, but very similar to Robbie Gray, playing so much forward means his scoring will be very up and down all year.
Jeremy Cameron (44) – I am just saying, this was my biggest mistake in bringing him in after his 94 in round 14. I feel for everyone that followed me into this trap.
Nick Haynes (31) – Jee I tell you what, he makes a strong case for my never again list. I had him for 3 games, 72, 47 and 31. Absolutely putrid!
Essendon vs Melbourne
+3 Candidates
Zach Merrett (115) – Massive game from Zach, and what a week to do it! Some people, including myself, had him as their vice captain loophole, and boy did he repay his owners with a massive 115. Had an amazing finish to the year, with 4 of his final 6 games being tons, and 3 of those tons were 115+. Will be underpriced in 2021 with his slow start to the year.
Ed Langdon (106) – Great reward for draft owners, but as I have said previously, he is way too up and down to be an option in Classic. If his floor can be 60+, then we may be having a different conversation.
Mitch Brown (97) – Quick shoutout to Mitch Brown who got his first score over 60 for the year in Grand Final weekend.
Christian Salem (92) – It was always going to happen. Salem was bound to have a big score as Essendon were one of the easiest teams for defenders to score on and he repaid the faith shown by the many coaches that brought him in this week. Again, consistency is an issue. His last 4 games included 2 90's and 2 50's. The 90's we like, 50's not so much.
Christian Petracca (92) – Bar Whitfield, he has been the best forward of the year, and a great case can be made for Petracca being the best forward this year. If not he is definitely the best pick in the forward line this year at least. We were hoping for a step up over the past couple of seasons, and he finally did it this season. He was a model of consistency in our forward lines, only going under 70 on 2 occasions. For a forward, that is amazing.
-3 Candidates
Jordan Ridley (54) – A player that would have frustrated many coaches, with the final nail in the coffin being in Grand Final week. After not going under 60 in the first 13 rounds, 3 of his final 5 games were under 55, with 2 of them in the 40's. Disgusting and has left a sour taste for the owners that took a chance on him.
Sam Draper (23) – I feel for the people that may have been stuck with Draper on the field with the amount of injuries we have had this year. Just couldn't quite step up on Fantasy Grand Final weekend, but he was against Max Gawn so I will cut him a little slack but 23…really?
Adelaide vs Richmond
+3 Candidates
Reilly O'Brien (112) – If it were not for Max and Ruck Pig, as I have said previously, I think ROB would be spoken about so much more. But for the coaches that couldn't afford Max and went ROB, you were handsomely rewarded as he ended up outscoring Max by 29 points. Gun.
Dustin Martin (94) – Had some stinkers this year Dusty, but great way to end off the year for his owners. Just those couple of poor games still disappoint, but at least they were not this weekend.
Matt Crouch (91) – Finished the year like a steam train, not scoring below 75 since round 3, but it was his last 9 games that impressed with only 2 scores under 90, an 85 and a 78. Just knows how to find the pill, but also added some hugs during this stretch.
Kane Lambert (90) – Draft owners would be thrilled with this score in their Grand Finals. One of the most inconsistent players in terms of scoring, but pleased his coaches in their Grand Finals.
Lachlan Sholl (72) – Keep an eye on this guy! Had 2 great games to finish the year, and reminds me a bit of Whitfield. Will be priced cheap due to his slow start, but after seeing his final 2 games, will definitely be on my 2021 pre season watch list.
-3 Candidates
Bachar Houli (55) – All I can say is, I don't know what went wrong…

Brisbane vs Carlton
+3 Candidates
Lachie Neale (90) – After we were all concerned about a tag from Ed Curnow, Lachie bounced back for all of us this week. Ed still played close attention to him, but Neale was still able to work off of him and rack up the points. Has been the best player in Fantasy this year no question (besides that 37, that was disgusting)!
Kade Simpson (75) – The Carlton legend, and fantasy defender legend called time on an amazing career, and finished off on a pretty decent note. Only priced at 512k for the final round, many fantasy coaches brought him in to watch him score point for us for one last time. The goal he scored was also one of the best moments I have ever seen. What a wonderful moment. Happy retirement Kade, and thanks for all of the big scores and memories you have given us!
-3 Candidates
Jarryd Lyons (63) – Really failed to step up for all the owners that wanted either a POD in the Grand Final, or just wanted a POD for the year. After we all hailed his consistency for the year, only going under 70 once, he had to go under 70 again for the 2nd time this year in the most important weekend for coaches. Might not get an invite to the off season trip for some coaches.
Zac Bailey (35) – Wow the Zac Bailey train really derailed in the end didn't it? After looking really good over a 5 game patch between rounds 7 and 11, didn't score over 80 for the rest of the season. Just needs to improve his consistency and get a consistent role to be a factor in our fantasy teams.
Patrick Cripps *injury* (30) – I feel bad for Crippa. He really did look hurt out there. Sounds like there is a chance he has shoulder surgery over the off season, which means he will already have an interrupted pre season so keep an eye on his progress before pulling the trigger on him in 2021.
Hawthorn vs Gold Coast
+3 Candidates
Tom Mitchell (115) – The Pig just knows when to get it done, on the big stage! After a poor preliminary final score of 58, he bounced back as only a pig knows how and went big for whopping 115. Been really good since round 8, only going under 80 once which was the 58. Was slow by his standards to start the season, but really clicked into gear in the 2nd half of the year. It was just great to see the pig back this year, and can't wait to see an even better version of him in 2021!
Jack Gunston (110) – Wound back the clock with a vintage Jack Gunston performance. 18 touches, 11 marks and 4 goals. This is what we saw in the past which made him a top 6 forwards for a few seasons. Congrats if you had him on your field in draft.
Dylan Moore (96) – This score came out of nowhere. Only played 2 games this season before this week, a 31 and a 48. Then he goes 96. Impressive effort.
Damon Greaves (75) – .A lot of people downgraded Docherty this week to put Greaves on their field this week which was risky but paid off in the end. One of the many late season surprises, but then again, there should be no surprises in 2020.
-3 Candidates
Jarrod Witts (50) – I really don't know what happened to Jarrod Witts this season. After having a great year last season, only averaged 64.5 this season.
Jack Lukosius (39) – A painful one for coaches to cop in the Grand Final. I have said before, he will be a premium defender for the future, but I have also said his consistency with scoring lets him down.
Sydney vs Geelong
+3 Candidates
Sam Menegola (101) –Stepped up in a big way for his 1.5% of Classic owners, but more so, for all of his draft owners. Has had an impressive season, averaging 82 in the end, after a poor first 3 games. Always has a 50 score added in, but for the most part is safe for a solid score most weeks.
Jake Lloyd (98) – Mr. Seagull again was at it, and against one of the tougher opponents to score against, further solidifying why he is the best fantasy defender in the league. Only went under 80 once from round 5. If he has another season like this, could he be thrown into the pig conversation and be the first Defender Pig?
Josh Kennedy (93) – Been able to really respond since returning from injury. Finished off with a massive 117 last week, and a 93 this week. Very similar to Pendlebury, always reliable and gets the job done every week.
-3 Candidates
Mitch Duncan (66) – This was flagged that he was going to cop attention. His worst score of the season (barring his injury affected 11) had to come in the worst possible week for owners. Brutal.
Jackson Thurlow (36) – Another player I hope coaches were able to trade out, because his last 3 scores were really bad. 36, 47 and 36. Not good.
Fremantle vs Western Bulldogs
+3 Candidates
Lachie Hunter (119) – What a season it was from Lachie Hunter! Only 1 score under 80 all year, and that was all the way back in round 1 with a 71. Even though he missed 8 games, he still was one of the most consistent players, with only 3 scores under 90 for the year. Looks to have returned to his strong form from a couple of years ago and I think he will continue it in 2021.
Caleb Serong (101) – My love for this man grows every week I am able to watch him! There are not many players that I don't have in my team where I love them racking up the pill, but Serongy was one of them. Great to see him crack his first ton of his career, and what a weekend to do it! Just shows he can already stand up for fantasy coaches on the big stage. Can't wait to watch him again rack up more points in 2021 and maybe even take another step up over the next year or two.
Tom Liberatore (98) – Great one for the draft coaches! Just quietly, ended up averaging 70.4 for the year, and finished off big with a 113 and a 98.
-3 Candidates
Jack Macrae (60) – Not what we wanted Jack! His lowest score had to come in such an important week. Some may have even had him captain as it looked like a good matchup on paper, but his scoring certainly did not reflect that.
Josh Dunkley (56) – A very disappointing year for Dunks, only averaged 77.5 for the year which actually surprises me considering there were a number of poor scores. Hopefully he can rebound in 2021.
Andrew Brayshaw (53) – Unfortunately his scoring started to fade away towards the end of the season, with 3 of his final 4 scores under 70, with his highest being an 83. Will be better for the run in the midfield this season and will look to take another step in 2021.
Bailey Smith (45) – Unfortunately Baz had to end the year for his coaches with a bitter taste in their mouth. Unfortunately too many scores were in the 50's and 60's for Baz this year, which I think will improve as he is still young in his career. Once his consistency improves, look out!
Collingwood vs Port Adelaide
+3 Candidates
Taylor Adams (120) – Wow, this may have hurt just as many coaches that traded him out as there were that kept him. Went massive to be the highest scoring player in Grand Final weekend. What a way to finish 2020. Was glad to see him finish a full season with no nagging injuries. Heres to more of that from Taylor in 2021.
Dan Houston (107) – Another player to really stand up in the most important week. First ton of the season for Dan and has responded well after his suspension. Lowest score of 81 in his final 3 games.
Tom Rockliff (105) – The RockPig is back in Full Pig mode! And has been for a number of weeks.3 tons in a row to finish the season, and has looked every bit the player that we have come to know and love from his days as a Lion. For me, will be a definite starter in my team next season. Great to see all 3 pigs scoring great at the same time again.
Brodie Grundy (90) – As I said, it was great to see all 3 pigs score well on the same weekend. After a poor year by the Ruck Pig's standards (still averaged 90.9 which shows how good he is), he ended off on a positive note. At least with some poor scores, he will be discounted some what next season which will be a positive for us coaches.
-3 Candidates
Not really any -3 candidates in this game. This is what we want to see more of.
Golden Stubby – 2020 Season
Who gets your vote for the all important 2020 Golden Stubby MVP?
Jake Lloyd (91.2 season average | 114 BCV average) – Clearly the no.1 defender. Just gets it done hovering around the backline every single week.
Lachie Neale (98.3 season average | 122.9 BCV average) – The CoronaPig had a massive year, apart from the 37. Took that big step into uber premium this season.
Jack Steele (91.1 season average | 113.9 BCV average) – POD of the year! Had a great year where he was unleashed from tagging duties and showed great consistency.
Max Gawn (98.9 season average | 123.6 BCV average) – Beat out the RuckPig for highest averaging ruck with a massive year, and also the highest averaging player of the year.
Christian Petracca (87.1 season average | 108.9 BCV average) – Took the biggest step up of any player this year. Now one of the superstars of the comp.
Loading ...
My week
2006. Great way to finish the season. Just glad to be able to get to at least 2000 once in this crazy 2020 season. Even with all of the injuries I copped, I was still able to finish 2119 overall. Was really hoping to crack into the top 2k but you can't have everything. It has been one hell of a year.
The players that were in my team from round 1 and were still in my team at the end were:
DEF
Rory Laird
MID
Jack Macrae
Josh Kennedy (traded out when injured but brought back in)
Tom Mitchell
RUCK
Brodie Grundy
FWD
Lachie Whitfield
Dustin Martin
Christian Petracca
Would have liked to have had a couple more, especially in the DEF and MID's.
I appreciate everyone that has read any of the Weekend recaps that I have done this season. I appreciate all of the support you guys have shown on the articles. Thank you again to Warnie, Roy and Calvin for giving me the opportunity to write these up.
I hope you all had success if your Grand Finals, and now we can all sit back, relax and watch Finals Footy. See you all again in 2021!
Instagram: @baileyirrgang
Twitter: @baileyirrgang