Seventeen straight – Rd 18 Fantasy Review
Tom Mitchell has racked up 17 tons straight and needs just five more for the season to set an amazing record.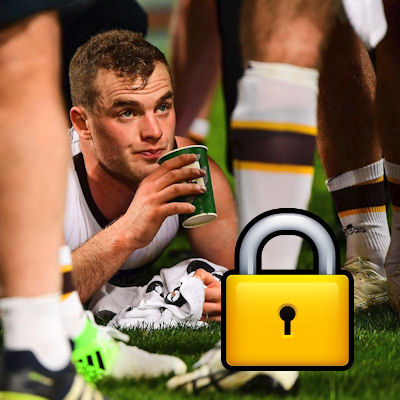 Copy and paste the following in the comments and fill it in. Post your AFL Fantasy results.
Team Name:
Round 18 Scores:
League Results:
Studs:
Duds:
On the Chopping Block:
Vent/Brag/Whatever:
Stay tuned to DT TALK this week for all fantasy advice you could ever need!
2017 averages – Fantasy points for and against (season)
| CLUB | PTS FOR | >100 FOR | >120 FOR | PTS AG | >100 AG | >120 AG |
| --- | --- | --- | --- | --- | --- | --- |
| ADE | 1672.7 | 4.5 | 1.2 | 1580.2 | 3.4 | 1.1 |
| BL | 1535 | 3.4 | 1.5 | 1615.9 | 3.6 | 1.1 |
| CAR | 1625.9 | 4.6 | 1.9 | 1601.1 | 3.6 | 1.1 |
| COLL | 1716.2 | 4.9 | 1.8 | 1621.9 | 3.4 | 0.8 |
| ESS | 1683.9 | 4.3 | 1.6 | 1593.5 | 3.3 | 1.1 |
| FRE | 1546.6 | 2.7 | 0.6 | 1699.2 | 4.1 | 1.4 |
| GC | 1640.6 | 4.2 | 1.1 | 1639.4 | 3.8 | 0.9 |
| GEE | 1605.3 | 3.9 | 1.4 | 1595.2 | 4.1 | 1.2 |
| GWS | 1623.4 | 3.5 | 0.9 | 1537.2 | 2.6 | 0.5 |
| HAW | 1671.8 | 3.5 | 1.5 | 1702.5 | 4.4 | 1.6 |
| MELB | 1657.9 | 3.7 | 0.9 | 1609.9 | 3.8 | 1.1 |
| NM | 1548.4 | 2.3 | 0.4 | 1632.8 | 4.3 | 1.5 |
| PA | 1640.3 | 3.6 | 1.3 | 1605.3 | 3.6 | 1 |
| RICH | 1525 | 2.7 | 1 | 1622.9 | 3.2 | 1.4 |
| STK | 1655.4 | 4.3 | 1 | 1669.2 | 4.2 | 1.2 |
| SYD | 1597.8 | 3.8 | 0.8 | 1627.3 | 3.6 | 0.9 |
| WB | 1637.2 | 3.1 | 0.5 | 1652.8 | 3.9 | 1.2 |
| WC | 1625.1 | 3.5 | 0.9 | 1614.5 | 3.8 | 1.1 |
2017 averages – Fantasy points for and against (last 3 weeks)
| CLUB | PTS FOR | >100 FOR | >120 FOR | PTS AG | >100 AG | >120 AG |
| --- | --- | --- | --- | --- | --- | --- |
| ADE | 1682 | 5.7 | 1 | 1454.7 | 3 | 0.3 |
| BL | 1531.7 | 1.7 | 0.7 | 1542.7 | 2.7 | 1.3 |
| CAR | 1558.3 | 3.7 | 1 | 1622.3 | 3 | 0.7 |
| COLL | 1598 | 3.3 | 0.7 | 1601 | 4.7 | 1 |
| ESS | 1748.3 | 6 | 1.7 | 1552.3 | 2.7 | 0.3 |
| FRE | 1528.7 | 3 | 0.7 | 1767.7 | 4 | 1.7 |
| GC | 1506.7 | 3.7 | 0.3 | 1718.7 | 4 | 0 |
| GEE | 1562.7 | 3.7 | 1.3 | 1494 | 2.7 | 1.3 |
| GWS | 1647 | 3.3 | 0.7 | 1479.3 | 2.7 | 0.3 |
| HAW | 1650 | 3.7 | 1.7 | 1610.7 | 2.7 | 1 |
| MELB | 1584.3 | 2.7 | 0.3 | 1666 | 5.7 | 1.7 |
| NM | 1597 | 3.3 | 1 | 1603.3 | 4.3 | 1.3 |
| PA | 1608 | 5.3 | 2 | 1526 | 2 | 0.7 |
| RICH | 1436 | 1.7 | 0.7 | 1696 | 2.7 | 1 |
| STK | 1627.3 | 4 | 1 | 1597.3 | 3 | 1.3 |
| SYD | 1581.7 | 2.7 | 0 | 1583 | 4 | 0 |
| WB | 1624.7 | 3.3 | 0.7 | 1624 | 4.7 | 0.3 |
| WC | 1566.3 | 2.3 | 0.7 | 1566.3 | 4.7 | 1.7 |