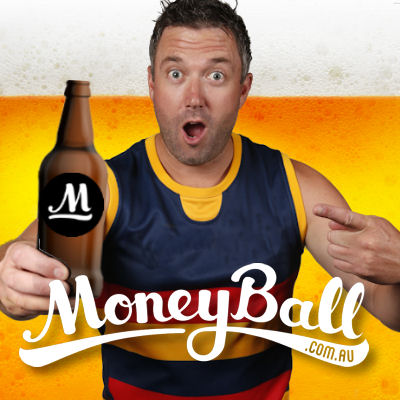 Here we go for another big Moneyball Saturday! With only three games to choose from, this will be tough and nailing the correct guys are critical. Although the games are little, the prize pool is the same, and today I'll be eyeing off the big $650.
$5,000 with the winner taking $650 and it pays $34.18 right down to 89th
Gold Coast v West Coast 1:45pm
GWS v Essendon
Kangaroos v Richmond 7:25pm
Todd Goldstein (RUC, $9,000)
9K is still pretty cheap for Goldy and up against Nankervis today, you can lock him in for an easy 120. Out of the ruckman in the league, Nank gives up the second most points to his opposition and Goldy loves battling the 'bunnies' of the league.
Melbourne are ranked as the easiest team to score against and on that day he had 148. Brisbane rank third, and on that occasion he had 112. The writing is on the way people. Get him in!
Matthew Kennedy (MID, $5,800)
My old mate Matt. I'll tell you what, he's learnt how to play ball at the top level over the last four weeks, scoring 89+ on three occasions. Last week he scored 93 points from a career high 28 touches. Injuries to the GWS team have meant that not only does Matt Kennedy remain in the team, but is receiving much more time on ground now. Lock and load today, he's a bargain.
David Swallow (MID, $6,500)
It will be obvious that I'm loading up with Suns' players today. So just add Swallow to my list. Swallow is coming off scores of 77 and 92 and should be better than that today. Earlier this year he hit his ceiling of 120 and although I don't see him pumping out a score like that, I don't think 100 is out of the question, especially as this one is at home where he averages 20pts more than he does when playing away.
Jarrod Harbrow (DEF, $7,600)
With scores of 78, 114, 96 and 104 coming in his last four, Harbrow has shocked many and is certainly worth a shot here against the "Easy Eagles". At home, this could be a points feast for the Suns and therefore, player such as Harbrow will be cashing in.
Harbrow has the ability to ton-up today and if that was the case…. Bang! You'll be in the money!
Tim Taranto (MID, $5,900)
After what was a slow start to his debut season, Taranto is finely up and going. He has scored 72, 84 and 73 in his last few games and has now seemed to have settled into the GWS line-up and looks good for 75pts each week.
Still at a very cheap price if he can achieve that and against the Bombers at SPO today, geez… he might even reach a personal best score.
Daniel Lloyd (FWD, $4,000)
Yeah ok… won't set the world on fire but he's a safe 65+ today against the Bombers at home. Coming off scores of 59, 44 and 61 Lloyd needs to be backed in again at this price. If we are rolling with some of the bigger names here such as Goldy and Hall, then we will need to gamble with a few of these lesser types, and Lloyd is certainly in that category… but has the potential to shock us with something better than what he has shown.
Aaron Hall (MID, $10,000)
Hall could be massive today. His numbers when Gaz is in the team is actually 9pts less, but at home I think he'll give the Eagles a nice little touch up.
At Metricon this year he has averaged 130 and against the Eagles in his last two games he has scored 98 and 111.
The Eagles have given up the 3rd most points over the last 3 weeks and I'm tipping that this one will get nasty. His form has been awesome coming off scores of 117, 134 and 156 ranking him as the second most inform player in the game.
At home, not only has he averaged 130 there this year, but today he goes for his 8th straight 100+ score on his home track.
I traded him into my AFL Fantasy team this week on the back of all these numbers and therefore I'm more than happy to all my eggs in one basket here and ride this pony all the way to the bank today.
NOTE: Shit… I usually only do 6 players… lost count today ha ha.