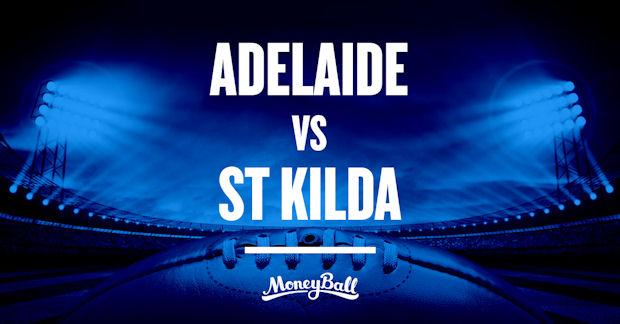 Tbetta here, and welcome to the self-proclaimed top resource for keen Aussie rules Moneyball punters! DFS (Daily Fantasy Sports) is taking off around the world and Moneyball have the perfect platform for you to turn your AFL Fantasy prowess into cold hard cash. Signing up is easy – head to moneyball.com.au and you could be ballin' within minutes.
If you're unsure how DFS works, be sure to head to the 'Help' section for all the info you need to start cashing in on your AFL Fantasy knowledge.
Click here to subscribe on iTunes.
 

Adelaide vs St Kilda
Sam Jacobs ($9,500 RU) is unquestionably the better ruckman in this match-up, but Billy Longer ($5,400 RU) is the value pick and where I think your attention should be directed this Friday. The former Lion pumped out 125 last week against the Bulldogs, which included a career-high 55 hitouts, so form and confidence is peaking. Interesting fact: Longer has 6 kicks compared to 40 handballs this year, obviously doing a lot of his work in and around the contest where he also averages a healthy 4 tackles per game. Pick Longer here and enjoy the extra $4,100 to spend on better midfielders!
I mention midfielders because St Kilda concede the 3rd most points to MIDs this year, and their beneficiaries in Adelaide average 5.3 tons per game over the last three weeks.
Aside from the usual suspects, I'd be strongly considering Brad Crouch ($8,100 MID) after scores of 102, 100 and 101 in the past three weeks. A bruise-free game against the leaky St Kilda could be what he needs to break out of the low hundreds and finally cash in on his awesome fantasy pedigree.
VALUE PICKS:
Hugh Greenwood ($4,300 MID):

Scores of 93 and 94 already in three games this year, boosted by 8.7 tackles per game – ranked 3rd in the league. 'Lock' status doesn't do his pickability justice.

Jack Newnes ($8,400 MID):

Removing the injured 10-point game, Newnes has a low score of 91 at an average of 111 in the past 6 weeks. Gaudy numbers for his price, kept low by the aforementioned concussion game.
Hawthorn vs Gold Coast
Hawthorn have been the 3rd easiest team to score ruck points against in the last 5 weeks, which spells value for those who snap up Jarrod Witts ($7,600 RU) in an attempt to save $900 over Big Boy. Witts has been excellent in the past month, producing a lowest score of 89 in that time against varying ruck types in terms of quality and style. If you're looking for a superstitious edge, Witts' only ton in the last two seasons was against this week's opponent in the Hawks.
You know who else likes the Hawks? Gary Ablett ($10,700 MID). He absolutely murders Hawthorn without fail, and that was way before they became #1 for conceding midfield points. Check out these juicy stats:
Has a lowest score of 109 in his last 13 games against Hawks.

Averages a massive 144 against Hawks in his last 8 games.

Averaging a healthy 126 in his last 7 games this year.
If there's ever been a must-have due to opposition, it's the GOAT against his bunny side.
VALUE PICKS:
James Cousins ($3,500 MID):

You take 66 and 62 at basement price, especially where they're named on the ball. Lock him again without a second thought.

Brandon Matera ($6,700 FWD):

Has sneakily averaged 87 for the year, playing significant midfield time – and we all know what Hawks concede in that part of the ground. 80 and 105 in the last fortnight puts the spotlight on him under $7k.

Ryan Burton ($6,800 FWD):

Literally hasn't had a bad game all year. He's a no-think lock-and-load weekly at this price, averaging 92 in the last 5 weeks.

Brisbane vs Fremantle
This match-up shows how fickle yet valuable the ruck position can be in Moneyball, and why we give it such weight in these Moneyballin' articles. Jon Griffin ($6,000 RU) is borderline useless in a timeshare, but suddenly Sandi being out has thrust into near must-pick status. He bullocked his way to 89 against an excellent ruck in Grundy last week and comes up against a beatable tap opponent this week. At the end of the day, he saves you $3,600 over the alternative and should easily return value for his price tag.
That alternative is Stefan Martin ($9,600 RU), but I'm recommending you fade him completely based on a trend which has spanned the last four seasons:
In full games with West/Archie:   62 avg. (highest score of 81)
In full game rucking solo:110 avg. (lowest score of 79)
Regardless of the mechanism of how/why it happens, we simply know that it does when he has ruck 'support' and Stef simply cannot be trusted to play well with others.
VALUE PICKS:
Cam McCarthy ($5,300 FWD)/Shane Kersten ($6,000 FWD):

Brisbane Backline rule. One of these guys will kick a bag, it's up to you to figure out who.

Dayne Beams ($9,500 MID):

Has churned out 116, 144 since coming back from injury. Similar upside to

Rocky/Zorko

but sits at a way more affordable price.

Lachie Weller ($7,000 MID):

Averages 94 in his last three as the designated distributor off half back, a similar role to what

Crozier

played in patches last year and provided Moneyball value.

Jake Barrett ($5,900 MID):

Micro-pig has 87 and 80 in his last two, which suggests his hot NEAFL form is finally translating into fantasy points at the highest level.

Essendon vs Port Adelaide
With scores of 91, 74 and 110 this year for Tom Bellchambers ($5,900 RU), it's easy to see why presumed first-choice Leuey can't get back into the side. Bellchambers even outrucked the monolith Mumford last week, edging him out 40-34 in the hitout stakes. Playing Devil's Advocate for a second, Port are the 2nd hardest team to score against this year… but Bellchambers might just see that as another obstacle to smash out of his way. A generous price tag gives him priority here.
Did you know that Charlie Dixon ($7,700 FWD) has notched more 120+ scores in the last 5 weeks (three) than Cotchin, Goddard, Shuey, Ebert, Heppell and Neale have all season? He's the perfect fit for Moneyball GPP's  where players with a high ceiling can win you the big bucks, but their price stays low due to inconsistency over a season. Given the kind of touch Dixon is in – he was maligned for having hot flushes of form as a Sun – it's going to be a massive battle between him and the in-form defender in the competition in Hurley.
VALUE PICKS:
Chad Wingard ($7,900 FWD):

Apparently was "Best On Track" for Port his week, so hopefully that means he slides back into the team without any hiccups. Wingard's averaging 109 in his last month of activity, and it's no coincidence that was ever since he moved back into the midfield.

Hamish Hartlett ($6,600 DEF):

91 points last week (24 touches, 8 marks), filling a full-time half back position. Cheap enough to gamble on a return to form but I suspect it's going to be more horses-for-courses with his current role.

Jimmy Toumpas ($5,800 MID):

98 in his season debut, with a massive 23 uncontested possessions, which would rank him 2nd in the league on average. He's on the Watchlist.
Carlton vs GWS
You never wish for injuries as a sports fan, but there's no doubt that GWS's midfield health woes have benefitted Matthew Kennedy ($6,100 MID) and his suitors greatly of late. He keeps ticking along, averaging 84 in the last three weeks, earning a significant chunk of midfield time. A slight downside is how long he spends on the bench, recording the 3rd lowest TOG for the Giants last week. Hopefully that's a one-week outlier and he returns to pumping out 90's with increased exposure against the Blues.
Carlton has conceded the 4th most midfield points this season, which is why I'll be looking to add more GWS midfielders next to Kennedy's name. Josh Kelly ($10,200 MID) is the obvious target, averaging 130 in his last five starts. He just seriously good at footy, but I'm sure that's not lost on Carlton or their tagging department. Maybe Lachie Whitfield ($7,900 MID), averaging just a slither under 100 for the year, is a smarter use of your precious salary? He's ranked 11th for uncontested footy for the year and I love picking the guy whose teammates try exceedingly hard to get the footy into his hands.
VALUE PICKS:
Callan Ward ($7,800 MID):

120 and 81 in his last two. Is he back?

Matthew Kreuzer ($8,700 RU):

A lowest score of 92 in his last five. Ranked 17th for hitouts but 3rd highest averaging ruckman in the league – the new Dean Cox has finally arrived.

Zac Williams ($7,700 DEF):

93 and 131 in the past fortnight. Prone to a sub-70 score (three for the year), but that's what's kept his price low. I like him against a weak Carlton forward unit.
Always remember to gamble responsibly. If you're having problems with your betting, you can get help at Lifeline or talk to someone at Gambling Help Online.