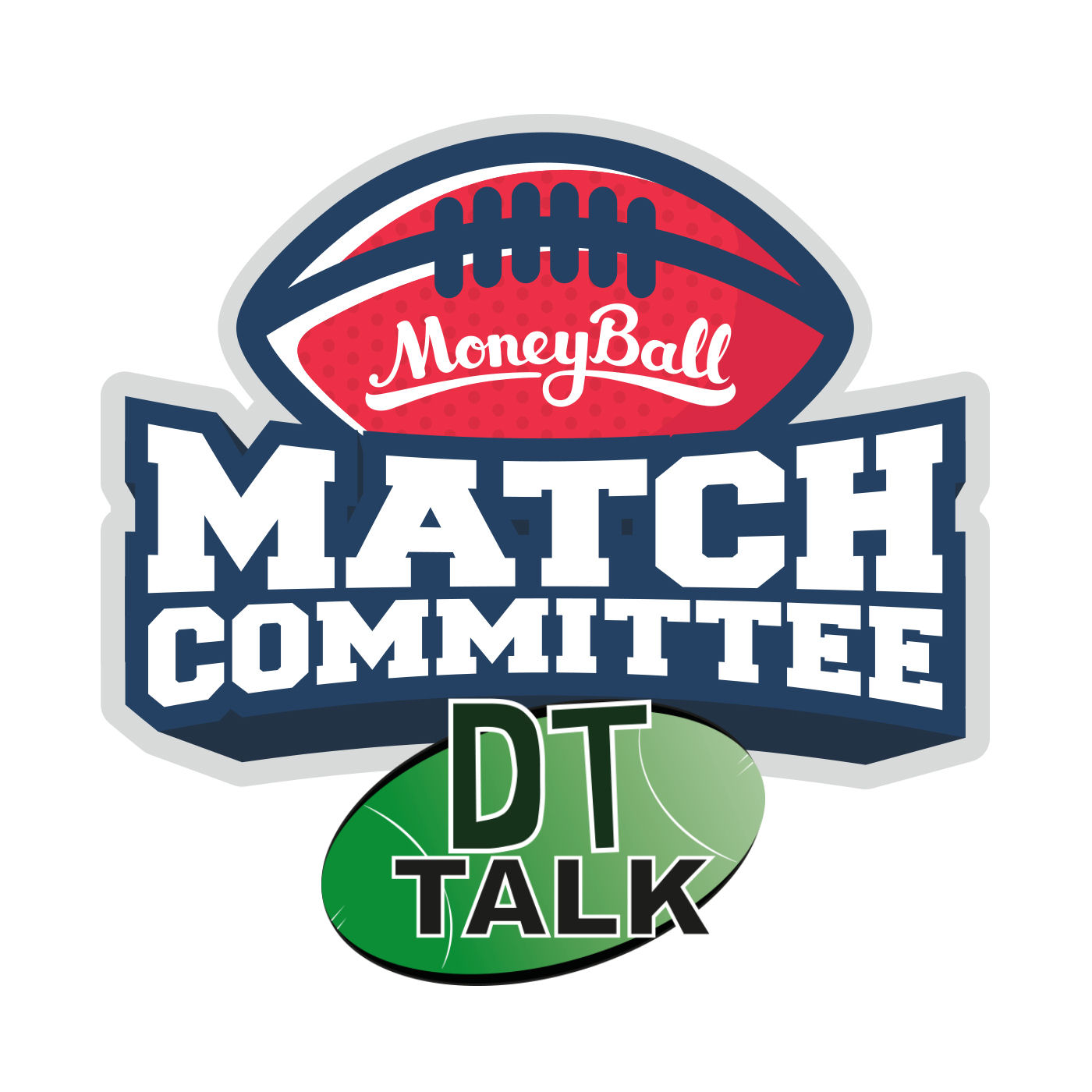 Tbetta here, and welcome to the self-proclaimed top resource for keen Aussie rules Moneyball punters! DFS (Daily Fantasy Sports) is taking off around the world and Moneyball have the perfect platform for you to turn your AFL Fantasy prowess into cold hard cash. Signing up is easy – head to moneyball.com.au and you could be ballin' within minutes.
If you're unsure how DFS works, be sure to head to the 'Help' section for all the info you need to start cashing in on your AFL Fantasy knowledge.
Port Adelaide vs Hawthorn
He's far from the big kid on the block, but Jared Polec's ($7,900 MID) numbers lately are worthy of some of the game's biggest fantasy stars. He's always flitted in and out of relevance, but Polec's on a searing hot streak with 127 and 122 in the past fortnight. He's playing a very outside game and the Hawks give up more midfield points than any other side – it's hard to say no at that price.
Justin Westhoff ($7,900 RU) has barely been spoken about all year and given the way he's let us down in the past, I can definitely understand why. But we're not looking for the season-long consistent guys in Moneyball, just the dude who can return value on any given day. Amazingly, he's doing both lately with a low score of just 85 in the past five weeks – and you can pick him as a ruckman! I like him as a sneaky alternative to Ryder and McEvoy for that unique twist.
VALUE PICKS:
Liam Shiels ($8,200 MID):

As I said last week, Shiels mirrors Hawthorn's form closely and last week's win propelled him towards 133 points. Add that to the 120 and 103 from the previous weeks and Shiels becomes a bargain if he can maintain this output.

James Cousins ($3,500 MID): I prefer him to the similarly priced Willsmore, mainly because I saw him around the midfield more often than his fellow debutant last week. 6 tackles is always a great sign, especially for the young guys where endeavour doesn't always equate to disposals.
Geelong vs Adelaide
You may have noticed that Scott Selwood ($6,100 MID) is wayyy too cheap after scoring back-to-back 119's and no, it's not a mistake. It seems as though Moneyball are honouring the 3-Week Rule with Scooter, so jump on while it lasts. One amazing stat is that he's laid more tackles (34) than he's won disposals (32) this year. I love this pick because the downside is minimal; Scooter still scores well in a 'tagging' capacity, scoring 83 and 104 in games where he was assigned negating roles last season as a new Cat.
It's boom or bust for Rory Sloane ($10,200 MID) this year, not once scoring between 70 and 110 all season. A lot of this is due to the tag, given that within the last 9 games this year, he's produced totals of 65 (Gibson) and 63 (Vince). When you compare that to the remaining 7 games where he's averaged 141 (including 6 scores over 130), you can see why teams opt to shut him down on occasion.
With those stats in mind, surely Scooter heads to Sloane this week? Or, do the respective coaches let best buddies and Brownlow fancies Dangerfield and Sloane go head-to-head in what will be an awesome spectacle if it eventuates? Big calls to be made.
VALUE PICKS:
Hugh Greenwood ($3,800 MID):

Showed his ceiling a couple of weeks ago and now he's sneaking some extra midfield time in. A dry weather game will only help his scoring, particularly in boosting his score with some forward line junk.

Jake Lever ($6,100 DEF):

He's always been that reliable 70's guy out of Adelaide's dour backmen, but Lever finally broke through with 111 last week. His 11 marks were a season-high.

Patrick Dangerfield ($10,500 MID)

: 129 and 118 in his two career games versus Crows, so there's no homecoming curse for the champ.
Gold Coast vs West Coast
The Eagles are ranked 4th easiest to score ruck points against thanks to the marshmallow Vardy/Petrie combo, not that Jarrod Witts ($7,400 RU) needs the help these days. The solo big man for the Suns is on a hot streak, scoring 121, 96 and 97 leading into Saturday's clash. Witts won a career-high 51 hitouts last week against the Dees who also have ruck woes, which should serve as a good omen for what's in store against the Eagles.
Since Mid-2015 when Aaron Hall ($10,000) broke out as a fantasy player, he averages 110 with Gary Ablett out of the side compared to a lesser 101 with Gary alongside him. With Gary back in this week, maybe you overlook Hall despite his form and go with the GOAT at $10,700. You know, the guy who's averaging 127 in his past 6 games. Ultimately though, I think both will be great at home against a struggling West Coast midfield and would form the foundation of a wicked Gold Coast stack if you went down that path.
VALUE PICKS:
Nathan Vardy ($6,000 RU):

Gets stomped in the ruck yet averages 82 in his last three. Could be a value FLEX pick if you don't love the other cheap alternatives.

David Swallow ($6,500 MID):

Averages 91 at home compared to 71 away this season. Hasn't been dominant by any stretch but has the brand value and sometimes, they live up to it.

Dom Sheed ($6,800 MID):

Has stepped up while other midfielders have been going poorly for West Coast, averaging 90 in his last three. Great value.



GWS Giants vs Essendon
Matthew Kennedy ($5,800 MID) has really stepped up for GWS with Coniglio, Deledio, Smith, Griffen and sometimes Scully all injured recently, and he's scoring miles above the implied score for his modest price. In fact, despite appearing workmanlike at best from a casual observer's POV, he's actually topped 89 in three of his past four games. Last week he notched career-highs in disposals (28) and AF points (93) against West Coast and I've even traded him into my AFL Fantasy squad for a short-term boost, I like his situation so much.
The only other player running out in Round 11 to score more points than David Zaharakis ($9,000 MID) in the past three weeks is Tom Mitchell – that's how flash the Essendon midfielder is going lately. 120, 137, and 131 are elite numbers, and that's what you would have been gifted as a Zaharakis buyer in recent weeks. We saw Zaka really struggled with the tag last year; is he finally seeing the benefits of having guys like Watson & Heppell back who, as well as Merrett, are higher priority tagging targets?
VALUE PICKS:
Daniel Lloyd ($4,000 FWD):

Getting a game? Tick. Not completely useless? Tick. Two of his three scores have been 59 or above, and I'll bank that for the price.

Tom Bellchambers ($5,500 RU):

Pick the guy who's keeping out Leuey as a sole ruckman and boasts score of 91 and 74 this year.

Callan Ward ($7,800 MID):

120 on the weekend was his first ton ALL YEAR. Is he back? Definitely cheap enough for a flutter.

Michael Hurley ($8,200 DEF):

Lowest score in his last 6 deployments? 94. No one's paying attention, so whip him like a dead horse in Moneyball until they do.
North Melbourne vs Richmond
Richmond (and mainly Nank) have conceded the 2nd most points to starting rucks this year, and their prospective opponent Todd Goldstein ($9,000 RU) always steps up against the bunnies. The teams ranked either side of Richmond in the ruck domination stakes have conceded scores of 148 (Melbourne, ranked #1) and 112 (Bulldogs,ranked #3) to the man mountain at North Melbourne. He's going big again this week.
After scores of 122 and 133, Dustin Martin ($7,400 MID) is a lock… isn't he? Well, a look through his history has dug up scores of 62 and 67 in last two versus the Roos  – and neither of those were with a tag either, so the absentee Jacobs factor isn't to blame. He just flat out doesn't show up to play against them. The other concern is that, given his piping hot form, I wouldn't be surprised to see Dumont or Gibson handed a defensive job on Dusty. North have opted to send out tags in quite a few games this year, taking down Hunter (69), Fyfe (87) and Sloane (65) along the way, so buyer beware.
VALUE PICKS:
Ryan Clarke ($5,400 MID):

Scraping the bottom of the barrel here. Only alluring thing is his price. It goes without saying that you're avoiding this game in your Saturday Slam line-ups.

Brandon Ellis ($7,400 MID): Like Ward, Ellis busted out this week (126) to notch his only ton FOR THE ENTIRE YEAR. I'm trying to justify this with a role change into the midfield or something, but alas, not the case. Just half back as usual, but seemingly playing more as the extra rather than with a direct opponent. I'm not sure that I'll pull the trigger on Ellis this week, but he's on the watchlist.
Fremantle vs Collingwood
Who am I? I've pumped out dual 127's in my last two against the Dockers, and boast 119 and 127 in my last two games out at Domain Stadium. I'm also on a hot streak, notching scores of 106 and 126 in my last two games this year. You guessed it, I'm Adam Treloar ($10,200 MID)! Freo are generally a restrictive side but let 8 Crows hit 100+ last week, and Treloar will definitely be within  that bracket. Adelaide rank 2nd for disposals differential this year, and Collingwood rank 4th, with Treloar being a prime mover within the Magpie machine. I love this pick.
Connor Blakely ($8,200 MID) averages 115 in the past month and is fast becoming a must-pick while his teammates stumble in fantasy. I'm waffling on about it again, but this scoring falls in line with a bump in exposure this year:
2016: Average TOG: 62%. Fantasy Average: 75 point
2017: Average TOG: 76%. Fantasy Average: 88 points
Over the past 3 weeks, Blakely is ranked #1 for disposals, #1 tackles and even #5 for marks at Fremantle and I can't see any reason why he shouldn't be in your Moneyball side this Sunday.
VALUE PICKS:
Jamie Elliott ($6,400 FWD):

Averages 90 in past month and has kicked 3 or more goals in 5 of his past 6 games. Almost the only useful forward for Collingwood, and is getting plenty of supply

Brodie Grundy ($9,800 RU):

No

Mason Cox

simply equals big points and the trend continues. Ticks along at 89 with him in the side (including no tons), compared to 119 without him in the side (lowest score of 107) .

Matt Scharenberg ($3,900 DEF):

Just a warm up last week. The kid is super talented, 67 is just the start of what should be an increased role as the year progresses.

Michael Walters ($7,500 FWD):

Still played in the midfield, just had a bad game (as did most of his teammates in a 100-point belting). I still like him at home this week, providing he stays in the guts.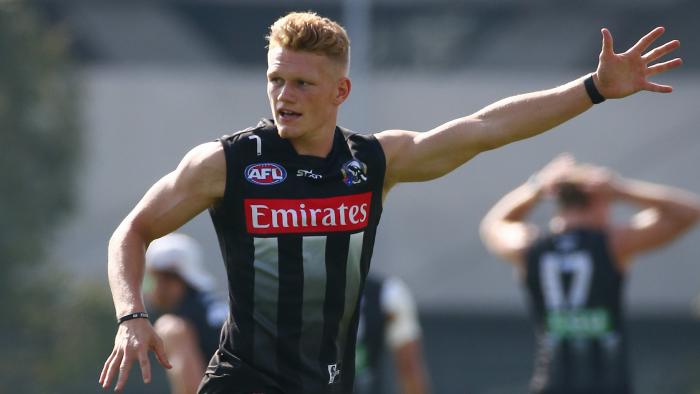 Always remember to gamble responsibly. If you're having problems with your betting, you can get help at Lifeline or talk to someone at Gambling Help Online.