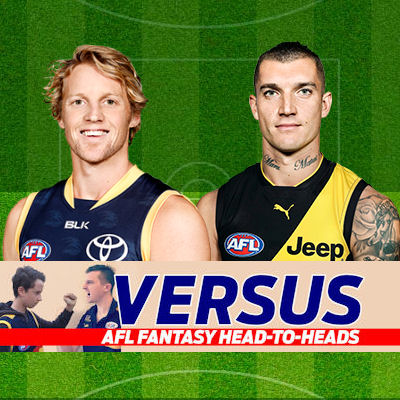 It's probably the most hotly debated comparison for the week. Rory and Dusty are not only two of the most recognisable names in the game, but they are also two hot-property midfielders in Fantasy. In one of the most in-depth Versus articles, here is Sloane v Martin.

Click here to subscribe on iTunes.
Rory Sloane ($626,000) 

V Dustin Martin ($608,000)
There's three Rory's in the Crows best 22 and just two for the remainder of the competition. But Rory Sloane is the best of the lot. Sloaney is the type of guy you want on your side when the going gets tough, the chips are down or, as we saw on Saturday night, when the heavens let loose. And he's the type of guy you want in your Fantasy midfield as well. It's easy for me to say as a Crows supporter living in Adelaide, but he has undoubtedly been underrated by the Victorian media for a number of years now. Here's why…
He was one of the multiple Crows 'draft steals' now featuring in the best 22. Sloane, an Eastern Ranges under-18 representative, headed to West Lakes with pick 44 0f the 2008 National Draft. The hard stuff – particularly contested ball and tackling – have always been his speciality. But Sloane's endurance and work rate are traits which set him apart from most other midfielders. His ability to provide run and spread from the contest is exceptional. Having said this, I was surprised to see that his time on ground percentages had dipped below 80% four times. Having scored heavily in three of those matches, I can only see Sloane going even bigger when spending additional time on the field.
Sloane had been a solid B-grade Fantasy player from 2011 to 2013, averaging in the 90's. However after hitting the ton in 2014, he wasn't able to crack the coveted three figures the following year. But Rory stood up in the absence of the departed Dangerfield and averaged 105 as the leading Crows on-baller. He clearly enjoys being the number one midfielder at Adelaide, but with that comes attention from opposition. Now it's pretty obvious that the major flaw with Sloane is the inability to shake a tag. With Danger in the side, he never had to deal with such close attention. But North Melbourne and Melbourne mapped out the blueprint to beat the Crows and I have no doubt curving the influence of Sloane is the key factor. It pains me to say this but there's no point shying away from it. If you are able to stop Sloane, you're likely going to stop Adelaide. I can tell Leighroy will be ramming home this exact point below, and so he should, but I have invested plenty of faith in Sloane that he will overcome the issue. And it's not just Sloane who can help beat a tag. The Crouch brothers, Douglas, Cameron, Hampton and of-late Greenwood have all spent time through the guts this year. As has been documented, it is those second-string guys who need to stand up, show more pride and give it back to the likes of Sam Gibson and Bernie Vince, both of whom frustratingly did great jobs in rounds 7 and 8. Having watched him in the SANFL for a year and a bit now, Greenwood is the guy who, to my eye, seems most likely to cut him some slack. A massive unit at 192cm (just about key position height!), he has the mongrel required. Get the feeling we'll get a good reading on whether he has learnt from past matches this Friday, with Scooter the likely opponent. Just quietly, and I know it's largely irrelevant, but despite only managing 29 disposals across the two highlighted matches, it was pleasing to see he still tried hard, laying 16 tackles.
The ability to impact the scoreboard is something many of the powerhouse midfielders have in their repertoire. And it's something Sloane is doing on a regular basis. He is a really nice kick of the footy and has managed to kick 10 goals so far. Yes, Martin has managed more, but the Tigers rely on him kicking goals, Adelaide, with their star-studded attack, do not. Sloane is what I'd describe as a well-rounded midfielder in terms of the key statistical area. He finds the ball regularly (has managed 30+ touches six times), takes his standard 4-5 marks a game and is currently enjoying breathing space at the top of the AFL tackle count. Interestingly, in the three games he has gone sub-100, Sloane has conceded nine free kicks against – that extra 27 points would have been nice.
To be quite honest, Dusty doesn't have a standout issue that affects his scoring like Sloane does with the tag. However he does tend to rely on his goalkicking, and if opposition sides can restrict that (and that's a large if), I'd be a tad worried his scoring would drop off a notch. When his contract talks really ramp up with the Tigers likely engaged in a battle to make the top 8, Dusty will be the target of opposition. I'm not saying his scoring will definitely be affected, but you don't want risk come the business end of the year.
It's a genuine battle this one. Sloane has proven to have the higher ceiling with scores of 152, 139, 143, 132, 155 and 157 prompting an average of 118 (Dusty is going at 112 for the record). If Sloane can better deal with the tag, he probably wins this one.

Dustin Martin is arguably one of the most talked about players of 2017. More often than not, conversations about his contract and future overshadow his exceedingly good form and remarkable match winning prowess. Dusty is a superstar of the game and one of the hot favourites to win this years' Brownlow Medal and yet surprisingly he finds himself in only a quarter of AFL Fantasy teams and there is still debate as to whether you'd pick him over the likes of Sloane or even Hall as I've seen some people asking. Why is that?….. I genuinely have no idea….
Dusty plays most of his game as a midfielder, which is contrary to popular belief that he plays as a forward (In my opinion the chances of him getting DPP anytime soon is pretty low). Yes he goes forward a fair bit but even in his big scoring games such as last week where he scored 133 points, his heat map showed a very even split of 41% in defence and 59% in the forward half of the ground. Moreover, when he went nuts in round 3 and scored 156 points with 2 goals 1 behind, he had exactly the same number of possessions in defensive 50 (5 touches) as he did in his attacking 50! The majority of his possessions came from somewhere in between the two 50's. He's a midfielder. If you're banking on him getting FWD status, I think you're going to be somewhat disappointed….. I digress.
With all that said, don't think for a second that Dusty shys away from the scoreboard. In truth he is averaging just under 8 score involvements per game and has hit the scoreboard 27 times so far this year. For essentially a pure mid those are some fantastic numbers. Fantasy wise we all love a bloke who kicks the footy more than he handballs and once again Dusty gets a big tick in that column (198 kicks to 93 handballs).
The biggest differential I see between Sloane and Dusty is the big, frustrating, elephant in the room known as 'The Tag' or the 'Fantasy buzzkill'. It's no secret that Sloane is a contested possession beast, however, in recent weeks we've all seen firsthand what happens when teams put all their effort into stopping him. Consecutive scores of 65 and 63 in rounds 7 and 8 respectively highlighted that one of the most effective ways to stop Adelaide from winning is to extinguish the fire that is Rory Sloane. This realisation made owners of Sloane right around the country weep inconsolably and added insult to injury to those who paid over $700k for him after round 6. The reality is, THIS WILL HAPPEN AGAIN!! Not only will it happen again, but it will more than likely happen in just a few days when he comes up against Mr Tagger himself, Scott Selwood.
If you're looking to get either one of these blokes in now then basically they are there to stay. With that in mind think about this…. In your Fantasy finals would you feel comfortable with Sloane who, as this year has shown us, is no stranger to a score in the 60's? Or would you feel comfortable having Dusty who comes up against Freo and St Kilda in his last two. Yum.
There is nothing better than watching Richmond lose in the final minute of the game but I reckon owning Dusty and watching him go beast mode in those last few minutes would put the cherry on the cake. At the end of the day, Sloane CAN and WILL be stopped by opposition teams. Dusty on the other hand is probably the best 1 on 1 player going around and shrugs off tackles with his trademark 'Don't Argue' as easy as swatting flies.
At the end of the day, there is little doubt these two will be top 8 midfielders by the end of the year. It's a tight battle for sure. Don't forget to hit Leighroy up on twitter at @leighroyDT. I'll be back next week for another addition of Versus. Good luck over the bye rounds.
SHOP NOW: Tom Mitchell beanie | Tom Rockliff beanie