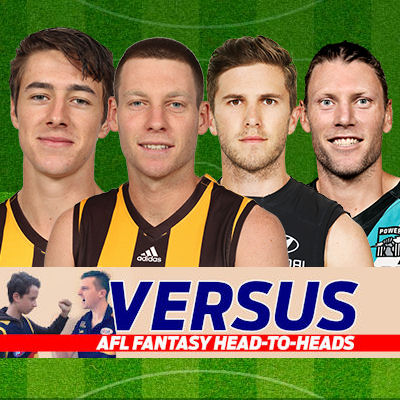 With the round 11 byes successfully negotiated, out attention moves to the second major wave. Today in Versus, little-known Hawthorn midfielders and cash cows James Cousins and Dallas Willsmore are detailed. They are joined by seasoned midfielders Marc Murphy and Brad Ebert – both or whom are having career best years.

Click here to subscribe on iTunes.
James Cousins ($195,000)

V 

Dallas Willsmore ($175,000)

 
With Hawthorn's finals hopes well and truly gone, combined with the fact they are in semi-rebuild mode, it's time to play the youngsters. We've seen the likes of Heatherley, Miles and Stewart given opportunities already and in the past two weeks, inside midfielder James Cousins has emerged. Hailing from the Murray Bushrangers TAC Cup program, Cousins featured in 15 games for the 'Bushies' throughout 2017, averaging 13.6 kicks, 10.7 handballs (24.3 disposals), 4.7 marks, 4.7 tackles, 0.8 goals and 99 Fantasy points. These impressive, consistent efforts saw him claim Murray's best and fairest award and be included in the TAC Cup Team Of The Year.
Cousins missed out on selection for the Vic Country side which was to play in the National Championships. Although this would have been disappointing from Cousins perspective, it allowed him to suit up exclusively for the Bushrangers. An obvious strength of his is the ability to win the contested ball on the inside, but it is his endurance which allows him to make it to most stoppages when required. Cousins ability to rack up the disposals is a trait easy on the ears of Fantasy coaches.
Having followed many of the 2016 draftees through their final under-aged season, it is of no surprise to me that Cousins has found his feet straight away. At 185cm and 80kg, James came into the system (via pick 46 in the rookie draft) with an AFL-ready frame. In his debut outing for Box Hill, Cousins was impressive with two goals in a solid display. Across the next five weekends, he managed disposal counts of 24, 19, 29, 23 and 29 – extremely promising numbers for a 19 year-old. Once again, his consistency has shone through and there is little doubt he had earned an opportunity when Hawthorn elevated him off their rookie list.
Cousins kicked a goal in the debut victory over Sydney and also managed 14 disposals, 1 mark, 6 tackles and opened his DT account with 66 Fantasy points. But arguably more important than plain statistics, Cousins adjusted to the speed of the game well and was not overawed by the occasion. Impressively, those figures came from just 58% time on ground. Interestingly, as was outlined above, endurance is one of his strengths, so expect to see him push the 80% mark soon enough. As is the case with most debutantes, Cousins tackle numbers have been high early on which will no-doubt impress Alistair Clarkson.
The two knocks of Cousins game last year were the lack of damage per possession and his speed. However these two areas to not directly have an impact on his Fantasy output. A key factor when deciding rookies is job-security and Cousins' looks reasonably solid having starred in the VFL, earned a call up and impressed in the big league. A breakeven of 2 will ensure his price continues to rise considerably over the next few weeks. One of the best downgrade options, Cousins does have a bye in round 13, but if you already have a full side set up for that week, then do not hesitate in bringing him in.
Dallas Willsmore. Who? With a name like that, he should be making it in Hollywood but instead, he is playing AFL footy for the Hawks. The North Ballarat under-18 was rookie listed by the Hawks in 2014 when they used their pick 17. He has been made to wait more than two years for his first crack at senior football, but he should be given every opportunity to impress.
Willsmore, like Cousins, was rightly rewarded for a string of strong performances for Box Hill in the VFL. An midfielder who does his best work on the outside of stoppages and towards the wing, Willsmore is generally a reliable kick and has recently been finding plenty of it. However he has been prone to the odd VFL game where he has not laid a tackle. AFL and Fantasy coaches alike love young kids who aren't afraid to chuck in a tackle and apply defensive pressure. But I'm afraid that is not Willsmore's cup of tea.
With that being said, he does inflict damage on the opposition with each disposal. That combination of production and hurt factor is a winning one. Willsmore had his moments against the Swans but didn't have much of an impact on the game. From a Fantasy perspective, he managed 9 disposals, 3 marks, 3 tackles and 40 points. However he did improve on his debut effort, collecting a more impressive 10 disposals, 6 marks, 3 tackles and 62 points.
Unfortunately, having broken into the side on the back of positive reserves form, it seems Willsmore simply does not have the same level of job-security as Cousins. Billy Hartung plays a similar role to Dallas and looks set to return to the Hawks side this weekend, potentially at the expense of him. I reckon there is potential in Willsmore as a Fantasy player. He has managed to lay 7 tackles in his two games – promising signs given his predominantly outside game. Dallas has also taken 9 marks but will need to find and win more of the ball if he is to take the next step. Pass for now.
Verdict: This one is pretty easy to be quite honest and whilst both have shown potential at AFL level, I fear Willsmore may find himself out of the team by 6:30 tonight. Cousins, on the other hand, I feel could really become a solid Fantasy player. As was outlined in his piece, James has a range of DT-relevant traits and wins this debate hands down.
Marc Murphy ($603,000)
V
Brad Ebert ($602,000)
It's about this time of every footy season that Fantasy coaches ponder how they missed player x in pre-season. Well this year Carlton captain Marc Murphy is one of those x-men. His starting price, $482,000, would have made Murphy the perfect option at M5, but he is still very much a viable option.
Looking back on previous seasons, Murphy has been a B+ Fantasy player, averaging over 100 on three occasions and dropping below 90 just four times. And two of those times came in his first couple of seasons at AFL level after being selected with the coveted number one draft pick in 2005. So clearly, Murphy hit the ground running and at the age of 29 is enduring arguably his very best season. He kicked off the 2017 campaign with a 35 disposal, 6 mark, 7 tackle and 139 point outing on the opening night. This was backed up with 125, 145 and 124 before bucking the trend with a score of 97 in the hefty loss to Port Adelaide. Since then the first months ceiling has not quite been replicated, but Murph has still pumped out four tons and a 90.
In terms of playing style, Murphy has genuine balance to his game, combining inside grunt with polish on the outside. This is excellent from a Fantasy orientated perspective in that he tackles at an expected level (currently averaging 4.6 tackles including hauls of 7 and 10), consistently finds upwards of 25 touches (has done so in every game so far and hit the 30 mark seven times) and takes a healthy number of marks around the ground (averaging 5.3), having also proven to be a handy contributor on the scoreboard with seven majors.
What has been impressive about Murphy is that he has and continues to score well despite his side being beaten more often than not. As the official leader of a very young unit, Murphy has certainly let his on-field actions do the talking. Now priced at $603,000, Murphy is no longer cheap but remains firmly in the hunt to capture a top 8 mid spot. Having negotiated the bye week, I would expect another solid score from one of the years most consistent players.
Carlton host the ladder leading Giants this week in what will inevitably be a fairly sizeable loss. But the outcome of matches is yet to inflict damage on his 2017 campaign and I would expect more of the same. After that, the Blues face Gold Coast and Richmond – sides who Murphy scored 124 and 139 on earlier in the season. A firm selection and one you know what to expect from. No issue with the bye and will save you a few handy bucks on the likes of Dusty, Zorko, Duncan, Ablett and Sloane. The only question marks lay over his injury history which, particularly in recent years, has restricted him.
Workmanlike is probably the best word to describe Power midfielder Brad Ebert. After originally being drafted by West Coast, Ebert returned to his native South Australia to carry on the family name etched in Port Adelaide history. During his time in Perth, Ebert was a contributor without ever really starring. And until this season, I don't think Ebert has ever truly stared.
His move back to Adelaide proved to be a winner in terms of Fantasy output. After recording season averages of 65, 72, 81 and 62 with West Coast, Brad immediately made his intentions clear with the Power, averaging 99. His output remained in the late 90's until Ebert cracked the ton for the first time in 2015. Port struggled last year and coincidentally Ebert dipped below 80 for the first time since making the move. However they seem to have returned to their attractive brand of footy previously displayed in 2014 and Ebert is a key pillar in their best 22.
A hard worker on and off the field, Ebert busts his guts each game and isn't one to shy away from the contest. He loves the hard contested stuff but his work rate allows him to find his fair share of the ball away from the coalface. So far in 2017 we've seen a blend of consistency and ceiling on offer from Brad. Having never dropped below the 90 point mark, the uncle of Port Adelaide Magpies premiership player and South Australian legend Russell has also pumped out scores of 149 and 142. In both those games it was Ebert's tackling which elevated his scoring to the next tier, combining for 26 across the two matches.
Ebert is enduring a similar season to Murphy. Both have hit great heights without ever bombing out. Whilst we may see a dud score from either soon, particularly after publishing this article, they both have had their bye and will be looking to continue from where they left off.
The Power face Essendon at Etihad Stadium on the weekend who are currently ranked fourteenth in terms of 120+ scores against (averaging 1.5), fourth for 100 points scored against and fourth for total points again. I can see Ebert pumping out a 90 here. Brisbane at the Adelaide Oval where Ebert has a lowest score of 104 at in 2017 then follows. Owners will be hoping Ebert can again capitalise in big win given he has managed his three highest scores from wins by over 25 points. The Tigers and Magpies in rounds 14 and 15 will prove harder as both Victorian teams rank high in terms of Fantasy points conceded. Another type that doesn't have an obvious weakness, Ebert will deliver week in week out.
Verdict: As was outlined in Ebert's section, both players are in fine form and similar to each other. However I prefer Murphy here as he has a higher ceiling having gone 120+ on five occasions compared to Ebert's two. Murphy's current ownership of 27% is 23 percent higher than Ebert's however.
SHOP NOW: Tom Mitchell beanie | Tom Rockliff beanie