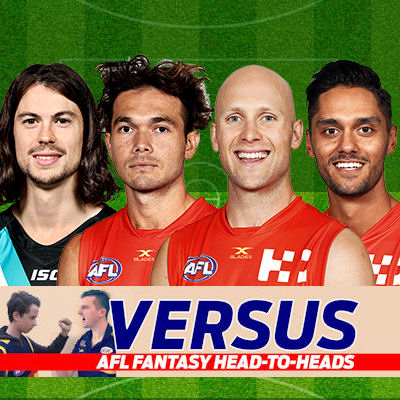 With the Suns and Power returning to action this week, I thought I'd take an in-depth look at some of their Fantasy relevant players as the wave of byes approach. Jasper Pittard and Jarrod Harbrow are just the sort to make you feel stupid after trading them in. But they won't cost the farm and both are enduring career-best Fantasy seasons. Also under the microscope are premium midfielders Gary Ablett and Aaron Hall. Enjoy this weeks Versus.
Jasper Pittard ($519,000)

V 

Jarrod Harbrow ($493,000)
With a name like Jasper, I'd immediately feel nervous with him sitting in my defence. The boy from Torquay was a first round selection by the Power in 2009. Injury was a constant issue early on, managing 14 games in his first three years at AFL level. But he did show enough promise for the Power to maintain him in their long-term plans.
Despite becoming a regular senior player in 2014, he never really showed much Fantasy potential. But last year he was able to produce four tons and six 90's to enhance his reputation amongst the greater dream-team community. In a largely disappointing year for the Power, Pittard stood up and was rewarded with selection in the All-Australian squad as well as third place in Port's best and fairest. Consistency was never something I previously associated with him, and he did leave owners frustrated after scores of 52, 58, 29 and 59. Yet so far in 2017, he has gone sub-90 just once. And that happened to be an 89 against the Giants.
Ok, so he's in good form, has no issue in terms of bye round, seems to have captured some consistency and is definitely a player of difference. But why would you go Pittard over a proven performer with all the runs on the board, like a Montagna or Hodge? To be honest, you wouldn't pick Pittard over them for any other reason but the bye factor. It certainly has the ability to become the deciding factor in a close comparison.
Now I'm not an expert when it comes to the Power despite living in SA, but part of the reason for Pittard's rise seems to have been the recent demise of Hamish Hartlett. No longer is Hartlett the go to guy off half-back. His Fantasy scores have dropped dramatically since the 2011-15 days where he was averaging high 80's.
After missing the first three rounds with a hamstring complaint, Pittard has hit the ground running upon return. He is undoubtedly one of the Power's most valuable players with his ability to turn defence into attack. A breakeven of 88 should be met this week against the Cats. Fellow half-backs Bob Murphy and Jason Johannisen both managed respectable scores down at the newly renovated cattery last week, and I would expect another 90+ effort from Jasper tonight and beyond.
He's been in the competition since 2007, but Gold Coast defender Jarrod is on-track for a career best season, at least from a Fantasy perspective. Picked up as a rookie by the Bulldogs back in 2006, Harbrow played 61 games in the red, blue and white before making the move up north to become a member of the Suns foundation squad. A defender who loves to run and carry off the half-back line, Harbrow is a guy who is always looking to attack whenever he gets the ball. His dash, drive and creativity has at-times proven to be a weapon for the Suns, but Harbrow has long been one of those defenders who will pump out 70's each week. The type of player you'd pick up with a late selection in a draft.
But this year, Harbrow has managed three tons in the first six matches, to go with scores of 96 and 80. In-fact, his only blemish came against the dominant Crows, where Jarrod was restricted to 69 points. So what has led to this change? Well it's pretty simple. Harbrow has averaged 19 disposals over the course of his 11 season career, but in 2017, he is getting his hands on it much more frequently with a current average of 27 touches. It's clear the Suns players like it in his hands.
I feel like Jarrod is the sort of player you toy with the prospect of starting with, but promptly remove from any plans after taking a look at past averages. When round 11 hits, the likes of Dochery, Simpson, Lloyd, Roberton, Montagna, Hodge, Johannisen and Hibberd take a break in a round which could force some coaches to play just one or two premo's back in defence. But a guy like Harbrow, who happens to be available for under 500k, will be on your field for all three weeks. Pretty tempting.
He has tripled his amount of tons achieved last year and could well be your best buy of the year. But admittedly he could easily be your worst buy and leave you pondering why you even considered him. Look, he is certainly not for the faint hearted given he has potential spud written all over him, but Harbrow's current form is strong and whilst he hasn't proven to be all that Fantasy relevant in the past, is owned by less than 2% of the competition. Certainly food for thought.
Verdict: These two are very similar types of players. As was stated, both are attack first, defend second type backmen who create run and drive from the defensive half. You can't deny the fact there is risk attached with both. But they offer a point of difference in the back-line minus the high price tag. I can envisage many coaches disliking both these options, instead preferring to eliminate the risk factor, but this game isn't won on that strategy. I prefer Pittard here though.
Garry Ablett ($672,000)

V

Aaron Hall ($591,000)
What a strange year it's been for one of the competitions all-time greats. GAJ, Gaz, Gazza, the little master, Gary Jr – whatever you wish to call him – has been in and out of the national media spotlight already in 2017 because of his attitude and supposed off-field issues. The year didn't start all that well, with Ablett requesting a trade back to Geelong which was ultimately blocked by the Suns officials. He was stripped of the captaincy and showed a poor attitude in the round two clash with GWS. As a result, the media tore him to shreds, naturally linking the failed move back to Victoria to his seeming lack of desire at the Suns. But you wouldn't know it looking at his more recent Fantasy scores.
Ablett also lays claims to a spot in AFL Fantasy royalty, having averaged at least 90 for ten seasons. Renowned for his production, burst of speed from the contest and ability to hit the scoreboard when isolated in the forward 50, Ablett kick started his year with a fairly stock standard performance which produced 105 points. Next came the disappointment. He was quite clearly far from his best against the Giants, managing 16 disposals and just 69 points. But as all champions do, Garry has bounced back in style. The past six games have yielded six tons, the lowest of which being 108. A 45 disposal, 3 mark, 9 tackle, 1 goal and 162 point performance in the loss to North Melbourne was the perfect way to gain back any respect he may have earlier lost.
Currently owned by 9.66% of coaches, Gary 'survived' the China trip and has had a well-earned rest. I can remember the days, particularly from 2012-14, where Gaz was an absolute lock in everyone's starting sides – similar to a Danger or Rocky in the current landscape. However a bad run with hamstring and shoulder complaints has seen him fade away from those levels. Will play his 300th game in a months time, I suspect Gary and his teammates will benefit from the weeks break.
If the option surfaces, targeting Suns and Power players is a logical option over the next week or two. As has been made obvious, they will prove to be a wildcard whilst most other players take a break. This factor alone will likely be enough to entice many. It looks like round 13 might be the worst of the regular bye weeks for the midfielders with big names such as Mitchell, Merrett, Pendlebury, Treloar, Sloane, Kelly and Neale earning a rest.
Gary's issues look to be behind him now and the potential move to Geelong is not making an affect on-field. Whilst this trade may occur, Ablett has recaptured the form that has made him so difficult to resist in years gone by. No-one can question his Fantasy ability. But the question of whether he will be a top 8 midfielder is still uncertain. At this stage I think he will just squeeze in. Big guns like Danger, Zerrett and Titch should be the priority, but Gaz would be top of the next tier down in my books.
Those who have played the game for a while may remember Hall showing positive signs of his Fantasy ability back in 2015. With injuries to key Suns midfielders, the Tasmanian was shifted from his role at half-forward into the guts and boy did he grab this opportunity. Scores of 111, 112, 114, 121, 95 and 101 were put up in the final six rounds. Hall loomed as one to watch. One of the Suns pre-season picks in 2012, higher expectations were placed upon him in 2016 and he didn't disappoint, averaging 105 throughout 16 games with FWD/MID dual position status.
Unfortunately Hall was stripped of the DPP pre-season, but has still pumped out an average of 105.7 in the Suns first eight games. However it has been far from smooth sailing for Hall or his owners. After staring with 109, Aaron struggled to find much of the pill in round two, resulting in 75 Fantasy points. He did however bounce back with 122, 98 and 102 before really stinking it up in a disappointing showing at Etihad Stadium. Whilst Gaz had the ball on a string, Hall couldn't get his hands on it. He could manage 18 disposals and failed to take a mark. Trust me, it was frustrating to watch. However his past two scores, 156 and 134, have gone a long way to making up for it.
When he's on, Hall is a great player to watch. He possesses plenty of pace, takes the game on, generally uses the ball well by foot and hits the scoreboard (has kicked  7 goals so far in 2017). And when he goes big, like he did against the Cats and Power, his tackle numbers tend to push above the 5-6 mark.
Obviously if you're picking Hall, the byes will be at the forefront of your mind. I discussed the lurks and perks of them above and therefore won't elaborate on them too much. But Hall's current price, $591,000, deems him under-priced by probably around $40-50k. With a break-even of 81, compared to Ablett's 121, Aaron Hall's stocks are on the rise. Now is the best time to jump on board.
What was interesting about Hall's last three games is that he has spent just 77% time on ground. He did get cleaned up towards the end of the Kangaroos match, but other than that, doesn't appear to be nursing any injuries. Hall has shown he can score well regardless of the amount spent on ground, but I can't help but think if he can push these figures back up to the mid-80's, we could be in for many more 120+ scores. Hall is renowned for his high ceiling, which at times can lead to dud scores, but he is in great form, available for sub-$600k and coming off the bye. Enticing.
Verdict: I don't think you can really go wrong with either of these guys to be quite honest. I'd have to go with the little master here though as he is seriously gunning it at the present time. Granted Hall is also in good form, but his tendency to have a shocker is not what you want in a premo – especially this year. Isn't it great to see Gary back to his free-flowing best. Never thought I'd say this a couple of years ago, but he may be a touch underrated around here.
SHOP NOW: Tom Mitchell beanie | Tom Rockliff beanie