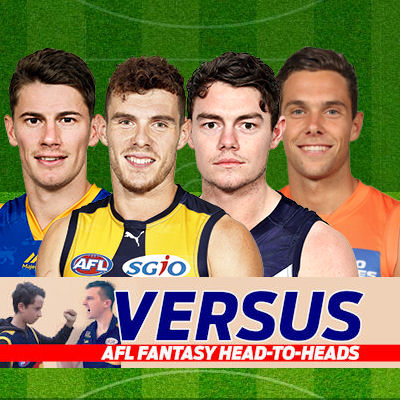 Wow. Round nine already. With Port And Gold Coast taking the week off, coaches will have to throw things round a bit this week. Rocky's injury is hardly ideal, but today Leighroy and I will be looking at four potential replacements.

Click here to subscribe on iTunes.
Dayne Zorko ($651,000, Tom)

V

Luke Shuey ($639,000, Leighroy) 
It's happened again. The Fantasy world held their collective breaths as favourite son Tom Rockliff landed awkwardly on his shoulder during the latter stages of the Lions clash with Hawthorn in Tassie. The news we've all been dreading has become a reality. With Rocky likely to miss 2-3 weeks, I don't think you can afford to hold him, especially over the bye rounds. He will be a necessity upon returning, but at this stage, it's time to look at some alternative options to trade him to.
The pig's teammate Dayne Zorko looms as an enticing option. Zorko's story is quite awesome actually and further proof you don't have to be a high draft pick to make it in the big time. Although he captained his native Queensland's under-18 squad in 2007, Zorks was overlooked on draft night and was instead forced to remain at state level. He made an immediate impression for QAFL (now known as the NEAFL) side Broadbeach by taking out the best and fairest award. This next part is amazing. Despite winning four b&f's on the trot for Broadbeach, Zorko was still unable to impress AFL recruiters. After captaining the sunshine states under-21 side, Zorko was again dominant throughout the 2011 season. He won the Football Record player of the year and found his name back on the lips of the big league talent searchers. Remarkably, Dayne recorded three top ten finishes in the Grogan Medal (the NEAFL's equivalent of the Brownlow) and was finally picked up by the Suns as a Queensland priority selection. But he still wasn't able to make the cut at the expansion club, instead being traded up the Gold Coast highway into the hands of the Lions.
There's not much more he could've done in his debut campaign in the top flight, averaging 94 Fantasy points from 16 games. And he went from strength-to-strength ever since. But in the past two years, Zorko has really broken out into a genuine premium midfielder. He has won the last two Brisbane b&f's (joint winner in 2015) and is once again gunning it in 2017. His year started with a 116 point showing, headlined by 10 tackles and two majors. He then went 108, 117 and 139 before amassing 32 touches, 6 marks, 8 tackles and 2 goals on his way to 157 against the Dogs at Etihad. Despite two slightly under par efforts (76 and 97) in the past two weeks, Zorks hit his straps again last weekend with 125 in the Lions seventh consecutive loss.
It's a rarity to find any player that has all key statistics covered. Whilst Rockliff and Beams are both big accumulators of the ball, Zorks does not require a dose of leather poisoning in order to crack the three figures, despite still averaging a healthy 25 disposals (equal 37th in the competition with Nat Fyfe). For a bloke with speed and neat foot skills, Zorko's tackle numbers are excellent. He cracks in hard despite being a good 10cm smaller than the average mid. Whilst his mark numbers are relatively stock standard, Zorks has bagged ten goals so far, impacting the scoreboard well. Dayne's kick:handball ratio is also positive.
Currently ranked the 8th highest overall Fantasy scorer, Zorko's scoring was not affected by the absence of Rocky last year, scoring 89, 109, 122, 91 and 106. Obviously smaller factors like, 'will he cop a tag' or 'will he struggle with Rocky not feeding him the ball' are present. But common sense suggests that even though Beams will likely return to the lineup, Zorko's scoring will still be up around the 110+ mark. With a bye in round 11, just over 3.5% of the competition will be licking their lips at the prospect of owning a potential top 8 midfielder. Zorko would be a welcome addition to any centre line and has proven to have a fractionally higher ceiling than Shuey as well as having more runs on the board.
Ok so Shuey up against Zorko is pretty tough. Form wise you probably couldn't split them this year as both are going bananas early on. Stats wise they are again very similar with both having over 200 disposals already. They both tackle a truck load, (59 Zorko to 52 Shuey) and they both average around the same % TOG. So what is it that separates them from a Fantasy Perspective in 2017?
*Crickets*
Man I don't actually know…… I've been looking at their respective years so far and they are blindingly similar. It's clear that Zorko has far more scoreboard pressure which helps his scoring and the reality is, history is on the side of Zorko in terms of averages. Shuey has never finished the year averaging over 100 points yet Zorko has and quite convincingly at that (106.2). Breakeven wise Shuey's is lower at 129, as opposed to Zorko's 136, but realistically the chances that either will be making much money in the short term is quite low. Ceiling wise you'd have to give it to Zorko but again only just. So who would I pick…..
IF I was in the market for either one of these two guys here's what I would be doing… First I would be looking at my upcoming bye structure, if I was short on round 11 mids I'd be putting a cross next to Zorko's name and giving that one to Shuey. Next, I'd look at the dynamics of their respective teams. In the case of Zorko we now know that Rocky is out for about 3 rounds and Beams is shaky at best. Therefore does this impact on Zorko's scoring? I'm sure Tom might have done some research on that so I won't delve into it but the reality is Zorko may jump up any tag list and may also find he isn't receiving as much of the ball from the engine room. It's nitpicking at best but it's definitely something to keep in mind. West Coast on the other hand have an extremely healthy list and the possibility of a tag going to Shuey (with Sam Mitchell in the side) is nonexistent! I said pre season that one, if not two Eagles mids were going to have career best years with Mitchell around, and look what has happened to Shuey…. Moreover, West Coast are definitely Finals bound at this stage and by far a much better team. We saw in round 6 when Brisbane got absolutely spanked that pretty much all of the Lions mids struggled (76 Zorko, 68 Beams, and even Rocky just reached a ton). I'm sure another Brisbane demolition will occur before the year is out which means you can expect a putrid score from any Lions mid you may have. Conversely, when West Coast were brushed aside at the MCG by Hawthorn in round 5, Shuey still got to 119 points! I was at that game and Shuey genuinely looked like the only Eagle who was trying.
With a lowest score of 93 points for Shuey, you can pretty much set and forget him in your midfield. A lot of his handball happy games are gone and he is a durable as they come. He'll make you a nice $84k from a swap down from Rocky, and you'll feel all sorts of warm fuzzies when you check your AFL Live app every 10 minutes and see his score gradually working it's way up.
Don't get me wrong, if I was in the market for either, it'd be the struggle of the week. I couldn't even split them as POD's because both are only in around 3% of teams. Flip a coin. I'd probably pick the player I wanted to watch because that always makes footy that much more enjoyable.
Lachie Neale ($604,000, Tom) 

V

 

Josh Kelly ($598,000, Leighroy)
In a few years time, when Rocky and Danger have retired, it's guys like Neale who will undoubtedly be amongst the first picked players in any side. Whilst he is perhaps not receiving the recognition he deserves, Lachie has been an excellent Fantasy player for a while now and is one of my personal favourites.
Neale played his junior footy with SANFL side Glenelg and represented SA during the under-18 Championships. An inside-leaning midfielder, the 2016 Doig Medal winner (Fremantle best and fairest) finds the ball with ease, is a clearance specialist, has excellent vision at stoppages and regularly hits the intended target via handball. The obvious knock on Neale is his height. At 177cm, most players would need to posses speed in order to make up for the lack of height. However speed is not one of his greatest assets. Instead Lachie, or 'Lock-ie' as I refer to him as, thrives on winning the ball and dishing it out to his more free flowing teammates. This ball-magnet trait makes him an immediately attractive Fantasy option.
It's fair to say the Dockers had a very poor 2016 campaign. A season ending injury to inspirational Brownlow Medallist Nat Fyfe proved too great a loss. But the one bloke who can well and truly hold his head up high is Lachie Neale. He hit the 40 disposal mark on five occasions, broke the record for total disposals with 737 and averaged 111 Fantasy points including 15 tons (9 of which exceeded 120 points) – fair numbers if you ask me. And it's suspected Lachie played through a fair chunk of the season carrying injury. This only further elevates what was a standout year.
Picking Neale in your starting side would have been considered a risk many weren't prepared to take, given he required off-season surgery on his ankle, knee and shoulder. So far in 2017, admittedly he hasn't quite lived up to the hefty $671,000 starting price with an average of 103. He managed just 23 touches and 92 Fantasy points in round one and did not have any genuine impact on the game. After a further two weeks of sub-100 scores, Neale broke the triple figure mark in the comeback victory over Melbourne in round 3. The key to his 119 on the Dees will be discussed a little later. In the past three weeks we've seen Lachie return to his high scoring ways, with scores of 114 and 138. Although he didn't ton up against Richmond, it was Neale who broke away from the centre stoppage and delivered a game-winning pass to Mundy who, as I'm sure your aware, kicked truly.
Lachie has added another string to his bow this year – goals. He's kicked 8 so far this year, half of which came against the Dees where he rested at half-forward for much of the game. Lachie undoubtedly has one of the highest ceilings out there (as is proven by his regular 120+ efforts). However when added attention is applied, he has been known to struggle. I can specifically highlight the Dockers clash with Brisbane in round 12 last year where Mitch Robinson was sent to him. Robbo managed 113 to Neale's 52. Guess who captained him that day. But with Fyfe back in the side, I doubt whether opposition coaches would bother sending someone to Lachie.
His kick:handball ratio is sloped towards the latter, (currently averaging 11.8 kicks and 16 handballs) but dishing off the quick hands in congestion is part of his game style and, although it would lead to more points, is not something he should be looking to change.
In years gone by, Neale has featured in the top ten for points per minute. I don't have the exact statistics, but I can't remember him spending over 85% time on ground too many times throughout 2015/16. It has never proven to be a problem, but watch out if he can lift his average TOG above the current 80%. One of the best accumulators in the league, expect Lachie to lift his average beyond 105 with the help of some inevitable 130+ outings.
In what is turning out to be a massive week of Fantasy Footy, a quarter of AFL Fantasy coaches are facing one huge question. Who do I trade in for Rocky???
The answer isn't as simple as a straight swap because nobody compares to his royal highness, however due to his high price, there is absolutely no shortage of options and sometimes having a plethora of options creates headache after headache as you sit tinkering with possibilities you may not have even been considering. Aside from the obvious swap to Titch/Merrett (surely you have them already by now..) some rather unlikely POD's have reared their in-form heads…… enter one such guy, Mr Josh Kelly
Kelly grew up in Melbourne's southeast and has been an extremely talented footballer from a very young age. In the 2013 NAB Draft, Kelly was taken by the Giants with pick #2 and hasn't looked back since his debut the following year in round 2 of the 2014 premiership season. From 2014 – 2016 Kelly has become a mainstay in the Giants' midfield and as a result his Fantasy averages have been steadily increasing every year (69.7, 73.7, 89.9) from 14′ to 16′ respectively.
This year Kelly has started better than he ever has before and coming into round 9 he is averaging a whopping 111 points per game and has a huge 3 round average of 121.3! For me, Kelly has definitely broken out fantasy wise this year and has rightfully earned the title of "Premium". Last year he was bloody close but considering it took him until round 8 last year to even register a ton, it's clear to see that this year we're looking at a COMPLETELY different player. This year we've had 5 solid tons (including his pig out last week of 162), a 91 and then two rounds in the 80's. Safe as houses.
What I love most about putting Kelly in my team is the way in which he goes about racking up his points. Unlike players that rely on marks only (Gaff mate, I'll never let this go) or tackles only, Kelly is a multifaceted points accumulator which means come rain hail or shine, there are myriad ways he can still post a great score. As a side note, I realised that over the first 8 rounds he has only given away 3 free kicks (Neale 10). Minor detail, but reassuring nonetheless.
Unfortunately bye wise there is nothing to get excited by here as he shares the round 13 bye with a truck load of other popular premos. With regards to break evens it's very positive as currently Kelly's is 77 which means he's arguably underpriced and won't lose you any money if you plan on trading him back up to Rocky when he's back. In fact, along that line of thinking it's very possible he can make another 20-30k in that time frame which might be a strategic move on your part.
gripeThis is purely opinion but I think as the weather starts to turn wet, some players tend to be affected more than others and the tacklers are the ones who thrive. At an average of 6.5(half a tackle is a thing right?) tackles per game, Kelly isn't afraid to get his hands dirty. Personally I've got Kelly in for Rocky as we speak and the main reason I keep going back to him is that I genuinely can't see any reason as to why his scoring would suddenly take a nose dive. He plays in arguably the best team around at the moment so the ball is going to be in GWS's hands, and he's picking up the slack left by Coniglio while he's out battling injury. Some say he's at risk of the tag, but I think in a team with names like Shiel, Ward, Scully even, the odds are somewhat in his favour. I'm not 100% sure if he's had a hard tag even go to him this year but if he has, he hasn't been affected to the extent of one of our other big name mids, *cough* Sloane *cough*. I admit sometimes he can go a little bit missing by scoring well in a half then being scarce for a good 15-20 minutes but it's a minor gripe.
He's as durable as steel as well, having played all of 2016 injury free, he backed it up with another solid pre season and looks to be in peak physical fitness. His role is clear, his team is solid and his Fantasy scores are entering fantastic uncharted territory. Best of all, with a swap down from rocky you are banking $125,000 which you can use to potentially upgrade someone like a WHE to a premo FWD or even a Curtly Hampton to a defender who doesn't want to make you smash your phone into a thousand pieces and cry. To all those owners from the start, (my best mate!!) I salute your bravery as you would have had no idea he was going to be averaging so high after 8 rounds. I also say to those same people…… I'm probably going to ruin your best POD!
That wraps up another addition of versus. We hope the comparisons helped you gain more knowledge regarding these four POD midfielders. As always, hit Leighroy up on Twitter using the handle @leighroyDT. If you have any suggestions for future comparisons, this is the place to go. Best of luck for round 9!