Roy's Trade Talk – Rd 8
Roy has a few players to consider before discussing your ideas in the comments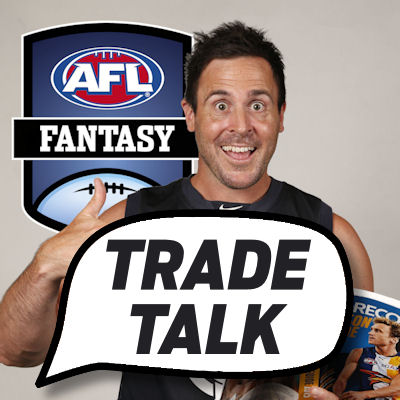 The three little Piggies came out to play again with Rocky and his apprentices Merrett and Mitchell doing their thing again. Not often is paying top dollar recommended, but owning the three of these blokes is a must for serious players.
Trade out?
Will Hoskin-Elliot- He has done his job, going up $187K, but dropped $9K on the weekend and is going in to a tough game against the Giants with a BE of 83. If it rains, he is almost a must trade.
Dan Butler – Has been a great little cow, going up $149K while averaging 60 while pinch hitting on our grounds. Only went up $2K this week, so feel free to offload. His BE is still just 50 however, so it isn't a rush.
Curtly Hampton– Has been great, playing every game, increasing $152K and even pinch hitting with a couple of big scores. He has a BE of 67 this week, and after dropping $2K, he can be moved on without hesitation.
Sam Powell Pepper – Has another achievable BE of just 49, but after rising $116 to sit at $332,000 he is a prime price to be part of a traditional downgrade/upgrade.
Cows:
Ivan Soldo (RUC, $172,000) BE: -6. May not get a game
David Myers (MID, $199,000) BE: 31. Far from an inspiring start, but has better job security than most players in this price bracket.

Click here to subscribe on iTunes.
Mid-priced cow:
Aaron Black (FWD, $259,000) is getting toward mid price territory after averaging 76 over his last three. It is expensive if you are upgrading a non fattening cow leading into the byes, or looking for a downgrade but at least he is hitting the park… and getting a touch. He has a BE of -4.
Isaac Heeney (FWD, $463,000) is at the other end of the mid priced scale, and is obviously a potential keeper/stepping stone to an uber premium as a luxury trade down the track. He has been great over the last two weeks, averaging over 110 and his scoring potential was on display against the Lions when he had around 50 in the first quarter. He has a BE of 51 and a nice draw leading up to his bye with games against the Roos, Saints and Hawks.
Worth considering:
Heath Shaw, (DEF, $487,000) Has been nothing short of underwhelming after producing some impressive scores over the last two years. However, after dropping $117K, he is in season best form with an average of 94 over his last three including his first 100 for the year. With Haynes out, he gets a few of his uncontested marks back and has plenty of games coming up at home.
Lachie Neale (MID, $600,000) is not going to be available for much cheaper than this. It has been hard to tell if Neale is a 'yes' or 'no' from week to week this season, but with three massive scores of 119, 114 and 138 within his last four, he looks a viable option. He only has two home games leading up to the round 13 bye, but those numbers are impressive. BE: 80.
Zach Tuohy (DEF, $535,000) is having an outstanding season with the Cats, scoring 6 or more in five of his seven games, which include a hat trick of hundreds with 131, 117 and 100 giving him an average of 116 in that time. He has a round 12 bye which is handy for some and plays three out of four games at Simonds which I think he will enjoy. BE: 61.
As always, use the comment section to discuss your trade ideas, I'm currently:
Hampton to Myers
Butler to Heeney
@RoyDT (Otherwise known as the #101)