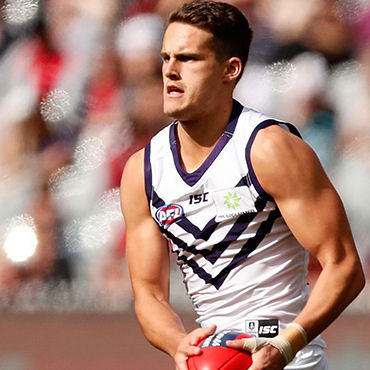 Jeppa is a little busy at the moment so I've come off the rookie list and am ready to make my debut. Don't worry about trading me in though. Jeppa will be back before my price rises too many times so I won't be the best cash-cow for your DTTALK bench.
It would appear we're getting to the stage where most of our starting rookies are starting to get close to their maximum price. Dan Houston only scored 44 on the weekend and now has a breakeven of 56. Sam Powell-Pepper was back on the right track with a score of 78, but his breakeven has crept up to 43 so he might be a week or two away from maxing out too. Sam Petrevski-Seton is in a similar range with a breakeven of 42 and he may also be due for a rest in the next fortnight so watch out.
Another big problem is those initial rookies are also starting to lose their spots in sides. Jarrod Pickett came out of the Carlton side and doesn't look like he'll be back this week, Brandan Parfitt is out for two months with a hamstring strain and there's still no sign of Jake Barrett on the horizon. So who should you be bringing in?
THOSE THAT MATTER
With Parfitt out, Jay Kennedy-Harris (FWD, $183,000, BE 14) could be a straight swap if he holds his spot in the Melbourne side. I didn't see the game on the weekend, but a score of 27 and 11 disposals probably puts his spot in question.
The obvious one if you haven't brought him in already is Aaron Black (FWD, $220,000, BE -13). He didn't hit the scoreboard on the weekend, but he's doing a good job creating space for Tom Hawkins and deserves a few more games. Hopefully Daniel Menzel coming back into the side doesn't boot Black out.
Fellow Cat James Parsons (FWD, $201,000, BE -14) has served his suspension for whacking Luke Hodge and could also come back into the side. He was very impressive in his first two games and could be a handy scorer.
Harley Balic (FWD/MID, $222,000, BE -23) has the lowest breakeven of any player in AFL Fantasy right now after his score of 91 on the weekend. After a quiet debut, Balic has quickly become comfortable at AFL level. He had 19 disposals and was involved in quite a few scoring chains for the Dockers.
Blake Hardwick (FWD, $234,000, BE -4) was one of a handful of Hawks that could leave Tasmania with his head held high. The young forward had 20 disposals at 95% DE and showed some potential as a consistent Fantasy scorer in the 60-75 range.
Ed Vickers-Willis (DEF, $180,000, BE 4) continues to show he's not a Fantasy scorer. Red flags went up during the JLT Series when he averaged 53 points, but another score below 50 in round six shows he isn't going to make you much money.
Ben McNiece (DEF, $174,000, BE 6) scored 50 on the weekend and is probably unlikely to hold his spot in the Bombers' line-up, though again, I didn't see this game. With James Kelly likely to return to the side, you'd assume McNiece will struggle to hold his spot.
Brett Eddy (FWD, $179,000, BE 13) also booted five goals in the SANFL so hopefully we get him back as some bench cover for those that didn't/couldn't trade him.
Finally, Zac Fisher (MID, $234,000, BE 26) will probably miss this week with a minor hamstring injury.
KEEP YOUR EYE ON
The Tigers need a replacement for Toby Nankervis in the ruck and Ivan Soldo (RUC, $150,000) is probably the more likely Ivan to get the call-up if Richmond supporters get their wishes. Though he is a rookie listed player which may make that difficult.
Kurt Tippett is unlikely to return this week for the Swans who could turn to young ruckman Darcy Cameron (RUC/FWD, $156,000) after Matthew Kreuzer dominated Sam Reid and Callum Sinclair.
The door is wide open for GWS youngsters Daniel Lloyd (MID, $150,000) and Harrison Himmelberg (DEF, $251,000) with the Giants losing a number of key players over the weekend. Himmelberg may get a prolonged shot in the senior side with Nick Haynes out for 10 weeks.
Of course, keep your eye out for David Myers (MID, 197,000) as well. Two games back in the VFL should be enough to put him up for selection and he will be a very handy downgrade option.
I hope this was somewhere near the quality of Jeppa's usual great work! Not Twitter Q&A this week because obviously no one knew I was writing this and therefore no one tweeted me! Feel free to hit me up @NicNegrepontis.
If you'd like to learn more about Australian gambling laws click here