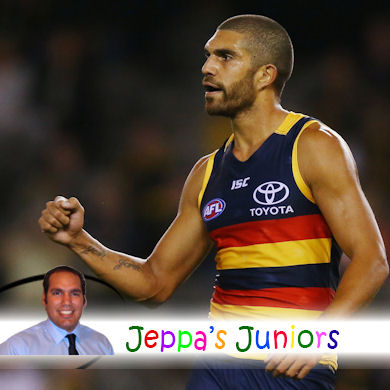 It was a decent week for many in Round 5 and we finally have some cheap rooks at our disposal. Those thinking of a double downgrade, do so only by offloading guys like Powell-Pepper, Pickett and even Stewart. If you're thinking about trading Will Hoskin-Elliott just remember that he's averaging 87 Fantasy points per game. All players have an off day.
Hot off the press! Rookie positional changes in Fantasy are confirmed as follows:
Curtly Hampton, Def/MID
Andy Otten, Def/FWD
Jake Barrett, Mid/FWD
Will Hoskin-Elliott, Fwd/MID
Dan Houston, Fwd/DEF
Naturally, the 'juniors' that have gained DPP status will prove handy for their owners. The more options, the better and I'm going to have Curtly in my midfield this week just as an example.
Those That Matter
We've finally received a bit of luck with our rooks. Curtly Hampton (Def. $343,000, 9 be AF. $318,000, 14 be DT) was on fire scoring 119, Andy Otten, 99 (Def. $302,000, -1 be AF. $288,400, 4 be DT) almost tonned up, Matthew Kennedy, 89 (Fwd. $262,000, -8 be AF. $261,100, -17 be DT) and George Horlin-Smith, 81 (Mid. $286,000, 14 be AF. $244,000, -6 be DT) are back and determined and Aaron Black (Def. $184,000, -23 be AF. $132,400, 70 be DT) started his season with 100 Fantasy points that no one saw coming.
Focusing on Black, he played a supporting role to Hawkins in superb fashion. He's a big unit and 21 possessions, 7 marks, 5 tackles and 2 goals was a great day out especially against decent opposition in St Kilda. Can he maintain such hot form? Definitely not. Will he lose his spot when Parsons serves his suspension? I don't think he will especially if he shows what he did last Sunday. In all honesty, Black is a more reliable forward than Parsons and he suits Geelong's forward line far better in my opinion.
Aidyn Johnson (Fwd. $168,000, -2 be AF. $132,400 DT) made the most of his opportunity in Round 5 coming in late for Hamish Hartlett. Playing in Port's forward half, he finished with 14 possessions, 5 marks, 1 tackles, 2 goals and 67 Fantasy points. To be frank, Johnson enjoyed some easy ball as a result of some poor Carlton defending and he'll find the going a lot tougher against better opposition. We can't trust Johnson's job security and I'd expect some low scores from him down the track. Pass.
Jay Kennedy-Harris (Fwd. $170,000, -3 be AF. $160,400 DT) looked decent in a half forward role for the Dees amassing 11 possessions, 5 marks, 7 tackles and 70 Fantasy points. I'm surprised JKH came into the Dees 22 so quickly after missing a fair chunk of preseason and playing just one 1 VFL game. This tells me he's rated internally and his job security is solid as a result. A good option to trade in if you need a forward but note he'll average in the high 50's / low 60's.
Mature age recruit Ben McNiece (Def. $158,000, 13 be AF. $109,300 DT) made his debut for the Bombers on Anzac Day and he didn't look out of place. Boasting an elite left foot kick, he took a few kick ins but only racked up 11 possessions and 45 Fantasy points in the game. I really like the look of him but I'm worried he'll be used as a 'stopper' and not so much a ball winner. In saying that, the tools are there and with a bit of confidence, he'll grow into AFL footy pretty quickly.
Ed Vicker-Willis (Def. $163,000, 7 be AF. $132,400 DT) needs to do more. He didn't really have an opponent against the Dockers and switched between defence and the forward 50. 15 touches, 5 marks, 1 tackle and 55 Fantasy points isn't the worst output but I want better. Now 0-5, North will be playing the kids so long term I reckon the job security is there for EVW but the scores won't be. Not for me with Stewart and Pickett already suffocating my bench.
Lewis Melican (Def. $165,000, 3 be AF. $132,400 DT) is your typical tall defender. A lock down role where winning the ball isn't his priority. With Alir Alir breathing down his neck for his spot, I'd stay clear. There are far better options to bring in this week anyway.
KEEP YOUR EYE ON

David Myers (Mid. $197,000, 34 be AF. $136,400 DT) – Jackpot! Myers was the must have to start this Fantasy season until he injured his finger in the JLT Series, now he's fit and ready to fire. In his first game of competitive football in 618 days, Myers blitzed in the VFL last weekend with 34 possessions, 8 marks, 7 tackles, 1 goal and an eye catching 135 Fantasy points. He's easily in the Bombers best 22 and assuming Myers is named for Round 6 then you absolutely MUST trade him in. Lock and load!
Mitch King (Ruc/Fwd. $150,000, 26 be AF. $132,400 DT) – Making a recent return from an ACL injury, King is one of the last ruckman standing on the Dees list and he may be thrust into the big league after injuries to Gawn and Spencer. He's not going to be a huge scorer proven by his 2 kicks, 5 handballs, 2 marks, 4 tackles, 26 hitouts and 59 Fantasy points in the VFL last weekend but as bench cover it will still be respectable. King's dual position status as a forward is a big plus but you should wait and see what he produces on debut before trading him in. He might not even be named for Round 6!
The previously mentioned Daniel Lloyd (Fwd. $150,000, 26 be AF. $125,300 DT) is still dominating in the NEAFL. Job security isn't guaranteed with Lloyd at GWS but he's racking up the possessions and hitting the scores that could translate into something decent at AFL level. Put him on your watchlist.
TOP 5 LISTS
Considering price, scoring potential and job security, here's my Top 5 rookie options for Round 6:
Fantasy
1   David Myers (if named)
2   Aaron Black
3   Jay Kennedy-Harris
4   Ben McNiece
5   Ed Vickers-Willis
Dreamteam
1   David Myers (if named)
2   Zac Fisher
3   Nic Newman (if named)
4   Tom Williamson
5   Aaron Black
TWITTER Q&A
Love your work Jeppa! ?? Would you chase an Aaron Black, or potentially stick with a Polson or pick a named Myers etc. #AFLFantasy

— Steve Sowden (@StevenSowden) April 25, 2017
Myers all the way. Considering scoring potential and job security, he's easily the best option and we all need to own him.
Is black good enough to field

— Kate Fennell (@FennellKate) April 25, 2017
You could this week given that the Cats play the Pies who have been average in most aspects.
Keep or trade Newman and Barrett ? #AFLFantasy #JeppasJuniors

— Paul (@Lewie14) April 25, 2017
Keep them if you can. Both have been kicking ass in the reserves.
https://twitter.com/rohanmiles02/status/856771157214679041
SPP. He's pretty much topped out.
@JeppaDT is J. Berry ever going to come good? He is sitting on my pine losing money. Should I punt him? Thanks in adv!

— D J Stoobs (@back3rbingo) April 25, 2017
Doesn't look like it unfortunately. Trade him.
What ruck rookie is the most likely to play? King? Cameron? Getting Spencer sadly didn't work out for me. #JeppasJuniors #AFLFantasy

— Jason (@Jason12588) April 25, 2017
King, Cameron & Soldo in that order.
Who's a good rookie in defence to downgrade too? #JeppaJuniors

— louise lawrie (@BrcoloLawrie) April 25, 2017
McNiece or Ed Vickers-Willis. I have McNiece marginally ahead of EVW.
Eddy or mountford to drop first?

— Jayden Evans (@Evanston319) April 25, 2017
Eddy. Mountford is one of the first mids back into the 22 for North.
worth going Pickett to black

— Adam Orlando (@adzcats24401) April 25, 2017
Of course! Pickett has been a slow burn.
Trade Roughy up to K.Simpson? Or would I be better to double downgrade while we have good rookies? Ranked 16th overall. #JeppasJuniors

— Taezer (@Taezer87) April 25, 2017
Great work bud. I'd go Roughy to a Premo as long as you get Myers with the other trade.
Feel free to ask me a question below and don't forget to add me on Twitter @JeppaDT for all things Fantasy and more. Happy trading!