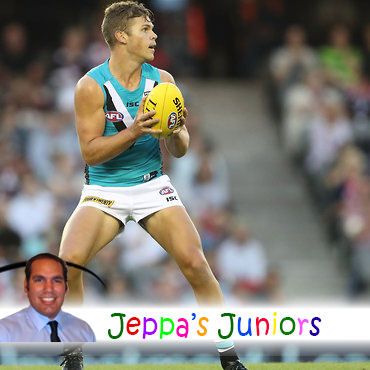 We are in no mans land at the moment. We can't trade our cash earning rooks cause it's too early but plenty of us a desperate to make an upgrade on field. What's worse is that there are very few new rooks coming through. I'm rage trading Roughead to a premo mid but I need a cheap rook to make that happen. Fingers crossed a Polson or similar is named to debut.
The advice this week is to hold your rooks earning you cash. Guys like Stewart and Pickett have been flops with their scoring potential so if you want to rectify those spots with better juniors then feel free to do it.
It's a short n sharp Juniors article this week but make sure you leave your questions if you need something specific answered.
Just Quickly
Our quality rookie field is already limited and then James Parsons (Fwd. $201,000, -16 be AF. $125,300, 70 be DT) goes and gives Hodgey a hard tickle across the jaw. He'll miss two weeks with suspension as a result. Thanks a lot James.
Zac Fisher (Mid. $212,000, 11 be AF. $125,300 DT) looks the goods. He's an elite kick and his pressure on the opposition was super impressive. He's expensive but he'll get plenty of opportunities at Carlton this season and you should look to trade him in.
Dan Houston (Fwd. $309,000, -3 be AF. $274,600, -6 be DT) started on fire against the Giants. At quarter time he was sitting on a whopping 49 but couldn't maintain a decent scoring rate for the remaining three quarters. 82 Fantasy points is still a great score and he's been one of the best cashcows this season.
Those that own Sam Powell-Pepper (Mid. $310,000, 38 be AF. $250,300, 29 be DT) in Fantasy should consider trading him but only if it means you bring in a premo. The young bull was held back a bit with 66% TOG and I'd say he'd be managed over the next couple of weeks.
KEEP YOUR EYE ON
Harrison Wigg (Mid. $150,000, 25 be AF. $132,400 DT) – An eye injury to Jake Kelly last weekend could mean that Wigg finds a home in the Crows 22. Kelly and Wigg are quite different players but I'm hoping a couple of role changes at Adelaide gives Wigg an opportunity as a running half back. Last weekend in the SANFL he impressed with 23 kicks, 7 handballs, 7 marks, 2 tackles and 107 Fantasy points. He's an elite kick and he'll fit seamlessly into the Crows style of play. Wigg's job security should be perceived as a risk though.
Dallas Willsmore (Mid. $150,000, 25 be AF. $132,400 DT) – He's not a big tackler but he definitely knows how to find the footy. Willsmore is a tall, outside mid that is a good chance to line up for the Hawks this weekend. With the Hawks possession style game plan, he could rack up some handy numbers and Fantasy scores but with the way rooks have gone this season, don't expect miracles. Bench warmer only.
The previously mentioned, Cameron Polson (Fwd. $150,000, 25 be AF. $125,300 DT), Harry Perryman (Def/Mid. $224,000, 38 be AF. $161,300 DT) and Daniel Lloyd (Fwd. $150,000, 25 be AF. $125,300 DT) are all dominating in the 2's. Polson is the pick of the bunch out of the three.
TOP 5 LISTS
Considering price, scoring potential and job security, here's my Top 5 rookie options for Round 5:
Fantasy
1   Zac Fisher
2   Harley Balic
3   Tom Williamson
4   Cameron Polson (if named)
5   Nic Newman
Dreamteam
1   Nic Newman
2   Harley Balic
3   Tom Williamson
4   Hugh McCluggage
5   Zac Fisher
Twitter Q&A
Guesses at a basement Def rookie to debut?

— Jai Aspinall ?️‍? (@ProtoType_47) April 18, 2017
Lewis Melican from the Swans or Ed Vickers-Willis who had a lot of the ball in the VFL on the weekend.
@JeppaDT Need to downgrade to a rookie to generate some cash. Can you let me know which is the best option in each position? #JeppasJuniors

— Craig (@Subdubb) April 18, 2017
Stewart, Powell-Pepper, Preuss & Pickett.
@JeppaDT Worth trading Nankervis to Soldo and moving Preuss to R2? Need the cash and they have the same average. #JeppasJuniors

— Craig (@Subdubb) April 18, 2017
Goldstein is fit and firing again so Preuss won't have the time in the middle to score well so NO.
worth fielding Balic?

— Adam Orlando (@adzcats24401) April 18, 2017
I am.
https://twitter.com/jaxonconnor11/status/854151828082106368
I won't be surprised if Hampton is dropped but we're all hoping he's not. Myers will be playing in the VFL this week.
Who to bench from Taranto, Balic and Butler? #JeppasJuniors

— Inactive (@JakePizzuto) April 18, 2017
Taranto
Are you sticking to rookie/premo mantra or are you chasing mid prices and their BE's since rookies are struggling to make $$ #JeppasJuniors

— Adam (@simboer88) April 18, 2017
We should be chasing any player making cash. I picked up Neal-Bullen and I'm upset I didn't pick up Ryan Burton.
@JeppaDT Trade put Parsons as he is suspended for 2 matches?? #JeppasJuniors

— Matthew Russo (@MatthewRusso98) April 18, 2017
Hold him if you can.
https://twitter.com/raffcarroll26/status/854297659938545664
Stewart first. I'm expecting a 70+ score from Pickett soon plus he's a dual position player.
#JeppasJuniors For those still holding GHS, is is it time to stick or flick?

— Alvin Prasad (@wacosmaco) April 18, 2017
Stick if he's named to play this week which I expect he will be.