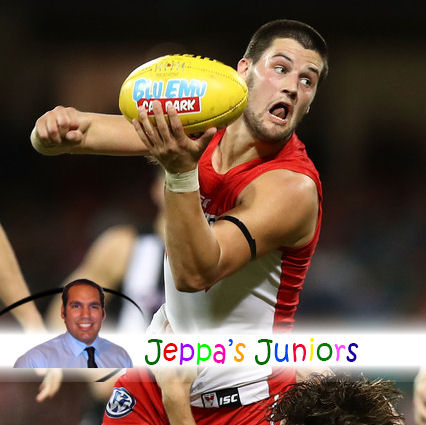 Every upgrade needs a downgrade and if you've planned well then this is the first week for a Fantasy upgrade. For me, I've got in excess of $180,000 in the bank and Roughy is on my chopping block. The midfield rooks are lacking so with some DPP action it's Gawn and Roughy to Murphy and Hanners. Lock and load.
Round 3 was a trying week for many Fantasy coaches after plenty of under performing rooks. Patience is going to be a virtue this season and I think it definitely pays to spend that little bit more on quality youngsters.
THOSE THAT MATTER
Nic Newman (Def. $223,000, -31 be AF. $132,400, -99 be DT) is looking sensational. Playing his customary half back role, Newman is heavily involved in the Swans structures and his left foot kicks are like darts. He finished with 23 possessions, 4 marks, 4 tackles, 1 goal, 93 Fantasy points against the Pies and is an absolute must have. The non-owners should not waste any time bringing him in. Make sure he's starting on your field.
Tackling machine Robbie Fox (Mid. $179,000, -5 be AF. $109,300, -47 be DT) had a decent game for the Swans last Friday night. He plays like an old fashioned, inside mid and had a notable 7 tackles to go with 69 Fantasy points. He's still cheap enough to trade in but proceed with caution because there are no guarantees with his job security and he'll hit a sub 50 score quite often. Bench back up at best.
Will Hayward, 51 (Fwd. $246,000, 14 be AF. $129,800, -55 be DT) is the only one you could trade in from the balance of the Swans rooks but it's a risk given his price. Jordan Foote, 52 (Mid. $223,000, 14 be AF. $204,000, 0 be DT), Harrison Marsh, 49 (Def. $244,000, 34 be AF. $240,900, 66 be DT), Jordan Dawson, 48 (Fwd/Mid. $160,000, 11 be AF. $132,400 DT) and Oliver Florent, 46 (Fwd/Mid. $231,000, 31 be AF. $190,300, 8 be DT) lack the scoring punch needed for Fantasy where Hayward has more of a ceiling and I love the way he attacks the footy.
Will Hoskin-Elliott, 94 (Fwd. $374,000, -11 be AF. $343,200, -33 be DT) is hitting premo like scores and it's enjoyable to watch as a Fantasy coach. Is it too late to trade him in? Absolutely not especially with the lack of cashcows available. WHE has a negative breakeven and is full of confidence.
Big unit Braydon Preuss (Ruc. $273,000, -38 be AF. $224,100, -89 be DT) has been North's main man in the middle for the past two rounds and he's tonned up both weeks. Goldstein is clearly playing injured but when he shakes the problem then Preuss's scoring ability will be hindered severely. In the short term, I reckon Preuss scores 75 plus Fantasy points per game so feel free to start him on your field if that's your strategy with Gawn out.
A score of 37 Fantasy points from Sam Durdin (Fwd. $154,000, 17 be AF. $132,400 DT) will be the norm. He's a lockdown, key defender and he aint scoring more than 50 Fantasy points per game. He might lose his spot too with Scott Thompson returning from suspension. Pass.
Daniel Butler, 65 (Fwd. $238,000, -4 be AF. $193,000, -20 be DT) did his job again as an F7 and he'll still be earning a bit of coin for a few weeks yet. The Tim Taranto, 51 (Fwd/Mid. $255,000, 32 be AF. $228,400, 18 be DT) experiment however, has come to an end. He's just not getting enough of the footy to warrant him in your starting 22. I apologise that it didn't work out but you can still trade him and cash in. 
Curtly Hampton, 90 (Def. $283,000, -5 be AF. $234,500, -30 be DT) and Andy Otten, 74 (Def. $227,000, -15 be AF. $191,000, -52 be DT) were both great role players for the Crows in Showdown #42. Hampton had 18 touches as a mid and kept the pressure on with a whopping 9 tackles. Otten was one of Adelaide's best players in his new role up forward a (kicked 2 goals) while pinch-hitting in the ruck also. Both should be great again versus the Bombers this weekend.
Riley Knight (Fwd. $308,000, 12 be AF. $251,300, -13 be DT) is someone I should have mentioned in previous weeks. Knight qualifies as a rook given he started under $250k in Dreamteam. I thought he was great against the Power with his gut running and 80 Fantasy points and he's been very consistent across the first three rounds. Decent job security is a big plus too but given his price, Knight is Dreamteam relevant only this week.
Brandan Parfitt (Fwd/Mid. $244,000, -2 be AF. $180,000, -44 be DT) clearly had his best game of the season. Having won 13 contested possessions from 23 total is a great sign from a first year player and he goes up a couple of ladder rungs for job security at Geelong as a result. Scoring 90 Fantasy points for his owners comes at a handy time and against an indifferent Hawthorn team this Monday he could produce another decent game. I'm trading him into my Dreamteam this week.
James Parsons (Fwd. $167,000, 2 be AF. $125,300 DT) is some fresh meat to take note of after scoring 62 Fantasy points from 18 possessions, 3 marks and 2 tackles. Active for the Cats up forward early on, Parsons looks a likely type but the problem for us is that he has no assured job security. I worry that Lang or Horlin-Smith will take his spot but in saying that, there are few cheap options available this week. A risky pick.
I thought he'd miss the Lions 22 last week but Jake Barrett (Mid. $241,000, -20 be AF. $202,600, -47 be DT) played as if his spot was on the line. Busy from start to finish, Barrett had 16 possessions, 5 marks, a whopping 10 tackles (team high) and 91 Fantasy points. I made the mistake of benching him ahead of Balic in Fantasy last weekend and it cost me dearly! Live and learn.
Hugh McCluggage, 56 (Fwd/Mid. $251,000, 32 be AF. $210,800 DT) and Jarrod Berry, 36 (Def/Mid. $216,000, 38 be AF. $147,800 DT) had modest debuts for the Lions. There were plenty of errors from McCluggage and Berry looked lost. With their prices and breakevens, the advice from me is to wait one more week to see if they improve before trading in either. It's too risky at the moment.
Jesse Hogan's fill in Tim Smith (Fwd. $157,000, 13 be AF. $109,300 DT) was serviceable for the Dees. He kicked a goal and scored 43 Fantasy points in a decent first up effort but knowing he'll be dropped when Jesse comes back in Round 5 is disheartening. Todd Elton, 52 (Fwd. $212,000, 24 be AF. $211,200 DT) is in the same boat as Smith, playing for injured teammate Ben Griffiths. Elton failed to impress me and I suspect he'll be back out of the Tigers senior side soon so don't waste your time.
Popular Power rooks in Dan Houston, 73 (Fwd. $263,000, -18 be AF. $205,700, -61 be DT) and Sam Powell-Pepper, 68 (Mid. $299,000, 9 be AF. $214,200, -37 be DT) have continued to provide owners with solid scores. Jasper-Pittard played in the SANFL last weekend and will stake a claim for senior footy so just be aware that Houston could be dropped.
Carlton 'junior' squad leader Sam Petrevski-Seton, 93 (Mid. $304,000, 5 be AF. $253,500, -20 be DT) was firing against the Bombers. SPS's tackle numbers were up due to the wet weather and he did plenty to keep the ball moving forward for Carlton from the stoppages. He's growing in confidence every single week but is out of reach due to price in Fantasy. I got lucky and picked him up in Dreamteam last week purely for his job security. Caleb Marchbank (Def. $295,000, 7 be AF. $284,700, 7 be DT) had a tough outing as a tall defender in the wet but he still managed to reach a respectable 67 Fantasy points. He'll go pretty well against the Suns under the roof at Etihad this week!
Tom Williamson, 67 (Def. $169,000, -2 be AF. $125,300 DT) didn't die wondering in his AFL debut. The athletically gifted rook looked super comfortable both on the flanks and in the midfield for the Blues. He finished with a respectable 15 touches, 2 marks, 5 tackles and 67 Fantasy points. We need to take advantage of a rookie listed Fantasy defender who is playing in the midfield. I don't think he'll be a huge scorer but he'll have the opportunities at Carlton and that's pretty important considering the lack of cheap options available.
A quick shout out to Cam McCarthy, 63 (Fwd. $243,000, 18 be AF. $230,000, 18 be DT), Kayne Turner, 61 (Fwd. $268,000, 13 be AF. $223,900, -18 be DT), Jake Kelly, 60 (Def. $218,000, 24 be AF. $214,400, 36 be DT), Jack Bowes, 59 (Fwd/Mid. $246,000, 27 be AF. $202,800, 10 be DT) and Andrew McGrath, 55 (Def/Mid. $322,000, 31 be AF. $267,200, 24 be DT) whose high price tags and inconsistent performances aren't seeing them earn cash quickly. If you have a luxury trade then consider offloading one of them.
Poor Fantasy scores from Mitch Hannan, 45 (Fwd. $228,000, 17 be AF. $172,600, 16 be DT), Jarrod Pickett, 43 (Fwd/Mid. $180,000, 10 be AF. $157,000, -7 be DT), Griffin Logue, 43 (Def. $235,000, 37 be AF. $188,300 DT), Harrison Macreadie, 36 (Def. $188,000, 16 be AF. $151,800 -5 be DT), Tom Stewart, 35 (Def. $196,000, 22 be AF. $150,800, 3 be DT), Brett Eddy, 35 (Fwd. $179,000, 10 be AF. $139,000, -28 be DT), Harley Balic, 35 (Fwd/Mid. $153,000, 18 be AF. $132,400 DT), Teia Miles, 29 (Fwd/Mid. $173,000, 14 be AF. $132,400, -12 be DT) and Sam Weideman, 14 (Fwd. $184,000, 26 be AF. $202,300, 41 be DT) will have owners seething. I'd still persist with all of them on your bench for this round. Get ready to cull them soon though.
KEEP YOUR EYE ON
Cameron Polson (Fwd. $150,000, 25 be AF. $125,300 DT) – Cheap as chips Polson could get a run for Carlton in the coming weeks. He's coming off a 27 possession and 90 point Fantasy game in the VFL and would provide the Blues with some great tackling pressure in the forward half. He might come in at the expense of Pickett though so stay tuned.
Harry Perryman (Def/Mid. $224,000, 38 be AF. $161,300 DT) – A little pricey sure but the ball magnet has the tools to be a handy cashcow. His stat line in the NEAFL last weekend read 16 kicks, 14 handballs, 3 marks, 11 tackles, 1 goal and 133 Fantasy points! As a dual position, defender / mid we have more options but keep in mind that he'll have a reduced role at AFL level. Keep your eye on him.
TOP 5 LISTS
Considering price, scoring potential and job security, here's my Top 5 rookie options for Round 4:
Fantasy
1   Nic Newman
2   Tom Williamson
3   Harrison Wigg (if named)
4   James Parsons
5   Will Hoskin-Elliott
Dreamteam
1   Nic Newman
2   Sam Powell-Pepper
3   Curtly Hampton
4   Will Hoskin-Elliott
5   Brandon Parfitt
Twitter Q&A
Is Williamson the real deal? Played a blinder but only scored 67, is worry about his potential warranted? #JeppasJuniors

— Joshua Sparks (@SparksyDT) April 11, 2017
I like him but there will be some rollercoaster scores. We should be bringing in players with healthy job security, which he has playing for Carlton.
do we pull the trigger on the likes of Miles and Eddy?

— Damon Braoudakis (@DBraoudakis) April 11, 2017
Eddy can go if it's a luxury trade but I'd hold Miles for a bit longer.
https://twitter.com/jaxonconnor11/status/851736105586016256
I would love Petrevski-Seton in my Fantasy team but my strategy wont allow me to.
Should we hold Berry #JeppasJuniors

— Niko (@smashproof_) April 11, 2017
If you traded him in last round then you must persist with him this week.
Guns & rooks is tough when there is very little junior talent coming through? Chase BEs, Downgrade JOM & Rough to ANB & WHE #JeppasJuniors

— Taezer (@Taezer87) April 11, 2017
True. Yes chase BE's and cash!
@JeppaDT Is it time to think about downgrading Houston, Otten, Butler etc?? #JeppasJuniors #AFLFantasy

— Paul Jeffery (@mackanic32) April 11, 2017
No mate, not yet. They're gona earn plenty more cash.
Feel free to ask me a question below and don't forget to add me on Twitter @JeppaDT for all things Fantasy and more. Happy trading!