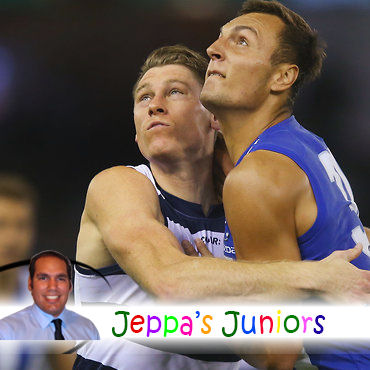 The outlook on rooks has improved greatly after the action from Round 2. A few fresh faces have given us hope and confidence appears restored in the structure we started with.
History suggests that this is the round to lock in your rookie selections. After lockout on Friday night the cashcows you don't have will likely become out of reach. It's a case of short-term pain for long-term gain. In my opinion, you're better using both trades to bring in dominant rookies that you may not have in lieu of a sideways trades to chase points. Remember this game is a marathon not a sprint.
So who do we keep and who do we offload…
THOSE THAT MATTER
Dan Butler (Fwd. $204,000, -9 be AF. $132,400, -61 be DT) was solid but not amazing. Playing his accustomed small forward role, he racked up 13 touches, 3 marks, 3 tackles, 1 goal and 59 Fantasy points. His work off the ball would please Hardwick but it doesn't give any assurances to Fantasy coaches. He'll probably sneak out the back of the Eagles Web defence a few times this weekend so he'll be solid again as bench back up. I don't own him and it's not a priority for me to bring him in.
Performing well beyond expectations, Will Hoskin-Elliott (Fwd. $317,000, -29 be AF. $258,900, -82 be DT) was arguably the best player on the ground last Friday night. What I'm loving most about WHE is that he's taking marks all over the ground. He had 12 against the Tigers to go with 21 possessions, 3 tackles, 3 goals and an amazing 124 Fantasy points. As one of the few performing rookies this season, we all need to own him. It's not too late.

Fresh meat in Nic Newman (Def. $175,000, -9 be AF. $132,400 DT) and Will Hayward (Fwd. $228,000, 9 be AF. $129,800 DT) comes in a time of need. Both performed to the level expected at Sydney and both have decent job security in the short term. They scored 77 and 74 Fantasy points respectively and with the lack of punch in defence, if you don't own Nic Newman then I suggest you trade him in immediately. Hayward is a feasible option too.
49 Fantasy points from Oliver Florent (Fwd/Mid. $227,000, 33 be AF. $174,800, 13 be DT) is about as good as it will get. He started great with 39 Fantasy points to half time but faded badly which is a sign of a youngster. Avoid him.
The neat kicking Teia Miles (Fwd/Mid. $164,000, 7 be AF. $132,400 DT) made a decent debut for Hawthorn with 15 touches, 3 marks, 2 tackles and 54 Fantasy points against the Crows. I sung his praises during the preseason and he did enough to hold his spot especially with Birchall out for a month. Interestingly, he was given a few kicking in duties (one he butchered) but it shows that Clarkson is prepared to back him in. As a dual position forward / mid that is cheap, it's hard to ignore him.
Crows pair Andy Otten (Def. $186,000, -13 be AF. $132,400, -48 be DT) and Curtly Hampton (Def. $244,000, 5 be AF. $171,500, -41 be DT) did their job for Fantasy coaches. 81 and 66 Fantasy points respectively is pretty decent output from a rook especially this season. I still wouldn't go out of my way to trade either of these two into your team. I still believe Otten will make way for Lever and Hampton hasn't been scoring as well as expected. Good but not amazing.
Ben Ainsworth (Fwd/Mid. $288,000, 17 be AF. $206,300, -36 be DT) 56 and Jack Bowes (Fwd/Mid. $237,000, 36 be AF. $179,300, 9 be DT) 40 didn't save their side from a humiliating defeat. With little A-grade support around them, both youngsters are going to struggle to reach the scores that we require for AFL Fantasy. Pass.
In my professional opinion, Tim Taranto (Fwd/Mid. $249,000, 33 be AF. $215,300, 22 be DT) is just warming up. I know he's not hitting the scores we need but his role for the Giants allows him to reach 70+ Fantasy points each week. Playing up forward and on the ball, he finished with 8 kicks, 7 handballs, 4 tackles and 54 Fantasy points against the Suns. Owners should hold Taranto. The talent is there; he just hasn't put it all together yet.
Jake Barrett (Mid. $194,000, -8 be AF. $134,800, -50 be DT) is lacking a little polish. He can win a bit of the ball and tackle well but he really must use it better. Playing at half forward, Barrett could only manage 11 possessions (64% efficiency), 3 marks, 7 tackles and 65 Fantasy points. Don't be surprised if Barrett loses his spot to McCluggage this week…I'm really quite worried.
Andrew McGrath (Def/Mid. $304,000, 13 be AF. $219,800, -45 be DT) is cruising along nicely but some junk time helped him reach 65 Fantasy points against the Lions. You seriously cannot spend that much on McGrath in Fantasy and bring him in now. I wouldn't even trade him into Dreamteam. My gut tells me that he's about to hit a wall.
Braydon Preuss (Ruc. $209,000, -30 be AF. $132,400, -85 be DT) take a bow! The big unit came in for Goldy late and none of us expected him to hit a three figure score. He finished with 13 possessions, 4 marks, a whopping 46 hitouts, 5 tackles and 105 Fantasy points. We all own Preuss so it's just a note of commendation really. Majak will make way for Goldy this week so don't worry about Preussy's job security.
A good game from Kayne Turner (Fwd. $244,000, 7 be AF. $180,900, -29 be DT) has him as a notable Fantasy contributor in Round 2. Lively like he usually is at half forward, Turner finished with 9 kicks, 5 marks, 5 tackles, 2 goals and 78 Fantasy points. Once a yoyo scorer, always a yoyo scorer. Not for me until he provides consistency and even then he'll be too expensive.
Ice in his veins! George Horlin-Smith (Mid. $262,000, 23 be AF. $201,700, -10 be DT) kicked the winning goal for the Cats in their nail biting win of the Roos and he needed it too in order to reach a mild 59 Fantasy points at the final siren. The problem with GHS is his game time being hindered by the Cats coaching staff for no apparent reason. In Round 1, he only got 64% time on ground followed by 66% last week. This is affecting his scoring and it's frustrating for owners including myself. With Miles available, it makes sense to bank the $100k.
Brandan Parfitt (Fwd/Mid. $212,000, 22 be AF. $125,300, -24 be DT) was electric in the first quarter. 29 Fantasy points at the first change but not much after that. Parfitt has a poor Fantasy ceiling and for that reason he's middle pack in the desired bunch of rookies.
Tom Stewart (Def. $189,000, 17 be AF. $125,300, -19 be DT) just doesn't want to win the footy. Playing a lockdown role, he's not getting the touches that we need and he scored a mere 43 Fantasy points against North. Stewart is bench back up only, plain and simple.
Caleb Marchbank (Def. $262,000, -6 be AF. $237,600, -32 be DT) is becoming a rock for our defence. Busy from start to finish, Marchbank had 11 kicks, 5 handballs, 6 marks, 4 tackles and 80 Fantasy points in Round 2. Why aren't there more rooks like Marchbank!? A must have. Make it happen.
A bit like Taranto, Sam Petrevski-Seton (Mid. $270,000, 18 be AF. $197,300, -25 be DT) is about to go bang. The biggest appeal about SPS is his midfield role. Bolton wants him at the stoppages and in the guts so when his fitness base improves, he'll be scoring 75+ Fantasy points consistently. He had 64 Fantasy points from 69% TOG last weekend so take note. If Barrett is dropped then I may look at him but his price stings.
Sam Weideman (Fwd. $180,000, 3 be AF. $199,700, 7 be DT) 54, Harrison Macreadie (Def. $176,000, 9 be AF. $125,300, -20 be DT) 51 and Jarrod Pickett (Fwd/Mid. $165,000, 10 be AF. $132,400, -9 be DT) 49 are a slow burn for owners. Don't expect anything amazing from these three but at least they're suiting up.
Cameron McCarthy (Fwd. $227,000, 26 be AF. $207,600, 15 be DT) would be frustrating to own. Plenty of talent but he's not getting the supply that he needs from his mids. 0 goals and 43 Fantasy points is what he produced against Port. He's still got currency so owners should offload him now!
Plenty of junk time boosted his score but Dan Houston (Fwd. $215,000, -30 be AF. $125,300, -94 be DT) was pretty dam good against Fremantle. The forward, turned defender has been a great contributor in the first two rounds and this week he racked up 18 possessions (all kicks at 83% efficiency), 11 marks, 3 tackles and 99 Fantasy points. It would be risky for the non owners to bring him in now though because Jasper Pittard is only a week away and Houston is likely to make way, no matter how good he plays.
Sam Powell-Pepper (Mid. $267,000, -2 be AF. $143,300, -79 be DT) backed up his debut with another cracking game against Fremantle. Playing as a pure mid for Port, SPP looks like a 10-year veteran with his clearances, fend offs and ball use. The beast finished with 25 touches (92% disposal efficiency), 4 marks, 3 tackles and 84 Fantasy points. Solid scores and optimum job security is what Powell-Pepper provides and it comes in a time of need. Owners rejoice.
A late in for Hamish Hartlett, Brett Eddy (Fwd. $163,000, 0 be AF. $109,300, -27 be DT) improved vastly on his Round 1 output. Granted it was against Freo but he still managed 11 possessions, 3 tackles, 2 goals and 68 Fantasy points. I'm not sure if he'll hold his spot but a few more games out of him at that output would be pretty handy.
Poor on field performances and scores from Jy Simpkin (Fwd. $223,000, 35 be AF. $170,300, 15 be DT) 44, Robbie Fox (Mid. $155,000, 17 be AF. $109,300 DT) 37, Mitch Hannan (Fwd. $212,000, 7 be AF. $125,300, -54 be DT) 32, Jake Kelly (Def. $211,000, 41 be AF. $206,800, 42 be DT) 20 and Harrison Marsh (Def. $239,000, 34 be AF. $229,600, 24 be DT) 15 have them facing the axe this week. Owners beware.
KEEP YOUR EYE ON
Harley Balic (Fwd/Mid. $150,000, 25 be AF. $132,400 DT) – It appears Balic will make his debut this weekend. He's coming off 29 touches and 123 Fantasy points for Peel on Saturday and the Dockers need to reignite themselves with some youth. I'm very likely to trade him in this week because of his high ceiling as a rookie and thats rare this season. 
Jarrod Berry (Def/Mid. $218,000, 36 be AF. $147,800 DT) – Before he injured his knee, Berry was shaping as a first picked rookie defender prior to Round 1. He's as tough as they come and would fit nicely in the Lions best 22. His stat line in the NEAFL last weekend read 14 kicks, 15 handballs, 12 marks, 4 tackles, 1 goal and 128 Fantasy points! As a dual position, defender / mid, I am seriously considering him for my D6 position.
Hugh McCluggage (Fwd/Mid. $246,000, 41 be AF. $210,800 DT) – Probably a little pricey for what we need right now but McCluggage is a future star of the AFL. He does everything with style and the Lions will want to get games into him ASAP. If you want to be different then trade him in but I wouldn't with the cheaper Miles and Balic available.
TOP 5 LISTS
Considering price, scoring potential and job security, here's my Top 5 rookie options for Round 3:
Fantasy
Nic Newman
Will Hoskin-Elliott
Teia Miles
Harley Balic (if named)
Jarrod Berry (if named)
Dreamteam
Will Hoskin-Elliott
Sam Powell-Pepper
Caleb Marchbank
Curtly Hampton
Dan Houston
Twitter Q&A
Hello Jeppa, should I trade Parfitt to Balic instead of Houston for F7? The extra cash will help next week. #JeppasJuniors

— Craig (@Subdubb) April 4, 2017
Definitely. Balic is a ball winner and cash is king right now.
Hey legend! Stick with GHS or move him onto SPP if the selection panel is good and I have no other pressing issues. #JeppasJuniors

— Adam (@simboer88) April 4, 2017
You're not gaining much with that trade. I'd rather see you do GHS to Miles or Balic and bank the money.
Is it too late to get in WHE? Thinking of trading Roughy for him for the $$. Good call bad call? #JeppasJuniors

— Conor Ross (@conorross94) April 4, 2017
Good call. I don't mind the move as long as you've got a plan to bring in a biggish fish next round.
#jeppasjuniors is powell pepper still worth while? Or would you take miles over him and bank the cash? Both would be on field if brought in

— Kingzy1Kenobi (@gorilladz) April 4, 2017
If SPP plays a blinder and only scores 84, what does he score when he plays poorly? Look to trade for cash.
@JeppaDT GHS to Balic /Hibberd to Newman leaving 151k for next week or use the money to upgrade Sidey to an uber premo instead of Newman?

— Nick Day (@nickkdayy1) April 4, 2017
Option 1. Get your rookies right at this point.
Houston or Balic? #JeppasJuniors

— Chris (@hedge59) April 4, 2017
Basic for the long term JS and he can score.
@JeppaDT keep or hold Tarrento and Neale Bullen

— Alec Mckenzie (@bigwilfried) April 4, 2017
Hold.
more important to get rid of an underperforming premo for a Merret type. Or fix up a rook like Mountford?

— Matt Brown (@_mattbrownn_) April 4, 2017
Fix up your rookies this week. Earning the dollars from playing rooks will set you up for success.