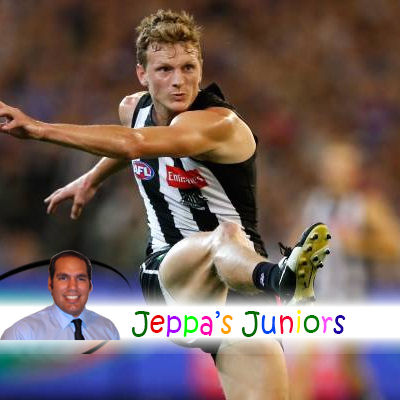 The rooks didn't turn up in Round 1. When we were dependable on so many, few delivered. What's worse is that those who showed little form in the preseason decided to have a day out in their first games of 2017. Luckily, AFL Fantasy is a marathon not a sprint so if you were
In the short term, it is all about making money and going forward we must trade in the cashcows. None of us got the rooks completely right but now we have an opportunity to get it right. Here's my take on the rookie performances from Round 1…
THOSE THAT MATTER
Speedy, creative & busy. These are the words that summarise Dan Butler's (Fwd. $173,000, -6 be AF. $132,400 DT) debut. After 2 years on Richmond's list, Butler put together a hot preseason and he carried that form into Round 1. Playing deep forward he was active from start to finish amassing 12 kicks, 7 handballs, 1 mark, 3 tackles, 2 goals and 72 Fantasy points. I didn't expect this sort of output from Butler but it was against Carlton and with Collingwood this Thursday, he'll score similar against another average defensive unit.
In his first game for the Navy Blue, Caleb Marchbank (Def. $226,000, 5 be AF. $237,600 DT) asserted his dominance in the air. He took 3 contested marks (8 total) to go with 15 kicks, 4 handballs, 2 tackles and 78 Fantasy points. He wasn't perfect but Marchbank was named in the bests for Carlton and his job security is the best of any rook. If you don't have him in your side, offload one of your rubbish cheapies to get him in. With limited quality rooks he's an absolute mush have.
Limited preseason, no problem! Sam Petrevski-Seton (Mid. $252,000, 24 be AF. $197,300 DT) was thrown straight into the action on Thursday night even though he didn't feature in one JLT match. That tells us he's rated highly and his job security is well above the average rook. Playing in the midfield at the majority of stoppages, the young Sandgroper started like a house on fire with 29 Fantasy points to quarter time but he faded to finish on a respectable 65. With his role on the ball, SPS's potential is exciting but his price isn't. I'm seriously considering spending the extra though.
Even though their job security is reasonable, the scoring potential of Harrison Macreadie (Def. $162,000, 21 be AF. $125,300 DT) and Jarrod Pickett (Fwd/Mid. $152,000, 22 be AF. $132,400 DT) is enough to send you into a rage. Macreadie was sound in defence but couldn't win his own ball and Pickett was stuck deep forward with limited supply. Hopefully both Blue baggers get another crack this weekend but don't expect miracles on the scoring front.
Will Hoskin-Elliott (Fwd. $258,000, 2 be AF. $258,900 DT) was a 'junior' that showed up! Up forward, on a wing and even in defence at times, WHE worked hard for the Pies and finished with 22 possessions, 8 marks, 1 tackle, 1 goal and 95 Fantasy points. His job security is up there with the best of them and with limited forward line rookie gems, Hoskin-Elliott is another must have early this season. The non-owners need to trade him in!
Another rook with a limited preseason, Mitch Hannan (Fwd. $190,000, -14 be AF. $125,300 DT) has come from nowhere to have the lowest breakeven of any AFL Fantasy player this week. Looking at his 2016 VFL season, Hannan wasn't a big ball winner or tackler but against the Saints in Round 1 he racked up 16 touches, 7 marks, 4 tackles, 2 goals and 88 Fantasy points. He looked comfortable at the highest level, he knew his role and performed. Hannan is obviously rated by Simon Goodwin and the Dees and trading him in for the quick cash grab is very tempting. As good as he was, proceed with caution regardin his scoring potential but you have my blessing to bring him in.
The Dees young tall, Sam Weideman (Fwd. $159,000, 11 be AF. $199,700 DT) has filled out a bit over the summer and he competed well against the Saints. He had only 12 touches, 2 goals and 45 Fantasy points at the final siren though. I avoid young key forwards at every opportunity and advise that you do the same.
Joel Smith (Def. $150,000, 37 be AF. $125,300 DT) started superbly and it was rotten luck when he dislocated his shoulder in the first quarter. He must be traded out. A crying shame because he was a keeper.
Solid on the field and even better in an AFL Fantasy sense. Not known for big Fantasy scores, Harrison Marsh (Def. $235,000, 4 be AF. $229,600 DT) hit a PB of 83 from 24 possessions, 4 marks and 2 tackles. Don't get too excited though, his price is out of reach for a player likely to score below 60. If he was cheap then I'd endorse him.
Jordan Foote (Mid. $258,000, 2 be AF. $258,900 DT) is facing the axe this week. 12 possessions at 50% efficiency is not good enough. We've got enough problems with our rookies underperforming and we don't need to trade in another with job security concerns. Pass.
Young and unimpressionable. No doubt, Oliver Florent (Fwd/Mid. $226,000, 44 be AF. $174,800 DT) is a player of the future but it appears that this season will be a steep learning curve for the creative forward. 31 Fantasy points from 68% time on ground is not great output from any rookie let alone a rook priced over $200,000. Avoid him, there's job security issues with Florent also.
On debut, Sam Powell-Pepper (Mid. $233,000, 13 be AF. $143,300 DT) was one of Port Adelaide's best and it was against the Swans at the SCG no less. The young bull amassed 19 possessions (7 clearances), 3 marks, 2 tackles, 2 goals and 71 Fantasy points earning praise from coach Ken Hinkley post match. Hopefully he can keep scoring above 70 but don't be surprised with a score in the 50's down the track. I didn't start with him and now I'm regretting it.
In the heat of defence, Dan Houston (Mid. $167,000, 0 be AF. $125,300 DT) performed. A forward throughout his junior footy, he's still learning his craft as a defender and against one of the best forward lines in the competition, he didn't look out of place. It's common knowledge that Houston is filling in for the injured Jasper Pittard who is only 1-2 weeks away, but with little rookie gems, he is solid bench cover and still cheap enough to trade in for the short term.
Eesh, it wasn't pretty from Brett Eddy (Mid. $150,000, 39 be AF. $109,300 DT). Sitting on 1 Fantasy point to half time, he stumbled to 17 Fantasy points at the final siren causing plenty of angst from his owners. After such a great Port win, I'm hoping he holds his spot and gets a chance to shine against Freo at Adelaide oval. I'm leaving him at F8 this week as there are more pressing matters.
Safe to say that I was shocked with Andrew McGrath's (Def/Mid. $276,000, 5 be AF. $219,800 DT) performance on the weekend. He averaged a mere 30 Fantasy points in the JLT Series but debuted with a whopping 97 Fantasy points in Round 1. He held his own when he had to against Hawthorn and the Essendon hierarchy would be thrilled with how he performed. With all that said, I'd still avoid spending the money to bring him in. It would be soul destroying when he pumps out an average score this weekend or next.
Ben Ainsworth (Fwd/Mid. $266,000, 11 be AF. $206,300 DT) is another that burst out of the blocks in Round 1. He kept up the forward line pressure with 6 tackles to go with 14 possessions, 4 marks, 2 goals and 86 Fantasy points. Ainsworth will be a yoyo scorer this season in my opinion so I'd avoid him. For an extra $22k you can pick up the more seasoned Neal-Bullen (not rookie priced before you ask) from the Dees. Hint, hint!
Jack Bowes (Fwd/Mid. $235,000, 34 be AF. $179,300 DT) did not like the rough stuff at all. He finished on 46 Fantasy points from 65% time on ground and this sort of score is what to expect. Don't touch him at his price. There are far better options.
Jake Barrett (Mid. $165,000, 5 be AF. $134,800 DT) was far from amazing but with McCluggage not lining up in the NEAFL this week, he'll be good for at least one more round. Against the Suns, Barrett could only manage 11 possessions (55% efficiency), 3 marks, 5 tackles and 56 Fantasy points. I expected a lot better and he better perform in Round 2 if he's to stick around in the big time.
Other than Brayden Preuss (Ruc. $162,000, 9 be AF. $132,400 DT) who was solid with 50 Fantasy points, North youngsters Kayne Turner (Fwd. $221,000, 29 be AF. $180,900 DT) 47, Declan Mountford (Mid. $159,000, 12 be AF. $132,400 DT) 44, Jy Simpkin (Fwd. $224,000, 43 be AF. $170,300 DT) 31 and Mitch Hibberd (Def/Mid. $150,000, 27 be AF. $132,400 DT) 24 all failed to fire. Preuss and Turner should be safe from the axe this week but the others are on the chopping block. Fingers crossed they all get another chance.
There was a bit of junk time in his score but Curtly Hampton (Def. $219,000, 12 be AF. $171,500 DT) still performed significantly better than most of his defender rookie counterparts. Playing in the midfield like in the JLT Series, Hampton struggled to get his hands on the ball early but still applied the pressure and stumbled to a sound 66 Fantasy points. I expect him to hold his spot in the Crows 22 this week but for peace in mind, Hampton needs to have a bigger influence on the field.
Andy Otten's (Def. $155,000, 16 be AF. $132,400 DT) days look to be numbered. Lumbering in the second half against the Giants, he failed to impress and Jake Lever is ready to return. Otten did start well with 22 Fantasy points to quarter time but finished on just 37! I expect Otten to be dropped this week so be prepare for carnage.
Troy Menzel (Fwd. $216,000, 11 be AF. $195,200 DT) 68 and Jake Kelly (Def. $215,000, 26 be AF. $206,800 DT) 47 aren't in the Crows best 22 in my opinion and they'd be risky picks for any team. Avoid.
Turnovers and missed tackles summarised Matthew Kennedy's (Fwd. $202,000, 20 be AF. $195,200 DT) game. After promising plenty during the preseason, Kennedy did little right against the Crows scoring 50 Fantasy points. He didn't take his opportunity and will probably make way for Hopper. Owners should look to trade Kennedy to the cheaper Mitch Hannan.
Tim Taranto (Fwd/Mid. $216,000, 11 be AF. $215,300 DT) was another young Giant to have a dirty day. Playing between half forward and on ball, he could only manage 13 possessions and 2 tackles. The injury to Mzungu might save him at selection and if he plays I'd definitely hold him given the potential he showed in the JLT Series. Surely you've got bigger problems?
Cameron McCarthy (Fwd. $219,000, 24 be AF. $207,600 DT) had a dirty day for the Dockers kicking 1 goal, 5 behinds and registering 52 Fantasy points. The pressure on him kicking goals is enormous and he will have a few good games. I wouldn't trade McCarthy out if you own him, his job security is too important at this point.
Brandan Parfitt (Fwd/Mid. $202,000, 29 be AF. $125,300 DT) could be dropped for Darcy Lang after failing to fire on debut. 9 possessions and 39 Fantasy points isn't enough for Geelong and Fantasy owners. A crying shame.
Be content with George Horlin-Smith (Mid. $248,000, 27 be AF. $201,700 DT). He was on 39 Fantasy points at half time playing through the middle but went missing slightly in the second half to finish with 58 from 64% time on ground. The positives were his role in the midfield but he is being held back in playing time slightly. He should line up against the Roos this week and score quite well.
Tom Stewart (Def. $178,000, 20 be AF. $125,300 DT) did what lock down defenders do best and stay away from the footy. Time and time again, Stewart wouldn't spread away from the contest to try and win some possessions. Hopefully, he learns from that and improves quickly because 44 Fantasy points per game aint gona cut it!
KEEP YOUR EYE ON
Zac Guthrie (Def. $150,000, 25 be AF. $109,300 DT) – If there's such a thing as Fantasy gods then they'll ensure Zac Guthrie gets a game this week. Guthrie has been fantastic all preseason and was just overlooked by the Cats for Round 1. I'm not sure if Guthrie fits in the Geelong 22 this week but I'd absolutely love to trade the injured Joel Smith to him. Fingers crossed.
Daniel Lloyd (Fwd. $150,000, 25 be AF. $125,300 DT) – Lloyd is a cheap mid you should take an interest in. The mature ager has been a force in the NEAFL for a while now and has had a hot preseason. He's an ideal replacement for Tendai Mzungu who is out for an extended period with injury but with GWS's star-studded list, job security is far from guaranteed for Lloyd. Consider him but it's probably wise to wait a week to see what he does on debut.
Harley Balic (Fwd/Mid. $150,000, 25 be AF. $132,400 DT) – Injuries have got the better of Balic to date but he's in the mix for the Dockers this weekend. Coming off a BOG 33 possessions, 3 marks, 1 tackle, 1 goal and 93 Fantasy points in the WAFL, Ross the boss needs to reward those in form. Probably another to see what he produces from his first game before trading him in.
TOP 5 LISTS
Considering price, scoring potential and job security, here's my Top 5 rookie options for Round 2:
Fantasy
Will Hoskin-Elliott
Caleb Marchbank
Curtly Hampton
Mitch Hannan
Andrew McGrath
Dreamteam
Sam Powell-Pepper
Will Hoskin-Elliott
Caleb Marchbank
Curtly Hampton
Mitch Hannan
Twitter Q&A
Hey @JeppaDT, Trading Roo & Joel Smith – to Hannan & K.Simpson or cash generation Ash McGrath & WHE? #JeppasJuniors

— Taezer (@Taezer87) March 28, 2017
I'd keep your initial structure and trade in Simpson and Hannan mate. Hannan is risky to start on the field though from a scoring potential point of view.
Taranto or horlin-smith which would you trade for WHE? #JeppasJuniors

— Chris Bracken (@CBrack10) March 28, 2017
Tough one but I still believe Taranto has the goods for Fantasy this season. Trade out GHS.
@JeppaDT which one should I bring in this week, WHE or McGrath?

— Isaac Smith (@isaacsmith_89) March 28, 2017
WHE! No contest.
https://twitter.com/fluk3yy/status/846641206041853952
Love it if you have no other major issues.
Hey legend – do we keep the faith with M Kennedy or straight to WHE? #JeppasJuniors

— Dave (@dirksdt) March 28, 2017
Straight to WHE. Don't hesitate. Kennedy was putrid.
https://twitter.com/jaxonconnor11/status/846583788180127748
I'd go Kennedy to WHE if you can and make another change elsewhere.
https://twitter.com/JaiGreeny_18/status/846580491620790272
Stay assuming you have bigger issues namely in defence.
@JeppaDT bad rooks causing a restructure, downgrading ghs to spp and roughy to ainsworth/whe?? Gives me cash to upgrade next week Which fwd?

— Brandon Gough (@BrandonGough2) March 27, 2017
I'd keep Roughy mate. Look to bring in WHE if you can though.
There you have it. Feel free to ask me a question below and don't forget to add me on Twitter @JeppaDTfor all things Fantasy and more. Happy trading!