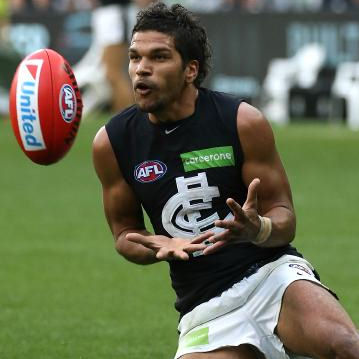 While rookie master Jeppa is out this week looking after his newest junior, I'll be casting an eye over our rookie options this week. Fear not though, Jeppa will be back soon!
In a week where we really needed our rookies to stand up, unfortunately not many did.
Our Winners
Sam Petrevski-Seton ($372,000 BE 38) led the way with a 93 for anyone who played him on field this week. This takes his 3 round average up to 81 now and with his BE at 38 he will still generate us more cash over the next few weeks.
Aaron Black ($259,000 BE -4)  also did more than enough again to hold his spot in Geelong's side by creating space for Hawkins to move into while scoring 73 points himself. Up against Essendon this week where both Cam McCarthy and Shane Kersten just scored 79 and 88 respectively, he should be in for another decent score.
Caleb Marchbank ($395,000 BE 43) and Andy Otten ($370,000 BE 28) just keep getting it done for us. With a score of 84 this week pushing Marchbank's BE to 43 and Otten's 79 taking his to 28 they'll still probably be a few of the last rookies we move on this season as they're paying dividends on the field.
Blake Hardwick ($265,000 BE 6) is still decent value if you didn't jump on him. With a BE of 6 he is tracking along nicely and I can't see him losing his spot any time soon.
If you've kept Jake Barrett ($279,000 BE 0) all this time then you'd have been happy with his 69 points this week. Adding another $38K to his price tag and still at a negative BE for more cash generation. Our only concern with Barrett is his disposal under pressure doesn't seem to be improving. With a few Lion cubs still waiting in the wings for games, let's hope he can keep his spot.
Our Losers
James Parsons ($219,000 BE 16) offered so much promise this week. But like a lot of Geelong's team he just forgot to show up against the Suns. His 27 points definitely would have hurt you if he was on your field but unfortunately it has also pushed his BE into the positives with a 16. Hold the faith that he'll bounce back this week against Essendon but maybe keep him on the bench.
David Myers ($199,000 BE 31) is possibly another example of VFL form not translating to the big stage. With 41 points in a week where we needed more, it not only hurt our fantasy score but also pushed his BE to 31. He'll need a decent score this week to be a worthwhile cash cow. With past season averages of 80ish he certainly has the potential so lets just hope this was a case of needing a game to adjust to AFL speed.
Harley Balic's ($250,000 BE 8) 41 also would have hurt this week and has pushed him to a BE of 8. He still has a bit of cash to make but his rollercoaster scoring his making him difficult to justify a spot on the field.
Cash out!
Take Curtly Hampton's ($356,000 BE 67) money and run! At this point he has made you an extra $152K from when he started but with a BE of 67 and a lot less midfield time these last two weeks it looks like he'll struggle to make it. Cash out now!
Will Hoskin-Elliot ($419,000 BE 83) may be another cash out now prospect. It's no secret that his fantasy game suffers greatly in the wet, practically halving each time to 50. With a BE of 83 this week and rain on the radar it's looking very likely that WHE will lose more cash this week. He's already made you $189K so take the money and run if you can.

Click here to subscribe on iTunes.
Jet Setting Rooks!
We have a few rookies possibly heading to China this week and the fear of the unknown is strong here. With weather reports seeming like they'll be playing in a post-apocolyptic wasteland, who knows how this will effect scoring? Add into the equation that they have a bye following this game, my instinct is to fall on the side of caution and trade out my fattened up Port and Suns rookies now.
Dan Houston ($349,000 BE 67) and Sam Powell-Pepper ($332,000 BE 49) are absolutely ripe for the picking to cash out and use their cash elsewhere.
Brett Eddy ($179,000 BE 13) and Aidyn Johnson ($168,000 BE -1) are in a different barrel though. Eddy has kicked a few bags in the SANFL the last few weeks and could prove handy. If he's named and you still have him there is cash to be made. If he's named and you don't have him then perhaps a downgrade to him this week could be a plan to free up cash elsewhere. Keep in mind though, playing in a sandstorm might prove difficult for a marking forward so you may not want to risk him on your field. While Johnson could earn a recall if Port decide to spare any of their stars from the flight.
Over at the Suns, you may want to consider Brad Scheer ($157,000 BE 14) this week if you need a downgrade in your midfield. While his score wasn't great he certainly did enough to hold his spot for a week at least.
Rookie Watch
As mentioned with Jake Barrett, one of the Lion cubs pushing for selection is Josh Clayton ($150,000 MID). It's his 3rd year at the club and he was named as an emergency last week. If you're desperate for a downgrade mid he could be an answer if named but I'd only be going there as a last resort. He didn't exactly set the world on fire last year with scores of 28 and 37.
The watchlist for downgrades needs to include Luke Ryan ($150,000 DEF), Matthew Scharenberg ($234,000 DEF), Harry Perryman (DEF/MID. $224,000), Daniel Lloyd (FWD $150,000), Hugh Greenwood ($150,000 MID/FWD) and Nathan Freeman ($150,000 MID). While Freeman and Ryan still may be a few weeks away, Scharenberg, Perryman and Lloyd are ready to go and and instant downgrades if named. Greenwood may still need to be upgraded so keep an eye on that.
Meanwhile Nic Newman seems to be the new Tom Mitchell. Absolutely killing it at NEAFL level adding another 30 touches and a goal to his stat sheet but inexplicably left out of the senior side. Looks like Horse has found his new whipping boy!
Tweet it out!
Here's a few questions tweeted in yesterday!
In order I'd be trading out;
Hampton
SPP
Houston
WHE
ANB
However if ANB misses out again then move him to the top of the list.
Mutimer's JS is about as good as his scoring, which isn't fantastic…
In all seriousness he showed more last week, was composed with ball in hand and definitely did enough to hold his place.
The concern is where Simpsons priorities lie with challenging vs building. Hutchings also played well enough to hold his spot this week but one will miss to make room for Duggan. Unfortunately unless he does something incredibly special he'll be a fringe player this year.
Add to this the news yesterday that Cripps is ahead of schedule for a return from injury and Mutimers JS gets a 2-3 week deadline.
Slim picking this week but with fingers firmly crossed it's;
Myers
Greenwood (if named)
Perryman (if named)
Honestly I'm really struggling with this…
Black is still great value if you didn't grab him.
Mutimer is a chance if you're desperate but has an expiry date as mentioned above, McNiece is still well priced if he comes back otherwise pay the extra and grab Hardwick.
Butler, WHE still has potential to score well.
Oh man, we'd love him to come in soon but after an injury recently he's only just finding his feet at WAFL level again. Promising signs last week though so fingers crossed he could be good cover during the byes.
I think so. Based on his past average where he's shown us that he can average 80 a season with a 100 as a ceiling, we've gotta hope it was just a slow burn to get use to AFL again.
Considering he's in their best 22 though you've just got to take the chance on him.
Thanks for the tweets and for reading! Best of luck with your rooks this week and I'll hope to catch a heap of you at #DTTALKinPERTH!
Feel free to tweet me on @Anthonydsmith86 with any other questions!