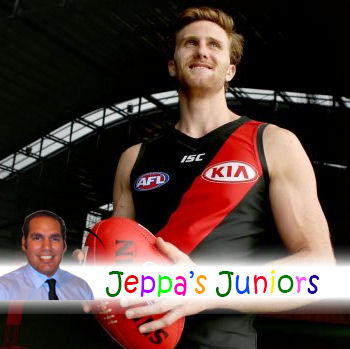 I'm back ladies and gentlemen but it's looking pretty dire on the 'junior' front. Poor output from our rooks in Round 8 and not much fresh meat on the horizon has us in a pickle in the lead up to the byes. Plenty are suggesting to offload topped out rooks such as Otten and Hampton but both have the Round 13 bye and I reckon they'll come in handy for Rounds 11 and 12. My advice would be to trade rooks with the Round 11 bye first like Williamson and Barrett then look to others.
Those That Matter
There wasn't much to cheer about from those rooks we depend on. Dan Butler, 38 (Fwd. $291,000, -65 be AF. $261,100, -17 be DT), James Parsons, 41 (Fwd. $229,000, 32 be AF. $194,600, 41 be DT), Tom Williamson, 42 (Def. $278,000, 47 be AF. $261,100, 56 be DT), Andy Otten, 49 (Def/Fwd. $377,000, 63 be AF. Def. $373,100, 81 be DT), Curtly Hampton, 52 (Def/Mid. $347,000, 78 be AF. Def. $322,600, 83 be DT) and Jake Barrett, 55 (Fwd/Mid. $303,000, 30 be AF. Mid. $291,300, 39 be DT) were collectively mediocre causing high blood pressure amongst coaches. Otten and Hampton should bounce back against Brisbane this week if they manage to hold their spots.
Owners were 'kissed' in the best way possible on Sunday however when Nic Newman (Def. $360,000, 1 be AF. $326,600, -18 be DT) came in as a late inclusion for the Swans and what followed was something spectacular. Playing to make a point, he racked up a whopping 35 possessions, 11 marks, 4 tackles and 135 Fantasy points. Amen Fantasy gods, Amen! I dare you drop him now Horse.
Not as amazing as Newman but still deserves a mention is Caleb Marchbank (Def. $411,000, 59 be AF. $132,400, 70 be DT) who keeps doing the job scoring 82 Fantasy points this Round. Interestingly, a Beams-less Lions meant Jarrod Berry (Def/Mid. $251,000, 16 be AF. $238,100, 7 be DT) spent more time in the middle and he had a PB of 71 Fantasy points as a result. Without Rocky but Beams likely to replace him, it should mean more time in the middle for Berry.
David Myers (Mid. $213,000, 19 be AF. $136,400, -28 be DT) is stepping up his output slowly but surely. 63 Fantasy points last weekend isn't setting the world on fire but keep in mind it was only from 64% time on ground. I maintain that Myers is a must have so if you don't own him, trade him in immediately because he's about to go BANG!
Daniel Lloyd (Fwd. $165,000, 6 be AF. $125,300 DT) looked solid in a half forward role for the Giants amassing 17 possessions, 2 marks, 2 tackles, 1 goal and 61 Fantasy points. Expect improvement from Lloyd and he'll likely receive an increased role with Greene returning but Coniglio and Sam Reid out. I brought him in last week and he'll sit my midfield until the Round 13 bye. Don't ignore him, he can play! Lukas Webb (Fwd/Mid. $258,000, 17 be AF. $236,000 DT) was prominent with 86 Fantasy points against West Coast and Beveridge always rewards his players in form. Still at his price, Webb's job security is too risky to consider so close to the byes.
James Stewart (Fwd. $241,000, 22 be AF. $178,200 DT) got his chance to show the Essendon faithful his worth and it's fair to day he exceeded expectations. 73 Fantasy points from 3 goals, 10 possessions, 3 marks and 4 tackles is a great first outing and he'll hold his spot in the short term. Standing tall alongside Daniher and Hooker with Orazio, Tippa and Green at the drop of the ball…the Essendon forward line looks solid so here's hoping he can kick a few more goals and continue to have an impact. His price tag is hard to take at this point though.
Kurt Mutimer, 59 (Mid. $191,000, 7 be AF. $167,100, -13 be DT) is playing his role forward of centre but Jamie Cripps is due back this week or next. Mutimer's disposal isn't the cleanest and thus I don't see another role for him if maybe he and Cripps were to co-exist. Current owners pray, non-owners avoid. Fellow Eagle Fraser McInnes (Def/Fwd. $258,000, 27 be AF. $145,300 DT) came into the 22 for versatility. Playing in the ruck and up forward, he laced out a few kicks inside forward 50 and proved his worth to Adam Simpson. 74 Fantasy points from 11 touches, 4 marks, 15 hit-outs, 5 tackles is tempting but unfortunately, I'd say McInnes has one or two weeks left at AFL level before being replaced by Drew Petrie. If the byes weren't so close then I'd suggest taking the punt on him.
Ed Vicker-Willis (Def. $218,000, 13 be AF. $193,800, 13 be DT) and Lewis Melican (Def. $222,000, 27 be AF. $197,400, 9 be DT) are slow burns and it's not recommended that the non-owners bring them in now. It's an obvious hold for those coaches that have them on their defensive benches.
KEEP YOUR EYE ON
Hugh Greenwood (Mid/Fwd. $150,000, 29 be AF. $125,300 DT) – I'm still bitter about him leaving the Perth Wildcats high and dry a couple of seasons back (could have had two NBL championship rings buddy) but Greenwood has become Fantasy relevant. Consistent form in the SANFL has seen him average 24 possessions, 1 goal and an impressive 107 Fantasy points per game. I reckon Greenwood comes in for fellow junior Curtly Hampton and his competitive nature will see him do quite well. He's cheap as chips and has dual position status so here's hoping he can have an impact at AFL level.
Matt Scharenberg (Def. $234,000, 45 be AF. $197,500 DT) – Racking up 34 disposals in the VFL two weeks running has to put you in favour for a senior call up. The former No. 6 draft pick has had his fair share of injury problems but after a solid block of games in the magoos it's now time for him to make a name for himself in the seniors. With plenty of plus 6's and not many tackles, I expect Scharenberg to average around 65 Fantasy points per game so with such a high price tag you might want to wait a week before trading him in. 
Harry Perryman (Def/Mid. $224,000, 43 be AF. $161,300 DT) – Ball magnet Perryman is super close to a call up. 39 possessions, 7 marks, 3 tackles, 1 goal and 141 Fantasy points in the NEAFL last week has pretty much been his norm. We all know the amount of talent the Giants have on their list so Perryman's job security would never be assured and having a lessor role in the seniors will likely mean that he peaks at around 70 Fantasy points per game.
TOP 5 LISTS
Considering price, scoring potential and job security, here's my Top 5 rookie options for Round 9:
Fantasy
1   David Myers
2   Daniel Lloyd
3   Hugh Greenwood (if named)
4   James Stewart
5   Matt Scharenberg (if named)
Dreamteam
1   David Myers
2   Daniel Lloyd
3   James Stewart
4   Zac Fisher
5   Matt Scharenberg (if named)
TWITTER Q&A
Fraser McInnes role was important last week- but does he go straight out for Petrie?

— Neil Wright (@Lefty113) May 16, 2017
I'd say McInnes holds his spot this week after an impressive display but Petrie will come in soon enough.
https://twitter.com/minnoDT/status/864348568873648128
SPP and Butler.
Is there enough rooks to go a double down this week? #JeppasJuniors

— Ben Aldridge (@30footdrop) May 16, 2017
Not enough quality rooks but you could go Lloyd and Greenwood.
Have we missed the Myers boat at 200k+ or is he a good cash generator and cover over the Bye Rounds? @AFLFantasy #AFLFantasy

— Steve Sowden (@StevenSowden) May 16, 2017
Absolutely not, he's just warming up.
Perryman, scharenberg or spend the money on Newman for Hampton?

— Yeah Mate (@bringbakbootsma) May 16, 2017
Newman. He's here to stay.
Can you tap Ross Lyon on the shoulder and tell him to call Luke Ryan up this week?

— Mark (@Ham_Man01) May 16, 2017
I doubt Ross the Boss changes the winning formula. Hopefully Ryan plays next week.
Can u list popular players to trade out in order of priority eg. Hampton,Otten,Butler, Barrett,Hannan etc… #JeppasJuniors #AFLFantasy

— Paul (@Lewie14) May 16, 2017
1. Hannan 2. Williamson 3. Barrett 4. Butler 5. Otten 6. Hampton
How much is Myers a must have? Fix bench rookies or continue building our team?

— Adam (@simboer88) May 16, 2017
Myers is a priority. Fixing bench rooks is a concern also but after you pick up Myers.
Feel free to ask me a question below and don't forget to add me on Twitter @JeppaDT for all things Fantasy and more. Happy trading!