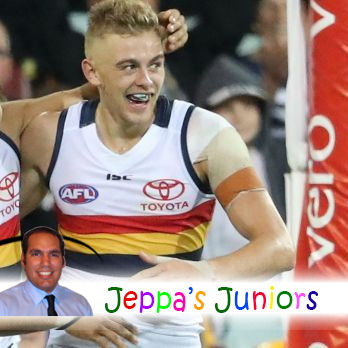 No one likes the bye rounds but it's part of the game and from experience, the elite coaches rise above during this period. As it stands, we're pretty good on the injury front but anything can happen and I urge you to have a playing squad of at least 28 this week.
At this stage, my strategy for the bye rounds is to bring in Ablett this week and have plenty of cash leftover, make a double downgrade in Round 11 to be cashed up for a major premo upgrade in Round 12 (Rocky, Simpson). Make sure you plan ahead!
Those That Matter
Basketballer turned footballer, Hugh Greenwood (Mid/Fwd. $180,000, -14 be AF. $125,300 DT) exceeded everyone's expectations last weekend. Granted his SANFL form was great but never did I expect 93 Fantasy points from 15 possessions, 2 marks, a whopping 9 tackles and 3 goals. Any rookie priced player that can tackle is worth having let me tell you. If you don't own him then get him. He's job security will be ok through the byes and you can expect scores in the 70's however.
Nic Newman (Def. $413,000, 15 be AF. $391,000, -32 be DT) gets a mention again for being awesome after scoring 113 Fantasy points. I'm holding this kicking machine post Round 11 bye cause there's still plenty of cash that he'll be earning. No doubt that there would be a bitter taste in the mouth of those that traded him a few weeks back.
David Myers (Mid. $243,000, 4 be AF. $190,200, -41 be DT) showed his promise again versus West Coast with 83 Fantasy points. Trust me when I say that he's still building form and fitness and I'd expect 80+ again from him against the Tigers on Saturday night. Fellow 'Junior' Bomber James Stewart (Fwd. $259,000, 24 be AF. $178,200, -33 be DT) was decent in Round 9 but not amazing. The Bombers forward line is working extremely well at the minute and his job security is pretty decent as a result.
Daniel Lloyd (Mid. $183,000, 9 be AF. $125,300, -36 be DT) was quiet against Richmond but with the Giants injury woes he'll hold his spot. He's still cheap enough to trade in and he has the tools to score 65 plus so Lloyd is still relevant. Lloyd's teammate Harry Perryman (Mid. $228,000, 34 be AF. $161,300 DT) didn't have a massive one but he did spend time on the ball and thus his role seems solid. Unless he produces something special this week then he won't be rookie relevant.
For those that can't make a decision on who to offload, here's my trade list in order:
Curtly Hampton *Injured (Def/Mid. $332,000, 86 be AF. Def. $305,400, 71 be DT)
Harley Balic *Unavailable (Fwd/Mid. $250,000, 13 be AF. $240,000, 1 be DT)
Dan Butler (Fwd. $291,000, 66 be AF. $270,500, 62 be DT)
Lewis Melican (Def. $228,000, 40 be AF. $212,300, 47 be DT)
Tom Williamson (Def. $290,000, 41 be AF. $269,900, 34 be DT)
Andy Otten (Def/Fwd. $380,000, 75 be AF. Def. $368,500, 86 be DT)
Caleb Marchbank (Def. $415,000, 74 be AF. $409,000, 78 be DT)
Jake Barrett (Fwd/Mid. $327,000, 37 be AF. Mid. $311,900, 38 be DT)
Ed Vicker-Willis 59 (Def. $239,000, 20 be AF. $220,700, -2 be DT), Jarrod Berry 58 (Def/Mid. $271,000, 24 be AF. $263,300, 17 be DT), James Parsons 55 (Fwd. $240,000, 37 be AF. $202,000, 16 be DT) and Kurt Mutimer 52 (Mid. $212,000, 12 be AF. $198,700, -1 be DT) all had subdued games but they've still got a bit of cash to earn so keep them as bench cover. The word over here in the West is that Fraser McInnes (Def/Fwd. $270,000, 53 be AF. $145,300, -47 be DT) will lose his spot to Drew Petrie this weekend. Avoid.
KEEP YOUR EYE ON
Luke Ryan (Def. $150,000, 29 be AF. $125,300 DT) – Talk about perfect timing. Ryan is dirt cheap and primed for selection this week. He's coming off 31 possessions, 9 marks, 1 goal and 114 Fantasy points in the WAFL albeit against cellar dwellers Perth. Drafted as a mature ager, Ryan has been brought in to fill a need at Freo and now that he's over his injury woes it's time for him to make a name for himself. He's a must have and if it's not this week then all the astute Fantasy coaches will all own him next week. When you think of Ryan, think of Nick Maxwell but with elite kicking skills.
Harrison Wigg (Mid. $150,000, 29 be AF. $132,400 DT) – Fellow Junior Curtly Hampton is injured which could see Wigg find a home in the Crows 22. Wigg has been impressing in the SANFL for a number of weeks now and if the Crows want to keep the kid on their list in future seasons then they'll need to play him. He's an elite kick and he'll fit seamlessly into the Crows style of playbut his job security would be shaky.
Jordan Cunico (Fwd/Mid. $150,000, 29 be AF. $132,400 DT) – The speedy wingman has been a confirmed inclusion for Geelong in tonight's game against the Power. He's averaging 22 disposals, 5 marks, 5 tackles, 1 goal and 93 Fantasy points per game but I worry about his output at AFL level. As an impact player he may only get his hands on it a dozen times so some sub 60 scores are likely early. It's a wait and see for me but if Ryan isn't named I might look at him.
The previously mentioned Matt Scharenberg (Def. $234,000, 45 be AF. $197,500 DT) is still kicking butt in the VFL. 41 disposals last weekend following 36 possessions both rounds prior. He's ready Buckley…pick him!
TOP 5 LISTS
Considering price, scoring potential and job security, here's my Top 5 rookie options for Round 10:
Fantasy
1   Hugh Greenwood
2   Luke Ryan (if named)
3   Daniel Lloyd
4   David Myers
5   Matt Scharenberg (if named)
6   Jordan Cunico (if named)
Dreamteam
1   David Myers
2   Daniel Lloyd
3   Hugh Greenwood
4   James Stewart
5   Matt Scharenberg (if named)
TWITTER Q&A
@JeppaDT is it time for Otten to go, and should we hold onto Hoskin-Elliot? #JeppasJuniors

— Matthew Russo (@MatthewRusso98) May 23, 2017
Offload Otten but only if it suits your bye structure.
https://twitter.com/jaxonconnor11/status/866891794767728640
Yeah far too risky. Hopefully Ross the Boss picks Luke Ryan to play.
@JeppaDT Polson, Black & Balic doing & earning nothing, but other issues to fix lately. Polson>G'wood this week, but hold the other two?

— David Furmark (@United399) May 23, 2017
Polson had a great game in the VFL on the weekend and is a sneaky chance to play in the seniors. Offload Balic first.
#JeppasJuniors should we be getting rid of these non playing rookies this week if we can or should I still upgrade to a premium?

— Travis Dunlevy (@Trav389) May 23, 2017
Trade the non playing rooks as soon as you can.
Get gaz or Barlow this week

— Bailey Mcglone (@BaileyMcglone1) May 23, 2017
Gaz
https://twitter.com/fotherchops/status/866990131097485314
Earn some coin and double downgrade.
https://twitter.com/fluk3yy/status/867299712780517376
Average in VFL for the past couple of Rounds. You can offload him if convenient but he has the Round 12 bye.
Who to field out of SPP, Greenwood or Myers #JeppasJuniors

— D J Stoobs (@back3rbingo) May 24, 2017
Myers
Feel free to ask me a question below and don't forget to add me on Twitter @JeppaDT for all things Fantasy and more. Happy trading!
SHOP NOW: Tom Mitchell beanie | Tom Rockliff beanie