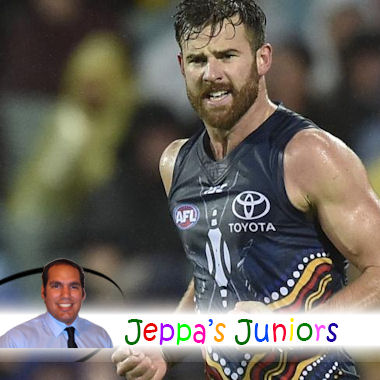 Many of us are pretty keen for some cheap rooks. Traditional bye round trading involves banking some cash this coming lockout to maximise your upgrade options in Round 12 like the 'No. 1 pig' Tom Rockliff! Whoever you trade in, you need to be 100% certain that they'll be getting a game over the next few weeks and thankfully there are a few 'juniors' putting their hand up.
Seriously guys, look to make plenty of cash this week!
Those That Matter
Freo paid no respect to Andy Otten (Def/Fwd. $395,000, 54 be AF. Def. $377,300, 36 be DT) and he took full advantage. A stat line of 11 kicks, 6 handballs, 8 marks, 4 tackles, 4 snags and 107 Fantasy points was unexpected but owners will take it! It's an obvious hold till Round 13 but don't have him any longer than that. Fellow Crow Hugh Greenwood (Mid/Fwd. $213,000, -5 be AF. $125,300, -78 be DT) couldn't cash in on the Adelaide onslaught but 55 Fantasy points is still respectable. I really like the fact that Greenwood can tackle and tackle well. He's still got plenty to give in my opinion so back him in.
Upgraded from the rookie list, James Cousins (Mid. $167,000, 2 be AF. $109,300 DT) gave his all on debut for the Hawks. Playing on the ball and forward of centre, his role looks appealing from a Fantasy point of view and healthy scores should be forthcoming once he acclimatises to the speed of AFL footy. Against a pretty good team in the Swans, Cousins amassed 14 possessions, 1 mark, 6 tackles, 1 goal and 66 Fantasy points. After such a big win, I'd be very surprised if Cousins lost his spot as Clarko always backs the performers! Fellow Hawk youngster Dallas Willsmore (Mid. $155,000, 19 be AF. $132,400 DT) had a subdued debut. Playing as an outside mid, Willsmore was involved sparingly and finished with just 9 touches and 40 Fantasy points at the final siren. Cousins is head and shoulders above Willsmore for Fantasy.
Another outside midfielder, Jordan Cunico (Fwd/Mid. $156,000, 18 be AF. $132,400 DT) got his first run for the Cats. Chris Scott held him back a little though with just 61% playing time for 42 Fantasy points. He didn't look out of his depth at all but in my opinion but with the Cats strong list, his job security is a massive risk. The perk with picking Cunico however, is that he had the Round 12 bye which is manageable for many. Not for the faint hearted.
Back from a long injury layoff, Matthew Scharenberg (Def. $244,000, 27 be AF. $197,500 DT) would have been pleased just to get through his first AFL game for the year. Playing Brisbane at the G, he got his mark and kick game going for 67 Fantasy points at the final siren. It's Scharenberg's disposal efficiency that will keep him in Collingwood's 22 and given his potential, the Pies will want to give him as much exposure to senior football as possible. A good investment.
Bomber pair David Myers, 53 (Mid. $266,000, 21 be AF. $234,600, -4 be DT) and James Stewart, 56 (Fwd. $274,000, 31 be AF. $220,600, 9 be DT) were quiet in their games and I'm incredibly disappointed in Myers. He's going missing in games and his scores are suffering. Daniel Lloyd, 59 (Mid. $207,000, 9 be AF. $170,400, -7 be DT) kicked a goal late otherwise he was looking likely for another bleak score. You've got to persist with these players and pray they score well until Essendon's Round 13 bye.
Malcolm Karpany (Fwd/Mid. $182,000, 18 be AF. $202,900 DT) performed ok with 54 Fantasy points but missed a soda that made me swear my head off last Sunday. Unfortunately, he has no job security at West Coast so please avoid him.
This week is the chance to get rid of some dead wood. With three trades available, we can get offload the likes of Aaron Black (Fwd. $259,000, 1 be AF. $207,400, -13 be DT), Cameron Polson (Fwd. $153,000, 28 be AF. $125,300 DT) and if you're like me…Mitchell Hibberd (Def/Mid. $150,000, 33 be AF. $132,400 DT)! Those coaches that are sitting pretty should look at trading topped up cashcows with the Round 11 bye in Tom Williamson, 54 (Def. $296,000, 53 be AF. $278,400, 29 be DT), Jake Barrett, 87 (Fwd/Mid. $351,000, 66 be AF. Mid. $334,600, 21 be DT) and Caleb Marchbank, 87 (Def. $421,000, 78 be AF. $411,700, 78 be DT). I'd keep Nic Newman, 78 (Def. $443,000, 47 be AF. $442,400, 57 be DT) though for his scoring potential.
KEEP YOUR EYE ON
Son of a gun Callum Brown (Fwd. $182,000, 35 be AF. $132,400 DT) is ready for the big time. After having a bout of glandular fever earlier this season, Brown has fully recovered and is pressing for senior selection. In his last VFL match, he racked up an appealing 29 disposals, 3 marks, 5 tackles and 95 Fantasy points. Brown looks a likely type as a high half forward for the Pies and he's a front runner to replace Alex Fasolo as he takes leave from the club. I'll be looking at Brown closely after Collingwood's Round 13 bye but he may suit a few.
Mature ager Jonathan Beech (Fwd. $150,000, 29 be AF. $125,300 DT) has been on the Crows list for some time and he's making waves in the magoos. Playing as a medium forward, Beech has averaged 20 touches, 7 marks, 3 tackles, 1 goal and 90 Fantasy points across 8 SANFL games. Job security is a problem with Beech but our rookie stocks are so low that some Fantasy coaches may be desperate. I may consider him once he proves his worth at AFL level.
The previously mentioned Luke Ryan (Def. $150,000, 29 be AF. $125,300 DT) is a shoe-in for the Dockers after their 100-point shellacking in Round 10. When Ryan is named, he's pretty much a must have for every Fantasy team. He'll average 65 plus.
TOP 5 LISTS
Considering price, scoring potential and job security, here's my Top 5 rookie options for Round 11:
Fantasy
1   James Cousins
2   Luke Ryan (if named)
3   Hugh Greenwood
4   Matt Scharenberg
5   Jordan Cunico
Dreamteam
1   Hugh Greenwood
2   Matt Scharenberg
3   David Myers
4   Luke Ryan (if named)
5   James Cousins
TWITTER Q&A
Would you trade out Marchbank to a backline premo without bye?

— jacob danias (@danias2000) May 30, 2017
Yep I would. I'm collecting cash in order to trade in Rocky next week however.
Scharenberg or Ryan to trade in as a downgrade? #jeppasjuniors

— jacob danias (@danias2000) May 30, 2017
Ryan. He's a lot cheaper and will score similar if not better.
https://twitter.com/RamboTamboDT/status/869470857831129088
All decent. I like this trades.
Best basement ruc option? #JeppasJuniors

— Inactive (@JakePizzuto) May 30, 2017
Sean Darcy from Freo. 
not a rookie question but are you backing Fyfe/Parker to return to their best or trading at byes?

— TH (@Tpharvey83) May 30, 2017
Parker maybe. Fyfe, no chance.
Despite some recent Rookie upgrades/fixes, I'm still carrying Balic & Polson in AF and Black in RDT. Heard anything about their prospects?

— David Furmark (@United399) May 30, 2017
Polson had a great VFL match a couple of weeks back. As for Balic, it is all very hush, hush. Trade them both.
@JeppasJuniors are there any upcoming $150K rookies pref not round 13 bye that are coming in? WCE Rioli perhaps?

— Kingzy1Kenobi (@gorilladz) May 30, 2017
Nope, there's just Luke Ryan at the minute.
do you have Preuss? you can sell him to clear some cash

— ♥️♠️Matty♦️♣️ (@Matty_777) May 30, 2017
You could trade Preuss to maybe Sean Darcy for the cash. I'm keeping him in.
Feel free to ask me a question below and don't forget to add me on Twitter @JeppaDT for all things Fantasy and more. Happy trading!
SHOP NOW: Tom Mitchell beanie | Tom Rockliff beanie