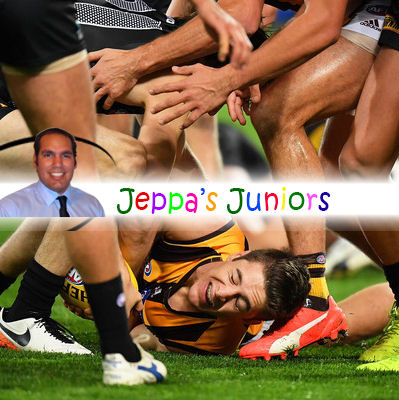 It's a relief to have the first of the dreaded bye rounds behind us. Now we should be looking at trading in a premo (or two) that has had their week off. Aside from Rockliff, a few veterans in Ablett, Barlow and Simpson are also on my radar.
For those needing to downgrade, our options are limited. Most rooks that have shown something have the Round 13 bye so were in a bit of a bind. Nevertheless, I've scraped the barrel.
Those That Matter
Last week I mentioned the tackling talents of Hugh Greenwood (Mid/Fwd. $259,000, -12 be AF. $207,700, -32 be DT) and he was showing off again versus the Cats. A whopping 11 tackles to go with 18 possessions, 1 mark and 94 handy Fantasy points. He's seriously the perfect rook. Get him in!
Hawthorn youngster Dallas Willsmore (Mid. $175,000, 4 be AF. $132,400, -27  DT) started on fire with 46 Fantasy points at half time but faded badly to finish on just 62. Willsmore is an impact player so he will have his spurts meaning his Fantasy scores will be yoyo like. I was encouraged by his improved tackling efforts and with a bit more confidence, Fantasy owners should reap the rewards. Fellow Hawk 'junior' James Cousins (Mid. $195,000, 23 be AF. $109,300, -66 be DT) put in a respectable performance in the midfield amassing 12 touches, 3 marks, 6 tackles and 62 Fantasy points. He's keeping Will Langford out of the team who's had his fair amount of chances so it's time for some youth at Hawthorn. I'm a proud owner.
Will Brodie (Mid. $241,000, 33 be AF. $183,800, 1 be DT) is gaining momentum. He can definitely lay a tackle but needs to find more of the ball. Brodie's role is at half forward with stints in the midfield and he looked a lot more comfortable against West Coast than he did on debut. Unfortunately, I don't see him as a big scorer this season and given his hefty price tag, you should stay away.
A poor debut from Luke Ryan (Def. $154,000, 24 be AF. $125,300 DT) had me rife on Sunday. 7 touches, 4 tackles and 36 Fantasy points playing at half back for Freo is horrid but I'm backing him in. His WAFL form has been a class above so hopefully his lacklustre debut was just due to nerves. Ryan is still cheap as chips to pick up this week or after Freo's Round 13. If it wasn't for a bit of junk time in the last 10 minutes, Matthew Scharenberg (Def. $256,000, 30 be AF. $197,500, -9 be DT) was destined for a putrid score also. He finished with 53 Fantasy points from 12 possessions and 5 marks and it's a worry that he aint laying many tackles. If you don't mind spending a bit extra then trade him into your Dreamteam but the ship has sailed for Fantasy in my opinion.
Obviously, we're trading rooks that haven't had their bye. Andy Otten (Fwd/Def. $389,000, 81 be AF. Def $378,900, 66 be DT) is the first to go after his poor output against the Cats. Cash him in.
KEEP YOUR EYE ON
Jay Kennedy-Harris (Fwd. $195,000, 23 be AF. $184,500, 35 be DT) had a chance to impress earlier this season but was banished back to the VFL and last weekend put in a performance for the ages. A whopping 47 possessions, 4 marks, 5 tackles and 144 Fantasy points should see him back in the seniors this week and a good chance for most Fantasy teams given his reasonable price. The Dees have had their bye so it makes a lot of sense to trade in Kennedy if you believe he can hold his spot. He'll be in my Fantasy team if he's named to play. No guts, no glory.
The previously mentioned Callum Brown (Fwd. $182,000, 35 be AF. $132,400 DT) is around the mark again for Collingwood's 22. In my mind, he's a perfect replacement for Daniel Wells as a goal kicking midfielder. Don't ignore Brown people, he can play and if the Pies didn't have the Round 13 bye I'd be urging you all to trade him in now. Pencil him in for Round 14.
As nice as it would be to have a cheap forward named this week, I reckon Kayle Kirby (Fwd. $152,000, 29 be AF. $125,300 DT) just misses out on senior selection. Alex Fasolo is back training and assuming he's ok then he'll  fill the Jamie Elliott void.
TOP 5 LISTS
Considering price, scoring potential and job security, here's my Top 5 rookie options for Round 11:
Fantasy
1   Jay Kennedy-Harris (if named)
2   James Cousins
3   Hugh Greenwood
4   Dallas Willsmore
5   Luke Ryan
Dreamteam
1   Hugh Greenwood
2   James Cousins
3   Jay Kennedy-Harris
4   Matt Scharenberg
5   Dallas Willsmore
TWITTER Q&A
@JeppaDT Hi Jeppa, what are the chances of Nathan Freeman debuting? I heard he had a promising game in the vfl on the weekend.

— Charles (@CharlesOC16) June 6, 2017
Nil. After missing so much footy, he'll be given minimum a month at VFL level.
Any ruck rookie likely to get a gig? Downgrading preuss to …….

— Michael (@mgvet) June 6, 2017
Sean Darcy or Wylie Buzza. Both could play if injuries hit their respective clubs.
Willsmore Vs Cousins? #JeppasJuniors

— Mathew (@Maanc0) June 6, 2017
Cousins. Has a far better role which allows him to get his hands on the ball and rack up the tackle numbers.
@JeppaDT get rid of myers this week to get rocky?

— fifaaaa (@footygod7854) June 6, 2017
Do whatever it takes to get the original Fantasy Pig back in your team.
https://twitter.com/gibo1991/status/872241100370530304
Hold and pray.
Do you expect the eagles to play the rookies after the bye, such as Partington and Venables?

— brenton (@Brenton__Hilton) June 6, 2017
Both will play at some point this season but sparingly.
JS for Willsmore? Or better going with Brown due to Collinwood injuries?

— Mark (@Ham_Man01) June 6, 2017
Not great but with the Hawks likely to miss the finals they should be looking at playing the kids.
Is someone like Will Brodie a proper rook DG option, or is he the best of a bad bunch?

— Christopher Morrison (@cmorrisonphoto) June 6, 2017
I'm avoiding Brodie because I believe he'll average below 60.
Chances of seeing rooks this week?
?
Jono Beech, kayle Kirby, N.freeman, C. Brown

— Matt Dickie (@MattDickster_DT) June 6, 2017
No to Beech & Freeman. Yes to Brown. Kirby is a maybe.
Worth getting a more expensive rook such as Cuningham? #JeppasJuniors

— Jason (@Jason12588) June 6, 2017
 Nah too risky, Stick to the cheap rooks.