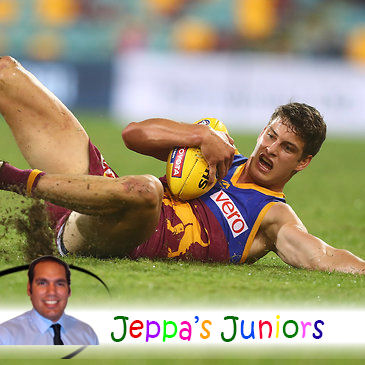 I can't remember a season where the rooks have been so dire. Plenty of our quality youngsters have the Round 13 bye and there's no obvious picks this week. If you're like me, you're struggling to field 18 players so a cheap rook is ever so important. There are a few guys around the mark that you need to take note of and hopefully a couple suit up in unlucky Round 13.
Those That Matter
A personal best from Jake Barrett (Mid/Fwd. $381,000, 34 be AF. Mid. $375,000, 19 be DT) came at a great time. Full of confidence, Barrett looks more than comfortable at AFL level and he enjoyed being part of a Lions victory by contributing 24 possessions, 5 marks, 3 tackles, 2 goals and 102 Fantasy points. It's an obvious hold. Caleb Marchbank (Def. $429,000, 72 be AF. $417,500, 57 be DT) keeps dominating in the air and in Fantasy scoring an impressive 87. A big part of me now wishes I held Marchbank. If you're a betting man, put a pineapple on him at $6.50 for the Rising Star award (gamble responsibly). Nic Newman's (Def. $462,000, 69 be AF. $456,900, 91 be DT) post bye performance was an excellent one scoring 84 Fantasy points. Seriously, what a cashcow!
Notable mention to James Stewart (Fwd. $301,000, 36 be AF. $265,700, 25 be DT) for his efforts on the weekend. A season high 85 Fantasy points would have been pretty bloody handy for the 2.9% that own him. Sammy Powell-Pepper (Mid. $359,000, 57 be AF. $342,600, 42 be DT) had just 3 Fantasy points to half time but obviously got a gee-up at the main break and finished with a 76. You've got to hold SPP this week but he goes for me in Dreamteam leading up to Round 14.
McKenzie Willis (Def/Mid. $187,000, 21 be AF. $221,400, 19 be DT) did enough to hold his spot in the Suns 22 but I doubt it gets better than 52 Fantasy points. Willis is a stopper and not looking to win a whole lot in the footy so buyer beware. He's not for me but with few options available you should still consider him. Fellow Sun, Ben Ainsworth (Fwd/Mid. $310,000, 32 be AF. $256,400, 10 be DT) is still relevant in Dreamteam. 73 Fantasy points against the Hawks on Saturday was a solid effort and given his talents, the Suns will want to get as many games into him this season as possible. With a price tag a bit over $300k, I wouldn't take the punt on Ainsworth in Fantasy because his role could well see him score low 60's from here on in.
Callum Brown (Fwd. $188,000, 25 be AF. $125,300 DT) had a red-hot dip against the Dees. Often going in head first into contests, Brown didn't get huge stats on debut and scored just 47 Fantasy points but like Luke Ryan, I expect plenty of improvement. The non-owners need to put him on the watchlist for Round 14.
Jonathon Beech (Fwd. $171,000, 1 be AF. $125,300 DT) was active in his first AFL game scoring 72 Fantasy points and now Don Pyke has got something to think about. Mitch McGovern will come back into the Crows 22 but who for…Otten or Beech? Naturally we all want Otten to be dropped and given his recent time up forward it looks like Otten will get the chop. Pray to the Fantasy gods that Beech will be playing in Round 14.
Brennan Cox (Def/Fwd. $167,000, 37 be AF. $125,300 DT) had a subdued debut. A defender forced forward by Ross Lyon left him completely lost and he only touched it 7 times for 23 Fantasy points. Avoid the young talls as a rule of thumb. Cox has the week off anyway.
From the crop of fattened up rooks with the Round 13 bye, we are looking to trade Andy Otten 48 (Def/Fwd. $376,000, 89 be AF. Def. $371,800, 118 be DT), David Myers 39 (Mid. $284,000, 57 be AF. $261,100, 54 be DT), Daniel Lloyd 29 (Mid/Fwd. $219,000, 29 be AF. Mid. $190,100, 12 be DT) and Will Hoskin-Elliott 71 (Fwd/Mid. $288,000, 22 be AF. Fwd. $405,700, 66 be DT). I still think Hugh Greenwood 49 (Mid/Fwd. $288,000, 22 be AF. $247,700, -6 be DT) has plenty to offer and there's improvement left in James Cousins 38 (Mid. $215,000, 18 be AF. $160,200, -11 be DT).
Luke Ryan 72 (Def. $177,000, -1 be AF. $125,300, -39 be DT) and Matthew Scharenberg 68 (Def. $275,000, 30 be AF. $235,900, 9 be DT) also have the Round 13 bye but they've got plenty more cash to earn so hold both. Ryan looked 10-fold better than he did on debut…let's hope that continues.
KEEP YOUR EYE ON
Jay Kennedy-Harris (Fwd. $195,000, 23 be AF. $184,500, 33 be DT) was kept on ice in the VFL on the weekend in case he was needed for the Queen Birthday match. He scored 61 Fantasy points from half a game which follows his 144 Fantasy points the week prior. Thomas Bugg should be in the firing line at selection so here's hoping the in-form JKH gets picked and redeems his earlier season form.
Remember Mitchell Hibberd (Def/Mid. $150,000, 33 be AF. $132,400 DT)? Hibberd had an excellent preseason, played in Round 1 but failed dismally scoring 24 Fantasy points and was subsequently dropped the next week never to be mentioned again until now. He's been averaging 24 possessions and 95 Fantasy points in his last 3 VFL games and could be a viable option to replace injured 'junior' Ed Vickers-Willis although I'm not so sure cause they're quite different players. There's no doubting that trading in Hibberd is risky given no assured job security but this is what happens when there's slim pickings available.
Alex Witherden (Def/Mid. $206,000, 40 be AF. $125,300 DT) would be a welcome addition to the Lions senior side. Witherden plays like a young Brendan Goddard and in his last NEAFL game he racked up 19 kicks, 6 handballs, 9 marks, 3 tackles and 105 Fantasy points. Witherden is pricey in Fantasy but the options are few and far between. Consider…he's a serious talent.
Willem Drew (Fwd/Mid. $186,000, 36 be AF. $125,300 DT) has been kicking butt in the SANFL in recent weeks and he's in the mix to play this weekend after Port's embarrassing display against the Bombers in Round 12. Fortunately, Ken Hinkley has always rewarded effort and Drew won't die wondering. Note that Drew has only averaged 73 Fantasy points in the SANFL this season but he's cheap as chips 
Please avoid Tom Cole (Def. $216,000, 42 be AF. $223,000 DT). He has no job security at West Coast and wont score over 50 Fantasy points per game.
TOP 5 LISTS
Considering price, scoring potential and job security, here's my Top 5 rookie options for Round 13:
Fantasy
1   Jay Kennedy-Harris (if named)
2   Alex Witherden (if named)
3   Mitchell Hibberd (if named)
4   Willem Drew (if named)
5   Mackenzie Willis
Dreamteam
1   Jay Kennedy-Harris (if named)
2   Ben Ainsworth
3   Mackenzie Willis
4   Luke Ryan (has the bye)
5   Lukas Webb (if named)
TWITTER Q&A
Can we get Beech in or is it too much of a risk? #JeppasJuniors

— Peter Tsokas (@Tock27) June 13, 2017
Too much of a risk. We don't know who will make way for McGovern.
Is it time for Hoskin-Elliot and Myers to go? #JeppasJuniors

— Matthew Russo (@MatthewRusso98) June 13, 2017
Absolutely. Trade them out, cash in and don't hesitate.
What chances have we got of any 150-200k mids or fwds playing this week? It's dire!

— Daniel Patterson (@dpatt0) June 13, 2017
I still think JKH is a good chance this week.
Freeman surely a shout after the Saints got pumped?!

— Sam Hill (@Smok3y10) June 13, 2017
Word is that he needs to work on a few elements of his game before being considered. If he doesn't get injured then he should be playing AFL in a couple of weeks.
is this the worst season ever for rookies?

— morgs640 (@morgs640) June 13, 2017
No doubt in my mind.
https://twitter.com/rohanmiles02/status/874533127447732224
Definitely pick someone up who is playing this week.
Zach Guthrie any closer to a debut?

— DLaz (@dlalli19) June 13, 2017
Unfortunately not. His VFL form has dropped off.
@JeppaDT hey jeppa, question for jeppa juniors, best 150k Ruck that may get a game this year?

— Paul Elson (@PaulAus19) June 13, 2017
Sean Darcy ($176,000) or Wylie Buzza.