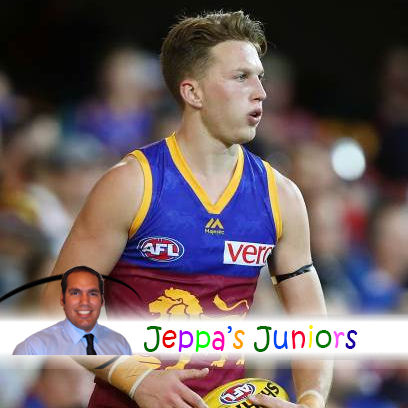 We're back to nine games a weekend and it's fair to say that Round 14 was a timely reminder that team depth is essential. When the likes of Barlow, Ablett, Hall, Kelly, Jones, Fyfe, Scharenberg, Fisher, Cousins are all out in the same week, bench back up comes into play. Those with weak benches and other coaches looking to make some cash have a few valuable youngsters to pick from…
Those That Matter
You wouldn't know Hugh Greenwood (Mid/Fwd. $337,000, 10 be AF. $310,500, -1 be DT) played Division 1 college basketball in the US a couple years ago. I bagged him for his move to AFL ranks (leaving my Perth Wildcats high and dry at the time) but now I need to eat my words because he's definitely having an impact for the Crows on the footy field. Greenwood was one of the Crows best last Thursday after racking up 21 touches, 6 marks, 9 tackles, 2 goals and a 122 Fantasy points for his loyal owners. I wish I held him.
Sammy Powell-Pepper (Mid. $388,000, 50 be AF. $381,900, 42 be DT) deserves a mention after his Fantasy PB of 92 on the weekend. He'll go well against the Tigers this weekend too…here's hoping he give Dusty a stiff arm. Those thinking about trading Nic Newman 78 (Def. $491,000, 92 be AF. $476,700, 71 be DT) should remember he is averaging 91 Fantasy points per game! Hold him please unless he's your last upgrade.
Baby faced Alex Witherden (Def/Mid. $225,000, 14 be AF. $125,300 DT) slotted in seamlessly for the Lions on debut. 20 touches at 75% efficiency, 7 marks, 2 tackles and 77 Fantasy points makes him Fantasy relevant even at his inflated price. At the Lions, his job security is solid and he will replace the injured Tom Stewart for me in Fantasy this week. I like the look of him so much that I'm trading him into my Dreamteam too. All aboard the Witherden train.
Sean Darcy (Ruc. $199,000, 3 be AF. $125,300 DT) didn't waste any time acquainting himself to AFL ranks.  The big unit took on Stanley and Blicavs basically on his own and won the ruck battle. Picking Darcy in Fantasy or Dreamteam means you're investing in the future. There's no way Sandi plays out the season and if Freo want to fast track Darcy's development then he'll play games in the latter part of this year. I brought in Darcy last week for Preuss and those that still have the North big man should look to do the same. Note that both Darcy and Sandi won't play in the same 22 and Sandi is due back this week so Darcy could be dropped.
Although he scored well in a Fantasy sense, Brennan Cox 69 (Def/Fwd. $182,000, 11 be AF. $125,300, -24 be DT) is still quite raw. Playing in the forward half and pinch hitting in the ruck, Cox looked a step behind and was paid little respect by Geelong. He did take 3 contested marks on the day but I reckon Freo are better off with Matty Tabener crashing the packs. I'm avoiding him but we're getting to the stage where we can start throwing away bench spots. Note that Cox is a dual position defender / forward. Another fresh face for Freo is Josh Deluca 44 (Fwd/Mid. $150,000, 17 be AF. $109,300 DT). He's not blessed with a lot of skill but his intent and ability to win the loose ball makes him an asset for the Dockers. As far as Fantasy goes, the scores will get a bit better than 44 but not by much. I'm carrying enough dead weigh so I won't be picking Deluca as I hold little hope for his job security.
Ryan Schoenmakers 68 (Fwd. $277,000, 44 be AF. $185,400, -11 be DT) and Matthew White 85 (Fwd/Mid. $300,000, 32 be AF. $223,000, -16 be DT) are a couple of seasoned players relevant for Dreamteam. Of the two, I'd look to bring in White purely because of his job security versus Schoen. White has a role to play for the Power but he has been renowned for yoyo like scores in the past.
Callum Brown 29 (Fwd/Mid. $191,000, 33 be AF. $125,300, -11 be DT) was incredibly disappointing. Buckley is giving him a reduced role and when you play just 65% game time it is a lot harder to have an impact. There's no doubting Brown's ability, it's just whether or not he'll be given more on field responsibilities and to be honest it is unlikely! He's likely to be dropped for Round 15.
Jonathon Beech (Fwd. $194,000, 4 be AF. $125,300, -52 be DT) is another set to lose his spot in the seniors. Mitch McGovern is ready to return and there's no doubting they play a similar role. Little influence and 43 Fantasy points from Beech against the Hawks justifies a return to the SANFL especially since the Crows are dropping games. Luke Ryan 45 (Def. $200,000, 10 be AF. $166,200, -26 be DT) also had a shocker in Round 14 but his spot should be safe given Ibbotson is the only one knocking on the door.
Popular rooks in Jake Barrett 39 (Mid/Fwd. $402,000, 86 be AF. Mid. $402,500, 104 be DT) and Caleb Marchbank (Def. $420,000, 94 be AF. $412,000, 102 be DT) should be cashed in now. You can't keep these blokes as bench back up so it's time to upgrade them.
KEEP YOUR EYE ON
The odds are looking good for Jay Kennedy-Harris (Fwd. $195,000, 22 be AF. $184,500, 32 be DT) to return to the Dees 22. With Melbourne coming back from Perth on a 6-day break, I suspect Goodwin will rest a couple meaning JKH should get another go. He had 39 touches, 7 marks, 7 tackles and a whopping 151 Fantasy points in the VFL and his past month has been superb. Unfortunately, job security will always be a problem for Kennedy-Harris especially with the Dees on a winning formula but he should be picked as bench back up regardless.
The time is now for Luke Partington (Mid. $150,000, 29 be AF. $132,400 DT) to make his debut. The goal kicking midfielder was BOG for the Royals on the weekend after amassing an impressive 28 possessions, 2 marks, 3 tackles, 4 goals and 116 Fantasy points. His latest performance has been after a string of dominant games in the WAFL so selection is warranted. West Coast has a history of dropping kids after a couple of games so there's a high risk picking Partington unless he dominates of course. He's very likely to come into my Fantasy team this week.
Josh Begley (Fwd. $190,000, 36 be AF. $125,300 DT) is a goal kicker in contention to make his debut for the Bombers. He just missed Essendon's 22 in Round 14 and responded with 12 touches, 4 goals and 81 Fantasy points in the VFL. Worsfold has always rewarded those in form so if Begley plays well on debut then he should be good for a couple of weeks following. Note that Begley's scoring potential is low 60's at best.
TOP 5 LISTS
Considering price, scoring potential and job security, here's my Top 5 rookie options for Round 15:
Fantasy
1   Alex Witherden
2   Sean Darcy
3   Luke Partington (if named)
4   Jay Kennedy-Harris (if named)
5   Josh Deluca
Dreamteam
1   Alex Witherden
2   Matthew White
3   Luke Ryan
4   Jay Kennedy-Harris (if named)
5   Ryan Shoenmakers
TWITTER Q&A
Legend @JeppaDT … who would you pick for $150k defender as bench cover?

— Sean Callow (@sean_callow) June 27, 2017
Look to Ryan Nyhuis from Freo who has been in great WAFL form of late.
Who would you trade out first, Marchbank or Barrett? #JeppasJuniors

— Matthew Russo (@MatthewRusso98) June 27, 2017
Barrett, no doubt.
Hi Jeppa. Stewart downgrade options? Pay extra for Witherden at D6 or basement rookie at D8 and play Ryan? Maybe Cox? Slim pickings.

— James Brown (@jdbrown74) June 27, 2017
I'm doing Stewart to Witherden in Fantasy this week. I recommend you do the same bud.
Is karpany looking like a decent option? Not high scoring but safe?

— mitchell ellis (@MicEllis1623) June 27, 2017
His job security is dicey. Partington could take his spot this week.
??@JeppaDT Is this the week for a double downgrade? Cheers for all your hard work legend! #JeppasJuniors #AFLFantasy

— Nick McKinnon (@njmckinnon) June 27, 2017
Great question. I am likely this week for only the second time this season.
@JeppaDT hey mate would you field out of Ryan, Deluca, Mountford or Butler? Cheers

— Dewy (@wayward_dewy) June 27, 2017
Ryan.
Gday Jep, I've got Black sitting on my bench, he's still there for his low BE, any chance of a game soon or should I trade?

— Ryzzza (@SpamBoss) June 27, 2017
Nope. His VFL form is average at best right now. Look to trade him.
@JeppaDT Lloyd,Macrae or Menegola best replacement for Nank? Thanks for any advice.

— Craig (@Subdubb) June 28, 2017
Dare to be different and go with Menegola.