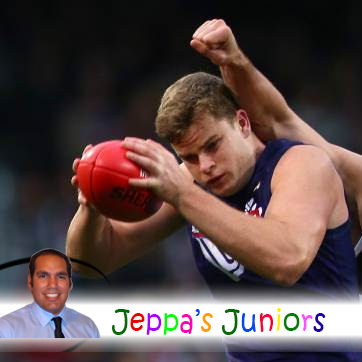 Round 15 was a much-needed morale boost for many Fantasy coaches. Plenty of premos performed but some failed. Ultimately, no team is perfect. Remember to stay disciplined, continue to cash in where appropriate and upgrade to the keeper premiums.
A couple of supreme rooks are must haves for every team this week. Quality youngsters in Witherden and Darcy need to be at the top of your list for their scoring potential and job security. Outsiders like Cox and Karpany may also suit a few in the short term.
Those That Matter
Alex Witherden (Def/Mid. $264,000, -6 be AF. $125,300, -103 be DT) has arrived. Playing well beyond his years, the second gamer was one of the Lions best players in their big win over Essendon. Cool under pressure and a sure thing with the ball in hand, Witherden's stat line read 29 possessions, 8 marks, 1 tackle and 96 Fantasy points at the final siren. I have no doubt that his name will be synonymous to AFL Fantasy for many years to come. A must have for all coached right now so put him first on your priority list. Gun!
Big fella Sean Darcy (Ruc. $251,000, -28 be AF. $125,300, -124 be DT) is making some waves scoring 114 Fantasy points in just his second AFL match. All 111 kilos of him are pretty useful at the stoppages and he proved against the Saints that he can also take a grab and kick a goal. With Sandi gone for the year, Darcy will play a major role but don't be surprised if it's alongside Jon Griffin. Coaches need to remember that Darcy is just 19 years old and he will tire quickly if he doesn't get some help. Assuming Darcy does share the ruck load, it means he scores around 70 Fantasy points per game which isn't enough as an R2. I'm chasing Bryce Gibbs this week so I may still take the punt by trading Stefan Martin. No matter the scenario, Darcy is a required player for all Fantasy and Dreamteam coaches.
Malcolm Karpany (Fwd/Mid. $238,000, -7 be AF. $246,000, -11 be DT) had a breakout game against the Dogs and he may force Eagles champ LeCras, the bloke he replaced, to East Perth. I've never recommended Karpany in the past because of his job security concerns and I'm still sceptical because it's likely he'll be dropped after just one bad game for Lecca or Partington. Karpany's 17 possession, 3 goal and 95 Fantasy point performance against the Dogs last Saturday will lock him in for this week at least. If he was say $180k then I probably would have taken the punt but he's bench cover for me so it's not worth the risk.
Brennan Cox's (Def/Fwd. $208,000, 2 be AF. $168,500, -42 be DT) flexibility is keeping him in Freo's 22. Primarily a key defender, Cox came into the seniors to fill a void up forward and as well as taking contested marks, he's been pinch hitting in the ruck also. Against the Saints he racked up 13 possessions, 6 marks, 2 hitouts, 2 tackles, 1 goal and 67 Fantasy points. If he didn't cop a corkie in the third term he would have scored a plenty more I reckon. Now that he's proven himself, I have Cox in my sights. His dual position status as a defender/forward will come in handy when it's time to trade.
Young tagger Declan Mountford (Mid. $236,000, -1 be AF. $218,200, -13 be DT) had the best game of his short career. Brad Scott must rate the kid if he gave him the run with job on maestro Gary Ablett! Chasing Gary meant Mountford finished with a whopping 10 tackles to go with 17 possessions, 3 marks and 90 Fantasy points. I wouldn't think this kind of performance would be a regular thing from Mountford (scored 44 in Round 14) and I wouldn't start him on your field as a result. Owners should enjoy the short-term cash earnings. Non-owners should avoid him.
After his first game in two years, Josh Thomas (Fwd/Mid. $288,000, 33 be AF. $207,000 DT) becomes relevant in Dreamteam. The midfielder is pricey but he can rack up the possessions on the outside with Treloar, Adams, Pendles, etc feeding it to him. He had 21 touches and 80 Fantasy points against the Hawks but I wouldn't spend the extra in Fantasy with Witherden and Darcy available. As a dual position forward/mid, I am seriously looking at Thomas as back up for Dreamteam. Matthew White 93 (Fwd/Mid. $329,000, 23 be AF. $274,600, -25 be DT) is another worthy of Dreamteam selection. Not for me at that price though given there are guarantees with his job security. Might suit a few.
Luke Ryan 77 (Def. $232,000, 4 be AF. $215,200, -2 be DT) and Aaron Black 66 (Fwd. $290,000, 21 be AF. $245,900, -2 be DT) both performed admirabily and it appears they'll hold their spot in the seniors. Well done to those patient owners that held Black.
Geelong's Wylie Buzza (Ruc/Fwd. $165,000, 9 be AF. $132,400 DT) was a late inclusion for Menzel against the Giants and he definitely played his role. Playing as a pure forward, Buzz kicked 2 goals and laid an impressive 7 tackles for 59 Fantasy points but there's no job security here so don't trade him in if you're going to be dependent on his scores.
Other than Nic Newman 116 (Def. $504,000, 77 be AF. $496,600, 82 be DT), I'd be trading the likes of Sam Powell-Pepper 90 (Mid. $408,000, 53 be AF. $403,600, 42 be DT), Hugh Greenwood 66 (Mid/Fwd. $363,000, 36 be AF. $341,600, 2 be DT) and Caleb Marchbank 44 (Def. $398,000, 105 be AF. $382,100, 110 be DT) to fill a premo spot. It's definitely the time and these rooks have done their jobs.
The sub 50 club in Round 15 includes Sam Simpson 47 (Fwd. $159,000, 16 be AF. $109,300 DT), Mitchell Hibberd 43 (Def/Mid. $155,000, 20 be AF. $132,400, 7be DT), Jonathon Beech 39 (Fwd. $211,000, 20 be AF. $168,500, 7 be DT), Tyson Stengle 38 (Fwd. $155,000, 22 be AF. $128,500 DT), Zach Guthrie 37 (Def. $154,000, 21 be AF. $109,300 DT) and Ciaran Sheehan 33 (Def. $152,000, 24 be AF. $125,300 DT). You could pick Hibberd as a throw away bench spot given his dual position status.
KEEP YOUR EYE ON
Don't ask me to pronounce his name but Ryan Nyhuis (Def. $150,000, 29 be AF. $125,300 DT) is in line to make his debut for Freo. The lad from the Northern Territory is a smart defender that can lock down anyone. He's kept the best WAFL players at bay and was BOG on the weekend after racking up 25 kicks, 5 handballs, 6 marks, 4 tackles and 120 Fantasy points. It's hard to know who Nyhuis comes in for but it could well be Sandi if Ross backs in Darcy as a sole ruck. Nyhuis won't have great job security so tread carefully.
The previously mentioned Jay Kennedy-Harris (Fwd. $195,000, 23 be AF. $184,500, 32 be DT) is a decent chance to come in for the suspended Tom Bugg or the injured Jack Viney. The 3rd year player had another outstanding VFL match on the weekend with 25 possessions, 8 tackles, 1 goal and 107 Fantasy points. C'mon Goodwin, give him another go!
David Myers (Mid. $284,000, 56 be AF. $261,100, 54 be DT), Brett Eddy (Fwd. $179,000, 17 be AF. $139,000, -26 be DT) and James Cousins (Mid. $215,000, 17 be AF. $160,200, -11 be DT) are all in line for an AFL recall after recent hot form in the reserves.
TOP 5 LISTS
Considering price, scoring potential and job security, here's my Top 5 rookie options for Round 16:
Fantasy
1   Alex Witherden
2   Sean Darcy
3   Brennan Cox
4   Malcolm Karpany
5   Jay Kennedy-Harris (if named)
Dreamteam
1   Alex Witherden
2   Sean Darcy
3   Brennan Cox
4   Josh Thomas
5   Malcolm Karpany
TWITTER Q&A
@JeppaDT is it stupid to trade Stef to Darcy to allow me to upgrade Barrett to anyone? #JeppasJuniors

— Matthew Russo (@MatthewRusso98) July 4, 2017
Absolutely not. I'm thinking of doing it myself to land Bryce Gibbs.
Worth trading Greenwood if we can get him up to a premo?

— Oscar (@ozziedabeast) July 4, 2017
Yes. Don't hesitate.
Who goes first Cuningham, Ainsworth or Berry? Cheers jep. #JeppasJuniors @JeppaDT

— Billy Elsum (@_billyelsum) July 4, 2017
Offload Ainsworth mate.
Surely Nathan Freeman is edging closer to a Saints debut..?#JeppasJuniors

— ChicagoSportsFan (@JackJova) July 4, 2017
Based on his stats, yes you're correct however, Richardson has stated that he's very unlikely to play at the highest level this season.
Ship sailed on Witherden?

— DLaz (@dlalli19) July 4, 2017
Nope. I'm getting him this week.
Situation with Scharenberg? Due back? Trade?

— DLaz (@dlalli19) July 4, 2017
Will be back at some point soon. Hold.
Getting Witherden and Darcy in as a mini rookie upgrade to generate some cash worth it?

— Adam (@simboer88) July 4, 2017
Yep. They're both must haves.