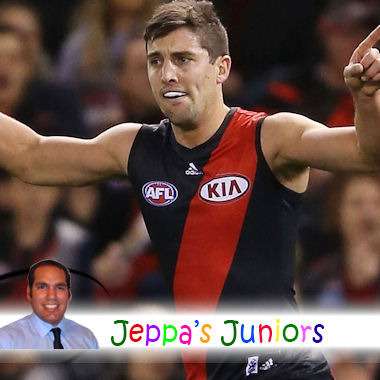 At this stage of the game it's about the dollars. Generating cash has been extremely difficult all season but it's around this time of year where a few fresh faces gain opportunities for teams that can't make finals. You need to be bringing in the cheap rooks, take some risks and start to throw away your D8, M10 and F8 positions.
Those That Matter
It took him a while to get going but David Myers (Mid. $307,000, 32 be AF. $284,200, 17 be DT) is finally hitting his straps. Looking far more confident, his second and third efforts were noticeable and he finished with 31 possessions and 103 Fantasy points against the Pies. He's perfect back up for your midfield.
Sean Darcy 82 (Ruc. $303,000, -10 be AF. $224,500, -71 be DT) and Alex Witherden 82 (Def/Mid. $305,000, 2 be AF. $214,400, -58 be DT) are the new kids on the block absolutely kicking butt on the field. Many coaches are sleeping easy knowing these youngsters are in their starting 22. At this stage of the game, I wouldn't recommend that the non-owners spend $300k+ on either Darcy or Witherden unless you're looking at trading Stefan Martin to the big Freo youngster.
Luke Ryan 88 (Def. $272,000, 1 be AF. $258,400, -21 be DT) and Mitchell Hibberd 87 (Def/Mid. $187,000, -8 be AF. $170,900, -34 be DT) are both looking super confident for their respective sides. It was easily the best game they've played to date but I'd only back in Ryan as a starting defender. Hibberd is still raw and will be up and down but Ryan has maturity on his side and he'll get plenty of touches against my Eagles this Sunday. Hibberd is still cheap enough to trade in and the non-owners should look to utilise his dual position status…it will come in handy!
Don't get too excited by Ryan Nyhuis (Def. $168,000, 2 be AF. $125,300 DT) in a Fantasy sense. Sure, he kicked 4 goals on debut but that only equated to 67 Fantasy points. His role was to lock down Robbie Tarrant and not so much to win the footy. If Ross the Boss played him as a defender (his natural position) then I'd endorse him heavier but I reckon he averages less than 60 from this point forward. With all that said, Nyhuis will come into my Fantasy team this week as a throw away D8.
Daniel Nielson (Def. $160,000, 14 be AF. $132,400 DT) did a great job in defence against Freo keeping Shane Kersten pretty quiet. Scoring only 49 Fantasy points is about par for key defenders but I can see him staying in the seniors for the rest of the season. Neilson is perfect for your D8 position in Fantasy. Another cheaper defender to consider is Joel Smith 27 (Def. $150,000, 46 be AF. $125,300, 25 be DT). He couldn't get going last weekend in his return game since Round 1 but the talent is there. Put Smith on your watchlist.
Notable mentions to Matt Scharenberg 71 (Def. $295,000, 30 be AF. $264,600, 9 be DT), Josh Thomas 66 (Fwd/Mid. $304,000, 33 be AF. $207,000, -30 be DT), Declan Mountford 66 (Mid. $268,000, 11 be AF. $255,800, -13 be DT) and Brennan Cox 51 (Def/Fwd. $231,000, 13 be AF. $213,200, 1 be DT). All four players did their jobs and should hold their spot in the seniors this week. A popular pick who is likely to get dropped this week is Wylie Buzza (Ruc/Fwd. $177,000, 15 be AF. $132,400, -19 be DT). The big fella was imposing but wasn't as clean as he needed to be up forward, amassing just 9 possessions and 34 Fantasy points.
Joe Atley (Mid. $192,000, 28 be AF. $125,300 DT) failed to make an impression debut for the Power with only 14 touches and 44 Fantasy points. He'll make way for Broadbent or Aaron Young this week. Avoid.
KEEP YOUR EYE ON
If Kennedy-Harris can't get a game then maybe Corey Maynard (Fwd/Mid. $150,000, 29 be AF. $109,300 DT) will. Funnily enough, Maynard has been in my Dreamteam before…NBL Dreamteam that is. The former Townsville Crocodile has swapped basketball for footy and his transition has been seamless, much like Hugh Greenwood. In his last three VFL games he's averaged an impressive 27 possessions, 4 marks, 9 tackles and 112 Fantasy points. It's hard to break into the Dees 22 but I reckon Maynard would add some punch inside with Viney out injured. Cheap as chips and he's a dual position mid / forward.
Recently promoted North rookie Cameron Zurhaar (Fwd. $150,000, 29 be AF. $121,300 DT) is a chance to make his debut this weekend. Powerful and explosive, Zurhaar is an impact player that won't win a whole lot of the footy but you'll definitely notice him. Don't expect huge scores from Zurhaar but he's a pretty good candidate for your F8 spot given the Kangas are playing the kids.
Hugh Greenwood (Mid/Fwd. $363,000, 36 be AF. $341,600, 3 be DT) owners should know that he was rested last weekend and is set to re-join the seniors this week. Who knows what a refreshed Greenwood will provide.
TOP 5 LISTS
Considering price, scoring potential and job security, here's my Top 5 rookie options for Round 17:
Fantasy
1   Mitchell Hibberd
2   Sean Darcy (for Stefan Martin only)
3   Ryan Nyhuis
4   Corey Maynard (if named)
5   Daniel Nielson
Dreamteam
1   Alex Witherden
2   Sean Darcy
3   Mitch Hibberd
4   Josh Thomas
5   Ryan Nyhuis
TWITTER Q&A
Do you think Cox and Karpany will keep their places in their respective sides despite quiet games on the weekend from both? #JeppasJuniors

— ChicagoSportsFan (@JackJova) July 11, 2017
 Both will play in the Derby but they're both on thin ice.
Is Jay Kennedy-Harris any closer to a return to the seniors? #JeppasJuniors

— ChicagoSportsFan (@JackJova) July 11, 2017
He was close a month ago and I'm very surprised he didn't game last weekend with all the Dees outs. Bottom line is JKH is out of favour.
Hey Jep! ?? Holding stacks of under-ripe rooks e.g. Ryan / Scharen / With / Mount /GreenW. Do we trade early to continue upgrading or hold?

— Steve Sowden (@StevenSowden) July 11, 2017
I'm trading Mountford (BE of 11) this week because I'm desperate to had another promo to my midfield. Premo's are priority.
Who do you put on the field Ryan or Witherden?

— Byron Forbes (@Shrutes_Savages) July 11, 2017
Witherden all the way!
@JeppaDT Get Docherty if it means I have to field Mountford? Or get Zorko and Kieran Jack?

— Jack Dolling (@JDolling69) July 11, 2017
Get Doch and field Mountford!
Best $150k ruck?

— Ryzzza (@SpamBoss) July 11, 2017
Billy Frampton might get a game if injuries hit Port.