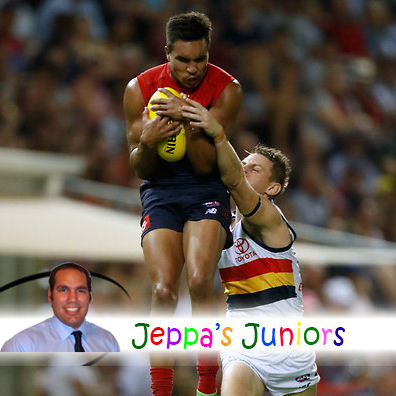 What a week it was for the DT Talk crew in Perth. Last Thursday night was a blast and my liver is still quite sore. A big thanks to Warnie, Roy & Calvin for making the week a great one. As per recent announcements, I'm sorry to say that this will be my last season doing Jeppa's Juniors. Family and work are my priorities and I'm struggling to find the time for rookie analysis and write ups.
Onto the footy. With Fantasy finals are around the corner and it's important to get your rookies right. It is however reasonable to sacrifice your D8, M10, R4 and F8 positions with a rook that may or may not play regularly as long as you have a playing emergency. I was one of the coaches who was handed a donut thanks to Elliot Yeo's late out and insufficient bench cover but I won't be making the same mistake twice. Don't be a fool like me.
Those That Matter
The Dogs have got themselves a gem in Lewis Young (Fwd. $175,000, 0 be AF. $125,300 DT). Athletic and composed, he looks a natural footballer with a bright future. Reading the play like a 10-year veteran, Young was superb against the Blues and he took enough incept marks to get noticed. His stat line at the final siren read 10 kicks, 11 handballs, 9 marks and 73 Fantasy points. Young didn't lay a tackle in the match but he's still worthy of a spot on your Fantasy bench. To try and maximise funds, I'm trading Young in as my F7 an I'm expecting an average of 65 Fantasy points per game from this point forward. He has to be at the top of your list with what's available.
Jay Kennedy-Harris (Fwd. $232,000, -5 be AF. $217,100, -22 be DT) owners can finally rejoice. After red hot VFL form for over a month, Kennedy-Harris played his first game since Round 7 and was a notable contributor in the midfield amassing 23 possessions and 102 Fantasy points. I've been talking him up for ages and bagged by plenty of keyboard warriors in the process but if the keeps his midfield role his scores will be up there. With Vince suspended, I think we're in for another good score this week.
Nothing has changed with Alex Witherden 91 (Def/Mid. $347,000, 15 be AF. $286,100, -13 be DT) and Sean Darcy 81 (Ruc. $346,000, 15 be AF. $297,300, 4 be DT). They're still kicking ass and still very relevant in Fantasy and Dreamteam. Josh Thomas 75 (Fwd/Mid. $324,000, 34 be AF. $257,600, 3 be DT) and Luke Ryan 72 (Def. $306,000, 18 be AF. $302,900, 10 be DT) are the next tier of rookie must haves and Ryan has been doing a great job in my Fantasy starting 22 for the past couple of weeks. The non-owners are missing out.
Ivan Soldo 64 (Ruc. $214,000, 8 be AF. $180,000, 3 be DT) got a recall and ended up rucking more than Nankervis who was preferred forward of centre contesting the high balls. Soldo's job security is a week by week proposition pending strategy from Hardwick and at $214,000 there are far better cashcows lurking.
Joel Smith 46 (Def. $151,000, 18 be AF. $274,600, -25 be DT) and Ryan Nyhuis 43 (Def. $188,000, 9 be AF. $403,600, 42 be DT) are slow burn rooks showing potential. Both players are doing their job but they won't be hitting huge scores for Fantasy owners. Joel Smith as an ideal D8 in my opinion.
KEEP YOUR EYE ON
In the Lions rebuild, another cub in Jacob Allison (Fwd/Mid. $150,000, 29 be AF. $125,300 DT) looks likely for a run in the seniors. Allison can play a variety of positions but he's best suited as a rebounding defender. He can rack up the possessions but from what I've seen he's a confidence player so it will take a few weeks for Allison to getting going at AFL level. His dual position status is invaluable at this time of the season but I'm waiting to see what he produces on debut before trading him in.
Defender Tom Doedee (Def. $150,000, 29 be AF. $132,400 DT) is having a purple patch and is in contention to make his debut against the Cats on Friday night prime time. A high draft pick, Doedee has the talent and an opportunity looks to have come about through recent injuries at the Crows. You could pick him as a throw away D8 but I don't think he'll get many games and he'll average in the low 60's.
Dallas Willsmore (Mid. $175,000, 4 be AF. $132,400, -28 be DT) put on a clinic in the VFL last weekend racking up 36 possessions, 16 marks, 4 tackles, 2 goals and 175 Fantasy points. That's worthy of an AFL recall for any side especially the struggling Hawks. Given Hawthorn are out of finals contention expect the lessor likes like Willsmore to get plenty of opportunities till seasons end.
The previously mentioned Luke Partington (Mid. $150,000, 29 be AF. $132,400 DT) will get a game for West Coast soon. Adam Simpson flagged an injection of youth this week and Partington is long overdue for a senior opportunity. I'm hoping he takes Masten's spot.
TOP 5 LISTS
Considering price, scoring potential and job security, here's my Top 5 rookie options for Round 18:
Fantasy
1   Lewis Young
2   Jay Kennedy-Harris
3   Dallas Willsmore (if named)
4   Luke Partington (if named)
5   Joel Smith
Dreamteam
1   Jay Kennedy-Harris
2   Alex Witherden
3   Lewis Young
4   Ryan Nyhuis
5   Josh Thomas
TWITTER Q&A
Who has the better job security JKH or Lewis Young for F7 and how good was @CalvinDT singing the green vest song. #StillHungover

— Joe Facey (@JoeFacey) July 18, 2017
Lewis is still very raw so JKH has the better job security. My ears are still ringing from Cals time on the mic.
Which cash-cow should I cash-in first? Luke Ryan or Matthew Scharenberg? Who will score better in the near future? #JeppasJuniors

— ChicagoSportsFan (@JackJova) July 18, 2017
Cash in Scharenberg first. Ryan's confidence is growing weekly.
@JeppaDT is Nick Newmans time up? Got a BE of 109…. move him along to blakley? #JeppasJuniors

— Brody Payne (@brodypayne1) July 18, 2017
If he's your last promo spot to fill then yes trade him.