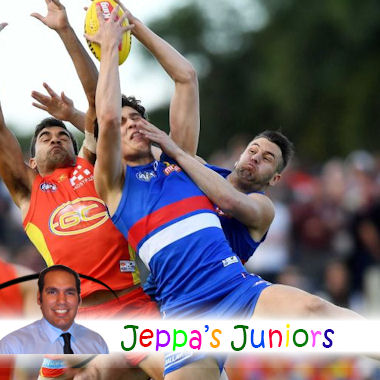 It's about this time every year where rooks get a run for sides out of the finals race. Gold Coast, Carlton, North and Brisbane are looking to 2018 with the Pies, Dockers and Hawks hanging on by a thread. Picking the quality juniors amongst these teams is critical as we approach Fantasy finals. Check out my comments below for all your rookie needs and feel free to leave a question for me to answer. 

Click here to subscribe on iTunes.
Those That Matter
If you don't have Lewis Young (Fwd. $211,000, -13 be AF. $125,300, -81 be DT), it's not too late. Awesome in the air, Young is taking his opportunities and playing his role to perfection. Our new Caleb Marchbank impersonator had 16 possessions, 10 marks and 77 Fantasy points is near perfect performance. Put simply, he's must have.
Josh Williams (Fwd/Mid. $195,000, 12 be AF. $125,300 DT) came in late for Robbie Tarrant and with limited mental preparation was still very serviceable. Williams suits the modern game with his pace and explosiveness and he ended the match with 7 kicks, 7 handballs, 3 tackles, 1 goal and 65 Fantasy points. Opportunities are likely for Williams amongst the rebuilding Kangas so he's a safe pick and he'll give the Fantasy scores a good nudge too. Note his dual position status.
Irishman Conor Glass (Def/Mid. $167,000, 5 be AF. $125,300 DT) didn't die wondering in his AFL debut. Composed at half back, Glass finished with 15 possessions, 5 marks, 2 tackles and 63 Fantasy points. His pace and composure will see him in the seniors for at least a couple of weeks but his ceiling is low. Fantasy coaches should note his dual position status…flexibility late in the season is invaluable.
Alex Witherden 97 (Def/Mid. $387,000, 28 be AF. $340,200, 0 be DT) and Sean Darcy 85 (Ruc. $381,000, 37 be AF. $337,900, 20 be DT) can comfortably start on field for coaches encountering injury or suspension trouble. They're both in form and exceeding expectations. Witherden will remain my D6 in Dreamteam. Hugh Greenwood 85 (Fwd/Mid. $398,000, 56 be AF. $180,000, 3 be DT) fits into this category also.
Cedric Cox (Def. $239,000, 13 be AF. $191,900, -21 be DT) played the best game of his short career last weekend. Switching between half back and half forward he finished with 7 kicks, 11 handballs, 4 marks, 5 tackles, one ripper goal and 82 Fantasy points. Confidence is a beautiful thing but I'm not a fan of spending a premium for rooks at this stage of the season but you could take a punt on Cox in Dreamteam if you so desired. Will Setterfield (Mid. $254,000, 27 be AF. $201,800 DT) is another expensive rook and he was awesome on debut for the Giants. A star of the future, Setterfield played in the midfield and was on fire early. Running out of puff in the second half he ended up with 12 touches, 3 marks, 6 tackles and 70 Fantasy points at the final siren. Coniglio comes back in this week for GWS so his midfield role might be reduced. You're paying extra for quality but like I said before, you should be maximising your earnings at this stage of the game.
Harry McKay 61 (Fwd. $166,000, 7 be AF. $132,400 DT) was excellent as a key tall for Carlton but he'll be up and down for the remaining rounds. The rule of thumb is to avoid young key position players (yes there are exceptions) but if you're desperate for a cheap forward then you might get 50 Fantasy points from him per week. I'd stay clear of ruckman Rowan Marshall 60 (Ruc. $165,000, 6 be AF. $122,800 DT) also because Tom Hickey is likely take his spot after he had a blinder in the VFL last weekend. Nick Larkey 2 (Fwd/Def. $150,000, 69 be AF. $125,300 DT) is a no go after failing to register a possession from 80% time on ground…that has to be a record!
Notable mentions to Sam Durdin 81 (Fwd. $185,000, -2 be AF. $168,200, -17 be DT), Jay Kennedy-Harris 64 (Fwd. $265,000, 11 be AF. $259,700, -23 be DT), Ryan Nyhuis 60 (Def. $213,000, 9 be AF. $174,000, -7 be DT) for their performances in Round 18. All three performed admirably for their clubs and they're doing their job as Fantasy cashcows.
KEEP YOUR EYE ON
With Hawthorn in a rebuilding phase, Harry Morrison (Def. $150,000, 28 be AF. $125,300 DT) is next in line to make his debut for the brown and gold. A running defender, Morrison can rack up the possessions proven by his 30 disposal, 7 mark, 11 tackle and 143 Fantasy point effort in the VFL last week. Coaches should note that he's averaged 93 Fantasy points in the magoos this season. Clarkson flagged he was close to a debut in Round 18 (source) and given the Hawks 6-day break coming back from Perth, I'm forecasting that Morrison comes in for Round 19. He's cheap as chips.
Brandon White (Mid. $182,000, 34 be AF. $237,300 DT) is likely replacement for Joey Montagna who is out for an extended period. The Dandenong Stingrays product is another half back with a big left foot and he's shown enough to warrant selection. White will be solid but not amazing and I'm estimating a Fantasy average of around 60. Consider.
TOP 5 LISTS
Considering price, scoring potential and job security, here's my Top 5 rookie options for Round 19:
Fantasy
1   Lewis Young
2   Josh Williams
3   Conor Glass
4   Harry Morrison (if named)
5   Brandon White (if named)
Dreamteam
1   Lewis Young
2   Josh Williams
3   Conor Glass
4   Cedric Cox
5   Will Setterfield
TWITTER Q&A
If Partington comes in, do we grab him over Glass

— Tim Cahill is God (@CahillGod) July 25, 2017
Nope. Stick with Glass or Morrison from the Hawks.
How long do you think Conor Glass can stay in the Hawks' side? Is he a legitimate downgrade option this week?

— ChicagoSportsFan (@JackJova) July 25, 2017
I reckon he's good for at least two more games but if his form drops off this Friday night then like any player he'll get the axe. Back him in.
https://twitter.com/AidanTheaker/status/889745403343585281
Bank the cash but look to Williams, Glass or Morrison instead of Partington (assuming you already have Lewis Young).