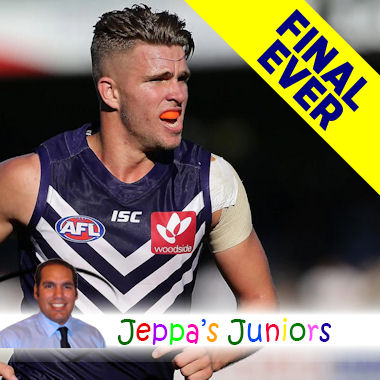 And just like that, it's finals time! It's been an incredibly challenging season and hopefully you've made the top 8 in a few leagues.
Unfortunately, too many premos have been up and down this season so if you think you're safe in finals, think again. As far as the rookies go, there are very few quality youngsters to see us through these last few rounds but I've highlighted the best available.
This will be my last ever Juniors article. After 5 years with DT Talk I want to thank Warnie, Roy and Calvin for all the opportunities they've given me. I've loved being part of the DT Talk family but it's time to pass on the batten. I hope you've enjoyed my insight and I'll still be on Twitter @JeppaDT if you want to drop a line.
Those That Matter
What a break out game by Luke Ryan (Def. $363,000, -5 be AF. $366,100, -8 be DT)! Showing confidence well beyond his 7 AFL games to date, he was in everything down in defence racking up 25 possessions, 14 marks, 6 tackles and a whopping 138 Fantasy points which is the highest score from a rookie this season. With Blakely nursing a dislocated shoulder, Ryan had to step up and going forward he'll be commanding a lot more of the football. He'll smash it against Gold Coast this week.
Alex Witherden (Def/Mid. $423,000, 37 be AF. $300,000, 15 be DT) asserts himself again as a rookie turned keeper. As one of the Lions best performers, the young defender racked up 28 touches, 5 marks, 4 tackles and 103 Fantasy points against West Coast. You can sleep easy backing Witherden as a starting defender in Fantasy finals.
Lewis Young (Fwd. $235,000, 17 be AF. $181,700, -13 be DT) was more worried about stopping Joey Daniher than winning the ball. Locking down on one of the best forwards in the league, Young only reached 36 Fantasy points which hurt coaches like me who started him on the field! Persist with him though cause he faces the Lions this weekend.
Brisbane debutant Jacob Allison (Fwd/Mid. $168,000, 3 be AF. $125,300 DT) enjoyed roaming freely around Domain Stadium. With no real opponent all day, Allison had 20 possessions (75% efficiency), 5 marks, 1 tackle and 66 Fantasy points. He definitely holds his spot for a couple weeks yet and with dual position status, he's perfect bench back up so please consider him.
Luke Partington (Mid. $167,00, 4 be AF. $132,400 DT) finally got a run for West Coast and his performance proves that the West Coast match committee have had it wrong for some time. Playing in the guts and at half forward, he wasn't shying away from the contest and he finished with 16 touches, 3 marks, 3 tackles, 1 goal and 64 AFL Fantasy points. He's impressed me and I'll vouch for his Jobe security for the next two weeks. If only he was a DPP forward, mid.
I liked Brandon White's (Def. $189,000, 22 be AF. $237,300 DT) debut on Saturday night! White didn't set the Fantasy scores alight but he showed a good work ethic and with a little more confidence, he'll command more of the ball. He didn't lay a tackle but still managed a reasonable 49 Fantasy points. He'll easily go 65+ against my Eagles this weekend. Sam Skinner (Def. $160,000, 15 be AF. $132,400 DT) rounds out the fresh faces and he showed plenty of potential. He was on 26 Fantasy points to quarter time but could only stumble to 48 by the final siren. He's still a decent option if coaches need a cheap Fantasy
defender so don't rule him out because of one sub 50 score.
Max Spencer 45 (Def. $158,000, 16 be AF. $109,300 DT), Sam Durdin 44 (Fwd. $207,000, 10 be AF. $197,800, -16 be DT), Conor Glass 39 (Def/Mid. $183,000, 11 be AF. $125,300, -33 be DT) and Harry McKay 23 (Fwd. $174,000, 21 be AF. $132,400, -11 be DT) all failed in Round 19. Glass tried hard last week but it just didn't equate into stats.
KEEP YOUR EYE ON
A midfielder that can run all day, Kobe Mutch (Mid. $168,000, 32 be AF. $125,300 DT) is next in line to come into Essendon's 22. A couple of Bombers are on the chopping block and he should be named this week. Mutch has averaged 81 Fantasy points in the VFL this season but given he's not a big tackler, I reckon he'd only reach Fantasy scores in the low 60's at AFL level. Cheap with plenty of potential.
He burnt us earlier in the season but Teia Miles (Fwd/Mid. $173,000, 20 be AF. $132,400, -10 be DT) is back in form. Coming off 5 goals, 17 possessions, 8 marks and 102 Fantasy points last week in the VFL, Miles comes into senior contention for the Hawks. He was an emergency last week so he's been there abouts for a while now. I doubt Hawks will make finals so they'll be playing the kids like Miles pretty soon. Watch this space.
Harrison Wigg (Mid. $150,000, 28 be AF. $132,400 DT) has to be the best untried junior around. He'd get a game in any other team and the Crows hierarchy should be worried that he'll seek opportunities elsewhere in the offseason. Wigg has been killing it in the SANFL for the majority of the season supported by his 34 possession, 9 marks, 3 tackles and 122 Fantasy point effort last weekend. Job security is a concern but it's late in the season and it's worth the risk.
TOP 5 LISTS
Considering price, scoring potential and job security, here's my Top 5 rookie options for Round 20:
Fantasy
1   Jacob Allison
2   Luke Partington
3   Sam Skinner
4   Brandon White
5   Harrison Wigg (if named)
Dreamteam
1   Jacob Allison
2   Luke Partington
3   Sam Skinner
4   Lewis Young
5   Brandon White
TWITTER Q&A
https://twitter.com/AidanTheaker/status/892196568744419328
Option 1. Sideass will kill it against North Melbourne this weekend.
Thanks Jeppa! Mind telling us how you research the rookies? Is there role and fantasy information before they are drafted? #JeppasJuniors

— Matt Brittain (@brittain23) August 1, 2017
Research is mostly me watching a lot of football. Watching how each rook plays and their Fantasy scoring potential, assessing where they fit in the team and coaches comments via press conferences.
Which cheap players are you most looking forward to for NEXT season?? Underperformers/injured players etc #JeppasJuniors

— Paul Jeffery (@mackanic32) August 1, 2017
Max Gawn, Dayne Beams, Nic Nat & Nathan Freeman.
whats been the best experience you've had in your time writing for @DTTALK ?
Hope everything goes good and thanks for all the advice!

— Joseph Dawson (@Joey_eagle23) August 1, 2017
Grand Final trips!
Who has been your favourite junior over your time?

— JimBob (@JimBobHolder) August 1, 2017
The greatest junior of them all…Michael Barlow.
@JeppaDT Who to field out of Ryan and Witherden? Cheers Jeppa! #AFLFantasy

— Nick McKinnon (@njmckinnon) August 1, 2017
Witherden, no doubt.
Who has been your worst ever Jeppas Junior?

— The Value Sorcerers (@TVS___official) August 1, 2017
Relton Roberts
2017 AFL Fantasy Rookie of the Year
It's time to vote for this season's best Fantasy rookie. Select the 'junior' that you believe was the most valuable throughout the season. Consider scoring, games played, consistency, and the like.
Loading ...