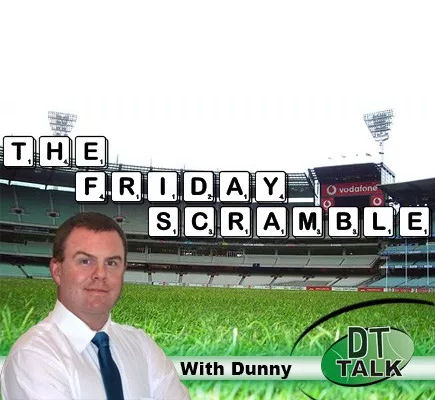 It is always nice to have a big scoring week occasionally and we saw some nice big scores apart from all those DNP's on our benches.  But as always there are some problem players that we need to deal with and there are some rookies hitting the bubble that we need to look at, but of course you have all read Jeppa's Juniors so you are all across them.
We are starting to get to the point where you need to start looking at trading out some maxed out rookies
Gawn Gone now Spencer Spent  What next?
When Gawn went down some downgraded to get in Spencer to save some cash.  Others relied on Preuss.  Well neither have worked out too well.  If you are in that boat or if you downgraded to another ruckman that didn't work out, I wouldn't be mucking around at all and I would be looking at trying to get back to having a premium.  The rucks is an area that I don't like to spend too many trades on.  Now if you were running with Spencer straight from Gawn and used the cash elsewhere then you may not have much cash in the bank.  So if you have Nank you might need to slot him into your ruck until you can get enough cash to upgrade someone to a top ruck.

Click here to subscribe on iTunes.
Selection Thoughts
First thing I noticed is that Marc Murphy is still listed as playing.  Now the concern that I have is that there were some early reports that said he is out for 4 weeks, next minute he is ok and a chance to play.  This screams late out chance to me.  If you have him, don't trade him obviously but just be very careful and make sure you have a good bench cover in your midfield.
The big shock this week was that Cyril is out with a hip issue.  He may not be that popular in classic leagues, but he would certainly be well owned in draft leagues.
Jaeger's back!  All rejoice!  If you still have him then you will be happy about this.  I am concerned as to how well he will score (watch him crack 100 now I have said that).  Also I am worried that this will happen again as they are very careful with him.  So play him, milk him for cash, but have a plan to trade him out if he gets rested again.
Swallow disaster, not one, but two of them are out!  As an owner of A Swallow in the DT Shiva I say a big F U to him, he hasn't been scoring well and it shouldn't come as a surprise that he has been given a week off to think about things, that doesn't help anyone.  But David Swallow is being rested.  He missed round one and hasn't scored well in the last two weeks and now he misses round 6.  On top of this he will miss round 9 through having a bye.  To me, I say you should trade him out this week.  He isn't performing to the level we needed and he is simply isn't doing what you wanted which is make buckets of cash.
With Pickett and Polson both out, this gives us every excuse to trade these guys out! (Right Warnie)  On the plus side sanity has prevailed up in Sydney and Newman is back in.  Thankfully Balic is back in as well making him a great trade in target.
Big names back included Kreuzer, Shaun Higgins and Sam Mitchell.  Hartlett is also back in this week and we as expected Boak is missing with a hammy.
Start Planning Ahead
We are only have three more games until we have the first bye with Port and Gold Coast players, so you should be looking to make sure you are going to be in a good place.  You have three weeks to execute whatever trades you are looking to do before then.  Remember, round 9 is a regular round, it doesn't make any allowance for the bye affected players.
Beyond that we only have 5 more regular weeks until our first full bye round.  This seems like a while, but really it isn't.  If you are playing through the byes or are interested in your overall rank you should be factoring in the bye rounds of players when you are looking to bring them in.
We will discuss more on bye rounds as they get closer, but I just wanted to put it in the forefront of your mind so you start your planning early.
#AskDunny
With good rookie talent, double downgrade even if we have funds for a conventional downgrade/upgrade to a top 6 premo? Roughy on the block.

— Taezer (@Taezer87) April 27, 2017
This is a tough call and will obviously depend on your individual team situation.  However, this week looks to be a good one to do a double downgrade.  There are some good rookies on the bubble this week and if you can grab some cash and build up a Warnechest then it is a good thing to do.  Having said that, if your choice is either a double down or one down and up on Rough it depends on your appetite for Roughy's score this week.  For me I think it is worth taking that risk given that he is playing at Aurora against the Saints indicates to me that he could have a good score.
#askdunny if you had to keep one of the following players another week, would it be Roughead or SPP?

— Kev B (@blklzt) April 27, 2017
A good question.  Both have pretty good matchups this week with Rough v the Saints in Tassie and SPP playing the Lions at the Gabba.  If I absolutely had to keep one of them and trade the other out I think I would go with keeping Roughy.  I think he is more likely to have a bigger score just due to where he is playing, the Hawks often have good scores at Aurora and SPP's score is a bit hit and miss.
Thoughts on T.Miller to Black and Swallow to Merrett or Mitchell?

— South coast nutter (@notty12) April 27, 2017
On the face of it this isn't a bad trade.  But a little bit more investigation worries me a little.  Touk started in a flurry but has had poor scores in the 60's in the last two weeks.  Now, he is sort of a mid pricer which means that if we want to trade him out it isn't a terrible idea.  But my other concern on this is Black.  He has only played the one game.  This is where things change depending on what game you are playing.  In AF you could take the risk on him because you know you can trade him out with those two per week.  In RDT or SC I am a little more frugal with trades and the fact his price won't change after this game means I would be a little more gunshy on him.  If you can trade out someone like a D Swallow I would be happier (but you obviously you need him to do the next part of the trade)
The backend of this trade I do like.  If you can get Swallow up to Zerrett or T Mitchell then I say go for it.  But if you can get there without doing Black I would try to.  I like Fisher or Balic a bit more.
Things to Remember
Whilst lots of days of footy are great, it is nice to get our routine back and it is good knowing all our teams before lockout.
In RDT and SC don't go early on rookies, if you can wait for the second week to see how they go then you should do it.
Don't lose faith in your premiums.  It is easy to lose faith in someone like Luke Parker, but you brought him in for a reason.  Plus with him the Swans have a good run coming up.
Be smart about the rookies you downgrade to the ones on the bubble.  Don't jump for the sake of it.  If there is a good rookie in your team with a low BE, well below their average then keep them, save the trade.
Last week was a huge scoring week, don't be disappointed if it doesn't happen again this week.  We won't see huge scores from guys like Hampton and Otten every week.  Just enjoy it when it does happen.  Hope you have a great game this week and get the win in your league. Cheers for this week.  @pkd73