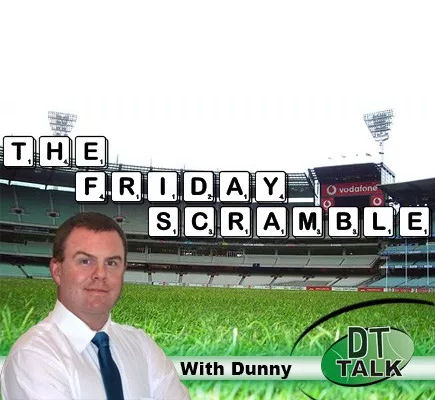 Wow, what a week.  Remember last week when I said, we won't have great weeks like that all the time, well I didn't think it would all turn around so bloody fast!  But hey, that is the game isn't it.  It can be a cruel game at times.  So not only did we have to put up with some very mediocre scores from our so called Premiums, but we then lose a few to suspension, injury and just bloody omissions!
Well don't stress, the good thing is that everyone is in the same boat, it may be leaking profusely, but it is a boat!  So let's deal with some of the issues of the round.
Nank and Greeney
Whether you think they were dealt with harshly or too softly doesn't matter, the MRP made their decision and we have lost these boys for one and two weeks respectively.  I will deal with them separately for you here and give my thoughts on what I would do if I had them.  For the record, I don't have Greene but I do have Nank in the Forward Line.
Greene.  In AF there is one simple answer and that is trade.  With all those trades you may as well do it.  It is a lot of cash to have sitting idle.  Now I won't go into who you should bring in as you all have different players and different amounts of cash in the bank.  All I say is you are trading out a keeper so you should be looking to bring in a keeper and not a mid-pricer and definitely not a rookie.
In RDT and SC this is where it gets a bit trickier.  2 weeks is generally where we would say hold for an injury.  In this case we know he isn't injured and he will be back fighting (no pun intended) fit after two weeks off.  So it comes down to the sort of cover that you have.  If you will have a donut then I would trade, but if you can replace him with a rookie that is performing fairly well like a Balic or Houston then I would say hold him.  Once again, if you trade it has to be to a keeper.
Nank.  In AF, if you have him in the ruck and have no playing cover (since Preuss and Cameron haven't come in) then I think you have to trade to get to a premium like a Stef, Grundy or Jacobs.  But if you can't do that I wouldn't be overly keen to go to a Witts or a McEvoy type.  You don't want to have to trade again to get rid of a ruck that you don't want to carry to the end.  In AF yo can afford to go to one of these rucks as you have heaps of trades to use up.  I would be looking for one that is playing, should get you a 60+ and hopefully has a low BE so they won't lose any cash.  If you have him up Forward then just stash him on the bench and fix up other problems that you have.
In RDT and SC once again I would be holding him.  The only reason you would trade is if you can get him to Stef or Grundy and that was your plan all along.  If you have him in the ruck and can't get to a premo and can only get to someone that is going to score around the 50-65 mark then you may want to just hold him and eat the donut.  Certainly not my preferred option but is it worth trading to a player that is not going anywhere and you have to just trade out anyway?  It effectively burns two trades, one to get Nank out and then one to get the other player out.  Not ideal.
If you have him up forward in those formats then put him on the bench and play one of the forward rookies that is playing.
Of course with Beams out for a couple of weeks too, and if you have all three of these guys then Nank should be held and deal with the other issues.
Beamer?
I think we all feared that this might happen.  We know he is a bit injury prone, that is how we came to get him so cheap at the start of this season.  He has been good this year averaging 104 and has only been under 100 on two occasions.  His last score was a 68 so in RDT it will take a couple of weeks for that to flush out of his price movements.  I don't know about AF, but it will be a factor.  So he is going to lose value when he returns.  The reports say that he is out for at least two weeks.  Now the report I read used those exact words "at least" which is a worry for me.  That doesn't mean he is back in three, it means he won't be back before two but it could be longer.
In AF I will be trading him out this week. It is the smart play in that form of the game, and hopefully you have some cash to get him to a premium.  If not in the mids you may be able to use some DPP to get a player up forward or down back as the premo's there tend to be a little cheaper.
In RDT and SC I am seriously considering trading him also, I know we say two weeks for injuries means hold, but I just don't know about this one.  If he was rarely injured I would have no issues holding, but given he is prone to them I am worried that this may be longer than first thought or he could be in and out all year.  But hey, I was wrong with Volt so who says I know anything about this one!
I did select him thinking I would keep him all year and that is why the decision to trade him will be a tough one.  This trade really comes down to circumstances for your side.  I can 100% understand coaches that go either way on this one.
Selection Table
My thoughts on selection this week was bloody hell, thanks for that!  But mostly in relation to Draft teams, Classic teams weren't heavily affected at the top end, but there were a few rookie issues.
Great to see Coniglio back in for the Giants, that will help some draft sides, so will Travis Boak being back for the Power.  Was lucky enough to meet him and Robbie Gray as they came out to our local club on Monday night to take some training for the junior teams.  But as I scroll down one that hurts a lot of us is Zac Fisher having a hamstring issue and being out.  He is listed at only one week, so that isn't too bad and I would definitely be holding him as he has more cash to make for us.
The Suns have hurt some of our rookie chances with Jack Bowes and Brayden Fiorini (although he isn't really a rookie but is in draft teams) being omitted.  not rested, but Omitted.  In that same game we have mixed fortunes for the Cats.  Stewart and Parfitt are both out and one (Parfitt) on the LTI now with that Hammy.  But, we do see that Menegola has been dropped and Parsons has come straight back in after missing because of that elbow that hit Hodgey.  This says a lot to me, the fact he came straight back in impresses me and he impressed me in that game against the Hawks.  I see him as a really good trade down target thsi week and if you don't have any of the issues above to deal with then I would be looking to bring him in.
The axe swang at the Swans!  None of those out were really all that fantasy relevant, but the ins were.  Oliver Florent comes back in which will help those that hung on to him and some may have Naismith as cover in the rucks in a draft league.
Big shout out to Coach Patch, Damon in the DT Shiva who finally got some joy from Cutler but he is out with a Hammy so that will please him no end!  Importantly in that game Barrett returns to help us out by earning some more cash.  Speaking of earning cash.  In AF you should be looking at Myers who comes in this week.
Lots of Resting at the Bombers, with McGrath and Jobe being rested.  If you have Jobe I say trade, he hasn't been at his best, but if you can hold McGrath then I say do it, he is going ok and has cash to make.

Click here to subscribe on iTunes.
It's an Evolution
Sorry folks, had to take a quick break from writing the scramble there and have a try of AFL Evolution which I picked up tonight.  It is pretty good.  The controls will take some getting used to and it is a bit tough at first.  But in the second game that I played both Josh and myself got the hang of it and had a decent match.  The graphics are pretty good with most players I saw bearing a pretty good resemblance to their real life counterparts.  Love the Dennis Commetti commentary and the ovals look pretty good too.  Given how hard it is to get everything AFL into a game I reckon they have done a pretty good job of it and I am sure I will get better as I play more games.  However, if the real game was umpired like this one, there would be a heap of free kicks, reckon we had about 30 holding the ball decisions in our games which had 2 and a half minute quarters!  Some commentary from the Ump mics and also some grunting sound effects when the players take a big tackle!  Anyway… back to scrambling….
#AskDunny
@pkd73 Field Hampton or Taranto? #askDunny

— Ben Ryan (@BenR2017) May 4, 2017
Firstly Ben we need to do something about that profile pic, not enough Black White and Teal there… ha ha.  Anyway your question, I think Hampton will have a good game against the Kangaroos at Blundstone Arena, whereas I am not so sure Taranto will have it easy against the Saints.  So for Matchup alone I say Hampton.  I think the Crows will smash the Roos and there should be plenty of ball for him.
Whats your thoughts on Billy Longer (Ruck $299,000) as a possible pricey cashcow. Will he keep Hickey out? @DTTALK #AFLFantasy

— Shags (@Shagbaggers) May 4, 2017
G'day Shags, get around Shags folks, he does a great job releasing the teams for us on a Thursday night on DTTalk.   Mate I am not very keen to pay that much for someone at this stage of the season.  If I am getting a cash cow in they have to be well under $200k.  With a 70 and 61 you would be giving away points on the field if you are playing him and conversely I think you can spend that cash better elsewhere rather than having it sit tight on the bench.  So for me it would be a no.
https://twitter.com/callumreader6/status/860071604025344001
I think Myers probably has the better Job Security.  So in AF I would be taking Myers, but in RDT or SC I am taking Parsons, only because he is on the bubble and you can get Myers in a couple of weeks when you may be looking for a downgrade target.  Also consider your bye strategy too when picking one up.
As I said above, in the limited trade forms of the game, taking a Nank donut may be a reasonable long term strategy if you have other issues to deal with or you can't really get any quality by trading him out.  So it isn't the worst thing, but I do hate a donut on my field.
https://twitter.com/joshpimm/status/860069892707336192
Newman against the Lions at home every day of the week there.
Seeing as Beams is looking at only 2 weeks and cashcows are plump, is it worth holding him as a strategy? #AskDunny @DTTALK

— Shags (@Shagbaggers) May 4, 2017
One more from Shags here to finish us off because I liked this question a lot.  I have no issues holding Beamer for two weeks as you may want to be culling cows at this stage.  So holding him is a strategy.  My major concern with him is that it may not be just two weeks.  But if you are confident he will be back and firing in two weeks then I say it is a good strategy to hold him (assuming you have good bench cover of course).
Things To Remember
Just because last week was terrible doesn't mean this week will!  (I keep telling myself that).
Be Careful of the knee jerk trades.  As I said, most people had bad weeks last week.  I even heard of people looking to trade out Dangerfield.  Everyone is entitled to a bad week once in a while.
Byes Byes Byes.  They are now even closer.  So just make sure you are now taking them into account in every trade that you are making.
There you have it folks, it was going to be a short one but we ended up with a bumper edition of the Scramble today.  There is a lot to think about with trades this week and it isn't an easy week to negotiate with suspensions and injuries.  Just make sure you are not trading to someone else you have to trade out again unless they are a cash cow.  Don't side swap mid pricers.  Have a great week everyone and see you next Friday!  Cheers @pkd73