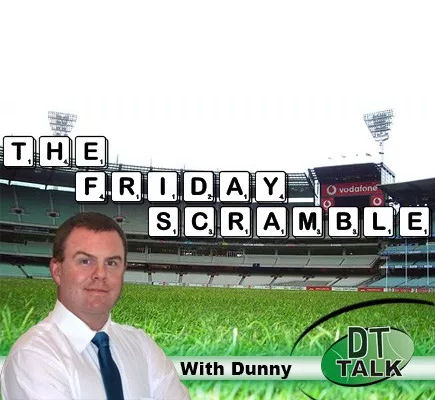 Just when I thought this was going to be a fairly straight forward week… holy hat!  What happened at the selection table?  We thought that last week's scoring was bad, well I think you better batten down the hatches as some of us may have to play some guys on field that we ordinarily wouldn't.  Normally it is a few rounds later than this that we would start to see General Soreness rear his head, but no, he had to come in this early and annoy us.  And to make matters worse, he has hit us where it hurts, and that is in the rookies.
Teams and Lockout Information
So we have a very unique circumstance this week, teams were announced last night, but the teams that are playing on Monday Night and Tuesday have not been named, not even a squad!  We won't know those teams until Saturday.
Now normally when this happens we have a partial lockout to help us out.  However, this week, in AFL Fantasy and Real Dreamteam there is NO partial lockout.  So, it is a massive risk that we have to take.  We should be ok with our premo's but it is the rookies that are our biggest risk.  Unfortunately there isn't anything we can do about it.  Just cross our fingers and hope!
As always, Supercoach is a rolling lockout so that isn't affected by this.  Just remember of course, that trades are non reversible as at the start of the game tonight.
Selection Table
Bloody hell!  What happened?  First thing I know is that our old buddy John Longmire has done it to us again.  We all rushed to get Nic Newman in last week, and what happens?  He gets omitted.  Seriously?  He is far from the worst player on the Sydney team at the moment.  I think that he will be back in a week or two at the most.  Don't go rushing him out of your team, he has a heap of cash to make.  He will get another game soon.  Whilst we are on the Swans.  Robbie Fox has been returned to the rookie list, so he is one that won't be back in the team soon.  Florent has also been omitted, but we now get to see Isaac Heeney finally this season.
Harley Balic was a popular trade in target this week, but he is out injured, that just means he goes onto the backburner and we can pick him up a bit later on.  General Soreness has paid a visit to Tim Taranto as he is being managed, along with Matty Kreuzer and Daisy Thomas (or is that the Blues making sure he stays under the number of games he needs for an automatic contract next year?).

Click here to subscribe on iTunes.
I know a LOT of people last week decided to use Braydon Preuss as their ruck replacement for Max Gawn and they went and spent the money elsewhere upgrading someone else.  It was always a big risk and he had that low score last week, and now he finds himself being rested.  This means that they will have a huge decision to make if they don't have another ruck to put in his place.  Those people will need to find some cash to upgrade someone to a good ruckman.  Whilst we are talking ruckmen, Tom Hickey is being managed!  If you have coverage for Hickey, then keep him.  Don't trade him out yet, given he is being rested, hopefully he will return next week.
Other notables include Stevie J coming back in, Brad Crouch makes his way into the team for his first game of the season.  A good friend of us here at DT Talk, Damon over at DT Shiva, will be thrilled to see that Tom Cutler is out.  Not sure anyone else has him.  Ed Vickers-Willis finally gets a game.  AF is the only format that you should be considering picking him up in though.  On the rookie front, Aaron Black is also named for the Cats, but that is only a squad at this stage.
One in and one out at Saints land with Steven back but Armitage is out again with a groin injury which is why he probably didn't score as well last week.  Sam Mitchell is also out with that ankle knock he picked up last week.
But the one that annoys most coaches this week will be that there is still no sign of Jaeger O'Meara.  Given he was out with a knee knock, and it is now two weeks, that is a massive concern given his history!  If you don't have any other issues to deal with then he would be a prime target to trade up from to a premium.
#AskDunny
Hampton to Lloyd, Swallow to Sloane (both $8k left) or Miles to Houston and $140k.
Other trade is Roughy to Balic. Pulling my hair out!

— David Furmark (@United399) April 20, 2017
Obviously this tweet was before teams came out, and David now knows that Roughy to Balic ain't gonna work as Balic is out.  But of those first three I am a fan of Hampton to Lloyd.  Hampton worries me a bit and I do like Lloyd.  Swallow to Sloane is good but the reason I like the other one better is I think Swallow is more likely to be a better scorer than Hampton is.  Only risk for Swallow is injury, but Hampton is also a risk to be rested.
Upgrade time for Taranto or do we hold (Supercoach) ??? #nocashcows

— Simo (@riedy_sim01) April 20, 2017
I'm not particularly keen on getting rid of Taranto just yet as I think he has more left in him, but the other part of me is saying that he has been managed and his scoring hasn't been brilliant.  So it wouldn't be the worst move to move him on at this stage.  You are right, cash cows are hard to find this year.  There are some, but not too many.
#AskDunny is it worth going Roughy —> Jake Spencer via DPP?

— Mitchell Garland (@MitchGarland23) April 20, 2017
Hmm.  I like the move of getting rid of Roughy, but I would like it more if you were going to a keeper rather than a plug in a player that isn't going to be in the top level of their position at the end of the year.  Yes Spencer will be the number one Ruck at Melbourne until Gawn comes back in another 12 or so weeks.  His 77 last week isn't ideal.  I would rather pick up either a rookie that will make me cash or upgrade to a keeper.
Things to Remember
No teams for the last two games before full lockout tonight.
Don't knee jerk on good rookies with growth left like Newman unless you need to cover a donut.
If you are going to get rid of a mid pricer like Roughy or Jaeger, then don't go to another mid pricer if you can afford it, go to a cash generator or a full premium.
Looks like we are in for another tough week this week, I think I may need to put Stewart back on the ground and that makes me dislike my team a bit!  Have a good weekend and enjoy your Anzac Day.  I know I say it every year, but get out to a Dawn Service if you can.  Apologies that the Scramble is a little short today, been a bit crook this week.  Hopefully back to normal next week, I know I will be glad to see a round of footy back to normal next week.  Catch you all then @pkd73.