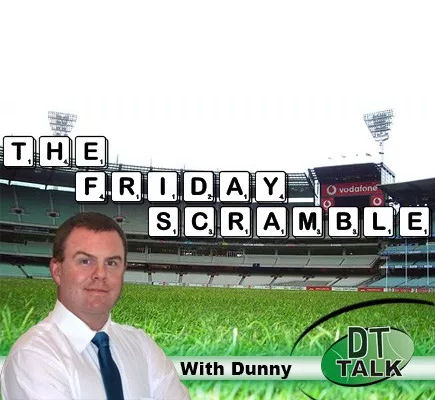 Bloody hell, what a week round 3 was.  Injuries, low scores and the tribunal.  I reckon that round 3 had it all.  Well, there isn't anything we can do about it now.  We can just pick up the pieces and hope like hell we don't have similar problems this week.
There are a few things we need to deal with this week, particularly those that owned the great Bearded One, Max Gawn.
We will have a look at that and so much more this week in the Scramble.  But first things first….
Unique LOCKOUT Rules.  
Once again we find ourselves with a partial lockout.  However, this one is a little bit difference.
Both AFL Fantasy and Real Dreamteam have partial lockouts (Supercoach is always a full rolling lockout).
As of right now, everyone that played in last night's game is locked out.
That is all Sydney and West Coast players of course.
Now, here is where it gets tricky.  Tonight's game is also a partial lockout.
So after tonight's game starts we will also have all of the North Melbourne and Western Bulldogs players locked out.
All other players will then be Locked Out as at the start of the Melbourne and Fremantle game.
The main reason is that whilst we will have squads for the Sunday and Monday game at the start of the Friday game, they won't be finalised yet.  The Sunday teams will be announced after the Friday game (or during) and the Monday teams will be announced on Saturday night, we still won't have final teams.  So just be very sure of what you are doing with your Monday players.  If you are relying on one of those rookies to play just make sure you have an emergency that is definitely playing.
Loophole
Obviously with multiple lockouts this week you get 4 teams that you can have a crack at for a Captaincy Loophole.  I won't waste too much of your time on this today.  Last night there was really only one player that you would take the score from and that was Luke Shuey with his 132.  No one else was worth taking a VC score.  Tonight the only players we would probably consider would be Dahlhaus, Macrae or maybe Bontempelli.  In my opinion I am not that confident on any of these blokes.  If I was going to have a crack (and I am undecided at this stage) would be Dahlhaus.
Selection Table.
As I scanned down the list of ins and outs on the AFL site when I got home from work, I was thinking to myself… this isn't too bad, no really relevant names here, all looks good.  I cruised past Brett Eddy and Stevie J being out in the GWS v Power game as we already knew them earlier in the day.  Next up I noticed that Armitage was back in the squad which is great news.  Then Stuff me I got to the first thorn which was Jake Barrett being dropped.  But then came the big shock to me as Jaeger O'Meara became the gift that keeps on giving by getting himself dropped after last weeks poor score.  Along with him, the rookie from the Hawks we were all waiting for, Teia Miles, has also been dropped!
To be honest, my very average advice would be, in RDT and SC I will be holding these guys.  You don't need to get them out if you have adequate bench cover like a Parfitt.  In AFL Fantasy, if you have nothing else that is urgent, then I would look at trading out Jaeger.  If you can get him up to a premium then certainly do it.
#AskDunny
Clearly not too many issues this week, I didn't get too many questions.  Here is what we ended up with.
Would you field Pruess over Nank?

— Matthew Poole (@mapoole96) April 12, 2017
This is a bit of a controversial one.  I know Preuss has scored a couple of 105's in the last two weeks, but if I was faced with this decision I would be playing Nankervis.  I think my logic is fairly sound for this one.  Nankervis is rucking one out.  Preuss is sharing duties with Goldy.  Now I know that he did that last week too but Goldy was still recovering from an injury.  I really think that Goldy will take over again as he sees it as his team.  So I think that Preuss is more likely to put in a low score of the two if Goldy exerts some dominance for the Roos.
Having said that I wouldn't blame anyone going the other way, but for me, that is what I would do.
Who for jaeger I have 250k in the bank?

— Jared Fairbairn (@JaredFairbairn) April 12, 2017
Now we know that Jaeger is out this week, this is an even more important decision.  I don't know what form of the game you are playing, but I would assume it is AFL Fantasy.  Probably the key players that I would be considering are Ollie Wines who is averaging 116 so far and is huge in the middle for Port Adelaide.  He would be my first choice at this point, I think if you are looking for set and forget he would be the one as he should stay around that score level for the rest of the year.  Another guy who has been fantastic this season so far is Marc Murphy.  He is averaging an amazing 136 so far, and I don't think that will continue.  The only reason that I am not putting him first is because he will probably start getting tagged soon which has hurt him in the past.  Dyson Heppell has been good as well and is scoring nicely.  Lastly, Nat Fyfe if you don't have him would be high in consideration.
There are obviously stacks of other players you can choose and many of them will be great, but these are the ones that I would be looking at first.
Max Gawwwwnnnnn
Gee I bet no one has cracked that joke this week?  I think I have heard no less than about 7 different strategies that you can use to cover for Gawn this week.  For me there is at least one that is a massive no-no and that is to hold him.  Whilst you can cover him with someone like Preuss, he is going to be out for at least 12 weeks and you simply can't carry him for that long.
Now I'm not going to go through every option as there are just so many of them and all are different given your situation.  My preferred option is to trade him out for either Grundy or Martin.  Straight up I don't want to use more than one or two trades in the ruck all year if I can help it.  I am a big fan of set and forget.  This year I took Sandi and that means I will probably need at least one trade in there, so this being my second means I don't want to bring in someone that I will have to trade out again like a Witts or a Preuss.  If you use Preuss for one week of cover whilst you fix other things with the plan to send him back to the bench next week then I can certainly endorse that.  But I simply don't see him as a long term option.  Now I could be horribly wrong, (wouldn't be the first time), but given he is a first year player it is a chance I am right.
Things to Remember.
RDT and SC trades are NON REVERSIBLE for the rest of the round.
It is still partial lockout until lunchtime Sat.
Monday teams won't be finalised until after full lockout.
Hope you all enjoy your Easter break.  I, for one, am happy that we finally have Good Friday footy, nothing against the religious aspect, but having footy to watch on a Friday is always a good thing.  It is a loooong weekend of footy, just the way we like it.  Hope your teams all do well and we don't get any more major premium injuries this week.
Cheers @pkd73.