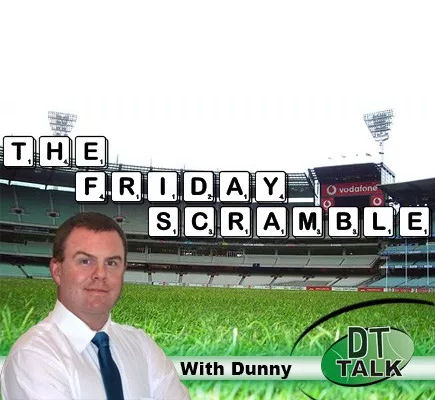 In the words of some person in some movie "Shit's about to get real".  Things have already been happening in AFL Fantasy, but in Real Dreamteam and Supercoach we now get ourselves into the realm of price changes and league matches.
On top of that we have now seen the first longer term suspensions of the year and some serious injuries that may affect our teams.  We also have two weeks of data on our rookies (check back to see what Jeppa had to say on Wednesday about them).  Just seems like a standard week really that leaves us all pondering what the hell do we do with our teams?
Round 3 Trading
Hopefully so far in AFL Fantasy you have been trading hard each week, using your two trades per week.  But in RDT and SC you should have been saving trades for this very week.  This is the time to fix your broken rookies and if you nailed all them you could fix up any premium issues you have.
In my opinion, there is really an order in which we need to tackle trading this week.  Firstly we deal with any long term injuries, then we sort out our rookies and lastly we deal with any under-performing premiums.  The reason for this is that we can't have anyone that is going to spend a long time out of the game in your side.  For example I would be looking after trading out Grant Birchall given we know he will miss 4+ weeks.  Jack Steven is out this week, but we still don't know how long for so you might want to hold him for now.  Patrick Cripps and Dusty Martin are both still in with hairline fractured jaws, so they have pulled up better than we thought so they are holds.  To top it all off Nick Riewoldt is back after just one week!  Bloody miracle if you ask me.  Apologies for my advice last week to trade him out, I honestly didn't think he would be back after one.  If I had him in my team I would have traded him out.  George Horlin-Smith will miss one with a fractured thumb, so if you can, hold him too.
We also need to consider what we will be doing with guys like Jordan Lewis and Jesse Hogan.  Lewis is out for three weeks which is a problem.  This is a very awkward time to be out suspended.  2 weeks and I usually say hold and 4 weeks I say trade him out.  But three weeks is very tough.  However, in this case, he is going to lose money for us this week in all forms (if you see him as a keeper then price doesn't matter of course).  So in AFL Fantasy it is a no brainer, if you have him then trade him out.  In RDT, he has a BE of 137 and at his price of $617k it is a bit too much to have sitting on the bench with the knowledge that he will drop in value after one game.  So if you don't have some massive rookie fix ups to do then you can trade him out.  Remember also, his price isn't going to change for the next three weeks.  So if you do have him but have rookies to fix up, do them first, then you could trade him out next week when he still has two weeks left to go if you still want to.
As for Hogan, he isn't in many teams, but if you do have him I would say if you can afford to hold, do it.  He has a low BE and will go up.  As a mid pricer you brought him in to make money, and that is what he will do.
But just as important is getting our rookies right.  We can't afford to pick up some of these guys next week as they will be going up in price for the first time.  After lockout, they will be changing (as long as they are playing their third game).
Now in terms of Rookies, have a read of Jeppa's Juniors from Wednesday where he told us who we should be looking at picking up.  Check out his article here.
If you don't have any of the above issues to deal with then you could look at your underperforming premiums like Dan Hanneberry who seems to be the one that everyone is worried about.  I have heard a heap of discussion either way on him.  And really I don't know what I would do, I am not an owner so haven't had to worry about him.  But knowing me, I would probably hold him.  You picked him for a reason.  During the season a player may have two or three quiet games.  He has just happened to have two in a row at the start of the year.  In AF, I say trade, but the other two you may want to hold and save your trades.  Having said that, I wouldn't blame anyone for doing it.
 Selection Table
We had some outs that we knew about, and of course there were some that we weren't expecting to see as well as an In I didn't expect to see.  They must have some great medical people in St Kilda.  How did Nick Riewoldt get up after just one week!  I can't believe that a guy with his history of bad knees got up this quick (I guess that is why I am an accountant and not a doctor).  It is amazing that he returns this week.  I will be watching very closely to see how he goes and if his knee is fully recovered.
Kurt Tippett didn't come up this week with his Ankle.  I doubt people have him in the classic forms of the game.  But in draft leagues he will be well owned (I have him in one).  One ruckman out, and another one back in.  Todd Goldstein seems to have recovered from his issues last week, I am sure his owners have breathed a big sigh of relief.  George Horlin-Smith is out for a week with a fractured thumb which is disappointing for his owners.  If you can afford to, I would hold him.
Ross Lyon took out the big axe making 6 changes.  No one of fantasy relevance is out (do you have Zac Dawson?).  On the ins we have a couple of rookies to consider with Harley Balic and Griffin Logue.  Jeppa is a fan of Balic.  Whilst on Rookies, Hugh McCluggage comes in for his first game.  So does Brayden Fiorini from the Gold Coast although he is on an extended bench.
At the Power Houston and Eddy have held their spots this week which is great for us.  There is still Pittard to come back into that side so Houston isn't out of the woods just yet.  But at least he is in for this week.
#AskDunny
Thanks for all the questions this week.  Here are a few of the ones that I received.  I hope that this helps some of you this round.
@DTTALK With GHS inj I've gone him & Mills to Adams & Miles, but concerned about burning two trades in RDT. Hold GHS until he makes $'s?

— David Furmark (@United399) April 5, 2017
The official word is that GHS is only out for one week with his fractured thumb.  This is a difficult one really.  I like bringing Adams into your backline for Mills.  I'm not so sure that bringing in Miles (I assume this is Teia Miles) for GHS is the best move, but if you have nothing else it is ok.  I can understand your concern about using two trades like this.  If you can get from Mills to Adams without doing GHS to Miles that would be a great trade to make as Adams has been fantastic so far.  Jeppa is a fan of GHS to Miles, I'm not as sold as he is, but he is far more a rookie expert than me, so you would be safe to make this change.
In SC I'm upgrading Hibberd to Marchbank and downgrading Roughead to Hoskin-Elliott. Leaving 193k. Thoughts?

— Tony Vlaeminck (@TonyVlaemo) April 5, 2017
I like Hibberd to Marchbank.  I think Marchbank is a quality rookie who looks to have fantastic job security.  Roughead to WHE has already been done by 1% of the competition.  Roughy is averaging 77 and has a BE of 57.  Hoskin-Elliot is cheaper and has a very low BE of -85 so this looks on the surface to be a good trade.  Personally I like it, WHE is playing midfield time and has put in two good games averaging 104.  Roughy is solid but he has a limited amount of really big games in him whereas I think WHE has more.  This also leaves you with a great deal of cash to use next week.
#AskDunny Worth trading Ablett for WHE in Supercoach?

— Graeme Jackson (@Equine72) April 6, 2017
Wow, Can't say I ever thought I would see someone thinking about trading Ablett down to basically a rookie!  I don't have an issue with you trading out Ablett (can't believe I am saying that), he isn't himself and cost you a lot of money.  But I don't think that trading him down to WHE is the right answer, yes you would have a heap of cash in the bank but unless you are planning to upgrade a rookie on another line to a full premium I would be moving from Ablett to another mid full premium keeper.
Things To Remember
No Partial Lockout this week in AF and RDT.  So you need to make sure that your team is fully set at lockout tonight.
Leagues start in RDT and SC so let the fun begin.
RDT and SC prices change after this week. So make sure you are happy with what you have.
BE's are now in play.  Break Evens are now the most important stat in the game.
Now we are into the real stuff in all types of comp.  So get out there and Trash Talk your opponents, a bit of banter is one of the most fun things in these games.  All the best in your leagues and your trades.  Remember, that one loss or one bad week doesn't ruin your season (unless you lose to DTTalk's Crutton and he won't let you forget about it).  Catch you all over the weekend on twitter.  Cheers @pkd73