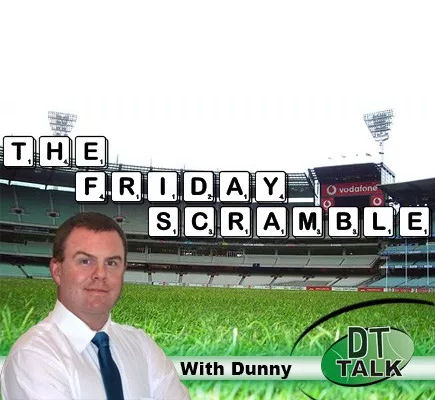 Wow what a first round of footy, there were upsets, great scores, poor scores and injuries.  But really, I can't recall a round one where we have seen such big scores from our premium players.
Once again we had a game last night which means we had a crack at a loophole vice captain.  There were a few more options last night than what we had last week.  We will have a look at that in a moment, and we will also have a look at a few thoughts on what to do with our rookies.
Lastly we also have to deal with some ins and outs on the selection table!  So…. without further adieu, Let's Scramble.
Loophole Options
So who did you put the VC on last night?  Last week it was Dusty that was the man, but there were a couple more options last night.  Here are the key players:
Dusty: 86.  Just No.
Pendles: 110.  Not quite enough.  I am sure you have someone else in your team that will score more than that.
Treloar: 127.  Just enough.  125 is our par score these days for taking a loophole, so if you did VC Treloar you can keep that score, but we wouldn't be surprised if people chased bigger scores from Danger or Rocky.
Adams: 99.  Not enough.
Cotchin: 119.  Not quite, but if you don't have a Danger or Rocky type you could take it.
Grundy: 123.  Good score for a ruckman.  Once again, if you don't have anyone else that could possibly get this much then you wouldn't be a bad person for taking it.
Will Hoskin-Elliot: 124.  Yeah right.  You VC'd WHE.  You must be related to him cause no one else would have done it.  We know he is good, but didn't forsee this.  As per Grundy you could take it if you wanted to.
As always it is up to you whether you take one of those scores.  It really depends on your options later in the weekend.
What to do with Saint Nick?
Firstly it was pleasing to hear that this wasn't a serious injury that would end his career.  But we do need to deal with what has happened.  The official word is that he will be out for 2-6 weeks (well that's what he told the Footy Show apparently).  Given his age and his history with his knees I suspect it will be closer to 4 or 5 than it will be to 2.  They will want to be super cautious with their big key forward.
In AFL Fantasy there is simply no choice here, you have to trade him.  In that form of the game that is way too much money to have sitting on the bench given you have two trades a week.  As the guys mentioned in the AFL Fantasy Podcast on Monday, you can downgrade Nick and use some of the cash to perhaps fix up one of your rookies and go to a more expensive rookie that is playing.
Given that I think he is more likely to be out for more than 3 weeks I would also be trading him out in both of Supercoach and Real Dreamteam.  I would only do the trade of Nick and then bank the rest of the cash to see what happens this week.  Quite simply I think he is too much cash to have sitting on the bench.
I know there will be many who will disagree and say that you could hold him.  I can understand that tactic, but my reasoning is simply about the amount of cash on the bench for 3 or so weeks, we simply can't afford to do that.
Rookies anyone?
I'm not sure why everyone was surprised early this week about how low some of the scores of the rookies were.  I think that what we have seen is a return to what used to happen before we had the Gold Coast and GWS rookies and after them the Essendon Top Up Players.  We have been blessed in recent years with this plethora of cheap quality scorers.  So we have to go back to where we used to be, looking at rookies who are around the fringes of their team.  Some of these guys will be a lot slower burn than what we have seen lately.
If you don't have Nick Riewoldt to contend with in AFL Fantasy then you should be looking to make your two trades in finding some rookies that are playing for this week if you have one or two that have missed out this week.
In both Supercoach and Real Dreamteam I highly recommend holding and not making any trades at all unless you will have a donut.  We only have one week worth of data.  Who knows what will happen with the rookies.  We should wait and see what happens this week.  Their prices won't change and you may trade one out that has a blinder and you pick up someone who had a great game last week but fails this week.  There is of course the risk that you may have more than two things to fix next week.  So it is up to you.
If you are going to trade a rookie out this week, the only one that I would trade is Joel Smith as he is out for a long period of time.  I would give all of the others one more week to see what they can do.
Selection Table
Not a great deal this week thankfully.  Some of the keys though.  Jake Spencer is on the extended bench, but probably just insurance in case Maxy's sore back flares up, but I don't think this will happen.  Gawn should be ok.  David Swallow is back.  Apparently he was close last week, but they didn't want to risk him.  Taylor Walker returns for the Crows and Luke Hodge for the Hawks as they play each other.  There were a couple of new rookies listed which were Nic Newman and Teia Miles.  Matthew Kennedy has been dropped, which was a risk, but thankfully Taranto has kept his spot.  Leigh Montagna comes back in but David Armitage is out with a groin injury.
Partial Lockout Rules
Remember, we are in Partial Lockout mode for AF and for RDT.  One word of warning.  In RDT and SC, you CANNOT REVERSE TRADES TODAY.  Once you pull the trigger on trades in those forms of the game they will stick.
In AF you can still roll back a trade that you have made BUT…. you can only do it if you haven't used DPP to make the trade and if the trade doesn't involve anyone from last night's game, but just be super careful.  I won't be pulling the trigger until I am 100% certain on what I want to do with my team.
Things to Remember
Don't Panic it was just one round.  So look at the future, don't compromise the structure of your team just because of one week.
Make sure you understand how to use the Captain Loophole before you use it.  It isn't hard but it is easily stuffed up.
AF Leagues start this week in most cases.  Make sure you put your best team forward.
Lastly, a massive congratulations to our very own Warnie who welcomed, along with his partner Jo, a daughter, Georgina, into the world last week about 3 hours before lockout!  I am sure she will be appointed as head coach of the Warne Dawgs soon after the board lose faith in Warnie.
As always, keep yourself up to date with the latest news today and keep an eye out for any late outs.  I am sure the rolling lockout in RDT helped last week when Swallow was a late out.  We don't get that luxury this week, so make sure you have some good bench cover.
Cheers and best of luck!  Follow me on twitter @pkd73 and I will always drop any news I hear prior to lockout or, for those Supercoach players, across the weekend.