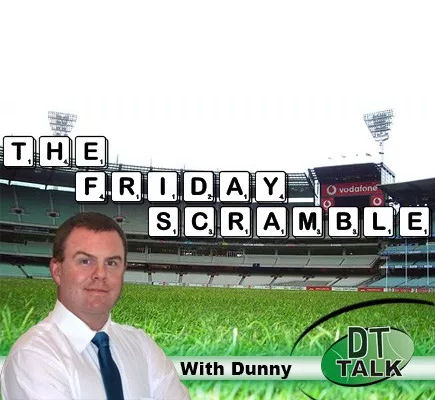 Wow, hasn't this come around quickly.  Round 1 has already begun and hopefully you have had a great start to the season.  Did you try a Loophole last night?  If you did we will have a look at that too.
The most important thing for our teams now is that we have teams and squads for the weekend so we can start to see what is going on with our rookies.  We can finally get some form of certainty of who will be playing.
Our other thing to consider is the lockout rules for today and this week which we outlined last week.  We will have another reminder of that shortly.
Captain Loopholing
If you listened to the Traders podcast this week you would have heard Calvin explain loopholing to you.  But you would have also heard the boys tell us that the options for loophole captains this week were pretty thin.  Let's look at some of the best options and how they went and what you should do.
Docherty – 90 Not enough.  Try again
Simpson – 126  Tough call.  Ordinarily we would take that, but you might be able to do better, But I wouldn't blame you if you took it.
Dusty – 139.  Take this and bank it!   Find  your R2 who isn't actually playing and make him your round one captain.
If you took Murphy clearly you are a gambler and it paid off for you, bank that score of 139.
Whilst this wasn't the best week to do it, next week is a lot better.  Remember though, you have to have a non playing player to do this, that isn't ideal at this part of the season.  If you are going to do it your best option would be for your R4 in AFL Fantasy.
To find your best options for captain for the rest of the round be sure to read Calvin's Captains from earlier in the week.
Selection Table
Let's be honest, it is all about the rookies this week.  I am sure that you have all read the epic post that is Jeppa's Juniors.  The man is a genius and what he doesn't know about the rookies isn't worth reading.  So make sure you go back and have a read.
The key rookies that have been named are Jake Barrett, Tom Stewart, Oliver Florent, Dan Houston, Sam Powell-Pepper, Brett Eddy, Jack Bowes, Ben Ainsworth, Joel Smith, Andrew McGrath, Mitchell Hibberd, Declan Mountford, Braydon Preuss, Ed Vickers-Willis, Tim Taranto and Brandan Parfitt.  If you can't find yourself some rookies in that lot to play in your team then you just aren't trying!  Most importantly keep an eye on things today and over the weekend in RDT and SC to see what late changes there are.  A few of these boys are on extended benches for Sunday so watch late today to see who makes the cut.  You should also consult Jeppa's article to get the word on these blokes.
In other selection table information we see that Jackson Thurlow is last on the extended bench which is a concern.  One rookie that missed out was Teia Miles who is on the emergency list, but that is just an opportunity for us, he can be a downgrade target in a few weeks hopefully.
Jake Spencer and Archie Smith are both on the emergency lists, this means that Gawn and Martin are likely to ruck one out which means load up on those two blokes.
Thursday Night Footy
Last night we had a few of our rookies playing, some fired and some fizzled.  Dan Butler had a great game and looks to have been a great selection for those that took the punt on him.  Some of us (me included) thought he could be the next Relton Roberts, but he looks like he did more than enough to keep his spot.  Caleb Marchbank also looked good and did enough to repay us and also to cover that little bit extra he cost us.  With Weitering playing up front and getting a bit injured that opens the door for Marchbank to hold his spot.  Petrevski-Seton was another to impress as did Nankervis who slotted a couple of goals.
One that struggled was Pickett.  Just the one handball in the first half wasn't a great start.  But he did have a couple of tackles and possessions in the last quarter which saved his score (despite Bruce saying he showed a lot tonight).
Dusty Martin spent a lot of time up forward so in AFL Fantasy and Ultimate Footy he should be looking at getting forward status, if he does, then jump on (you may even want him as a mid) as he had a fantastic game.  If you took the punt on Murphy you were well rewarded.  Nankervis was a popular selection and he certainly paid off.  More of the same will impress his owners.  Simpson and Docherty did what they do and had solid games.
Lockouts
Last week I went through how all the lockouts work.  To put it simply, this week AFL Fantasy will be FULLY LOCKED out at the start of the game tonight.  Real Dreamteam and Supercoach will both have Rolling Lockouts right throughout the weekend.  As for draft leagues you should consult your league settings which will outline the methods that they are using.
Things To Remember
Don't disregard your research.  Just because a guy you have never heard of has been named, doesn't mean he needs to be put straight into your side.  If you see a name you don't know, particularly a rookie, consult Jeppa's guide.
Check out the final Sunday teams tonight.  They will be announced at about 5pm or so AEDT.  So make sure that you keep an eye on that to see if your Sunday rookies have made the cut.
Fill your Leagues.  If you don't have them full then the most likely outcome is that you will have some randoms in your league.
Don't Panic.  You don't have to spend every cent in your salary cap, don't panic and pick someone that you ordinarily wouldn't just because they cost more and that must mean they are better, that isn't always the case.
Last league to join with me is HZSM999T  Join up and take on me and some little kid that found his way into the league (my son).  He did make his own team without any help from me (I want to beat him too).
Here we go guys and girls, best of luck for another massive season of footy.  As always keep your eyes and ears open today for any last minute updates to squads.  This season seems to be a tough one, but then we say that every year.  If your team doesn't go too well this week don't despair, often the overall winner is someone that doesn't have the best start to the season and they rise up throughout the year.
As always hit me up on twitter @pkd73 and I will do my best to help out.  Also post your questions in the comments below and you will find that if I can't get on to help you, one of the great members of our DTTalk community may be able to help you out.