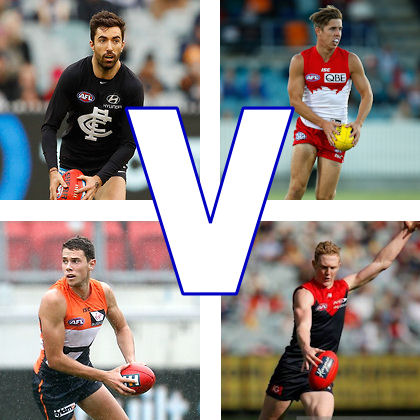 Round 5 has only just finished yet we are already on the verge of commencing the sixth week of the home and away season. In the firing line for today's Versus are Kade Simpson, who is going up against Jake Lloyd. Young midfielders Clayton Oliver and Josh Kelly also do battle. There's plenty to get stuck into about with these four stars, so I won't waste anymore time.
Kade Simpson ($552,000)

 V

Jake Lloyd ($560,000)
Simmo is one of the few elder statesmen in what is a very young, inexperienced yet talented Carlton outfit. A mainstay of the Blues defence and midfield since bursting onto the scene way back in 2003, Simpson found his way to the popular Victorian club via selection 45 in the 2002 draft. Since then he has played 269 games, contributing 128 majors and providing consistency, neat foot skills and run off half-back. He has been on the receiving end of some big hits over his career but has been Fantasy relevant since the start. In fact, Kade's season average has dipped under 80 just once – 79 back in 2006.
After 'breaking out' in '06, Simpson plateaued around the 85 point range for the best part of four seasons before cracking the triple figure mark in 2010. As the seasons started to stack up, Kade's scores have increased. The young Blues are well and truly in a development stage and getting the ball into the hands of their ever-reliable vice-captain, along with fellow premium defender Sam Docherty, is a priority when turning defence into attack. Equally as capable on the wing or back flank, Simpson has been called upon as a loose defender on countless occasions – becoming a damaging weapon with his precise ball use, run and carry.
Simpson was rewarded for a fabulous 2016 campaign by earning selection in the 40-man All-Australian squad. He led Carlton for disposals and kicks and was second only to Docherty. After kicking things off in style with 126 against Richmond, Simpson struggled against the Dees, managing a mere 14 disposals and 53 points. He has since returned to his high-scoring ways, recording 90, 97 and 102. Despite averaging 93 points (which is arguably a touch under par), Simpson can still improve on his past few games which has seen him average 21 disposals, 6 marks and 3 tackles. When on song, Kade is well capable of upwards of 25 touches, close to 8 or 9 marks and about 5/6 tackles. He has a well-rounded game for a defender and when things click, Simmo will return to a triple figure average. Sense he won't be available for sub-600k much longer.
It appears there are three certainties in life; death, taxes and pre-season hype players. Jake Lloyd was one of these players who appeared destined to launch into the elite Fantasy category this year – and for good reason. Lloyd hails from the Victorian town of Horsham and was picked up by Sydney with pick 13 of the 2013 Rookie Draft. A lightly build outside midfielder/rebounding defender, Jake finds the ball in bunches largely due to his hard running and willingness to bring the ball out of defence in order to generate attacks. The former North Ballarat Rebel played predominately on the wing throughout his junior days but was utilised up forward in his first three years harbour-side.
Despite not breaking through for an AFL game in his debut season, Lloyd showed enough promise in the NEAFL for the Swans to elevate him onto the senior list, alongside Xavier Richards and Daniel Robinson. And Lloyd immediately repaid the faith shown in him, going on to play 18 games for a Fantasy average of 62. With his spot in the side safe, Jake began to show glimpses of his undoubted Fantasy ability by averaging 73 points. By now the Victoria Country Under-18 representative had proven to be a consistent performer at AFL level. And the transition back onto the wing was set to be the move which turned him from good to great. Lloyd endured a career-best season in '16 – averaging 24 touches and 84 Fantasy points in 21 games for the Grand Finalists. His continued to showcase his consistency, hard running and at-times silky skills. But 2017 was destined to be the year he really became a top six defender. Already five games in, this target looks likely to be achieved. His 2017 account was initiated with a solid yet rather standard haul of 87 in the surprise loss to Port Adelaide at the SCG. In round two's GF rematch, Jakey led the Swans with 34 touches – contributing to a score of 113. Similar numbers were posted the following week (108 Fantasy points) against Collingwood which saw him record back-to-back tons.
In what was a tight, contested-ball orientated clash with West Coast in Perth, Lloyd found the pill 29 times, leading to another ton (110). And as his side maintained it's win-less start against GWS, Lloyd's kick:handball ratio lent in favour of the latter for the first time this year. He managed to pump out 88 points. At times Lloyd can lack damage for the amount of disposals he gathers, but as was anticipated by many DTTalk members, he has taken the next step and his Fantasy game has benefited despite results not going the way of the red and white. Owned by under 12% at the time of writing, Lloyd will finish as a top six defender.
Comparison: We're talking about two genuine A-Graders here in Lloyd and Simpson. They are both expected to place amongst the best six back-men by the conclusion of round 23. Whilst the Carlton veteran has the runs of the board, I'd expect the far younger Lloyd to be hitting the ton more often than Simpson who may settle for 90's. Lloyd for me.
Josh Kelly ($580,000)

 V

Clayton Oliver ($568,000)
Class is the word that best sums up Josh Kelly. His ball use and work rate on the wing are exceptional and it's obvious why the Giants took him with the second overall pick back in 2013. The likes of Ward, Coniglio, Hopper and Shiel are left to do the grunt work, dishing it off to Kelly, Whitfield and Scully who thrive on the outside of contests. Kelly burst onto the scene in 2014, playing 18 games for an average of 69 and earning a rising star nomination.
It was obvious he was going to be a elite footballer and  and the son of North Melbourne's Phil Kelly took giant steps towards reaching that level in his third year, after averaging 73 the previous season. His 2016 year was excellent. Kelly not only cemented his spot in the Giants starting lineup, but saw him become a genuine star in a team already littered with the type. He averaged 90 points and entered the 2017 season priced in the premium zone at $542k. However the expectation of many was that he would elevate his game up another notch and become a genuine Fantasy uber-premium. This task has been made slightly easier given the injury to Stephen Coniglio. With one less best-22 midfielder in the side, Kelly has flourished. Outputs of 105, 119 and 127 are sandwiched by 87 and 82 – the type of scores he will need to eliminate.
There is no doubting the talent Kelly has and his importance to the Giants. The worry with Kelly's Fantasy output is that it will be affected when Coniglio does return to the side after his ankle disruption, which is expected to be round 7. This is a cause for concern, as he managed just six tons with Coniglio in the side last year. 2017 does loom as the breakout year for Josh, and he should post more than six hundreds when Conigs does return. His ceiling doesn't appear to be any higher than the average premo mid and whilst he knows how to find the sherrin, Kelly went under 80 on eight occasions last year. He's not really for me.
Wow. The Demons have a collection of talented midfielders, but I dare say Clayton Oliver is the pick of the bunch. It's hard to believe this guy is still only 19 years young. And its even harder to think he missed out on selection for Vic Country's under-18 championship squad. However he did not let this disappointment stand in his way and tore it up in the TAC Cup for the Murray Bushrangers. As a result he was adjudged the best player for the season and awarded the Morrish Medal. Oliver, who headed to the Dees with selection four in 2015, is as hard at it as they come. He thrives on the contested-ball, is a stoppage specialist, loves laying tackles and finds the ball in masses. It's not hard to see why Melbourne selected the red-headed bull with such a prized pick. At 187cm and 86 kg, Oliver was expected to slot straight into it last year – and he did just that, playing 13 games for a Fantasy average of 68 and earning a rising star nomination for his efforts in the opening round.
And this year, five games in, Oliver is already looking like one of the best young Fantasy players in the comp. He racked up 36 touches, 5 marks, 7 tackles and 122 points against St.Kilda before notching up 135 the week later. Another 28 disposals and 8 tackles ensured he made it three tons from three games – and they were big hundreds too! In his sides disappointing loss to the Dees, Oliver missed out on a fourth-consecutive ton by the skin of his teeth, scoring 99. He was again Melbourne's best performed on-baller in the ANZAC Day Eve encounter with the 5-0 Tigers. These scores have landed him an average of 112 and seen his price escalate from $416k up to $568k in the blink of an eye. He is now well and truly considered a premium midfielder, but his game does have it's weaknesses which, if improved upon, could see him take the next step into the elite category. Oliver's endurance will be an area of attention in future pre-seasons. He is averaging 78% time on ground but still scoring at 1.17 points per minute (ranked 12th in the league). Collecting more un-contested possessions will also see him inflict more damage on the opposition. Oliver has also been extremely handball happy so far in 2017, averaging 22.4 handballs (ranked 1st in the league) but just 9 kicks.
Admittedly Oliver looks to be a Priddis-type midfielder who prefers to use it by hand, but if he can sway this ratio to a more even level, his scoring will further improve. Clayton has also given up the equal-8th most free kicks against, which has deprived him of 30 Fantasy points. If he can improve in the above listed areas, I have no doubt Oliver will be a monster scorer. You should be looking to trade in top 8 midfielders and it's 50/50 whether he will squeeze in. He may be rested at some stage during the year and won't be making massive amounts of cash anymore. That being said, he is still affordable and will reward coaches with his high ceiling.
Comparison: Kelly and Oliver are two of the prime young midfielders and have both kicked off their years in style – breaking out in a way. Yet they could not have more different playing styles. Oliver is a hard-edged inside mid, where as Kelly oozes class and uses the ball extremely well. I have been trying to resist the temptation to bring in Oliver who is on the fringe for a top eight spot, but he can't be ignored for much longer. A slight drop off is of-course expected, but it's remarkable we are even considering him in these conversations given he's still a teenager. Suspect this won't be the last time these guys feature. Clayton Oliver it is.