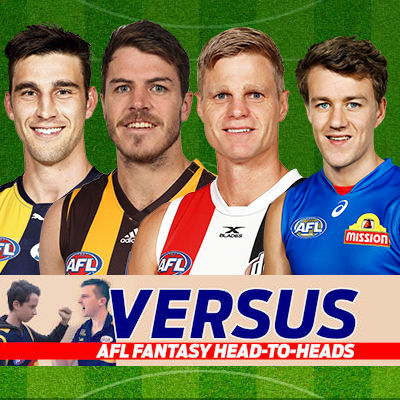 Leighroy and I are back again for this week's Versus. Premium forwards are the flavour of choice today. We'll take an in depth look into West Coast utility Elliott Yeo, Hawks star Issac Smith, St.Kilda champion Nick Riewoldt and premiership winner Jack Macrae. Make sure you cast your vote in the polls and make a comment down below. Don't forget to send your questions to Leighroy on twitter using the handle @leighroyDT. Enjoy!
Elliott Yeo ($540,000, Leighroy)

 V

Isaac Smith ($525,000, Tom)
Yeo! Guys we're back and the first of our debates is between Isaac Smith and another one of my Eagles, Elliot Yeo. Hands up anyone in the room who's been burnt by Yeo before….. Ooooo that's a lot of hands. Yes it's true and the reason I mention it now is because I'm 99% certain Tom will bring it up in his argument. The reality is, this year is going to be different. This year he has been on the receiving end of a lovely fantasy game across half back and is relishing every second of it. He looks super fit and can out mark nearly everyone he comes up against. In Fantasy we love the plus 6's (marks and kicks) and right now Mr Yeo is leading the entire competition in total marks. When he does mark it, you can almost guarantee he'll kick it with precision to a teammate and his confidence will be sky-high ready for the next plus 6. Yeo stays on ground for an average of 88% game time which as you know generally equates to more points and, although he marks a lot, he doesn't rely on this facet of his game to accumulate all of his points. Some may argue that due to Yeo's blistering start to the season, he may receive a bit of added attention from opposition teams. To this I say Pish Posh. In a team consisting of Shuey, Priddis, Smitch and Gaff, Yeo falls way down the pecking order for any potential tag so I wouldn't be even slightly concerned about that.
Comparing him to Smith was natural this week and I had several people asking me about them on twitter (@leighroyDT). If I were in the market for a new forward and it was out of these two, I'd genuinely back in Yeo. His time on ground percentage is way higher than Smith's and he has cracked the magic ton 3/4 times as opposed to Smith's 1/4. I wondered how Smith would go without having quality players like Lewis and Sam Mitchell around and whether it would affect his fantasy output, truthfully I'm still undecided as the sample size is still very small, but the realist in me thinks he won't be posting a career high fantasy year this year either. Yeo on the other hand is finally pumping out consistent high scores and looks like he's in career best form.
The argument relating to his infamous nickname "Yeo-Yeo" is real and ever-present I agree, but you have to take his form into account and back him in for a consistent year. He carries a handy DPP for the midfield which is always an ace up your sleeve if you need it, and he is in a team that is arguably one of the safest top eight teams going around. Quality forwards are hard to find this year and Yeo could very easily be the surprise packet of the 2017 season.
In conclusion, Yeo is a pick for those who cannot afford guys like Macrae or Roo and does come with a super inconsistent history which I admit may turn some ex-owners off, however the rewards you can reap by picking him up right now are so, so worth it.

I feel as if, whilst the footy world continues to crucify the Hawks for their relatively lacklustre performances to date, Isaac Smith has flown under the radar a touch. A classy outside midfielder with pace to burn and a booming kick, Smith has been a key instrument in the Hawks premiership era. His link up play between half-back and half-forward was again highlighted last year, where he finished first at the club for inside 50's and fifth for rebound 50's. When glancing through his key statistics from 2016, jumping out of the page is that Isaac managed career high games in terms of kicks, handballs and tackles. On a side note, he also had a peak career game for hit-outs with nine against Adelaide. Due to the removal of the third-man-up rule, he has not recorded a hit-out this year.
So far, Isaac is averaging 23 disposals, 5.5 marks, 3.5 tackles, 0.5 goals and 94.3 Fantasy points in his four games. He started in fairly stock standard fashion with 87 against Essendon then 74 the following weekend. However this can be excused as it came from just 68% time on ground as he battled an almighty corkie – it's a wonder he got up for next week. But he did and put up 93 points from 21 touches, 4 marks and 7 tackles. And in the absence of Jaeger O'Meara, Smith was prolific on Easter Monday, gathering 30 disposals along with 9 marks to post an impressive 123. These scores are by no means out of this world. But without having the luxury's 0f Dusty, Robbie Gray and Zorko up forward yet, these types of scores are definitely acceptable at this stage of the year.
What is impressive about Smith's game is that, despite playing a very outside role, winning an average of just 4.8 contested possessions (17.8 un-contested possessions) and taking 1.3 bounces per game (ranked 16th in the AFL), he does not eliminate tackling as a scoring avenue unlike multiple other notable wingers. Interestingly, Smith has a current disposal efficiency of 66.7% – slightly down on what is probably required from the polished vice-captain. I don't generally associate Isaac Smith as being a premium Fantasy player but he has averaged 82, 77, 86, 94, 96 and 89 in his previous six campaigns in the top flight – strong numbers if you ask me.
Admittedly Elliott Yeo is having a very good season but he has been notoriously prone to a stinker in the past. This trait has earned him the rather appropriate nickname of 'Yeo-Yeo'. Unlike the Hawk, who has been a productive scorer since making his debut , Yeo's five years in the system have failed to draw an average of over 82. Put simply, Smith is the far safer option in this scenario. Hawthorn's form has dramatically nose-dived since Smith delivered his infamous smirk, before proceeding to miss the game deciding set shot against Geelong. But Isaac has managed to maintain his consistent Fantasy ability in 2016 despite the losses of Sam Mitchell and Jordan Lewis. As O'Meara better adapts to the Hawks style, his improvement may even lead to a slight increase for Smithers. You will get a mid 90's average with the occasional 120 as we saw on Monday, which is what you want for $525,000.
Nick Riewoldt ($665,000, Tom)

 V 

Jack Macrae
 ($602,000, Leighroy)
Roo. Where do I start? He's a champion and will surely be included in the Hall Of Fame in future years. Riewoldt has been at the Saints his entire AFL career after moving to the seaside club with pick one of the 2000 National Draft. And he appears destined to call it quits there too – quite the feat given the lack of loyalty shown by many young talents. At 193cm, Roo has been a staple at centre half forward for the Saints, kicking 697 majors through 322 matches. St.Kilda's longest serving skipper has six best and fairest's to his name and has been a prime Fantasy prospect ever since dreamteam/fantasy was released – averaging under 85 only once!
It's no secret, Nick Riewoldt just loves taking marks. His high level of endurance allows him to push up the ground and provide a hit up target. And you only have to watch some of his grabs running back with the flight to get the gist of Roo's courage. Recently he has been playing almost as a winger which really is a credit to his fitness levels. Unlike almost every other forward, Riewoldt has the ability to score from all the various avenues. Obviously his marking is key, but Roo regularly manages midfielder-like disposal numbers, is good for at least a few goals a game and is averaging a healthy 3 tackles a game in 2017. He can go gigantic on his day, heck, he hit 200 last year, and still manages to ton on most other occasions.
During the pre-season I, and a number of others, shifted mother and Earth to fit Riewoldt in because he's simply the best available forward and should be in your side come the business end of the season. You don't want to miss out on his inevitable 150's which he will role out soon enough. The only potential flaw with Roo is his age. He's not getting any younger at 34 and as already suffered an injury scare already this season. It was initially feared the knee injury was threatening to derail his career before scans were conducted but he managed to return the following week and put in a special yet typical display – scoring 122 from 22 touches, 12 marks, 5 tackles and a goal.
After reading this, it is remarkable that Roo's ownership currently sits at 5.4%!!!! His price is the primary reason for this but trust me, you want this bloke in your side as soon as possible.
Do you ever just go into a head to head matchup knowing you're going to lose? Well, I'm afraid to say it but that is exactly how I feel about this player debate. Realistically, Roo Vs Macrae is essentially a battle between the number one forward and (more than likely) the number 2 forward for season 2017. I'm on the side of Macrae for this one so let's see what we can do….. At $602k Macrae finds himself 63k under what Roo is currently priced at. For this reason alone Macrae is by far in a way more enticing to those of us who may be extremely cash strapped right now. For this you will receive one of the Western Bulldogs' most damaging midfielders who roams from end to end racking up possessions left right and centre.
At the prime age of 22 years old there is no argument to say that Macrae will be slowing down anytime soon and although he hasn't started the year breaking any records, the potential to do so is still very much a realistic expectation. Macrae doesn't rely on one particular facet of his game to accumulate points the way some other players do ie: Gaff and his marking. This can already be seen in the first 4 games of the season whereby he has had exactly the same amount of kicks as he has handballs, 21 marks, and most importantly 31 tackles compared to Roo's basement 9.
Dear god I'm clutching at straws here but I guess you could argue that Macrae is less likely to injure himself in a tackle for example compared to Roo? Or perhaps you think Roo's round 1 injury might come back to bite him later in the season? Or maybe Macrae lower BE (only 2 points less at 98…) will sway you? Like I said, clutching at straws big time. Although I haven't exactly painted the best picture for Macrae here, don't for a second think that it's a reflection of himself as a player. He is a certified gun but when comparing him with someone who is fantasy royalty like Roo it's a tough ask that's for sure.
I foresee a whitewash in favour of Roo in the voting below, however just remember that with Macrae you'll possibly save enough dosh to do another premium upgrade the following week. Both are good. Both will be top 6 forwards, but a vote for Macrae is a vote to 'Make Fantasy Great Again'
"Leighroy's Legends" are currently ranked 90th overall after a disappointing week last week. As always hit me up on twitter @leighroyDT for fantasy related chats and good luck for the upcoming week!
"Wymo's Heroes" has declined to comment about his team's horrendous rank and pathetic score on the weekend. But you can still ask him any questions.