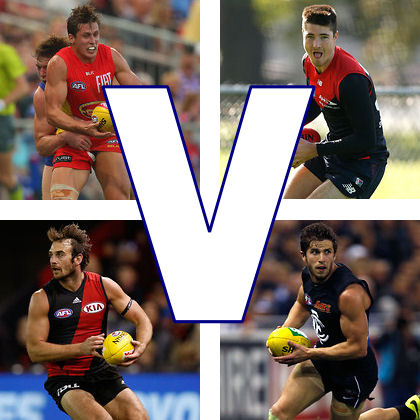 Welcome to the round four instalment of Versus. Today we'll be looking at two mid-priced options in David Swallow and Alex Neal-Bullen, who are shaping as perfect targets from a host of under-performing mids. Essendon's Jobe Watson and Carlton's Marc Murphy are also thrust into the limelight. They have kicked off their respective campaign's extremely well after opening the year as genuine mid-pricers or fallen premiums, if you like. 
David Swallow ($404,000)

 V 

Alex Neal-Bullen ($377,000)
David Swallow was forced to wait until the second round to make his long-awaited return from major injury. And it wasn't exactly a sweet comeback game with his side slumping to a demoralising defeat at the hands of the Giants. That said, Swallow's largely undistributed pre-season (apart from the minor round one injury) saw him hit the ground running on a more personal note. He notched up 21 touches (11 contested), 4 marks, 5 tackles and 89 Fantasy points going head-to-head with a star-studded Giants midfield. In the record-breaking win over Hawthorn on Sunday, Swallow played a vital role. In a perhaps underrated midfield containing the likes of Hall, Lyons, Barlow, Ablett and Miller, Swallow was one of the best, racking up a whopping 34 disposals, 4 marks, 6 tackles and 120 points – not a bad way to kick off the new campaign. Swallow has obvious ability to find the pill but that was just the second time he reached 34 touches. Noticeably, the Suns wrapped the balanced midfielder in cotton wool once the result was beyond doubt – rightly preferring to maintain the health of one of the key players in their lineup who took out the clubs best and fairest in his last full season back in 2014. With enhanced time on ground imminent as he builds up match fitness, one can only expect further improvement. There were talks of Swallow moving to the half-back line during the off-season where his silky skills would help launch counter attacks. However we haven't seen that come to fruition as of yet. What impact that change in roles imprints on Swallow's Fantasy game remains to be seen, but for now, he's going very well in the centre. Pearce Hanley will likely return to the Suns line up in the near future after missing the past two weeks. His addition probably won't have an influence on Swallow role or output. Swallow is always going to come attached with an element of risk given his injury prone past, but he appears to be over the recent series of setbacks. It's great to see Swallow back playing footy. He still has potential improvement in him due to the lack of AFL game time over the past seasons. I actually think he'll be pushing hard towards a 95 average by the end of the year.
Talk about break-out year! Alex Neal-Bullen featured against Will Hoskin-Elliott in the round two edition of Versus with the Demon just edging WHE out in the overall verdict. It was always going to be a tough one to decide between, but it's still an even playing field two weeks down the track. To quote the first Versus article of the home and away season "Neal-Bullen was taken by the Dee's with pick 40 of the 2014 National Draft. Throughout his under-18 year, in which he represented South Australia and Glenelg, Neal-Bullen was a consistent performer. An inside-midfielder, Alex proved to be a ball magnet in and under packs but a lack of pace saw him fly under the radar of recruiters despite posting big numbers. Since making the transition into the AFL, Neal-Bullen has spent the majority of his time playing for the Dees VFL affiliate – Casey. Last year he finished equal fifth in the J.J Liston Trophy after averaging 29 touches for the year, underlining his importance to the Scorpions on-ball brigade whilst also spending some time across half forward." Those statistics, along with his average of 82% TOG and role in a Fantasy-friendly Melbourne 22 suggest to me that Neal-Bullen has serious Fantasy potential. And in the first three weeks of the year, he has lived up to it. He surprised many with 110 in the round one victory over St.Kilda which included 25 disposals, 5 marks, 6 tackles, 1 goal and 3 behinds. After his ownership rose 8% during the week with coaches crying out for decent rookie options, he failed to reach the heights of the previous weekend – but remained serviceable with 12 touches and 5 tackles contributing towards 60 points. Melbourne hosted the Cats at the MCG on the weekend in what may turn out to be a critical clash in the grand scheme of things. Despite cracking the three digits in round one, it's fair to say no one expected ANB to pump out a 28 disposal, 4 mark, 10 tackle, 1 goal and 141 point game. His price has risen $122,000 in three weeks and ownership recently exceeded 15%. Neal-Bullen has a lot going for him. He is playing a very profitable role in the Demons best side, thrives on tackles, has a positive kick:handball ratio, hits the scoreboard, knows how to find it, is currently spending a solid amount of time on ground, has proven he can score very highly against anyone and looks to have well and truly re-enforced his job-security. The MID/FWD DPP also helps. But has the boat sailed? Maybe. A sideways trade from the under-performing O'Meara is just a few clicks away. One of my personal favourites. In a arguable call, I expect Neal-Bullen to start 2018 as a premium midfielder.
Verdict: Jeez this ones tough. As you could probably tell, I am a massive believer in Alex Neal-Bullen. He has enormous Fantasy potential. So much so that I think he'll be around the premium mark next year. His style and role allow for plenty of points and a BE of -14 will see his price edge close to $500k in a few weeks time. Swallow has made an impressive comeback, but I prefer ANB here.
Jobe Watson ($547,000)

 V 

Marc Murphy ($596,000)
If there was ever a year to grab mid-pricers, this would be the one. But the amount of risk attached with former Bombers skipper Job Watson was too great for most Fantasy coaches, despite his undervalued price tag. Much had been made of Essendon's returning stars. Would they thrive after the year off? Or would they struggle to readjust back into the environment. Well, after an emotional win over Hawthorn and a gritty victory up at the Gabba, the Bombers failed to adapt to the harsh conditions against Carlton at the 'G'. But wet weather football generally attracts plenty of tackles and Watson certainly laid his fair share. He also impacted the game with 28 disposals and 3 marks to conclude the Sunday arvo clash with 119 Fantasy points. This backs up his efforts in the opening fortnight of the season where he scored 122 (27 disposals, 7 marks and 8 tackles) against the Hawks and 104 (33 disposals, 8 marks and 1 tackle) against Brisbane – where he went head-to-head with Lions captain Dayne Beams and beat him for overall disposals. It was rumoured during the pre-season that Watson may be squeezed out of a talent stacked midfield home to the likes of Merrett, Parish, Goddard, Heppell and Zaharakis. It seemed a role up forward could better balance the side. But from what we've seen so far this year, Watto has been entrenched in the midfield where his seasoned frame, contested ball winning and leadership has proven to be valuable. Jobe looks as fresh as he's ever been and is pumping out the sort of scores we became used to seeing from him throughout 2012 and 2014 where his season averages topped 100. This week, the Bombers head to the Adelaide Oval to face an up and about Crows outfit. Historically, the Crows have been prone to a down week after the showdown but don't expect that this year (at least I hope). Led by Rory Sloane and Matt Crouch, the on-ball brigade have far exceeded expectations thus far, with their blistering pace a focal point. Last week, however, Power midfielders Wines (124 points), Ebert (104) and Boak (103) were able to hit triple figures against their cross-town rivals. Despite Essendon facing an uphill battle to secure the four points, I'd expect more of the same from Jobe.
How did we miss this guy? Currently the number one ranked Fantasy player, Marc Murphy started the year priced at a discounted $482,000. For the best part of his career, Murphy has been one of the prime midfielders in the competition. However looking back through some statistics, he's only really had one elite season. That came back in 2011 where he averaged 111 Fantasy points. That particular season, along with 2009 and 2012, to date are the only other years he has averaged over 100. He will add another year to that tally this season if he is able to replicate his current form and remain injury free for 2017. But of course, last season was below par for his standards before an ankle injury saw him sidelined for the last half of the year. Murphy has slotted back into the Blues engine room and been a driving force behind a side eager to blood their weatlh of talented youngsters. A midfielder who can win it on the inside but also provide plenty of spread from outside the packs, Carlton's captain kicked off his season in an inspired 139 Fantasy point showing which included 35 touches, 6 marks and 7 tackles. Although it doesn't directly translate into added points, his 8 clearances and 6 inside-50's were well received. Murph hit the scoreboard once and racked up another 30+ disposals in round two – resulting in 125 points. As was mentioned above in Jobe Watson's piece, the Blues and Bombers battled it out in rather unpleasant conditions on the weekend which meant long direct kicks and tackling pressure were high on the to-do list. A Murphy did just that, laying 10 tackles to go with 23 kicks (also 9 handballs). He kicked two crucial goals including one beauty from the pocket which really ignited his side. A massive 145 Fantasy points was the outcome. These huge scores see him averaging 136 points. Whilst I wouldn't be expecting that figure to maintain its currency for much longer, there's no doubt Murphy is thriving off the back of a full, uninterrupted pre-season. His current form alone is enough reason to trade him in but a breakeven of 36 makes him seriously hard to resist. Before you know it, his price will be pushing the $650k+ mark. Murphy is on some sort of roll at the moment which I reckon will see him challenge the heights of 2011.
Verdict: First off, well done if you started with either or both of these guys. Watto and Murph are proving that mid-pricers are not to be written off. Essendon's midfielders are flourishing at the minute, scoring stacks of points and Watson's along for the ride. But although he is more expensive, it is getting very hard to ignore Murphy. It has to be him if cash allows.

I hope these two comparisons sorted a burning question out. I understand many have to deal with finding a suitable replacement for the injured Max Gawn, but the lads covered that in great depth on the podcast. If you've got another comparison, leave it in the comments and I'll do my best to get back to it. On a personal note, my side endured another mediocre week, pumping out 2128. I'm pretty happy with the team though with a couple of rookies really starting to find their straps. Having said that, a ranking boost would be greatly appreciated Fantasy Gods. Good luck for the week ahead and stay tuned next Thursday where Leighroy and I will be back covering another set of hotly debated comparisons.