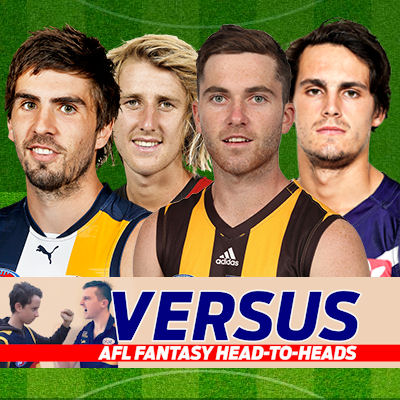 Something a little bit different but in the same vein as Versus for you all this week! Tommy and I are going head to head in a good old fashion player debate. This week we've chosen to look at a popular rookie conundrum in Miles Vs Balic and a unique Premium pair in Gaff Vs Heppell. At the bottom of the article click on the player (or argument) you think swayed you the most and get a glimpse of what other coaches are thinking along the way. Each week we will try to have a relevant pair to debate however all your suggestions are appreciated and considered so leave us a comment down below or hit us up on twitter using the DT Talk handle @DTTALK or @leighroyDT. Enjoy!
Andrew Gaff ($610,000, Leighroy)

 V

Dyson Heppell ($599,000, Tom)
My man just keeps getting it done! Like I alluded too pre season, the Sam Mitchell effect is real. Gaff, who is currently ranked number 1 in the competition for uncontested possessions, thrives off the easy ball and racks up marks (5th in the competition) literally everywhere on the ground. The Eagles inside mids (Mitchell/Priddis/Shuey) do all the grunt work around the stoppages and then actively look for Gaff to get the clearing kick away.
Back to back games of 36 disposals, reiterates the fact that West Coast love it in his hands. Furthermore, these disposals aren't wasted. Gaff ranks 2nd in the competition for 'effective' disposals showing that he is absolutely elite when it comes to ball usage. Additionally, Gaff clearly knows how to fantasy. We all love a player that kicks more than he handballs and Gaff, being an outside link up/play maker certainly fits that mould having twice as many kicks than marks so far this year. The ONLY reason Gaff doesn't (and probably never will) grow a snout is because of his putrid tackle count. I said it in my preseason Deck of DT article and I'll say it again… Gaff hates a tackle. Ok he got 3 in round 1 but that's probably his ceiling for this year reached. When Gaff has 3 tackles in a game he's very likely going 125+. As an owner it is the single and most frustrating thing about watching him play. Sometimes I sit there yelling at the TV as I watch him jog half heartedly towards an opposition player with the ball.
Arrgghhh enough of the negatives this is a debate FOR Gaff after all! I'll let you in on the secret as to why I rate Gaff so highly. His Tank. In my Fantasy team I actively seek out players who spend the game on the field. In last weeks heroic comeback against the Saints it was extremely evident that 99% of the players out there were completely and utterly exhausted! Alas that remaining 1% was the Gaff man. Spending 90% time on ground for the first two weeks demonstrates he has the biggest tank in the team and that equates to more time scoring points and more importantly, quality 'junk time'. His junk time is fantasy gold and it often sees him scoring a good 15-20 points extra in the final term so the risk of him having a rare quiet quarter (last weeks' second quarter he scored 2 points I believe) is mitigated by the fact he will junk it up late in the game. For comparisons sake, in Heppell's first two outings he has spent 81% and then 77% time on ground. I know Tom will bang on about how Heppell is safer because of his tackling ability and even perhaps his goal scoring ability but don't forget Gaff is still ranked 13th in the competition for Goals assists, showing he is up the ground a lot, he just hasn't scored many sausage rolls himself yet.
Tom may also argue that Heppell has a higher ceiling and while that may be true, there's not a whole lot between their ceilings thus far (144 vs 156). The final point I reckon Tommy will chuck in his argument is the "rainy day at the MCG" concern, whereby Gaff will find it hard to accumulate his points via the mark/kick + 6 formula that he loves. I agree, this is the only legit argument you could make for not taking Gaff. I have no doubt that during a stormy day he'll post an 80 at some point in the season and while this is not an ideal score for a man over $600k, it's an acceptable risk to take based on how safe Gaff is as a pick the other 95% of games. In conclusion, Gaff is a far safer and unique pick than a returning Bomber who may run out of steam halfway through the season. He's a tad more expensive but with that you're paying for a safe ton every week and still a unique POD to secure you that all important head to head win.
Let's be honest, none of us knew exactly what to expect from the Bombers this year. Will they hit the ground running with the enthusiasm of having their stars back? Or will their experienced heads falter having been without an AFL level game in a year? Well, two games in, and the former seems to be the correct answer. Essendon had a changing of the guard in terms of captaincy in the off season with Dyson Heppell taking the reins. Anyone that follows the Bombers will see Hepp as the obvious choice as leader. And so far he has risen up to the added expectation, scoring a massive 156 in the upset victory over Hawthorn and 96 in the gritty win against the Lions at the Gabba.
Let's start with the abundance of positives. I love the way Heppell goes about it. His attack on the ball, fierce tackling, accumulation, marking around the ground and impact on the scoreboard combine to make him an exceptionally well-rounded Fantasy star. Leighroy has stated that the Eagles love the ball in Gaff's hands and the same can be said with the Heppell, who has touched the pill a massive 57 times in the opening two weekends. Gaff does have an obvious fault in his Fantasy game – his tackling – which was outlined above. But what is Heppell's? He has a very high ceiling, which was further proven last year in his 156 (which included 104 points in the second half alone), finds the ball on a regular basis, tackles hard (10 tackles in last two games), racks up marks (15 in last two games) and has recently been hitting the scoreboard (3 goals and 2 behinds in last two games). Gaff required 90% time on ground to put up his round one score of 144. Heppell, on the other hand went bigger in just 81%, against a better side too. Maybe it's his distinctive blonde hair that makes him stand out like a cat in the headlights, but I find whenever Dyson goes near the ball he either receives it or makes an impact, further lifting his Fantasy score.
Yes, I will allude to the point Leighroy made about Heppell at the MCG. There's no hiding from the fact that Gaff, and in fact the Eagles, love the wide expanses of Domain Stadium. Their game plan revolves around it and Gaff reaps the rewards. West Coast only plays at the home of football twice this year, against Richmond and Hawthorn in rounds three and five which sandwich a return home match back in WA. This may prove to be a tough three weeks of travel. Heppell, on the other hand, loves the 'G' and has a further six matches there over the coming weeks. In fact, they only go interstate another five times for the rest of 2017. Gaff makes the trip east every second week. However, admittedly, this has rarely been much of a problem for Gaff in the past. Another positive to Heppell is his undoubted consistency. In 2015, he went under 80 three times, compared to Gaff's five, and that's without including the injury affected 44 against Port Adelaide.
Teia Miles ($164,000, Tom)

 
V 
Harley Balic ($150,000, Leighroy)
Miles would have to be the early favourite to win this debate, and rightly so. Taken with pick 49 back in 2014, Miles is a medium-sized utility who posses speed, neat foot skills and production. A Geelong Falcon under-18 representative, Miles has spent that past two years at VFL level with Box Hill. Primarily deployed across half-back where his ball use has been vital in the Hawks qualifying for  the past two finals series, Miles has also spent time on-ball and up forward.
At 180cm and 70kg, Teia is not a big bodied player by any means but his skills have impressed the Hawks coaching staff. Miles was always on the radar for a round one debut, given Hawthorn prioritize clean disposal. He featured in all three of the JLT matches and, although didn't set the world on fire, scored 58 (73% time on ground), 46 (74%) and 63 (75%). In a year where rookies are very hard to come by, we have to lower our expectations with rookie scores. Low 60's should be seen as a decent score at this stage. Last year, Miles showed great ball winning ability in the two's, consistently managing 20+ disposals. By looking at some of the Box Hill match reports, it seems that Miles rarely wasted a single possession. Clarko would love this. After a pretty poor 25 point loss to in round one against Essendon, the Hawks swung the axe ahead of a tricky clash with Adelaide. Miles was one of the youngsters included. Fantasy coaches were rejoicing and so they should have been. Miles didn't do much wrong but neither did he rack up huge numbers (15 disposals, 3 marks, 2 tackles and 54 Fantasy points) on debut, but I get a sense his scores will improve with added exposure at AFL level.
And that brings me onto another point – his job security. Hawthorn are at a stage where it is unlikely they will make the finals so blooding the next generation is in their best interest. The likes of round two rising star nominee Ryan Burton, Kade Stewart and Miles have already seen game time this year. 2015 draftees Kieren Lovell and Blake Hardwick both debuted last year and will also be pushing for selection at some stage. Case in hand, it's in the Hawks best interests to be giving plenty of games to their rookies. Admittedly, Balic has made an impressive start to the WAFL season and was particularly brilliant last week, collecting 29 disposals and 11 marks and is probably more likely to feature in the Dockers midfield than Miles is for Hawthorn. But I believe Miles has superior job-security overall, which is critical, and will make cash quicker with a round three break-even of 7 (compared to Balic's 25).
Harley Balic…… this debate is going to be hard to win. The last time we got this excited by a Freo player called Harley we were left as disappointed as having a losing lotto ticket. Alas this time it will be different. Harley 2.0 will rise from the ashes of Fremantle's burning 2017 finals hopes and get many a fantasy coaches' teams back on track. Taken at pick No.38 in the 2015 AFL Draft, Balic is an 82kg, 187cm, natural ball winning Midfielder/Half Forward. In 2013 Balic fractured his left wrist whilst dunking a basketball on his school basketball court. He played on with the injury for that entire football season which ultimately did him more harm than he could have foreseen. Early last year he underwent a third surgery on the troublesome wrist which all but ruled him out of the entire Fremantle 2016 campaign.
Balic returned to footy in the form of the WAFL reserves in round 20 and in round 22 he collected 30 disposals. In the final round of the WAFL season he was elevated to the league team and gathered a respectable 17 touches. This year Balic has been outstanding at WAFL level playing predominantly as a pure midfielder and winning the ball with ease. He has posted disposal counts of 30, 33 and 29 in rounds 1-3 respectively, which included 11 marks and 4 tackles is his most recent outing. The kid has a massive fantasy game about him and can do it all. A recent quote from his WAFL coach Cam Shepherd really highlights just how highly regarded he is…… "(Balic) looks like he's top-end talent" At the time of writing this piece there has been no official announcement stating Balic will get the call up for this week but I can almost guarantee he will. Ross Lyon is under some intense heat and the axe will be swung hard. Myriad players are in line to return or debut so the opportunity is most certainly there. As for how he will adapt to AFL, the jury is still out. Historically, picking a $150,000 rookie and getting a decent score is as rare as a stylish mullet, but one would hope that Balic sees this opportunity as a gift and goes out balls and all in an attempt to lock down a spot in the thus far disappointing Fremantle best 22.
I guess realistically those that are looking to get Balic in are coaches who want to fix up their rookies and get some cash generation going. Balic ticks that box. For the risk takers amongst us who are looking to field Balic this week over Miles, I say go for it. Miles has been talked up big time but didn't really live up to the hype in pre season nor did he set the world on fire last week. There really is no risk with selecting Balic and he's definitely a 90% chance of making it into the Legends this week.
'Leighroy's Legends' are currently ranked 10th overall for AFL Fantasy and Gaff sits comfortably at M4. Add me on twitter for all things AFL Fantasy @leighroyDT
'Wymo's Heroes' has endured a tough start to the season, currently ranked 24k overall. But as the great Alex 'Shooter' Williamson once said, others are going too hard too early…at least that's what I keep telling myself.