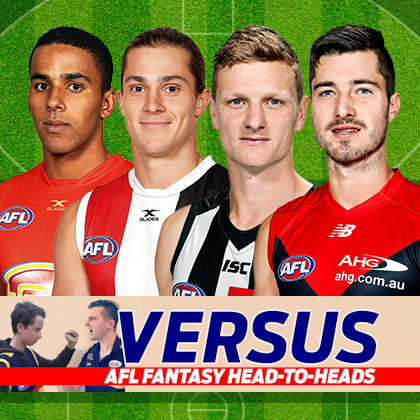 Welcome to the round one edition of versus on the back of what was the best opening round in years, at least Fantasy wise. But it could have been better if the rookies pulled their weight. They will be the centre of attention for many this week. Another problem which demands fixing is Nick Riewoldt. Unless you've been living under a rock, you'd have heard by now that Roo will spend up to six weeks on the sidelines. With two trades every week in AF, he is a must trade. Today, we'll look at two options who are categorised as sub-premiums – Gold Coast's Touk Miller and St.Kilda's Jack Steele along with two leading forward rookies.
Touk Miller ($504,000)

 V Jack Steele ($442,000)
2017 has been touted as a breakout year for Touk Miller for a while now. A second-round pick in 2014, Miller made a good first impression in his debut season, playing all 22 games for an average of 72 Fantasy points. Last year, this increased to to 80 from 17 outings. Miller is smaller than the modern-day prototype midfielder at 178cm but has had no problem adjusting to the physicality of the AFL competition. At the end of last year, Miller benefited from added midfield time as a result of the Suns growing injury list. He produced scores of 135, 84, 111, 87, 75, 139, 105 and 98 in the final two months, grabbing this opportunity with both hands. Rodney Eade later went on to declare that Touk would spend more time in there in 2017. Well, the time has come. It was announced earlier in the week that Pearce Hanley and brother Cian would return to Ireland for personal reasons. This opens up a more permanent spot for Miller who will accompany the likes of Aaron Hall, Gary Ablett, Jarryd Lyons and Michael Barlow. That line-up, along with a very promising host of depth youngsters form a pretty formidable midfield when all are fit and firing. The supposed break-out season has got off to a promising start with Miller hitting he ton in the Q-Clash thanks to 27 disposals, 4 marks, 5 tackles and a goal. This year, more than any, has seen coaches start with very 'vanilla' based teams. It's guys like Miller, currently owned by under 10% of coaches, who will put you ahead of the pack if in fact they do have breakthrough years. Nailing these types of players is key. It'll be interesting to see how the newly installed round nine byes unfold. Whilst they may prove to be annoying at the time, having someone who will play when 16 other sides take a break will be a weapon. Lets's hope he can maintain his current form. An average of 95 is on the cards.
Doubt was cast over Jack Steele's output this season given he has never found the consistency to match potential. He was pushed out the door by the Giants after struggling for opportunity after injuries set-in. But the Giants Academy member looked to have a big future after making his debut in round 12 2015. He later went on to play the next five AFL games. A small scattering of coaches started the 2016 season with him in their forward lines, expecting his obvious promise to come to fruition. However those owners would have given him the flick after scoring just 47 in round one. As expected, he did not survive the cut for the following week. Despite pumping out a few 80's in his ten games, exit loomed likely and the Saints did not hesitate after Steele nominated them as his destination of choice. The move was completed with St.Kilda trading GWS their 2017 second round selection. After strong form in the JLT series and a great debut, that deal is already looking like a steal (pardon the pun). Steele's tackling ferocity has always been a trademark. He thrives on the contested ball and loves a goal. During his two years at the Giants, Steele spend a considerable amount of weeks on the pine with foot and hand issues. But when he was fit, Steele proved he was too good for the NEAFL competition. He was regularly in the bests, often reaching 30 disposals and always tackling his heart out. His work rate was excellent and continued to improve as the season dragged on. I personally question the Giants decision to let Steele go, especially now given the injury woes affecting Coniglio, Deledio and Mzungu. However there's not much a club can do if the player states his intentions to leave in the quest of more game time. If he was kept on-board, perhaps the opportunity to blood Academy members Tim Taranto and Matthew Kennedy would not have surfaced. But what is perhaps Greater Western Sydney's loss, has emerged as a likely win for the seaside-based Saints. He adds muscle to the midfield and offers Fantasy coaches with a timely sub-premium option. With teammate Nick Riewoldt a must trade, Steele must be in your considerations for a replacement. He scored 94 on debut with perhaps under-par tackle numbers (4). Expect an average of 90. Will be a more-than-handy F6 come the end of the season.
Verdict: It was announced yesterday that David Armitage will miss the clash with West Coast (Source). This further enhances Jack Steele's appeal, given his midfield minutes will greatly increase. This is part of the reason I'd go for Steele here. By going for the Saint, it saves you $62,000 – potentially vital funds which could be used on trading in better rookies than the popular gang.
Will Hoskin-Elliott ($258,000)

 V 

Alex Neal-Bullen ($288,000)
Will Hoskin-Elliott was one of many high draft picks, taken by GWS, that have since moved on to other clubs. Although he did not join Carlton like many Giants have. Rather, the former-Western Jet under-18 elected for the Westpac Centre of Collingwood – the club he idolised as a young kid. Additional playing time was the overriding aim of the trade. WHE is a genuine utility. His game against Richmond where he had stints on the wing, off half-back and across the forward line further illustrated that. Will has always had excellent speed, endurance and two-way running ability, but consistency has been his achilles heel. Throughout his football career, Hoskin-Elliott has never been a massive ball winner. As a result, he has a season high average of 67 which he achieved in 2014 of the back of 20 games. Then the injuries struck. Quad problems and hamstring complaints plagued him throughout 2016 and ensured he featured just twice for the Giants senior side. Despite showing good signs in his ten games for the reserves, he was unable to break into a strong lineup. Now that job security doesn't seem to be much of an issue, he was automatically considered by many Fantasy coaches. And those who didn't select him ahead of the years first lockout should be looking to bring him in as soon as possible. The rookie stocks are simply too thin this year and spending cash on more expensive rookies has already proven to be the right way to go. The instalments of Aish and Broomhead to the Magpies 22 may force Hoskin-Elliott to spend more time across the backline. Although it was awesome to watch for owners, don't expect him to pump out 90+ every round. He never has done. But what we can expect to see is 65+ scores. A BE of 2 will ensure plenty of cash is made for the next few weeks. Arguably the best rookie available, Hoskin-Elliott should be right at the top of the priority list.
Is this guy the answer to our forward line woes? I must admit, I didn't know much about the 21-year-old before sitting up and taking notice after the Saturday arvo meeting between the Saints and Demons. Let's just say, if he walked down the street, I certainly wouldn't of known he was a Melbourne AFL player. That's not an easy feat to accomplish given the modern-day media coverage of Australia's game. But his popularity amongst Fantasy owners is at an all-time high. Neal-Bullen was taken by the Dee's with pick 40 of the 2014 National Draft. Throughout his under-18 year, in which he represented South Australia and Glenelg, Neal-Bullen was a consistent performer. An inside-midfielder, Alex proved to be a ball magnet in and under packs but a lack of pace saw him fly under the radar of recruiters despite posting big numbers. Since making the transition into the AFL, Neal-Bullen has spent the majority of his time playing for the Dees VFL affiliate – Casey. Last year he finished equal fifth in the J.J Liston Trophy after averaging 29 touches for the year, underlining his importance to the Scorpions on-ball brigade whilst also spending some time across half forward. Neal-Bullen's tackling, ball winning and endurance (as shown by a top three placing in the clubs pre-season 3km time trial) were on show in the round one encounter in which he was brilliant, collecting 23 disposals, 5 marks, 6 tackles and booting a goal to conclude a successful outing with 110 Fantasy points. It could well have been more had he converted the other three chances. At $288,000 with BE of -2, Alex is another example as to why you should look at spending up on the rooks. Although it is too hefty of a fee for some, he will act as a solid stepping stone as the season rolls on. We potentially have another culprit of the third year break out which continues to attract evidence. Neal-Bullen is almost the perfect Fantasy player. He gets heaps of the pill, as has been mentioned, and looks to have fairly strong job-security. I love him as an option. He should double his career games tally which currently sits at 15. One of very few rookies with obvious scoring potential, he will be comfortably mid-priced come the end of the season. 
Verdict: This comparison appears to be the flavour of the week amongst the DTTalk community. I'd say a large portion of people will be looking to bring in one of these guys. Similarities between the two players pretty much end at the hyphen. Hoskin-Elliott is a strictly outside player who has very good JS. Neal-Bullen is a bash and crash contested midfielder who's scoring potential is high. Fortune favours the brave. Perhaps controversial but I'd go with Neal-Bullen who I continue to like more and more after reading up about his footy ability.
That concludes this rounds article. I certainly hope it answered some burning questions. Leighroy and I will roll out the brand new article next week so stay tuned to DTTalk for that. Here's hoping the rooks get their act together for the second round!