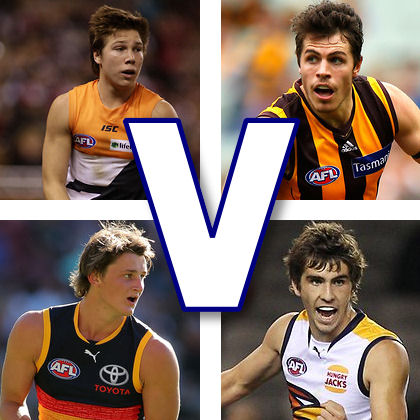 Tom is back putting players head-to-head in Versus for the last time this pre-season, ahead tonight's partial lockout. Today he focuses on four players who aren't your obvious choices.
Toby Greene ($560,000) V 

Isaac Smith ($538,000)
Whilst it is the Giants midfield that seems to receive all the praise, their forward line holds up just fine too. And a key component of their attack is Toby Greene. A medium-sized forward with aggression, football smarts and clean skills, Toby has been a Fantasy relevant option for the entirety of his four previous years at the elite level. However 2017 will be the first year he has had forward status, after playing his first few seasons as a pure inside midfielder. Greene managed 39 goals last year and there's no doubt he will be playing 90% of games as a high half-forward this season, given the talent packed midfield. In any almost any other team, he would be a full-time mid. Greene capped off a sensational 2017 with selection in the All-Australian 22. He was also named the Giants best and fairest – a remarkable feat given the stars he had to beat to the medal, and finished second in the league for goal assists and third for inside 50's. Whist he may cop some minor attention up forward, a hard tag will never be placed upon Greene with Dylan Shiel more likely to attract negative attention. Toby's aggression and appetite for the contest has seen him spend time on the sidelines in past seasons and he almost had to sit out round one after throwing a cheeky jab at the end of their JLT clash with Sydney. Luckily for coaches, he escaped with a fine. Speaking off the JLT series, Greene's pre-season proved why he was the third highest averaging forward last year, if you discard DPP's Merrett, Martin, Hall, Zorko, Barlow and Montagna – all of whom are not available as forward in 2017. After sitting out the first game, Greene managed 21 disposals, 6 marks, 2 tackles and 2 behinds for 80 Fantasy points (88% TOG). But in the final hit-out before GWS do battle with Adelaide, 'Tobes' ran wild, kicking five goals to go with 26 disposals, 5 marks and a tackle. This resulted in 118 points from 90% game time. Toby is shaping to be a great differential with Macrae or Dahlhaus in most teams. Make sure you're prepared for the odd stinker, which occurred six times last year, but expect a solid 95 average, even with the additions of Deledio and Taranto.
The Hawks midfield has seen a wind of changes this off-season with seasoned veterans replaced by emerging superstars. But a speedy winger with a booming left foot has somewhat slipped off the radar. Isaac Smith is a ball magnet and marking machine who has been a key part of Hawthorn's recent dominance. Whilst he has never been a forward in Fantasy, until this year, Smith has never attracted much ownership, even in 2015 where he finished with 9 tons for the year (including three of 120+) . But now, being one of the front-running premium forwards, coaches are realising just how good he can be on his day. Last year, Smith five tons along with six 90's and six 80's – that's pretty good going in my book. A 39 against GWS and 57 versus North Melbourne left there scars on his overall average of 89. This season, Smith will be more heavily relied upon to take his game to the next level. With that comes the potential of a tag. It remains to be seen whether Tom Mitchell, O'Meara or Smith cop attention but my guess would be that Titch in on the receiving end, given he is the primary accumulator. I wouldn't at all be surprised if the damage Smith can cause forces some sides to send a defensive minded midfielder his way. In JLT1, Isaac produced a so-so score of 74 from 87% time on ground. In the final pre-season match, he was better though, managing 25 disposals, 5 tackles, 5 marks for 97 (90%). Smith's ceiling was outlined in round 21 last year where he touched it 33 times, took 11 marks and laid 7 tackles for 146 points. If he can piece together scores like this on a more frequent basis, Smith's value, potential output and low ownership combined make him an enticing forward-line premium, one who will average around the 90 mark.
Verdict: Toby Greene is one of those players you either love or hate. Isaac Smith is scarcely talked about as a Fantasy option. Both have been very consistent in terms of their season output. The Giant is my preferred choice, however, as I believe he will average about 5 more points than Smith over the coarse of the season and is more likely to end up as a top six forward.
Matt Crouch ($564,000) 

V 

Andrew Gaff ($564,000)
The Crouch brothers promise to form the backbone on the Crows midfield for some time. But for Brad, since being picked up with pick 2 of the 2011 mini-draft, injuries have been a constant presence. Matt, on the other hand, has gone past him in terms of performance as well as notching up more AFL games. A pure inside midfielder who thrives on the contested ball and ranks among the top midfielders for ball use, Matt turned it up at the back-end of last year after pumping out six 80's in the first two months on the season. He racked up big disposal numbers on a regular basis but an only managed more kicks than handball's on five occasions. In the second half of the year, scores of 125 (v St.Kilda), 126 (v North Melbourne), 128 (v Geelong) and 128 (v West Coast) were elevated because of a consistent number of marks and tackles. His lack of goals (just four for the season) will be an area of his game that he will look to better in 2017. What is also impressive about Matt's 2016 season was that he never spend more than 80% time on ground. Expect this figure to rise as the Crows experiment with youth through the middle. On that note, Matt Crouch should benefit from effectively being the second best midfielder behind best and fairest Rory Sloane. It's hard to get a reading on exactly what the Crows midfield will look like at full strength, but the likes of Atkins, Cameron, Milera, Wigg, Douglas, Mackay and potentially Jordan Gallucci are all in the mix for a round one birth. However the only out-and-out inside midfielders are Sloane, the Crouch brothers and at-times Scott Thompson. Case in point, Adelaide will be relying on Matt to take the next step and to somewhat cover the failed bid to land Bryce Gibbs. Expect this to translate into added Fantasy points. Last year, Crouch proved he has a high ceiling and solid consistency. I'm dubbing him a future Fantasy superstar. He'll turn out to be a valuable player of difference with an average of around 106 in my opinion.
West Coast winger Andrew Gaff has been one the Eagles best midfielders since he was drafted with pick four on 2010. Damaging with ball in hand, Gaff also has excellent endurance and finds plenty of the ball. He has had to cope with a regular tag for the best part of three years now, with teams acknowledging the effect he has on the game. 2016 proved to be a strange one for Andrew, who is currently owned by 6.7% of coaches at the time of writing. It started well, with four tons including back-to-back 111's coming in the first five rounds. After scores of 74, 104 and 99, things started to turn pear-shaped in round nine. The Eagles ventured south for the clash with Port Adelaide, but Gaff's day was cut short thanks to a sickening collision with Tom Jonas, resulting in him missing the following week with concussion. Even this is a remarkably quick recovery given the impact of the bump which, in turn, left Jonas sidelined for six weeks. As Gaff was on 44 before being stretched off, his break-even for the return game was 122. similar figures were maintained over the next three weeks as Gaff failed to hit the three figures. His price heading into round 13 had hit $417,000. Many coaches banked on him reaching the form of earlier on and jumped on board. And they would have been happy, with Gaff doing just that. He pumped out scores of 131, 117, 115 and 116 in the final nine weeks, along with a 98, 100 and 86. Overall he ended the season with an average of 92, making his 2017 starting price $564,000. There really isn't a legitimate reason as to why you shouldn't pick Gaff. His scoring should be back to that of previous years and an average of 105+ is on the cards. Gaff provides great value given his potential and is one of the lesser owned premo's out there. A perfect M4/5 really.
Verdict: Currently my favourite player, Matt Crouch is one on the most likely youngsters to elevate his game to uber-premium level. He proved that in the second half of last year. Gaff has the runs on the board and will be back to averaging triple figures in 2017, but I can see Crouch edging him by going 105+.
Well I hope the nine pre-season versus articles have helped you form a decision concerning your team. In an exciting change, these regular versus articles will come out on a fortnightly basis throughout the season. For the weeks in between, leighroy and myself are 'teaming up' to produce a variation on the current article. We will be taking a look at three comparisons, six players in total. We will each write about three of these players, attempting to sell him to the reader ahead of the other player being compared, eventually combining the pros and cons to form an overall verdict. It should add something different to the weekly content and a second opinion to the current articles. As always, if you have any questions, drop them down in the comments and I'll get back to you as soon as possible. Below are links to all the versus articles of the pre-season. Make sure you check them out. Good luck for the season proper!
Versus – Premium Defenders (Montagna/Laird & Simpson/Docherty)
Versus – Mid-Priced Defenders (Tuohy/Mills & Hodge/Lloyd)
Versus – Premium Midfielders (Heppell/Beams & Fyfe/Bontempelli)
Versus – Premium Midfielders 2.0 (Parker/Hannebery & T.Mitchell/Neale)
Versus – Mid-Priced Midfielders (Watson/Murphy & O'Meara/Swallow)
Versus – Ruckman (Gawn/Grundy & Giles/Boyd)
Versus – Premium Forwards (Macrae/Dahlhaus & Caddy/Miller)
Versus – JLT Hype (Wellingham/Jones & Steele/Roughead)