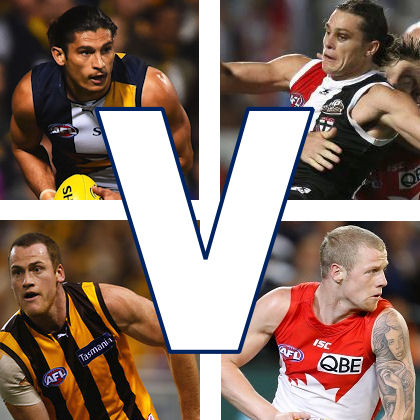 Tom is back putting players head-to-head in Versus. Today he focuses on four players who have impressed over the JLT series.
Sharrod Wellingham ($367,000) 

v

 Zac Jones (

$333,000)
Really? Wellingham? That's the question Fantasy coaches should be asking themselves before selecting the former Magpie. He has burnt us in the past but on the back of some very good JLT performances, maybe 2017 is his year?Wellingham showed glimpses of Fantasy relevance with averages of  81 and 82 in 2010 and '12 respectively. Whilst at Collingwood, the Western-Australian played primarily as an outside midfield where his skills and pace earned him a premiership medallion. However since he made the move back to the west, Sharrod has been used more off half back. There, he displayed speed and precision, but was unable to translate this promise into points. Last year, he averaged 60 points – Wellingham's lowest total since 2008. His 2017 season got off to a frustrating start due to a knee injury which saw him miss the first three round before returning in week 4 after one WAFL outing. A lack of consistency plagued Wellingham throughout the year. His highest Fantasy score of 94 was followed by 83 and 81. After that, it was mainly 60's – not the sort of form that would make him Fantasy relevant. However he entered the JLT pre-season matches with seemingly new-found ability. Although it was against a GWS side without many best 22 regulars, Wellingham ran loose in for West Coast, collecting 28 disposals, 9 marks, 4 tackles and 114 Fantasy points. However the Eagles also had the likes of Gaff, Shuey and Mitchell missing. The following week against western rivals Fremantle, Sharrod was again solid, collecting 24 disposals,  7 marks and 2 tackles on his way to 86 points from 75% time on ground. Many of West Coast's stars returned to the midfield for this clash. After a week off, Wellingham and the Eagles returned to JLT action against Melbourne at Domain Stadium. With a near best 22 on the park, the Eagles were too good for the Dees with Wellingham again serviceable across half-back. He racked up 31 touches and scored 99 (87%). These scores made Sharrod the second highest scoring player over the course of the JLT series. He also ended with a healthy PPM of 1.23. Look, he's not for me but one worth considering. Maybe he could average 80 again?
Zak Jones could well prove to be the breakout player of the year. Let's start with his potential role change. We all know Kennedy, Parker, Kieren Jack and Hannebery lead the way for the bloods in the midfield with Jake Lloyd offering run and carry off the wing. But the likes of Heeney (when fit), Mills, Jones and potentially Robinson will all be looking to rotate through at various stages. I can see the Jones becoming a weapon through the centre where he can display his line breaking pace, dare and at-times ferocious tackling. Although it is an overused cliche, Jones has been training the house down this pre-season, going head-to-head with Heeney for many drills (Source). This backed up what was a very impressive finals series. Coming into the team for the all-important semi-final, after missing the week before with concussion sustained in the NEAFL, Jones had 15 rebound-50's and was key in the Swans progressing to the big dance. Jones was also impressive in a losing Grand Final outfit. We may look back on these two games as the making of Zak Jones. And his JLT performances alone are enough to put him on your watchlist. His 7 inside-50's were key against North Melbourne in Coffs Harbour where Jones ended the day with 98 points from 85% time on ground. Although he wasn't as prolific against GWS, Jones was close to best-on-ground in the final JLT hit-out of the year. Zak scored 101 points from 86% TOG but again it was his penetration through the centre which will excite John Longmire. On top of this improved role, confidence-building finals series and strong JLT output, Jones' price makes him a perfect D4. Definitely one to watch.
Verdict: Firstly, if a mid-priced defender is what your after, Mills and Tuohy are the front runners. However more cost effective options, Wellingham and Jones, may not average much less. Out of the two, I prefer the better player in Jones. His role change, if it does change, will be a fruitful one and should translate into more points.
Jarryd Roughead ($373,000) 

v

 Jack Steele ($432,000)
Has there been a more uplifting comeback than Jarryd Roughead's? About a year and a half ago, the Hawthorn key forward was diagnosed with a melanoma in his lip.  As you would expect, this sidelined him for the rest of 2015 and the entire 2016 season. Now, just two weeks away from round one of the '17 campaign, Roughead is set to lead out the Hawks against Essendon. Inspiring. But enough about his illness, there's plenty of media coverage you can read up on about that, we'll focus on Roughy's Fantasy relevance this year. At $373,000, Roughy is a bargain given he has averaged 83, 91, 86, 88 and 88 from 2011 to 2015. If he can produce this type of scoring again, he could well turn out to be a perfect F6 by the seasons conclusion. I can see Roughead embracing the added leadership responsibility. At 30 years of age, he is certainly in the twilight stages of his career and will be aiming to make up for lost time. Things have changed a little since he was diagnosed with the melanoma. Long-time teammates Sam Mitchell and Jordan Lewis have parted ways, replaced by young stars Tom Mitchell and Jaeger O'Meara. These two are the future of the Hawks midfield and will provide the likes of Rioli, Gunston, Vickery, Puopolo and Roughy with silver service. One of coach Alistair Clarkson's most effective tactics has been throwing Roughy into the midfield where his big frame adds plenty of x-factor. Will we see this again in 2017? I'm not sure it directly translates into an increase in Fantasy points though. Roughead played a part in all the Hawks JLT games. This can only be a good sign. Against Geelong in the pre-season opener, he played 84% of the game, finding the sherrin 14 times for a score of 60. And he was even better against North Melbourne, collecting 23 disposals and 4 marks for 78 points – all from 83% TOG. Although his side was beaten on the day, Roughy produced his best game of the year – 20 disposals, 6 marks, 2 behinds and 96 Fantasy points (91% TOG). He also laid an encouraging 6 tackles. I can't find a reason as to why you shouldn't pick Roughead. He will comfortably average around 85 and make plenty of cash in the process.
Jack Steele was one of the many victims of Greater Western Sydney's extreme depth. After collecting 17 touches on debut in round 12 of the 2015 season, the Giants Academy member went on to play the next five AFL games. A bright future awaited the inside ball winner. A small array of coaches started the 2016 season with him in their forward lines, however a large percentage of those owners would have traded him out after scoring just 47 in round one. As expected, he did not survive the cut for the following week. Jack did return in round four after starring for the Giants NEAFL side. He scored 87, 84 and 98 against the Power, Saints and Hawks to further prove his obvious Fantasy potential. He proceeded to play top-flight footy until a second axing came his way ahead of week 12. Yet again, Steele returned to the two's and dominated with 43 disposals, 9 marks and two goals. The yo-yo effect dragged on as he was included in the senior team for their clashes with Adelaide and Geelong. But again, his influence on these clashes were minimal and ultimately ended in another omission. Whilst Steele was not playing AFL football, he was doing all he could for the reserves, regularly racking up huge amounts of contested-possessions and tackles – two areas he relies heavily on. Steele played against Collingwood in round 16 but was again overshadowed by expansion club's bigger names. The subsequent match, played against the Lions at the Gabba, saw the 2014 second-round draftee struggle to find the ball in the first half. But when the rain started to soak the ground, Steele rose to the occasion. He obviously felt at home, ending the game with 12 kicks, 6 handballs, 4 marks, 6 tackles and 84 Fantasy points. Just as he was building momentum, a hand injury struck, resulting in him missing a fortnight of matches. In hindsight, this effectively ended his season as the Giants opted for a largely unsettled line-up as they built momentum into their first finals series. Enough was enough for Steele. And the arrivals of Brett Deledio, Will Setterfield, Tim Taranto and Harry Perryman would only have decreased his chances of consistent game-time. By now it was pretty obvious the frustration of being constantly in and out of the Giants side would lead to an exit. And an outlet came in the form of St.Kilda who was the nominated destination of choice. Since joining, Steele has barely put a foot wrong. In JLT1, he was more-or-less nursed through, heading off for an early shower, but not before scoring 39 from 36% game time. 7 tackles accounted for 28 of his points. But in the Saints second pre-season hit-out Steele unleashed with 25 disposals, 6 marks, 8 tackles and 2 goals leading to 120 points. It's these type of performances he was unable to regularly pump out in the orange and charcoal. And what's better, it came from 71% TOG. Just to further entice Fantasy owners, Jack backed it up against Sydney. Another 120 point score resulted from 28 touches (8 kicks, 20 handballs), 3 marks and 12 tackles from 90 minutes on-field (77%). It's hard not to pick him off the basis of those scores. His job-security will be safe now and I can see Jack going 90+ as the Saints press for a finals birth. Appears to be one of, if not the best forward line bargain of the year.
Verdict: This is one of the closest comparisons I've done. Steele and Roughy score their points from completely different avenues but are both coming into 2017 revitalised and under-priced. Steele has a higher potential but will annoy with the odd stinker. Roughy's scores, on the other hand, should be more consistent. Although he is $59k more expensive, which could be end up being the overriding factor for many, I can see Steele scoring more.