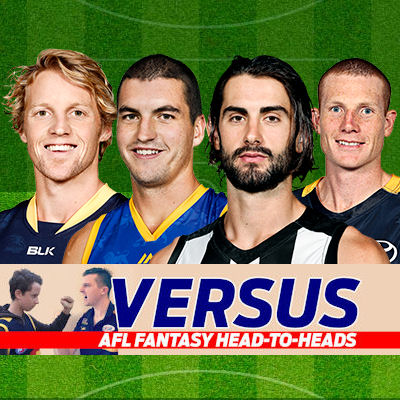 G'day all. Just me again this week for Versus as Leighroy has no internet connection. Today, I've been allowed to put on my Crows hat a little bit and take a look at two of the more in-form players, Rory Sloane and Sam Jacobs. They will be put head-to-head with Rocky and Grundy – two blokes who are arguably the best available players in their respective lines. Just for your information, I'm aware many will be wondering why it is in-fact Jacobs who will be going up against Grundy over Brisbane's Stef Martin. Quite frankly, I think Jacobs, with his BE of 53, will be above $600k in the blink of an eye and he provides that all important point of difference. Let's get cracking!
Rory Sloane ($720,000)

 V

Tom Rockliff ($701,000)
Crows fans have grown accustomed to this elite standard from Sloane since he was taken with pick 44 back in 2008 – in hindsight another of the Crows draft steals. But it seems footy fans outside of SA are only beginning to fully appreciate the sheer brilliance of the man. Sloane runs at full tilt for the games entirety, wins more than his fair share of contested possessions but also spreads well from the stoppage, tackles hard and of-late has been impacting the scoreboard – as if the Crows needed another scoring option.
After suffering a cheekbone injury in the latter stages of the pre-season which saw him sidelined for the entirety of the JLT series, Sloane endured an under-par start to the season against GWS – scoring 68 Fantasy points. But after that warm up, he has quite frankly exploded. Sloane has averaged in excess of 100 just twice in his eight years at West Lakes (104 in 2014 and 105 in 2015) and is traditionally a consistent 90+ scorer without the ceiling of other notable premium midfielders. But over the past five weeks, he has not gone under 130. The remarkable run commenced at the MCG against the struggling Hawks. The Crows made up for the slow start and came home strongly with Sloane collecting 25 disposals, 6 marks, 15 tackles, a goal and 152 points. Sloaney then backed it up with 139 on the Power on his way to taking home the Showdown Medal. He has put up scores of 143, 132 and 152 on the previous three weekend and is leading the way in Adelaide's fleet-footed midfield.
He, the Crouch brothers, Curtly Hampton and at-times Richard Douglas have all been a force on the inside this year, dishing it off to the likes of Cameron, Milera and Atkins. When looking at the stats and watching him play at the ground every second week, it's evident Sloane has a very well-rounded game without any obvious weaknesses. He is not an ultimate ball-magnet like Matty Crouch but still accumulates his 25+ touches on most occasions. He is a ferocious tackler and currently leads the AFL with 58 – threatening to dislodge Tom Liberatore from his throne. Sloane also ranks as one of the highest goal scoring midfielder with 9 snags. He had a very good 2016 season and was rewarded with runner-up in the AFLPA and AFLCS most valuable player award. Also named as vice-captain in the All-Australian 22, Rory has gone to another level from a Fantasy perspective this year. The only flaw on him Fantasy wise is his price which, at $720,000, makes him the most expensive player in any line. Are you willing to pay this for a guy who, although is in impeccable form, has never averaged over 110?
Rocky is simply the greatest Fantasy player the DreamTeam Talk community has ever and perhaps will ever see. A natural footballer who isn't particularly athletic or flashy and has been criticised for not always making every touch count, the pig, as he is better known as, finds the ball at will, has a good amount of contested possessions each game, collects his five marks and doesn't mind a tackle or ten. Never before have we seen a player who goes 150+ so often. Rocky has always been a productive Fantasy scorer.
Discounting his debut year – where he scored 23 in his sole match – he has never averaged below 85 for a season. His 2014 season was perhaps the greatest of the modern Fantasy era. The numbers are ridiculous – he went under 100 just three times and in every other game bar one (102), Rockliff went 110+. Honestly, if he or anyone for that matter, gets close to those sort of numbers anytime soon I'll be highly surprised. Although the opportunity to kick goals doesn't always present itself as often as it should, Rocky was deployed as a forward for much of his junior career. A member of Victoria Country and the Murray Bushrangers under-18 squads, Rocky finished the under-18 carnival ranked 2nd for goals and goal assists. It's scary to think he could get better, but if he could hit the scoreboard a little more often look out. It's hard to believe Rocky was initially overlooked by recruiters, but the Lions picked him up with the fifth selection in the 2009 pre-season draft, and the Fantasy world has reaped the rewards. Rocky entered 2017 as the second most expensive player behind Dangerfield after an average of 116 last year.
So far he has certainly justified the hefty price tag with scores of 127, 123, 106, 157, 124 and 100. There good numbers, but all good coaches will know there's still another level left in the pig. Injuries have threatened to derail his season over the past few years, not being able to feature in all 22 games since 2012. Don't let his injury prone past stand in the way though. When it comes to midfielders, sure, there are more effective ones out there. But no-one can match Rocky's blend between consistency and ceiling, ultimately concluding in a 120+ score more often than not. Arguably the figure-head of AFL Fantasy, the former Lions skipper will likely have a few more season in him before the likes of Merrett, Bontempelli and Cripps ascend to the top. You'll want him when he inevitably goes 160+.
Comparison: Straight up, you really can't go wrong with either. Despite Sloane recently picking up the AFLPA player of the month award and averaging a massive 131 Fantasy points, I just can't see him averaging over 110. Rocky on the other hand will do just that and more, especially with Beams now sidelined for a few weeks. You can put your house on it. The Fantasy pig it is, but Sloaney will be a top eight mid.
Brodie Grundy ($616,000)

 

V

Sam Jacobs ($556,000)
Last year Collingwood star Brodie Grundy launched himself into the elite category. After enduring a positive first two years at AFL level under the guidance of Darren Jolly. Since then the number one ruck role has been his for the taking – and he certainly has made the most of it. An aggressive tackler and strong contested mark, Brodie has also proven he can kick a goal when pushed forward (although we are yet to see much of that in 2017). Grundy averaged 91 Fantasy points in 2015 before hitting triple figures last year.
Now an undisputed premo ruck, Grundy's Fantasy game is on the up. Whether he will manage to hit the heights of Gawn in '16 or Stef in '14 and '15 remains to be seen. But he's definitely giving those two a decent run for their money. As will be alluded to below in Jacobs piece, the traditional pathway for today's premier ruckmen is to be selected in the rookie draft before taking a few years to further develop and learn the tricks of the trade. This wasn't the case with Brodie. The Sturt product joined a rare club when the Magpies took him in the first round of the 2012 draft – pick 18 to be precise. Grundy was thrown into the deep end and has bucked the trend successfully. Could the same be done with the Bulldogs Tim English? We're expecting hundreds week in week out from Grundy, and he has delivered three in his six matches, to go with 94, 86 and 93.
With Toby Nankervis summoned to the sidelines for a week for a cheeky elbow on David Mackay, this round could prove to be the perfect time to upgrade him to a set-and-forget big man. More than half the comp will be faced with this dilemma and with Gawn unavailable, Grundy is next in-line. The so called Mason Cox effect, in which the American bean pole offers relief to Grundy at stages is a bit of a worry as Grundy has missed the ton in every game Cox has taken part in this season. I'd back him to rectify this soon enough.
If given their time again, I'm pretty confident the Blues wouldn't have traded the leagues most brilliant small forward Eddie Betts and one of the better rucks in Sam Jacobs. However they have both landed in the nations south and are currently instrumental cogs in the Crows record-breaking line-up. Jacobs, or Sauce, was born in the small Yorke Peninsula town of Ardrossan which currently boasts a population of just under 1,200 people. As is the case with many ruckman currently inhabiting an AFL list, Jacobs was taken as a rookie. The Blues, who had previously selected fellow South Australian Bryce Gibbs with the number one pick of the national draft, took the gamble on the 202cm big man who's extremely high durability has seen him play as the sole ruck for seven years – missing only a handful of games in the process. Sauce also has excellent work rate, allowing him to get to a high amount stoppages.
Jacobs, who played only 16 matches for Carlton, is a neat user of the ball for someone of his size. His link up play both by hand and foot is at-times invaluable. A perfect example of this unfolded on Sunday, where he racked up 15 kicks and 11 handballs. To put that into perspective, Jacobs found more of the sherrin than Tigers gun on-baller Dustin Martin. This season, Sauce has confronted fellow number one ruckmen Shane Mumford, Ben McEvoy, Patty Ryder, Matthew Leuenberger, Jarrad Witts and Toby Nankervis, recording hit-out hauls of 28, 43, 42, 33, 34 and 50. These impressive numbers have him currently sat in fourth for total hit-outs. It's worth noting that key forward Josh Jenkins, who often gives Jacobs a chop out in the ruck, was missing for the best part of round two and the next three clashes. However Sauce utterly dominated Nank and the return of JJ looks unlikely to have much of an effect on Jacobs Fantasy ability. Sammy is fresh of a 158 and whilst we can't be expecting that every week, he is amongst the top handful of ruck options (at least until Gawn returns) and available for just $556,000. Has never averaged below 87 since joining Adelaide. Definitely someone to think about.

Comparison: Put simply, I would sway to the side of safety and go Grundy. He will likely lift his average to 105 and, whilst Jacobs is in tremendous form, costs less, with a low BE and high ceiling, should be selected before Sauce.