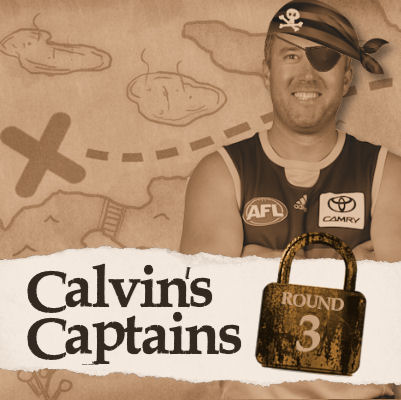 C'MON CAL, GROW SOME
If I was really gutsy and wanted to take a plunge/risk, then I would be seriously looking at some of these unique options for round 3.
After scoring 125 and 139 in his opening games, Marc Murphy has returned to his best. He nearly made my top 5 this week as his record against the Bombers is nuts. In fact, he has scored 8×100+ scores against them in his last 9 games and although they are the 3rd hardest team to score against at the moment, they are his favourite of all time.
If Tom Campbell can score 96 against Naismith, then Brodie Grundy can have a thousand. He had 123 last week and should be good for a solid 120 for sure.
I had him at #5 last week and Andrew Gaff scored well once again with 115, backing up his great start in round one of 144. He has scored 108 and 110 in his last two on the Tigers and despite what people think, his scores at the MCG are mind-blowing.  117, 100, 111, 110, 105 and 106 are his last efforts at the MCG and although he is unlucky to miss my top 5, I'll be backing him in to once again have another cracking game.
DANGER-OUS PICK
Surely not Cal… are you really saying Patrick Dangerfield is a dangerous pick this week?
"Yes" I say to myself as I speak in the third person and here are my reasons why.
Firstly, yes… his form has been sensational with 139 and 118 coming in his first two games. He's back under the roof and we know he averaged 130 there last year, and even had his 139 there last week. So what's my problem?
At this stage, and it's only two weeks of data, Melbourne are the hardest team to score points against. They have given up the fewest 100+ scores out of the 16 teams and they have me worried this week.
Add to that… this stat: Dangerfield scored 110 on them last year, and that my friends was his highest score against them in his career 9 games. Although there are other factors such as Bernie Vince and the small possibility he'll tag him, but for the record I actually don't see that don't see happening.
Don't get me wrong, many people will still roll with Danger this week, but you have been warned and yes, he'll stay in my top 5 because I can still see him having 120 odd.
BRING HOME THE BACON
C'mon Sir Pig… bring home the bacon.
Tom Rockliff is back at his 'home'… Etihad Sty Stadium where he has scored 127, 179 and 184 in his last three games. Yes, I have checked those numbers and they are 100% correct.
He has started the year, just like we thought he would with scores of 127 and 123 and this week, he will be bigger.
Rocky meets the Saints, a team he had 127 on last year but the reason I am so sold on him this week is because, one, he's under the roof and the fact the Saints are bleeding points. The most out of everyone in the competition, as they have already given up 12×100+ scores in just two games.
Let's see what those look like…
Luke Shuey 144
Nathan Jones 126
Clayton Oliver 122
Jordan Lewis 119
Jesse Hogan 118
Andrew Gaff 115
Max Gawn 111
Alex Neal-Bullen 110
Matt Priddis 107
Tom McDonald 104
Elliot Yeo 103
Bernie Vince 103
So Rocky plays the Saints (easiest) and Danger plays the Demons (hardest). So far this year, the Saints have given up 420 points more per game than the Dees. There's a stat to share with your friends.
In the same game, his team mate Stef Martin should dominate after coming off scores of 121 and 101. He has scored 102, 112 and 110 in his last 3 games against the Saints and should keep his great run going this week.
Dayne Zorko is averaging 112 this year and has posted 100, 93 and 122 in his last few games on the Saints. With heaps of points on offer, expect Zorko to be cashing in as well.
To see how teams score and who gives up what… click here
Don't want to read Calvin's Captains? That's ok, I'll explain it in audio format #aflfantasy https://t.co/NxhxK4TuYs

— Calvin (@CalvinDT) April 5, 2017
GIVE HIM A SNOUT
Paying $1.05 to be inducted into pig status, Zach Merrett has started the year where he finished 2016 with scores of 140 and 129. The current number 1 player in the game who has played all the games this year, plays the Blues this week who are the 3rd easiest team to score against.
Small issue though, as he has only scored 115 and 98 on them in his last two games… but still, this kid is  bloody freak and should dominate them on Sunday afternoon at the MCG.
Although his scores are slightly off what Zach has been doing, how good has Tom Mitchell been at the Hawks? He has scored 125 and 128 in his first games and will carve the Suns a new one at Metricon.
They are his favourite team to play and has posted 132, 163 and 131 on them in the only 3 games he has played them. Both the 130's were at Metricon and that's why I will safely place Tom, just ahead of his piglet rival this week.
JUST QUICKLY…

Taylor Adams v Sydney @ the SCG – had 95 last week and with this one being on the road, there's too much uncertainty.
Rory Sloane v Port Adelaide @ Adelaide Oval – 152 last week but old mate Sloany hasn't scored over 100 in a Showdown in his last three games.
Nat Fyfe v Bulldogs @ Domain Stadium – Only managed 54 on the Dogs in round one last year but has started very well with scores of 116 and 110.
Buddy Franklin v Collingwood @ the SCG – Bud is on fire averaging 113.5 but hasn't scored over 100 against the Pies in his last 3 games.
Dyson Heppell v Carlton @ the MCG – 96 last week after his awesome start. 97 and 84  in his last two against the Blues isn't enough here.
Max Gawn v Geelong @ the Etihad Stadium – If Preuss can have 46 hit outs and 105pts against Geelong (Rhys Stanley)… then Max can go 150. In his last 3 against the Cats he has had 95, 139 and 96.
Scott Pendlebury v Sydney @ the SCG – 84 on the Swans last year, which happened to be his worst score against them in his last 8 games. Should be good again after starting with 110 and 135.
Dusty Martin v West Coast @ the MCG – West Coast are the 2nd hardest team to score against at the moment and when you add his last score of 68 against them from 2016 and his 86 last week, this is a huge risk. Oh and he has a busted face. Be very careful.
Sam Mitchell v Richmond @ the MCG – 123 last year on the Tigers and only 88 last week. He'll have some huge ones and then some moderate games this year and should be avoided in any captain's talk.
Clayton Oliver v Geelong @ the Etihad Stadium – People will go nuts if I don't mention him but even after starting with an average of 128.5, guys like this can crash and burn without notice.  Great start kid, but I'll need to see you keep this up for a little longer.
Josh Kennedy v Collingwood @ the SCG – 86 last week and only 63 on the Pies last year. I'm not sure what they are putting in the Swan's water but it's killing their scores at the moment.
ODDS: For those who would like to see the odds for Calvin's Captains for round two, please follow the link provided right HERE.