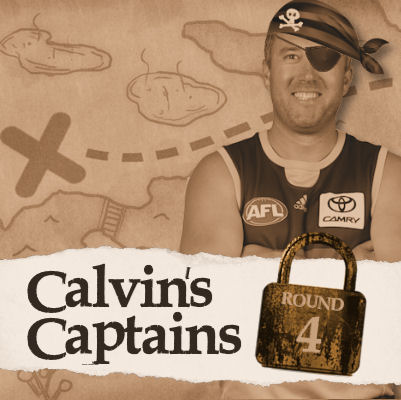 LOOP HOLE OPTIONS
Round 4 kicks off on a Thursday night and therefore we have another loop hole game and this one is between the Swans and the Eagles…. but wait, we also have the Friday night game (Kangaroos/Bulldogs) as a loop option as well. This is because we have games spanning over 5 days and therefore two partial lock-outs are just common bloody sense.
This means that FULL LOCK-OUT will now occur on Saturday at 1:45pm, with these two games mentioned here, being locked-out at the opening bounce for each game.
So Thursday night… Josh Kennedy has a shocking record on the Eagles with just 1×100+ score against them in his career 7 games against them. Buddy Franklin is even worse with just 1×100+ score in a career 15 attempts making West Coast easily
his worst team to play. In fact at the moment, they are the second hardest team to score on, so he might be in for another long night again.
Dan Hannebery was much better last week with 125 and even knocked up a solid 102 on these guys in 2016. He appears to be back to his best and after dropped $85k, he's not a bad options to trade in.
If you are a lucky owner of Andrew Gaff, then he's your man for this game.
Last week, the Pies scored at will against the Swans with 5 guys scoring over 115, and I'm expecting Gaff to do the same. He had a team high 107 last week and goes for his 4th straight 100+ score against the Swans here. He should continue this trend as the Swans are currently the 2nd easiest team to score against and he should have a field day on his home ground.
In the Friday night game between the Roos and the Dogs, you're basically looking at just Jack Macrae. With 116, 92 and 116 under his belt already this year, his previous score of 114 and 116 against the Roos suggest he might be able to crack the magically 125 mark I'll be taking.
Some may opt for Luke Dahlhaus, but he has never scored 100+ on the Roos in his career 8 games against them and the fact that he hasn't cracked a ton this year makes me think that out of the two, Jack gets the nod here.
TOP VC SELECTIONS IN ORDER: Gaff, Macrae, Hannebery, Buddy, Parker, JPK, Dahlhaus
PERISCOPE LIVE 8pm 
Confused by all this two partial lock-outs and then the final lock-out on Saturday or just want to know more about the Loop Hole? Usually, I don't like to cover this a million time but this week, it is slightly different so join me on Periscope at 8pm sharp for a more in depth explanation.
Calvin's Captains and much more to help your #aflfantasy team for round 4 https://t.co/kPX6r2AdmX

— Calvin (@CalvinDT) April 12, 2017

UNDER THE ROOF
There are two games under the roof and kicking off on Saturday is the highest scoring player in the Fantasy game … Marc Murphy. He's averaging 136 coming off his huge 145 last weekend. He only managed 59 against this week's opponent the Suns last year but his form suggests that won't happen again. The Suns are tough at the moment though (3rd hardest) and therefore he just misses my top five for the second week running based on this.
Gary Ablett will be going against Marc and the champion returned to 'vintage Gaz' last weekend with 36 touches and 2 goals for 138. His record on the Blues is equally impressive with previous scores of 124 and 114.
In the other game, the Pies meet the Saints, and they sit as the #1 team when it comes to giving up 100+ scores.
Taylor Adams ranks as the 2nd best player in the game at the moment averaging a massive 129. He had 137 last week and posted 106 on the Saints last year.
Captain Scott Pendlebury had 108 last year and considering that Rocky, Beams, Zorko and Rich all averaged 29 touches on the Saints last week, you'd like to think that Pendles will have a truckload as well. Brodie Grundy will reward those who want to trade him in for Max Gawn. Stef Martin had 126 on the Saints last week, which indicates that Brodie will be great again, like he has been with scores of 133 and 123 in his last two games.
The best Pie though, and no surprise in this… Adam Treloar who is currently averaging 129. He had just 85 last year, which happened to be his second worst score for the 2016 season.
There was no tag here, he was just too handball happy with 20 of his 25 touches coming off the hand.
This doesn't bother me though as his record under the roof has been amazing with scores there this year of 134 and 128. Plus, you need to know… he was a fraction off being my top pick for this round.
We all 'kneed' Nick Riewoldt in our teams, don't we? See what I did there?
After one week off and a heavily strapped knee, he scored a massive 137 with 28 touches and a stock standard 12 marks. He only had 71 on the Pies last year and surprisingly… they are his most hated team to play. He's only recorded 1×100+ score against them in his last 9 games. But you do 'kneed' to know that the 71 you see happened in a quarter and bit last year, as he was sent to the sidelines with concussion before the half. He was on track for a cool 160+….
His history here prior to 2016, is slightly concerning, but we all know what the Voldt does under the roof.
EASTER MONDAY
If you can wait till Monday to see your captain run around, then you'll have two great options to choose from.
Tom Mitchell had 115 last week in a drubbing and currently averages a piggish 123. Not bad for a team sitting 0-3. He has scored 125 and 128 at the MCG already this year however, against the Cats his history isn't great with just one triple figure score against them in his career four games. Last week, Melbourne had 8 players crack the ton on the Cats so based on this, you'd like to think that Titch will be fine.
Finally, we have Patrick Dangerfield. He scored 113 and 137 on the Hawks last year and this week, he'll go for his 7th straight 100+ score against the Hawks. Hawthorn are currently the easiest team to score Fantasy points against, along with the fact they give up the most 120+ scores in the game. Gaz 138, Hall 122 and Swallow 120 joined 4 other team mates to score over 100 last week against the Hawks and there is absolutely no reason why Danger won't do the same.
JUST QUICKLY…
Rory Sloane v Essendon @ Adelaide Oval – Carlton had 3×125+ on the Bombers last week and Rory has scored 128 and 136 in his last 2 on the Bombers. He is hot form coming off scores of 139 and 152 and should be great again.
Dusty Martin v Brisbane @ the GABBA – Dusty had the highest score for the round last week with 156 and even had 127 on the Lions last year. Might get some attention from Mitch 'RedBull' Robbo, but I don't think he'll care.
Clayton Oliver v Fremantle @ the MCG – Never played Freo is his limited career and had 111 last week and doesn't look like slowing down.
Zach Merrett v Adelaide @ Adelaide Oval – I'm not a fan of people who play the Crows away and this week, we must be careful with Zach. He had 97 last week and 101 on the Crows last year. Adelaide are the hardest team to score on, so be cautious Zach-fans.
Tom Rockliff v Richmond @ the GABBA – 106 last week, returns to the GABBA where he has scored 123, 123 and 174 in his last 3 runs. Had 101 on the Tigers last year, but last week when Richmond played West Coast, they found it tough and Gaff only topped scored with 107. He misses my top 5 based on this alone.
Dayne Beams v Richmond @ the GABBA – 126 and 131 are his last two scores on the Tigers, and he is coming off a nice 124 last week.
Dyson Heppell v Adelaide @ Adelaide Oval – 74 was his last score in Adelaide, but he did have 128 on the Crows back in 2015.
Stef Martin v Richmond @ the GABBA – I'm expecting Stef to be great this week against Nankervis who does tend to give up points to opposition ruckman. Stef had 126 last week and 105 and 107 in his last 2 games on the Tigers.
ODDS: For those who would like to see the odds for Calvin's Captains for round four, please follow the link provided right HERE.