Calvin's Captains – Rd. 5
No Zach Merrett. No Patrick Dangerfield. The pirate has gone hard this week. Or has he gone too hard?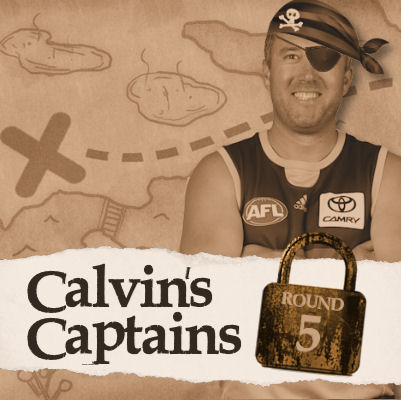 THE BEST v WORST
This week, on Sunday at the MCG we have the easiest team to score Fantasy points against (Hawthorn), playing the hardest team to score Fantasy points against (West Coast).
This doesn't sound good for the superstar and piglet Tom Mitchell who has been in hot form with a lowest score of only 115 this year. He loves playing at the MCG with scores of 125, 125 and 128 coming from there this year. But his record on the Eagles isn't pretty with 0x100+ scores against them in his career three games.
West Coast are currently giving up the least amount of points AND… they have only conceded 1×120+ score in the first four games. Tom will need to find something special to turn all this on its head.
On the flipside, expect the Eagles to have a field day. Hawthorn are giving up 300 points a game more than the Eagles and I'm expecting Luke Shuey to dominate. Making his first ever appearance in Calvin's Captains, Shuey has averaged 125 this year, making him ranked at #4 overall based on average.
Surely he keeps flying along with Andrew Gaff who scored 115 and 111 on the Hawks last year. Gaff loves the MCG and despite only scoring 97 last week, expect something in the 115+ range this week.
DON'T BOTHER or BE CAREFUL
Honestly, selecting one of these guys as your captain for this week comes with a huge risk.
Firstly, the Sydney boys are playing dodgeball at the moment. They play GWS and they are given up the least 100+ scores out of everyone. Port couldn't get one guy to triple figures last week and therefore this doesn't look good for
Luke Parker who only has 1×100+ score against them in his career 9 games. Oh Luke!
Dan Hannebery has scored 110, 81 and 100 on the Giants last year and Josh Kennedy only managed 73, 98 and 118.
A sore hip/quad/back/face were all a part of Dusty Martin's reasons for his 63 last week, along with some attention from RedBull Robbo. Dusty plays Melbourne (#2 hardest team to score on) and over his career against them he has only managed 1×100+ score in 9 attempts. He had 82 and 84 on them last year and should be avoided at the MCG.
Ollie Wines managed 82 last week and has never scored over 100 against the Blues, but he is back home this week and his form has been great up until round 4.
Finally… we have Mr. Patrick Dangerfield. Is he still sore after the knock from last week? He still finished the game fine saving his score of 93 with a 30pt final term. He's fine!
He plays the Saints. "Awesome" I hear you say.  Yes, the Saints are the 3rd easiest team to score on at the moment, giving up the most 120+ scores.
BUT… Danger was tagged by Seb Ross last year to just 95pts and over his 13 game career against them, he has only managed 1×100+ score at an average of 70. This is easily his worst team to play against and for that reason alone… you need to approach this one with caution.
ROCK

'N'

ROLL
Yes I know … most of us missed Tom Rockliff's piggish 157 last week and I know this because I told you to go somewhere else. Based on the stats, form, history etc…. it was the right thing to do to go with Danger and not Rocky. Then Captain Bloody Hindsight pops his ugly head up and proves us wrong.
So, why can we lock him in this week or are there some really scary warning signs?
Last week Rocky had 33d, 8m and 11t. Against the Bulldogs in 2016, the Lions copped a thumping under the roof (where they are again) and in that game, Rocky could only manage 88pts. The year before that, he had 149.
The Bulldogs can be, and I'll say it again… 'can be' an easy team for midfielders to score on. In round one, remember Adams 151, Pendles 135, Treloar 125 and Steele 124 all went nuts against them but since then it hasn't been as easy. The Kangaroos had 2×100+ score against them last week, but they suck, and the week before that three Freo midfielders cracked the ton, led by Mundy with 144.
Although he does have a broken pork knuckle (still managed 88 in second half), the game is under the roof and Rocky loves a roof over his pen.
At Etihad this year he scored his lowest score for the year of 106 (which is fine and proves his hot form), but before that in 2016 he scored 127, 179, 184 and 88 (v WBD).
I'll tell you what… I'm not missing out on Rocky this week, and as you read through this article, you'll see that the other 'go to' premiums aren't a given. Lock him in!
ANZAC DAY, Tuesday 25th April
It's one of my favourite days on the calendar and this game is bound to be a cracker.
In the past, there have been some players who thrive on this huge occasion and Scott Pendlebury is certainly one of them. In his last six ANZAC Day games, he has scored 127, 118, 107, 108, 113 and a huge 166. He had 84 last week and looked injured so based on that, I'll pass on him.
Steele Sidebottom is an ANZAC Day monster. His numbers are truly amazing against the Bombers on this big day. He won the medal last year with 33d and 4 goals for his 144, and before that 124, 143 and 109. Steele's form is great too with 113 and 126 coming in the last two weeks so watch out for him to have another big day.
Last week, Adelaide scored 5×115+ scores on the Bombers so surely that means that Adam Treloar will be amongst the points again. He had 129 last year and after a small blemish last week, he'll be right back to his best this week.
Brodie Grundy will go head to head with Berger, but will Mason Cox play? We all know that Cox has limited Grundy's in the past by 21 points a game and this spells trouble. Even if Cox isn't named, the Bombers are one of only three teams, Grundy hasn't scored 100+ against.
Finally, and very disturbingly we have Zach Merrett. Prior to researching  this and crunching the numbers, I had Zach at #1/2 in my head heading into this weekend of football. It's not to be.
Yes, his form is great with scores of 134, 97, 140 and 129 this year and the fact that Collingwood are the 4th easiest to score against over the first four weeks, I thought I was on a winner.
The issue is… Zach hates playing the Pies and Calvin's Captains is done with the head, and a small piece of heart. In the ANZAC Day clash last year he managed just 20 touches for his 66pts and on ANZAC Day in 2015, he had another 20 touches for just 86. He has played them four times in his career without ever registering a ton.
Last year in this game, I personally had Zach as my captain. Leading into the game he was carrying scores of 127, 128, 136 and 119. I thought, you ripper… here we go. But NO. He flopped.
Why? I don't know. The big occasion? Collingwood? I'm not sure, but what I know is, I'm not going to make the same mistake again, especially when a pattern is clearly evident. The pattern may not happen again,  but the signs are there and although he should go against the trend, he hasn't yet … but you have been warned.
Let me explain why there's Danger or Zach in my top 5 this week. It's redemption week in #aflfantasy. #calvinscapta… https://t.co/ah85hkK8TM

— Calvin (@CalvinDT) April 19, 2017
JUST QUICKLY…
Marc Murphy v Port Adelaide @ Adelaide Oval – The #2 man based on form, Marc had 124 last week with a very solid stat line of 28d, 7m, 7t. Had 91 and 122 on Port in his last two games, but I hate having a captain playing away at Adelaide Oval.
Stef Martin v Bulldogs @ Etihad Stadium – Goldy scored 112 last week against Campbell and in his last 3 on the Dogs, Stef has scored 92, 152 and 96.
Rory Sloane v Gold Coast @ Metricon Stadium – 143, 139 and 152 are his last three games, but the GCS have been very tough to score on. Up at Metricon, this will be tougher but Sloane did have 106 on them last year. Too much risk for me.
Nat Fyfe v Kangaroos @ Domain Stadium – Consistently scoring between 95 and 116 points this year without going 'BANG'. Roos are one of his favourites though with 137 last year. Scored back2back 110's at Domain and should be fine this week.
Marcus Bontempelli v Brisbane @ Etihad Stadium – Brisbane do give up the 2nd most 100+ scores at the moment and the Bont is averaging 112. Had 80 on them last year but will he cop a tag from Robbo this week?
Dayne Zorko v Bulldogs @ Etihad Stadium – 139 last week was over shadowed by Rocky huge score. Zorko goes for his 6th straight 100+ score under the roof this week and he's averaging a solid 121.
Gary Ablett v Adelaide @ Metricon Stadium – Scored 138 and 105 in his last two games at home and didn't play the Crows last year.
Nick Riewoldt v Geelong @ Etihad Stadium – 122 and 137 in the last two weeks and plays the Cats who gave the Hawks 3×120+ scores last week in a thumping. He scored a game high 116 against Geelong last year and should be good again under the roof for another 12+ marks.
ODDS: For those who would like to see the odds for Calvin's Captains for round 5, please follow the link provided right HERE. Heads up though… Rocky is at $3 to top the list.
With such a weird looking top 5, I will offer my next 5 in the order I would pick them. At 6 is Zach Merrett despite his numbers, 7 is Luke Shuey, at 8 is the inform Marc Murphy, and at 9 and 10 are Gaff and Pendles.